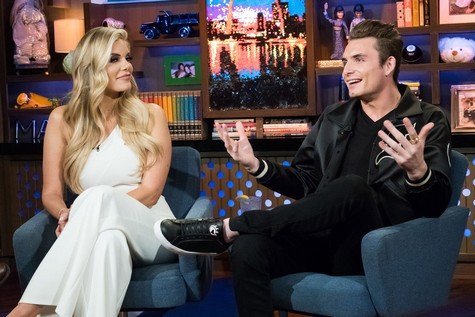 It's difficult to keep track of James Kennedy and Lala Kent's relationship. They go from being best friends to enemies to frienemies at the drop of a hat. And then it's just tough watching James' one-sided flirtation with Lala on Vanderpump Rules without feeling some sympathy for his girlfriend Raquel Leviss.
Raquel has been forced to watch James flirt with Lala and watch Logan Noh flirt with James. This woman is a saint for putting up with all this shit.
James and Summer House cast member Lauren Wirkus were both on hand to answer questions from Andy Cohen and the viewers during last night's Watch What Happens Live episode. After being subjected to Scheana Marie constantly bragging about Rob Valletta this season on Vanderpump Rules, it was pretty shocking to see him pull Jax Taylor and Tom Sandoval aside and confess that he refuses to tell her "I love you." This is in response to Scheana dropping the L bomb constantly. James told Andy, "I was a little concerned. My main priority in that whole situation was Scheana. I just want her to be happy and if he's not saying it back, it's an issue."
And then the focused moved away from Rob's ability to hang a TV in seven minutes to James getting all flirty with Lala and Logan. Andy polled the audience asking "Is James disrespecting Raquel by flirting too much with Lala and Logan?" Andy revealed the very much expected results: 97% of people said yes. Even James and Raquel- who was sitting in the audience- nodded their heads in agreement with that result.
James owned up to his behavior during the Big Bear trip: "I definitely made mistakes. I definitely was saying things I shouldn't have said and yeah, a little bit of too inappropriate. Am I in love with Raquel? Do I choose her over anyone else in this world? Yes, absolutely and I'm completely dedicated to this girl right here. I love you so much." Somehow that is much more convincing than anything said by the other men who have also disrespected their relationships on this show.
Then Andy got into the James and Logan rumors. He told James, "We've had a lot of your cast mates on this show. I've talked to them a lot about what's going on, or what's alleged, between you and Logan. They seem to think that maybe you are a hole is a hole kind of guy." Before answering the question, James asked one of his own, "What does that mean?" Andy clarified, "That means maybe you had done it with a guy." James said, "No. That's what Jax said, not me." Shade thrown.
He insisted, "I don't think I'm like that at all." Andy asked, "Have you had a physical relationship with Logan?" James clarified, "No. I have never dipped in the pond."
Andy tried to get the scoop on James and Lala's up and down relationship. He asked, "Did something happen recently between the two of you?" He explained, "It's just always hard reliving the show, seeing it come out again. Some people can't handle it as much. Do I apologize toward what I said about her man? Absolutely. I'm trying to grow up a little bit and I won't be saying those things in the future. Hopefully we can mend our broken bridges. If not, whatever. I've still got my girl."
A viewer asked Lauren, "What are your thoughts about Carl [Radke] and Scheana hooking up and do you think they should make it official?" Lauren answered, "I'm going to say one thing right now. He lead people on to believe they had sex. They did not. So let's not throw the word 'hook' around. Hook up lightly. If it's tonsil hockey, I mean, I'm going to hell."
Andy pushed, "So they just made out?" Lauren told him, "Yes. I don't know why we are leading people on, but you know, Carl's good at that." Shade thrown. It was unclear if Andy actually believed Lauren. He only commented, "Oh. Interesting."
A caller asked James to clarify the comments he made about Lala's man "putting her in jeopardy." James admitted, "I don't remember saying it like that." Andy told him, "You were very drunk." James continued, "I was very drunk, first of all. It was just a matter of making sure my best friend was doing alright. At the time, I was very concerned, maybe a little too overly concerned. Honestly, I don't even remember saying that, so I'm sorry." James also said, "I made some mistakes. I probably shouldn't have hung out in that Jacuzzi as long as I did. Raquel is the love of my life and that's all that matters." Wow. That's quite the statement there.
Andy asked Raquel, "Is he the love of your life?" Raquel shared, "Yeah, I think he is." Andy asked, "You think he is?" Awkward.
The conversation got even more awkward after that. A caller asked Lauren, "Does Carl really have three nuts?" Lauren shared, "Carl has a nut that's attached to the other nut. It's not fully detached." Thanks for that (unwanted) visual.
Then James was the one hit with a question from a caller. He was asked, "What your relationships are like with Logan and Faith [Stowers] after everything that happened so far?" James said, "They're doing their own thing. I haven't really talked to Faith in god knows how long. Right now, me and Logan aren't talking." Andy commented, "Doesn't sound great." I beg to differ, I don't want these thirsty people infringing on my beloved show that already has 92454636 actual cast members.
RELATED: Carl Radke Admits To Hook Up With Scheana Marie; Lala Kent Refuses To Acknowledge Faith Stowers' Existence
TELL US- WILL JAMES & LALA BE ABLE TO GET THEIR FRIENDSHIP BACK ON TRACK? WHAT DO YOU THINK REALLY HAPPENED BETWEEN CARL & SCHEANA?
Photo Credit: Charles Sykes/Bravo