I'm beginning to think that next time, instead of going to The Berkshires, the Real Housewives Of New York all just need to take a trip to rehab. I'm sure Luann de Lesseps knows a place!
Dorinda Medley thought she was making it nice by decorating her house like cheesy haunted house, but the Fish Room is no halloween theme! Those are $15,000 taxidermied sword fish (why? how? so confusing?) and it's a privilege to pass out drunk before their glassy-eyed stare! Also they are there all. year. round. Come Easter they wear bunny ears, come Christmas twinkly lights, come St. Patty's day a leprechaun hat, but come Halloween they get to just be their creepy selves. Kinda like the Real Housewives when they enter the Berkshires – all their most idiosyncratic tendencies and behaviors come out in full force and they are their most selves.
Take Luann for instance, throwing a haughty fit after learning she was placed in the Fish Room instead of 'Hannah's room' at the front of the house. 
It's pretty evident that Luann is going use 'my recovery' to lord anything she doesn't like over the ladies' heads. I'd like to see her try that with Ramona Singer, literally the only person on this cast who is more self-involved (and less connected to reality than a reconstituted, stuffed fish mounted on the wall of a landlocked country estate) than Luann.
Luann claims the Fish Room brings back harrowing memories of last year, when she was soooo hungover in that room that the hanging fish gave her anxiety. Oh please! To demonstrate her hurt (aka wounded pride) Luann storms away from the dinner table and demands the hotel concierge find her a room there. Thankfully there is Tinsley Mortimer to salvage things by volunteering to move rooms. Then they all decide Barbara Kavovit will get the Fish Room. So zing!
Tinsley is annoyed that the women are always ordering her around and treating her like the help, like they mistake Tinsley having manners for being a pushover, except Tinsley IS a pushover. I mean she has manners too, but Sonja Morgan is correct: Tinsley's low self-esteem means she doesn't value herself, but in this instance I think she did the right thing in being a good friend to Dorinda.
On the contrary, Ramona is embarrassed that Dorinda is sucking-up to Luann by arranging massages, yoga, and fussing over making her happy with the rooms. What Ramona means is why isn't Dorinda doing all that to make HER happy. What about Ramona?! Maybe Ramona should go to rehab and find out what happens?
The next morning the yoga instructor is there at 9 AM to give a personalized class to Lu, but being that they've gone 24 hours without male attention, Sonja and Ramona invite themselves in to shake their downward dogs in his face. Sonja loves being on the bottom: you get exercise, a good full body stretch, and possibly an orgasm! And if you're really lucky a sexual harassment suit from your yoga teacher!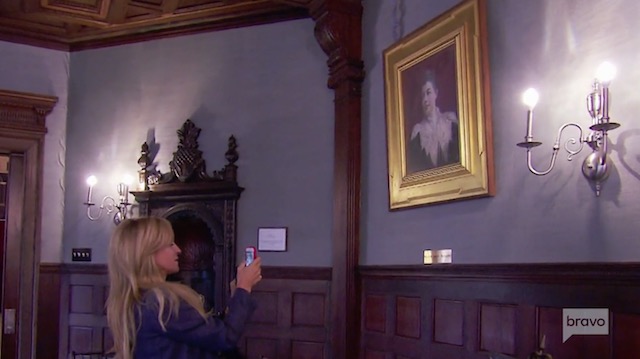 I've never heard of yoga causing more stress than relaxation, but anything is possible in the Berkshires. In the middle of class, Mommy Dorinda barges in to remind them their tour at the historic Morgan house is in less than an hour. Once inside the ancient Morgan abode, Sonja morphs into Ms Havisham. Like re-entering a cult after being deprogramed, Sonja was creepily and robotically bragging about her connections to THE MOOOOOORGANS, and comparing her decrepit crumbling townhouse to this historical estate.
I wonder if the Wesson Oil in Sonja's basement is worthy of preservation? Did she inform The Board, which she sits on (really?) of its prominence to the family history? Did Sonja stamp the family crest on it? The crest, ironically, is "Onward and upward" the exact opposite directions Sonja is going on!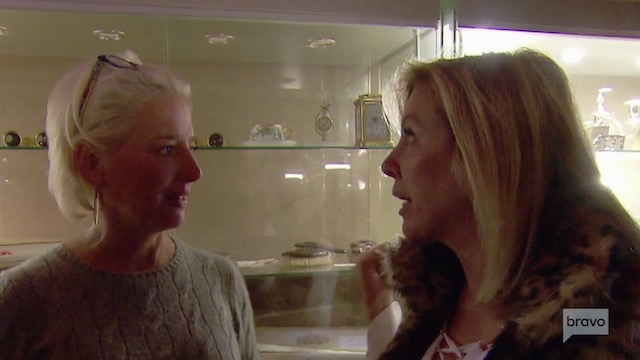 Ramona pulls Dorinda aside and whispers that they've gotta get out of there. The portrait's judgey eyes are following   Sonja around the room, and soon they'll all be trapped in her past, fondly reminiscing about sharing a marital bed with an 80-year-old. <<shudder>>
Back at Bluestone, it's time to bust out the wine to celebrate their escape from Morgan Manor. And since it's 50 degrees, why shouldn't Ramona put on a bathing suit?! After all, she's got such an amazing body – according to her. Not like Barbara, or the  average American woman, who is "huge." Who's surprised Ramona's attitude about women's bodies and body shaming is straight out of the dark ages? Back when she was considered young and hot.
Meanwhile, Dorinda FINALLY apologizes to Luann for the Jovani incident. Dorinda was hoping that Luann would also apologize for hurting her feelings, but no such luck. At least Luann is receptive and they agree to move forward as friends. That was nice. Non-drunk Dorinda is literally one of my favorite housewives, but Slurinda … is one of those evil ghouls stationed around Bluestone Manor, which should serve as a warning of what alcohol makes these women become!
Ramona is not pleased to see Barbara and her manly style arriving (But Ramona is pleased to see Barbara's disappointment about swimming with the fishes). Sonja is overjoyed to see Barbara though, and drunk Sonja holds her friend's hands, coos at her and practically nuzzles Barbara.
Bethenny Frankel brings up the rear, straight outta Boston, where she had an emotional weekend finding a new boyfriend while mourning her old one. I am so confused about her relationship timeline! I need a flow chart… hard to find among these cobwebbed vaginas.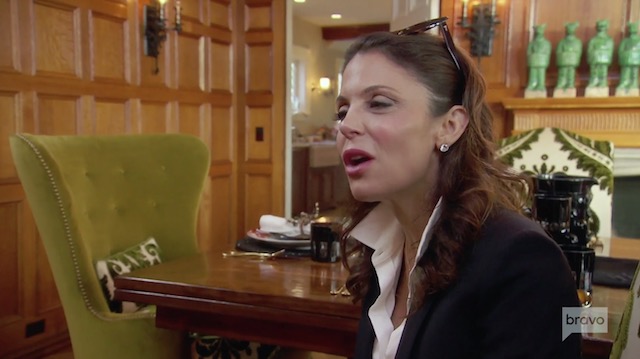 Dorinda counsels Bethenny on overcoming grief, then gives her the lowdown on the grief she's about to encounter with drunk Sonja and Luann's ego. Bethenny is disgusted that Luann threw a fit about her getting the good room – especially after everything Bethenny did for Luann's sobriety. "She should be thanking me as Jesus Christ, her savior," Bethenny snaps. Bethenny shades that Luann should be more worried about the room in rehab she left early to go do a cabaret show.
The room Bethenny arranged for Luann (and probably paid for). I cannot wait until Bethenny calls in that debt by sending Luann to collections (with the countess!)! We also learn that Luann has never spoken to Bethenny about Dennis, because all their conversations revolve around cabaret.
While Luann mills around the kitchen and keeps herself far away from alcohol (and the other women who are consuming gallons of it). Bethenny vents to Sonja that if Luann had texted her about switching rooms Bethenny would've been fine with it. Which I do not believe considering that Bethenny CALLED AHEAD to put in a request for the second best room in the house!
These women do realize this isn't a bed and breakfast – it's their friend's country home which Dorinda is graciously opening up to them! If I were Dorinda I'd put them, and their stuff, out on the lawn. All except for Tinsley who is very helpful: fetching drinks, playing waitress, and clearing up. Poor Tinsely always along the edges. Always the bridesmaid, never the bride. Literally!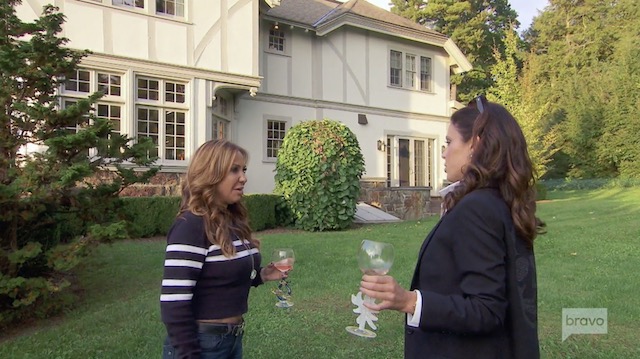 Then Bethenny pulls Barbara aside to complain about Luann's betrayal. Barbara makes excuses for Luann because as Bethenny says, Barbara's not drinking rose, she's drinking the Kountess-Aid – and is willing to lie down on the perfectly manicured lawn, poisoned to dumbness.
"I was lookin' for The Nu Lu," Bethenny scoffs, as a weird vampire inflatable pokes his eyes out of his plastic coffin over the bushes. He's clearly looking for the Nu Lu too. I don't think he'll find her in the Moroccan room (or anywhere else). Dr. Dorinda, counselor in residence, advises Bethenny that she has to keep her expectations low with Luann. Think of her like the vampire poking out of the coffin: all teeth, no soul.
In the middle of them talking about her, Luann comes outside and asks if she's interrupting anything. Bethenny, hilariously, tells her yes, so a dejected Luann goes back inside to hover around the food share with Ramona and Sonja that Dorinda apologized.
Seriously how hilarious are the knowing, mocking eyes of that creepy inflatable vampire!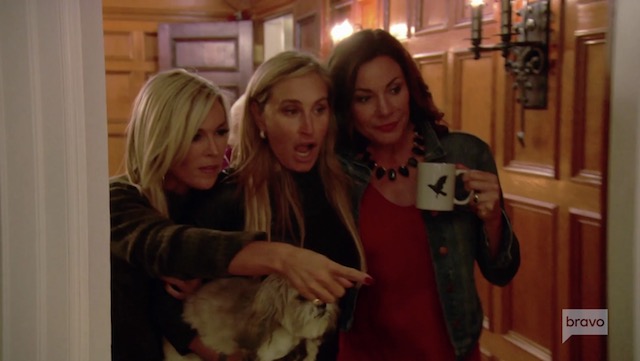 Then finally, the Naked Chef arrives, and um… well he looks like a sausage and his own sausage is barely contained behind a skimpy apron. But his hairy butt crack is fully on display!  Tinsley has the vapors, she has to call Dale [Mercer] to come pick her up because she's not allowed to have boys at sleepover parties.
Meanwhile, Sonja is TRASHED. Like talking in circles, making noooo sense whatsoever and starting to hit on everyone in sight. She's even getting handsy with Coco, Ramona's dog, and has to be forced to put Coco down. Even with Ramona playing Pinot Police and trying to stop Sonja from being served more doesn't help.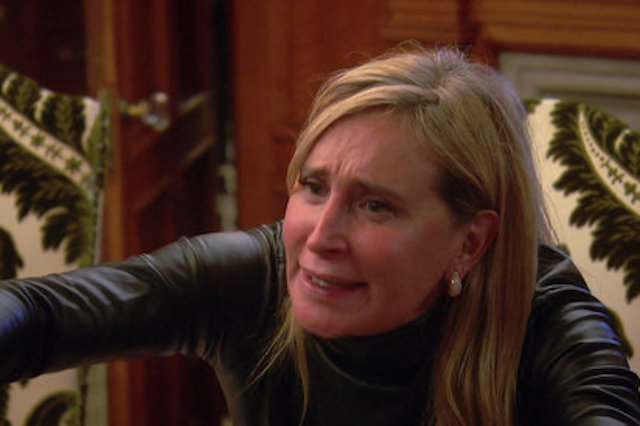 In between the soup course and the something else course, Sonja starts bawling about Dorinda touching the sacred Morgan letters during their tour of the estate. As keeper of the crypt, Sonja has let her forebears down. Bethenny has no idea what just happened, but she wants to go hide in the fish room where no one will ever go looking for her! And she's allergic to fish!
Also: I LOVE REAL HOUSEWIVES OF NEW YORK!
TELL US – IS LUANN USING SOBRIETY AS AN EXCUSE? DOES BARBARA DESERVE THE FISH ROOM?
[Photo Credits: Bravo]