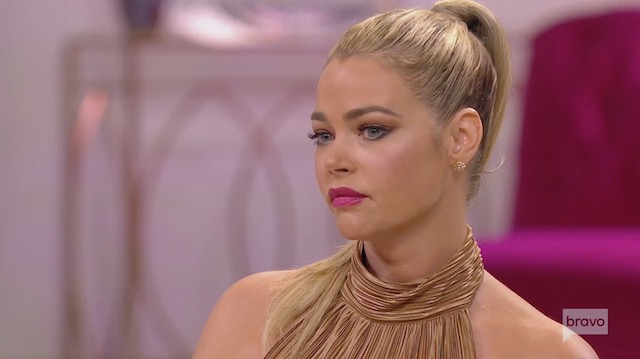 Denise Richards gave Real Housewives of Beverly Hills fans some much-needed comic relief this season, but not much else. She told Camille Grammer to back off while she was wearing a fur coat and an Agency hat during the finale, but other than that, Denise had zero conflict this season.
Well, until the reunion. She and Camille randomly went at it. Camille said she didn't like Denise and that she was boring this past season. Denise asked if Camille was "on something" during the taping. Then, Camille wondered if Denise was "on something" during a recent Watch What Happens Live appearance. In response, Denise took to Twitter to make a shocking claim about the RHOBH OG.
Denise tweeted that Camille "needs to thank her lucky stars that bravo didn't air some of her comments during the season and at the reunion. My youngest daughter's biological father is African American I found some of her comments quite offensive." Why weren't these comments aired though? What did Camille (allegedly) say!?
Camille loves to beef on Twitter. So, of course, she came through with a response. Camille replied, "You tweet this and start a firestorm here on twitter then you ask to me lunch this week? I'm confused." I assume lunch is not happening this week.
A fan told Camille, "I don't think that actually happened. She does not like you…like at all." Camille replied, "Well that was pretty evident during the reunion she didn't like me" along with a laughing face emoji. At least she has a sense of humor…. I guess.
When another tweeter asked Camille, "What did you say about black people that pissed [Denise Richards] off," Camille insisted that she said "nothing."
At another point, a "fan" tweeted, "Hi Camille, I love Lisa Vanderpump but Denise Richards just exposed you as a racist. Care to comment?" What an awkwardly written tweet! Nevertheless, Camille responded. She wrote, "I'm not."
We have another case of "she said, she said." However, this did happen during a day that was filmed with the entire cast and Andy Cohen in attendance. Will one of them please weigh in to set the record straight?
TELL US- DO YOU BELIEVE DENISE'S ACCUSATION? DO YOU WANT DENISE BACK ON THE SHOW NEXT SEASON? WHAT ABOUT CAMILLE, SHOULD SHE BE FULL-TIME?
[Photo Credit: Bravo]