Real Housewives Of Dallas continues to argue about etiquette that clearly doesn't exist. Mainly because the person appointed judge and jury of how to behave and why has an obvious blind-eye towards one of the main perpetrators. I'm looking at YOU, Kameron Westcott.
Why are dinosaurs so closely linked to Real Housewives Of Dallas this season? Is this foreshadowing an extinction of friendships, social hierarchies, and trust funds?!
Maybe the first bad omen was the death of one, inappropriately named, bunny. Leave it to Brandi Redmond to throw a funeral for a deceased bunny she has been storing (wrapped in towels and tucked into a [hopefully clean] litter box), in her chest freezer. FOR SIX MONTHS. I think this beat Sonja Morgan, hoarder queeneth extraordinaire's record. Brandi's been trying to decide if she wants to bury Bun-Bun or taxidermy him. (You know LeeAnne Locken plans to have a taxidermied bust made of her 30-year-old face with changing weave capabilities once she passes).
Really though, Brandi probably kept forgetting about the bunny until she had to put a bag of Costco chicken nuggets in the freezer. As Easter approaches, a time which celebrates rabbits and the re-rising the dead, Brandi decides to throw an epic funeral.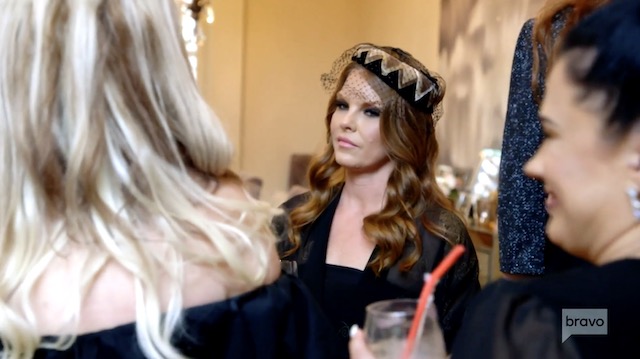 Stephanie and Travis Hollman attend, and Brandi entrusts BROOKLYN to drop BunBun's box into the ground. Shockingly no dead animals were re-injured in the process. After a moving euology Stephanie whispers to Travis that she farted, which was, I guess, her attempt to raise this rabbit from the dead.
Then out of the bushes hops a life-sized easter bunny, carrying balloons. Stephanie has some potent farts, that's for sure! After that anyone would need a drink, so let the crucifixion by cocktails commence!
Across town, LeeAnne's dog is now wearing an eyepatch too. OK, not quite but after scratching his cornea, it, like Rich Emberlin, is down to one eye. Why must LeeAnne endure such trials and tribulations? Does no one understand that her emotions are like a Tilt-A-Whirl, and every daaaaaaaaay she feels like she's gonna fall off right into the Unlucky Duck pond, to drown in the filth of other people's hope.
Kameron with more bad news: days away from LeeAnne and Rich's couples shower, Brandi and Stephanie both canceled claiming their kids have events at school. Kameron is livid.
And just when LeeAnne had grand plans for Brandi! LeeAnne has been holding Brandi's wedding invitation hostage until the last possible moment, apparently pending that Brandi proves her friendship. She's also apparently imagining that Brandi had been waiting on pins and needles for said invitation. LeeAnne had planned to personally present it at the shower, instead she has to go with Plan B… texting a picture of the invite with an emoji of a party hat.
Kary Brittingham wasn't invited to the shower, because LeeAnne and Rich don't know Eduardo. D'Andra Simmons didn't get invited because Rich is still devastated by her betrayal, of course.
Kameron's entire life has also been revolving around this shower, and compounding with her fight with Stephanie, Kam imagines Brandi and Stephanie conspired to fabricate Easter events as an excuse to cancel last-minute. Also they contacted Kameron, aka THE HOSTESS, to cancel, but never told LeeAnne. If Brandi and Stephanie had told LeeAnne, but not Kam, Kam would be just as upset.
OK a few things here: First of all, this shower is happening on a THURSDAY AFTERNOON, the weekend before Easter. The only people who aren't working or watching their children at this time are trophy wives. Kameron definitely doesn't have friends who work, except for working the Ladies Who Lunch/philanthropy circuit. Basically fancy lunch is their jobs, so Thursday afternoon showers are a regular day at the office! BUT I'm sure even some of these ladies would blow off LeeAnne's charity shower/gift grab to attend events at their children's prestigious private schools.
Second of all, Kameron sent out invites a month in advance. Sometimes plans changes. Who is gonna let their child be the only one without parent representation at the Easter pageant? Taking sins of our mothers to a whole new level!
Lastly, it seems like Brandi wasn't even invited until the last minute,  once LeeAnne decided Brandi was permitted to grace her with her presence at yet another event which required presents, so it's natural that she RSVP'd late.
Anyway, Kameron is livid and Stephanie has no idea what's coming.
Well it won't be worse than what Mama Dee has in store for D'Andra!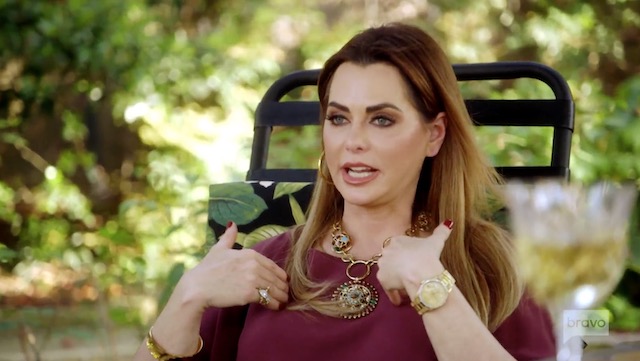 D'Andra's plans to save money by moving Green Miracle operations out of their office backfired because Dee signed a year-long lease which D'Andra can't afford to break it. D'Andra needs a cash infusion fast and is ready to go to the bank to ask about a loan, but needs to put something up as collateral. And she can't use her house since Dee also owns that!
Mama Dee is shocked that they give loans to poor people. Um, those are called PayDay Loans, Mama Dee and you can gett'em at the gas station. Presently D'Andra is reduced to living off the rubble of her former splendor, aka $60k per year which is her decreased salary and a modest $5k per month interest from her trust, plus credit and borrowed time since Jeremy Lock apparently can't support her.
D'Andra has even cashed in on most of the stock her father left her and tries to barter her art collection in the hopes that Dee can give her a collateral loan.
Mama Dee resembles a ventriloquist dummy, and the ruffled neck top doesn't help that comparison, but when it comes to D'Andra, Dee is the one pulling all the strings!
Instead of helping or consoling Dee blames D'Andra for not knowing how to budget, even though Dee has spoiled her rotten since birth. Dee also lectures D'Andra for not being self-sufficient. Didn't Dee marry two rich men in a row? And therein lies Dee's real annoyance: That D'Andra married a poor man for love, to rebel against her mother, not a rich man who will take care of her so she can continue to live in the lifestyle she was accustomed to. Instead D'Andra is spending her own money, hand over fist, to maintain those standards.
Dee follows all that up by admitting that she knew the company was bankrupt when she turned it over to test D'Andra. Now D'Andra is 50 trying to learn to be an adult the way a 22 year old does, yet Dee takes no responsibility for how D'Andra (or her company) turned out.
Dee concludes with telling D'Andra to get her act together because "your mother's not gonna be your bank."
Kam and Court go to lunch, and I love that Kameron eats real food – it's the one part of her that isn't high maintenance. Kameron claims before she met Court she was "nature barbie" and camped all the time. Until he introduced her to Neiman Marcus and turned her into "Couture Barbie."
Court smiles that Kameron is prettier to him today, after he worked his Svengali magic to transform her from Kameron DoLittle to Kameron DoNothing.
Meanwhile Travis finally sees Stephanie as his equal, which means her anniversary gifts become more practical. No more diamonds – this year she got deodorant. Actually an entire Hermes box full of mens toiletries like the ones Stephanie always 'borrows' from Travis. What a guy!
In a rare glimpse of Travis not made of stone, we learn his estranged father lives Thailand, but has heart problems. In Bangkok he doesn't take his medicine and becomes incredibly ill. He also doesn't contact Travis until things are dire, then Travis has to bring him back to the US. As soon as his dad is well-enough, he goes back to Thailand, and the process repeats. Travis and Stephanie know that any day now Trvis will be getting the call that his dad needs him. D'Andra is probably wishing Mama Dee would move to Thailand and contract malarial dementia.
It's pouring rain on the day of LeeAnne's shower, and Kam is still in a tizzy over Stephanie and Brandi cancelling. She's even more upset because Stephanie posted a photo of Cruz wearing a dinosaur costume which is "proof" that Stephanie wasn't attending a school Easter celebration, because what do dinosaurs have to do with Easter. Um, didn't they walk the earth as the same time as Jesus? Stephanie should've just posted a photo from BunBun's funeral instead!
Kam is momentarily distracted from her rage when she notices that once again there are THREE musicians playing when she distinctly remembers hiring a quartet. This is the second time this has happened to her, and she is confused.
I must say this shower is absolutely lovely. Even the nod to carny cocktails Kameron had curated are class personified.
Then LeeAnne arrives in a polyester dress straight from the Dynasty consignment sale. She had to buy it – all proceeds went towards botox for aging soap opera stars! Cary Deuber is also there, of course, because apparently a Botox needle pierced her brain and she's now LeeAnne's bosom buddy.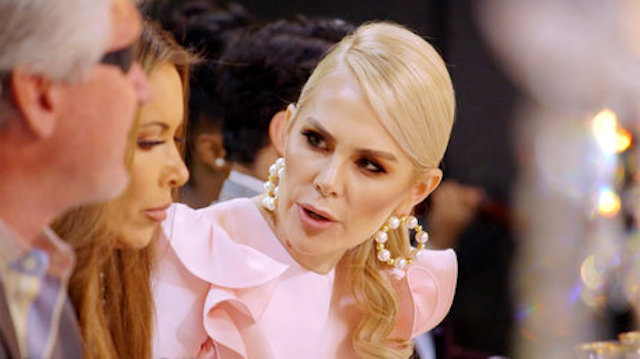 In the middle of this shower, Kameron asks if Cary and LeeAnne were invited to Kary's girls night later that evening. Of course they weren't, and Kameron already knew that. Kameron decides to get revenge on Brandi and Stephanie, by having LeeAnne and Cary crash Kary's happy hour. Cause logic!
Why is Kameron trying to upset Kary because she's angry with Brandi and Stephanie? Kameron rants that she hates exclusionary behavior – which is why she's totally OK with LeeAnne excluding D'Andra from all the wedding events!
LeeAnne doesn't even like Kary, and at the ghost hunting blamed her wedding planner for inviting Kary to her bachelorette party, so why is she offended that she wasn't included? I get why Cary is upset – Kary is her friend.
Kary didn't invite LeeAnne because she wanted to have fun, and there is always a weird tension between the two of them that ruins the vibe. That tension is LeeAnne's feelings of inadequacy until she figures out a way she can control the narrative of her friendship with you. Hence why she and Brandi can nerve get along, whereas Kameron, the lap dog, is LeeAnne's bestie.
Kameron and LeeAnne have obviously been watching too many conspiracy theory videos on YouTube and decided that Brandi and Stephanie attending getting drinks with Kary illustrates they conspired to miss the shower to hurt Kam, Dallas' new perpetual victim! Um, is it maybe because their kids get out of school in the late afternoon, and then they were free in the evening? Kameron does have children, correct? She should be able to understand how parenthood schedules works…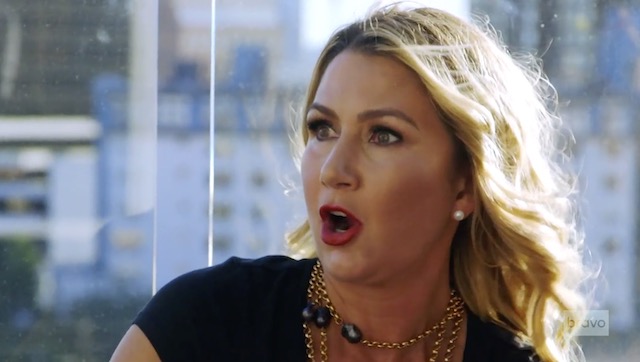 It turns out LeeAnne only textvited Brandi and Kary TEN DAYS before her wedding. "She thinks she's Willy Wonka and I finally have the golden ticket," guffaws Brandi. A golden ticket that clearly was part of the 30% of invitations that got lost in the US Mail.  "30 % of LeeAnne is usually telling the truth," laughs Brandi, " the other 70% is usually full of shit." She will not be attending the wedding, because she has 100% other plans!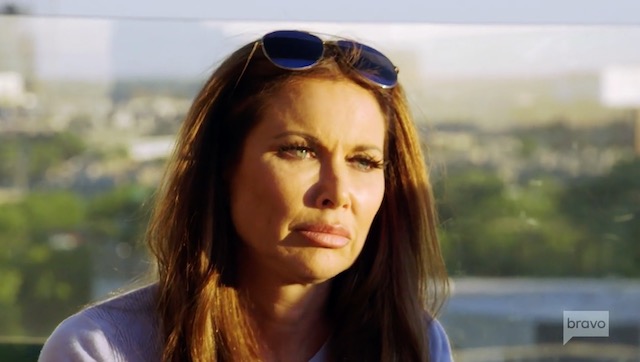 Just when everyone is joking about LeeAnne, in she walks through with Kameron, etiquette officer of Dallas, and Cary, who would look surly if her face could move into any expression at all. I will say I love that Kam's one devious and derring-do moment was crashing this girl's night.
Kam, hopped up on too much cake and conspiracy, is on the warpath. Kary argues with LeeAnne about how she has no right to insert herself in an event she wasn't invited too – like what if D'Andra had crashed LeeAnne's bachelorette party (Um, LeeAnne would fake cry tears of joy). Kam and Brandi get into it after Kam accuses Brandi of RSVPing yes to the shower by selecting a lunch option, then cancelling days before.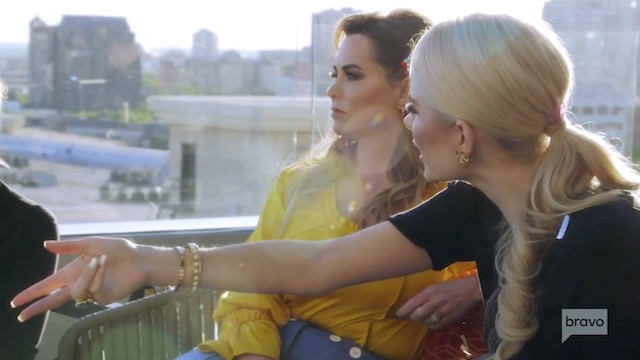 Brandi has proof that she texted Kameron RSVPing no (which Kameron insists she never saw), then Brandi reveals how she was texted from a random number asking if she wanted chicken or beef, so she answered steak presuming it was a survey about what kind of meat she likes. Also she'll be home between noon and 2 to receive her free reward for participating –  medium-rare, please!
Obviously the real reason Kameron is aggravated is because Stephanie called her surface, and we all know Kam's friendships with people go deeper then the inner cavity of a Birkin bag. Projecting, Kam accuses Stephanie of always playing the victim instead of taking responsibility for HURTING KAMERON'S FEELINGS ON A LEVEL THAT GOES TO THE PORES. Wasn't Kam the one repeatedly shouting that she's the victim? Can there be two victims?
Stephanie decides she has no more to add to this conversation, or her friendship with Kameron. "I'm gettin goff the Kameron hamster wheel," she announces. From now on Stepanie will consider Kameron surface in secret.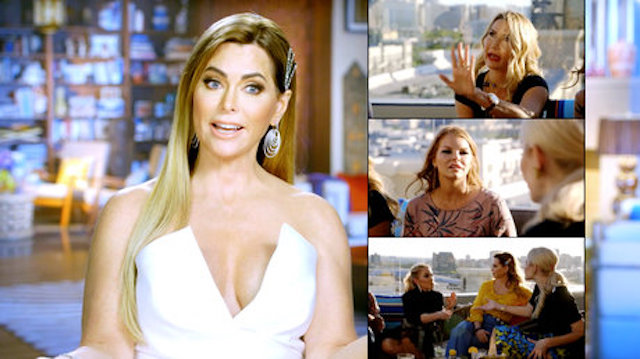 While all this is happening D'Andra looks back and forth, eating imaginary popcorn.
TELL US – DO YOU THINK BRANDI AND STEPHANIE LIED ABOUT WHY THEY MISSED THE SHOWER? IS A LAST-MINUTE TEXTED WEDDING INVITATION TACKY? DID LEEANNE GO TOO FAR IN CRASHING KARY'S HAPPY HOUR?
[Photo Credits: Bravo]