This is it folks. We've finally reached the end of the road for this season of The Real Housewives of Beverly Hills. The final part of the reunion also marks Denise Richards' last appearance as a housewife. The end of an era. It's so that her friendship with Lisa Rinna ended up as a casualty in this reality war. The second half of the season was the ultimate did she or didn't she regarding those Brandi Glanville hookup allegations.
Denise has used every tactic in the book this season to avoid taking accountability for her actions. She's skipped events, made up fake family emergencies, and even used legal measures as a means of silence. Surely, someone who has nothing to hide wouldn't jump through all of those hooks. Right? When you sign up to do a show like this, you know they're going to show the good, the bad, and the hideous. This is Denise's last stand. Let the fun begin!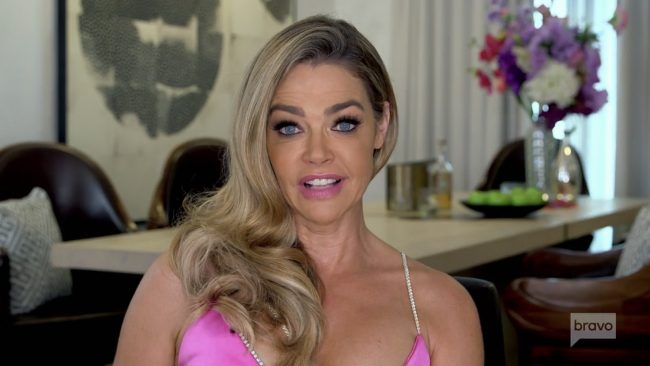 Denise literally cannot own that she said worse things about Teddi Mellencamp behind her back. It makes no sense. Can she not say anything to anyone's face? Give me a break.
She's coming at Teddi about the delivery of the Brandi allegations in Rome, but let's really think about this. Teddi was fully aware that Brandi had already said these things on camera. It was already out there. It was going to be used. Therefore, what does it matter the manner in which is was delivered back to her? Something that salacious was for sure going to be used for the show regardless of anything Teddi did or didn't do.
Rinna cuts in during the conversation to defend Teddi by saying Brandi was the one who brought it up. Thank you! Brandi already exposed this for the world to see. There was really no going back from that moment. Denise keeps saying she will bring up things Brandi told her about her family.
That's really funny actually. How would Denise know that if she and Brandi had zero relationship? Come on Denise. The jig is up with your lies.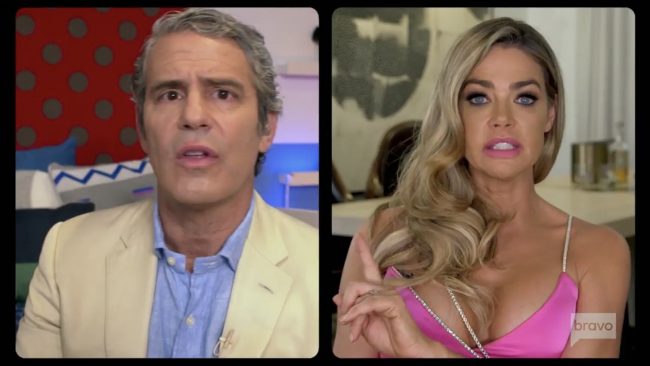 Andy Cohen tries really hard to extract some form of the truth from Denise, but it's like talking to a brick wall. It's never going to happen. She is committed to her 35 different stories that shift every time her lips move.
Denise vows that she does not have an open marriage or any kind of arrangement, and if she did, she'd admit it. The thing is, if you go by what Brandi says, Aaron Phypers is NOT for this. She's not going to ever openly admit this. HELLO?
Kyle Richards makes a great point that Denise could have shut it down in Rome by saying it's not anyone's business. That's not at all that happened. Instead, she dodged, evaded, and ghosted. Does an innocent person behave like that?
Sutton Stracke speaks up about the rumors and how she heard about this in 2018. It's hard for her to get a word in between Rinna and Denise constantly bickering. However, the one moment that really stands out is Denise's denial that she ever met Brandi in 2018. That is absolutely a lie. Last season was shot in 2018. Denise filmed a scene with Brandi last season. It doesn't take a genius to connect those dots. Denise has no relationship with the truth. She's so far removed from reality.
Rinna pulls out a stack of printed text messages that are allegedly between Denise and Brandi. Oh boy. Naturally, this prompts Denise to threaten to expose Rinna's own text history with herself. In the midst of all of this, Denise manages to avoid actually showing her text chain with Brandi to prove they don't match up. She's deflecting so hard because she wants no business in showing the truth. Classic Denise.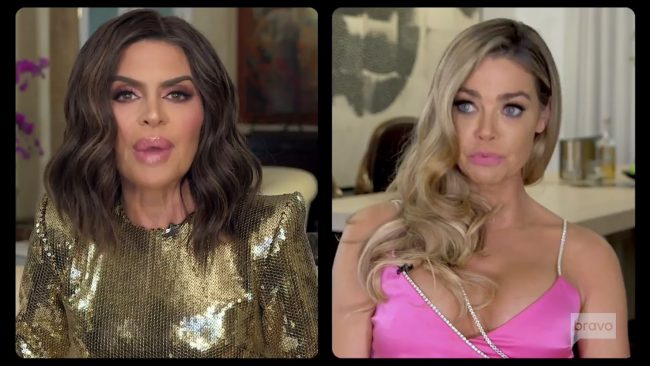 Andy talks about the cease and desist against Brandi, and Denise's reasoning doesn't make sense. She says it was so Brandi would start telling the truth. Does she know how these things work? It's hands down a scare tactic to freak someone out so they stop speaking. It has nothing to do with what's fact or fiction This is a method used by someone with something to hide. PERIOD.
Denise knew the type of show she signed up for. I'm sorry, but this pales in comparison with some of the issue in this show's history. Does Taylor Armstrong ring a bell? What about Kim Richards' struggle with alcohol? Give me a break Denise. You're acting like you've never seen or heard of this show in your entire life. Where was this energy last season when everyone went at Lisa Vanderpump? Were you telling everyone to let her be? I don't think so. GTFOH.
Even if Denise was trying to protect her family, the way she chose to not confide in Rinna is telling. Rinna likely wouldn't "attack" her if she was privy to the truth. Garcelle Beauvais honestly needs to take a moment to really think about this. How is any of this bulls**t? Is she not watching her friend sit there and lie about everything?
Take the Brandi stuff out of the equation for one moment. Denise was STILL lying about things all season. WAYYYYY before the Brandi allegations. Garcelle might want to reflect and take stock on if she wants to have blind faith in this particular friend.
Looking back at this season, I actually think Erika Jayne does show us things about her life. Sure we don't see her kids, but we hear a lot about her past, and we see her career moves. BROADWAY BABY! Can you believe it? It's a shame that her run came to such a premature end due to the ongoing pandemic.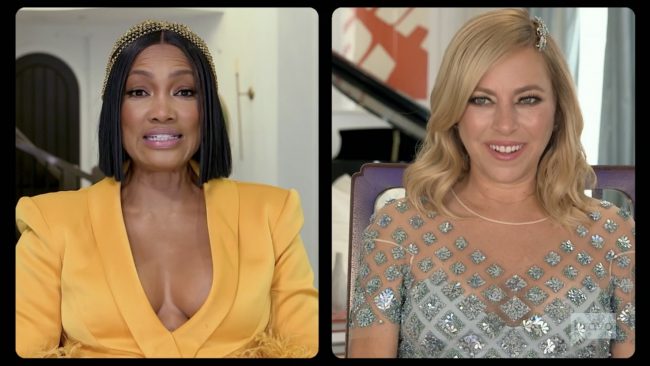 Garcelle doubles down on her belief that Rinna tried to overshadow Erika's moment a bit. Erika however does not share that sentiment. She was grateful to have a resource like Rinna to lean on for guidance and support.
It definitely did come across as annoying that Rinna had to insert herself into the equation every time it was discussed. Just let Erika have her moment and bathe yourself in spotlight a different time.
When the topic turns to the women going to New York to see the show and support Erika, Teddi has a question for Denise and Garcelle. She wants to know why they didn't come with the other ladies to support Erika if they are all about women supporting women. Fair question. I know the group was somewhat estranged at the time, but it surprises me that Garcelle specifically would choose not to attend.
Neither women gives off the impression that they're being honest about their reasoning for skipping. Denise says she wasn't invited until the night before, but Andy points out that it occurred during her litigious spree against Bravo and Brandi. BINGO! Once again, Denise lying through her teeth.
Garcelle's reasoning was even more bizarre. She claimed she didn't come out of a deep-rooted fear of flying in small planes? WHAT? Okay, Garcelle. There are many other ways you could have traveled to get there and show your support. That's such a cop-out. The more I'm seeing Garcelle, the less genuine I find her to be.
Garcelle thinks Teddi is trying to make something out of nothing. I'll admit that I also thought that at first, but now I'm not so sure. While I do think Teddi is trying to be a pot-stirrer, clearly there is some other reason Garcelle chose to skip seeing Erika. At first, she said it was because of the plane fear, but now she's saying it was her work schedule and her custody arrangement. So which is it? She's about as bad as Denise at this reunion. LIES!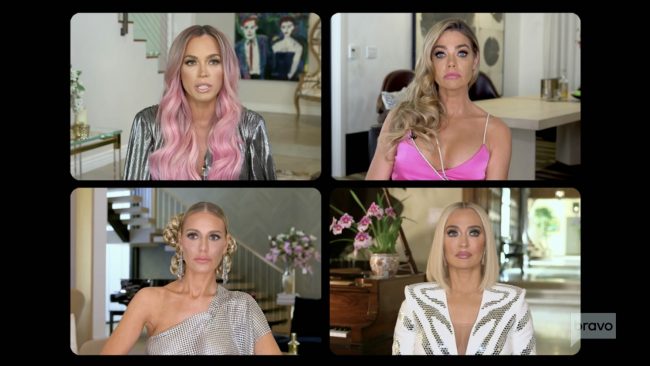 BIG SHOCKER GUYS! Aaron isn't at the reunion. Is anyone surprised to hear that? The way he spoke to Denise at Kyle's was VILE. It wouldn't surprise me if that's the reasoning behind all of Denise's behavior this season. There's an undertone to Aaron that is borderline disturbing. That moment at Kyle's about crushing Denise's hand 100% made me believe everything Brandi said about Denise saying "Aaron will kill me".
We all agree that Dorit Kemsley's looks exceed Erika's right? Dorit took Erika's concept of glam for this show and took it to the next level. LEGEND. I also must admit that Im in the minority that LOVES Rinna shaking her her look with the named wigs. Sutton's fashion however is downright hideous. I don't care how much you spent on it, take it all back.
At this stage, I'm so over hearing about the demise of Denise and Rinna's friendship. It's been beaten to death. They're both sketchy friends. Neither of them is entirely forthcoming to the other one. It is what it is. Rinna was definitely more than a little harsh to Denise in Rome though. Lying or not, she could've chilled a bit. Dial it back.
They've both changed in the time we've seen them on this show. Everyone loses their mind when Denise decides to walk off out of the camera. She claims she has to go to her other job. Rinna is right. Go do that job, and get off this show. If you don't want to show reality, it isn't the job for you. Have your fun with Ridge Forrester, and LEAVE. If you don't want to be here THEN GO.
Denise can't even sit there and have this conversation. She has her scripts in her hand and her shoes, and she's trying to escape so fast. Rinna says if she could have a do over, she would not have Denise come on the show. I think that would've been for the best. However, this kind of environment really shows you who you're true friends are.
TELL US – IS RINNA A BAD FRIEND TO DENISE? SHOULD BRANDI HAVE BEEN AT THE REUNION? SHOULD GARCELLE HAVE GONE TO NEW YORK TO SUPPORT ERIKA?
[Photo Credit: Bravo]