The new season of The Real Housewives of Atlanta is finally picking up some steam! Porsha Williams is still on the frontlines of justice advocating against systemic racism. We LOVE to see it. However, back in the group, some early drama is starting to form. Drew Sidora made her debut last week, and she was immediately disliked by Kenya Moore. What did she do to get on Kenya's bad side already? This feels premeditated.
The other new face on the scene is LaToya Ali, and she's quite the thirsty thing. She doesn't care for Drew, she's becoming super fast friends with Kenya, and she has the weirdest marriage arrangement. Yup, she can stay. Fresh faces that make an impact is what this show needs, and it finally feels like we got just that. These girls have potential to be mainstays on the show for many years to come. Let's see what they get into next!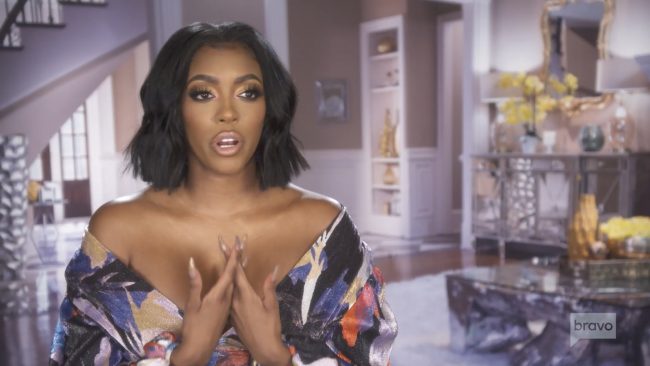 Once again the spotlight is on Porsha and her protesting against Breonna Taylor's murder. Shoutout to Porsha, and everyone out there fighting against that injustice. It must get so frustrating to do that, but still have nothing done about it. There's no reason for that. This is the greatest version of Porsha we've ever seen. POWERFUL.
Given Porsha's family's roots in civil rights, it's so great to see her following in her grandfather's footsteps. While I'd like to see Porsha with the other women more, I understand she's fighting a greater cause. Eventually, she'll be back to her messy self in the group, but for now this needs to take center stage in her life.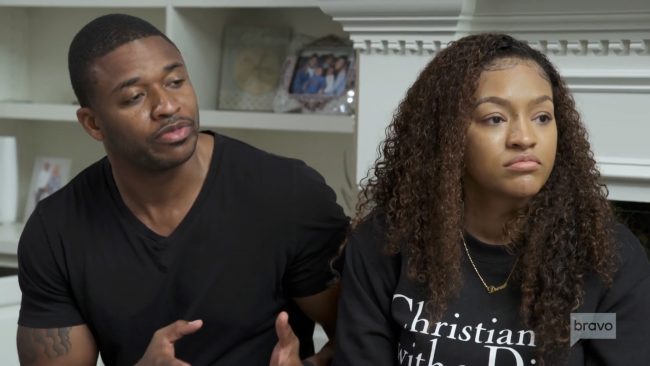 Drew's husband Ralph Pittman is WEIRD. The way he secretly records his family is creepy and such a privacy invasion. It wouldn't be as bad if he didn't keep secrets about his own whereabouts from everyone. Why is it fair for him to hide things from her, but he gets to be this all knowing entity? Screw THAT.
They haven't worked through any of their issues yet. They're just sweeping it under the rug for right now. Is that really an effective way to deal with your marital issues?
Drew's mother is trying to help them through some of it, but he's rubbed the wrong way. The sermon she wrote is entirely directed toward him, so he's feeling some type of way. He wouldn't be that defensive though if it wasn't rooted in truth. After seeing him on last week's episode, he has a lot of issues he needs to work through. I've never seen a couple THAT dysfunctional on their first ever episode.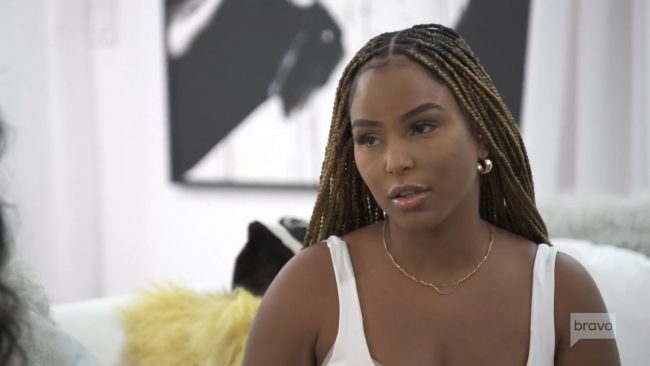 I have to admit, I'm slightly obsessed with Kenya and LaToya's new friendship. They have such chemistry and clicked so fast. They even have Cynthia Bailey triggered about how quickly they connected. Now, THAT is worth everything right there.
If Kenya ever decides to swim in the lady pond, LaToya definitely has first dibs. Their sexual energy with each other is OFF THE CHARTS. Plus, LaToya is the fresh face this show needed. It's been many many years since an impressive and memorable newbie stepped onto the scene.
LaToya brings up the idea of putting both of them on a dating website. Aren't they both technically still married? I mean, I know they're done, but still. Seems a bit premature.
NOT KENYA AND LATOYA SHADING POOR DREW AND HER WIGS. Calling the "hair" on her head a pet wig is just too much. In their defense, it looks like it may have a life of its own. I'm not sure though what Drew did to either of these women to be on the receiving end of so much shade. They don't even know her. Give the woman a chance!
Kenya's decided to move forward with the divorce which is the best decision for her. That marriage was the epitome of toxic. Nobody deserves to be talked down to and degraded like that.
The photoshoot for Kenya's future dating profile is HOT. It might be sending the wrong message with all of the booty pics, but I'm going to let the girl live her life. After being in the hot mess of a marriage she was in, she deserves to have some fun.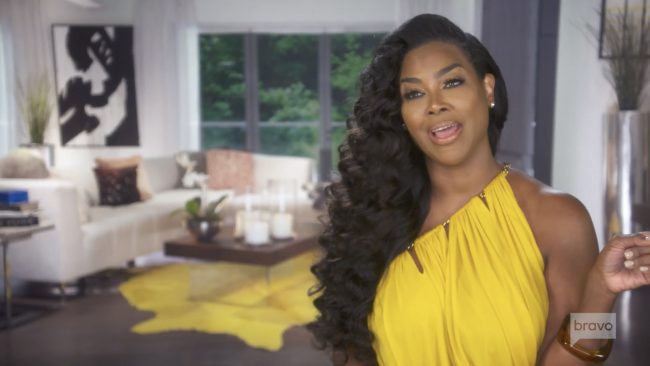 Kenya joins Cynthia and Kandi Burrus for a workout, and it looks exhausting. I think I'd rather just stay fat than do all of that. It's just too much.
Cynthia updates everyone about the wedding, and even Kenya judges her for the guest amount number. 250 in a pandemic is more than pushing it. It's reckless. There's no reason to put your guests in jeopardy like that. That's selfish.
When the topic of a prenup comes up, Kandi & Kenya both urge her to do it now and not wait. That's one of the smartest things someone can do. It's not the most romantic thing to talk up, but it is something Cynthia should really consider. She's a wealthy woman with a lot to lose, and you just never know what will happen.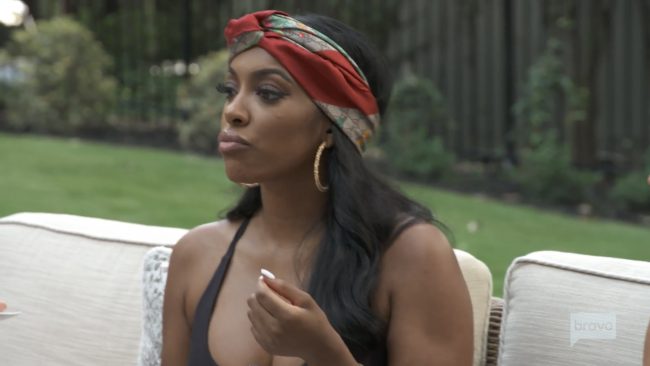 Tanya Sam is back, and we're finally going to meet Falynn Goulbadia! This show has so many part-timecast members. Why can't they toss a peach to at least a couple of these women? It just seems weird to have the same amount of friends as you have peach holders on Real Housewives of Atlanta.
Quarantine has had a major negative impact on Porsha's relationship with Dennis McKinley. She doesn't like who she is in the relationship, and breaking up is something she needs to do. That's for the best. I never really understood what she saw in the hot dog king, but she seemed happy. He's a habitual cheater, so that's red flag A.
It's nice to see Porsha letting loose and having some fun with her friends. She's been dealing with a lot of heavy things in her life lately, so this is really needed. From the relationship drama to the protest arrests, that weighs heavy on a person.
This Porsha feels like an entirely new person. The growth is crazy to watch. This evolution into a selfless champion social justice is one of the greatest transformations in Housewives history. Keep it up!
Ever since Kenya and LaToya pointed it out, I can't help but cringe at Drew's wig. I don't agree with their random bashing revolving around Drew, but they have a point about how it looks. Surely she has to be rich enough to afford something that looks better than that. Someone help this woman out.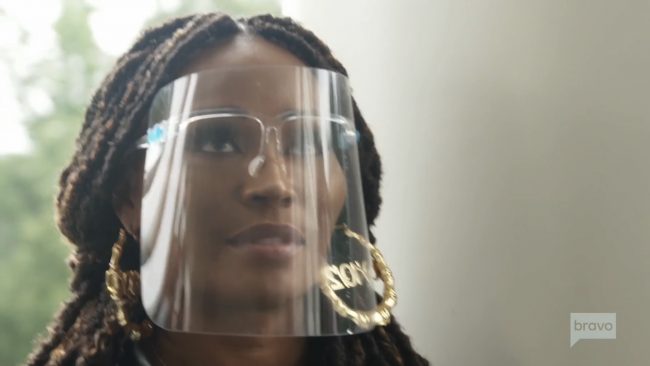 Cynthia is exhibiting such irresponsible and reckless behavior about this wedding. Why does she HAVE to have so many people present for it? Mike Hill tries to be the voice of reason when it comes to this mess, but she's really letting her inner Bridezilla out.
Am I the only one who thinks the venue actually looks too small for the amount of people present? The outside is huge, but the inside feels like 250 people will be crammed. At least both Mike and Cynthia's sister are normal people who understand a contingency plan needs to be in place.
All Mike wants is to marry the love of his life on their perfect date. However for some reason, Cynthia's obsessed with having some lavish extravagant wedding with a ton of guests. Why is she acting like this? She's making the entire thing into a negative experience.
The way she's trying to make it seem like she wants all of this because of Mike is wild. He very clearly doesn't give a damn where this wedding takes place. He just wants to marry her on the date they picked. The marriage is what he wants more than anything. The wedding isn't even remotely a priority for him.
After viewing the venue, Cynthia and Mike get into a fight on a car on the ride home. After all of it, Mike's decided if they don't get married at the venue they viewed, they will just postpone the wedding. He's trying everything in his power to make Cynthia happy, but she's making it impossible.
She won't let him speak. She cuts him off at every turn. Someone give Mike props for putting up with this s**t because it comes across so maddening. He asks if they're going to get married on the chosen date, but she says she doesn't know. Mike's obviously had enough of the conversation, and he turns the cameras off. WELL DAMN.
TELL US – IS CYNTHIA BEING A BRIDEZILLA? WHAT ARE YOUR EARLY THOUGHTS OF DREW AND LATOYA? DO YOU THINK FALYNN IS A GOOD FIT FOR REAL HOUSEWIVES OF ATLANTA?
[Photo Credit: Bravo]