Let's breathe for a moment, and try to give this season of Real Housewives of Atlanta a chance. It's not the most exciting season, nothing is really happening, but let's have faith. We've seen a lot of Porsha Williams' activism, but that's really about it. There's a brewing feud between Porsha and Kenya Moore. Hopefully that amps up the excitement factor of the season. GIVE US SOMETHING. ANYTHING.
These two have been carrying Real Housewives of Atlanta for many years, so they'll be the ones to save it. Some of the last few seasons have been boring as well, but have StripperGate to look forward to! The other big topic of the group currently is the upcoming nuptials between Cynthia Bailey & Mike Hill. "CHILL" is taking over this season, and the wedding conversations and preparations are in every episode. 10/10/20 can't come fast enough!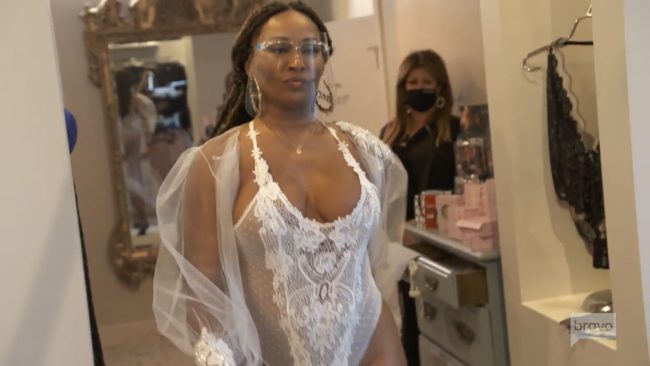 It's crazy how we've seen Riley Burruss grow up right before our eyes. That being said, how does this girl not know how to clean at all? She's going off to college, and she has no real life skills. The life of luxury y'all.
LaToya Ali meets up with Cynthia at a lingerie store, and this friendship is driving Cynthia bonkers. I detect a hint of jealousy because of how close Kenya & LaToya have gotten. They've bonded fast, but Cynthia needs to chill a bit. People are allowed to have more than one friend. Don't be THAT girl.
KENYA SENT LATOYA A NAKED SELFIE. This friendship is radiating sexual energy all over the place. I'm all for this. Anything to make Kenya lighter and more fun is fine by me. Some seasons, she's so miserable and out to hurt people, If she's more into flirting with LaToya this season, maybe she'll be a nicer person. Probably not, but we can hope.
It's unfortunate that Kenya was disinvited from Porsha's celebration. However, why is she so hurt by it? She doesn't support what Porsha's out there doing. She thinks her entire activism is a sham to get a photo-op. If that's what you truly believe, you shouldn't be attending an event celebrating it. Porsha's out there creating change, but what's Kenya doing? Bitching about a disinvite? Girl, bye.
Kandi Burruss serving as Kenya's decoy host is hilarious. Kenya is on iffy terms with most of the women that will be invited to this event for Cynthia & Mike. At least she's self aware enough to understand this. Putting aside her ego is a nice change of pace for Kenya, so hopefully she can dazzle Cynthia with this gift. She definitely owes it to her after practically ruining the engagement surprise last season. Tacky tacky.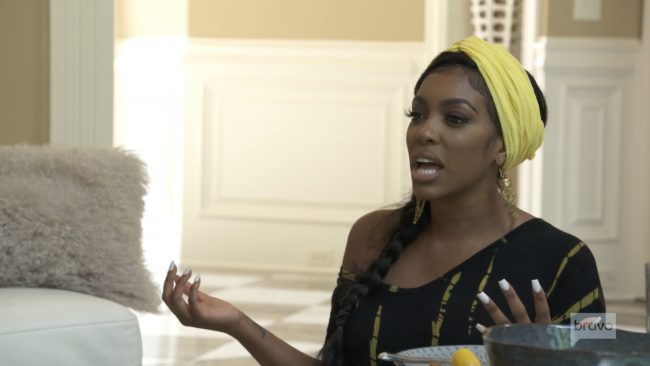 Even though Porsha and Dennis McKinkley aren't together anymore, what a traitorous move of her sister. Lauren Williams actually has the nerve to bring a competitor's hot dogs into Porsha's home. NOOOO GIRL NO. The only wieners we're supporting in this family is the one's filling up the trust fund for little PJ.
After learning that Kenya bought Porsha's daughter a Rosa Parks doll, Lauren's feeling bad about excluding her. Don't do that to yourself. You know damn well that Kenya was going to come into the party with bad energy. She'd probably spend all night making snarky comments about Porsha and cause a scene.
Porsha tells her not to worry about it and that she'll thank Kenya. See, that isn't so bad. Cordial greetings and manners is all you have to do with someone. There's no need to force a relationship that is never going to happen. They've never fully formed a friendship before, so odds are, it will never actually become a thing.
Porsha's working on a new book. so her mother and sister are there for a deep dive into the family history. I don't think we've ever heard Porsha really speak about her father, so this level of realness is appreciated. What happens in your childhood has such an impact on your life as an adult.
Porsha doesn't think she has "daddy issues" per se, but obviously not having that figure led to other problems. Don't I know THAT. Don't even get me started about not having your dad in your life. It really does affect you in ways you might never even realize.
Lauren's experience with their father was much different from Porsha's. She was able to have him at home every night, and he WAS that consistent figure. Porsha barely got a weekend father. She didn't get the kind of father daughter moments like kisses on the forehead. Moments like that, no matter how small they seem on the surface, do make a difference later on.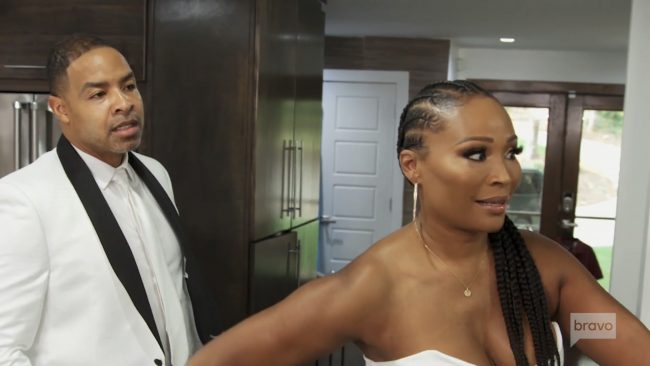 Kenya making everything about herself is too much. GIRL PLEASE STOP THE EGO TRIP. This engagement party is just as much for herself as it allegedly is for Cynthia. She's basically giving Cynthia what she never got to have for herself. She's just doing it under the guise of a "Chill" celebration.
Cynthia is totally buying this fake story about Joe Biden being in attendance for the event. I know it's a fib to fool her, but I'd be a little disappointed if I was told the president-elect would be there, and he wasn't. Don't play me like that. I'm trying to bump elbows with the leader of the free world. Kamala, you better be there too.
We're only 30 minutes until the event, and nobody is answering Kenya's calls. Cynthia is almost there, and none of the guests are in attendance. The ice sculptures are melting in the scorching Georgia heat. There isn't enough snow scattered everywhere. This winter wonderland is looking more like a spring thaw.
Tanya Sam is the first guest to show up, and she immediately finds it weird that Kandi isn't there. Kenya's forced to admit the truth about the event, and Tanya calls it out right away as a make up for spoiling the engagement. I have to say, it was super smart of Kenya to keep everyone in the dark. Everybody loves Kandi, so that's something you know people would be willing to show up for.
Cynthia & Mike finally stroll into the party, and they're entirely obvious to what's going on. Despite the numerous #CHILL signs everywhere and photos of the couple, they still don't get it. SOMEONE SPELL IT OUT FOR THEM. This is way too awkward. There is no Joe Biden honey, this is an event to celebrate 10/10/20. Remember that? The date you're always shoving down everyone's throats?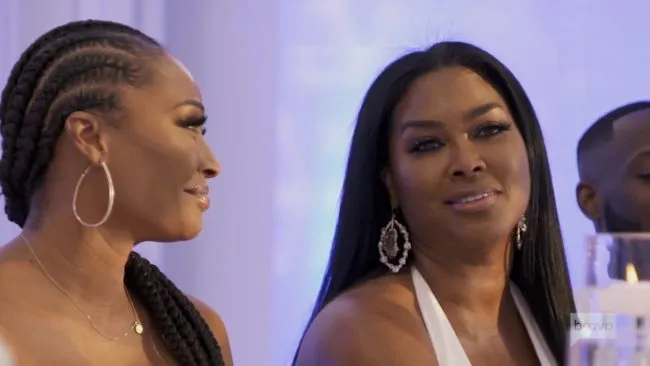 Everything about the event is gorgeous. Kenya really outdid herself. I think it's safe to say she's made up for the proposal drama from last year. Obviously she's made up for it in a big way because Cynthia asks her to be a bridesmaid in her wedding. REDEEMED AT LAST.
Porsha arrives nearly an hour late to the party, and Kenya cannot hide her disgust. I hope Kenya doesn't turn this celebration for Cynthia into an opportunity to lash out at Porsha. That's not what this needs to turn into. If she's really there to make things up to Cynthia, causing a scene at this party isn't the way to go about things. There's a time and place to confront Porsha (even though Lauren made the call), and this isn't it.
Kenya feels like Porsha showed up and purposely started disrespecting her. That's not fair to say because Porsha had no clue it was Kenya's event. She was looking for Joe Biden just like Cynthia and everyone else. Is anyone as stuck on themselves in this group as Kenya? Maybe LaToya, but that's not surprising because she's a mini Kenya.
Porsha asks who is going to be a bridesmaid in Cynthia's wedding, even though the answer is obvious. I'm not sure why Cynthia's sweating this simple question. Out with it! Just tell them it's Kandi and Kenya, so we can move on to other things. She finally tells them, and it's DUH.
LaToya starts showing everyone at the table the nude photo of Kenya, and the reactions are SENDING ME. A grossed out Marlo Hampton asks LaToya if she's going to get her butt done to look like Kenya. Marlo always coming through with the jabs. If I was Marlo I'd be after Kenya with shade for days after the KENYA MOORE HAIR CARE incident last season. Kenya said it best herself, "don't come for me unless I send for you."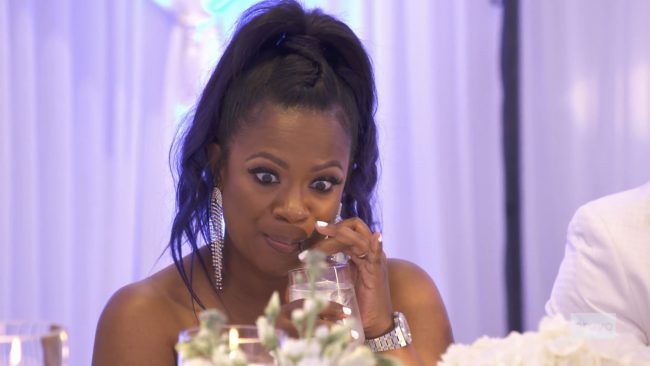 Kandi cuts off a possible argument by saying it's been a good night and not to turn it left. That peace doesn't last long because Kenya brings up the disinvite to Porsha. Here we go. Please prove Lauren's point and be a shining example of why you didn't stay invited to the surprise party.
Luckily, the fight doesn't turn into anything too nasty, so Kandi gets her wish. So I'm guessing the wedding is indeed happening on the correct date? They're doing so much for the wedding right now, it HAS to happen. I just want it over, so the show can chill with the chill stuff.
Riley is officially going off to college, and my heart is breaking for Ace Tucker. He wants to go with Riley so badly, and he doesn't understand the situation. I didn't think I was going to care about this, but then they showed a montage of classic Riley moments from the show. Seeing a video showing her grow up on the show over the years is too much for me to handle tonight. MY HEART IS OUCH.
Kandi eating a plate of day old spaghetti on the drive to college is so on brand for her. I'm glad we got some humor thrown in there to lighten the feeling going on. Good luck Riley!
TELL US – HOW DO YOU FEEL ABOUT THIS SEASON OF REAL HOUSEWIVES OF ATLANTA? ARE YOU SICK OF CYNTHIA'S WEDDING STORYLINE? TEAM KENYA OR TEAM PORSHA?
[Photo Credit: Bravo]