Welcome to another week of The Real Housewives Of Atlanta: Cynthia Bailey's Wedding Edition. It's starting to feel like this wedding is going to drag out all season. Between that and the lack of group scenes, this is a season on the verge of flopping. Thankfully Kenya Moore is working overtime to deliver the shade because if she wasn't, what else would be going on? That's a serious question. It's cute that everyone is getting along, but SNOOZE.
Cynthia has a tall task ahead of her this week. She's going to summon up the courage to tell her mother she's inviting her alleged abusive father to her wedding. That'll surely go over like a lead balloon. I'm sure her mother's going to be thrilled with the prospect of seeing the man who hurt her so deeply at the wedding. It's Cynthia's big day, but is her mother going to find that to be a justifiable enough excuse?
Cynthia & Mike Hill are running into some trouble because too many people want to come to the wedding. She foolishly thought that people would decline due to COVID-19. That's one of the most ignorant things I've ever heard her say. If she was truly concerned about the pandemic, she could've cut out a lot of the out of town people. That's easy.
Messy Mike asks Cynthia if it will be a problem if he invites Dennis McKinley to the wedding. Weren't they just talking about having too many people on the guest list? Now they want to add one more? Whew. These two are frustrating. We don't ever know where he and Porsha stand, so it might be best to leave him out.
Everyone in her family is confirmed for the wedding except for her father. Sadly, their relationship is strained because of her mother doing a PSA against him for domestic violence. OOF. It's a horrible horrible thing, but I'd like for them to set it all aside for the sake of Cynthia & Mike. It's their day. Let's celebrate them because this is a huge moment for them.
Mike feels like Cynthia's more worried about opinions of others than her own on the wedding. This entire wedding has been all about public perception. That's why she wanted some lavish grandiose wedding. Worry about having the time of your life with the man that you love. That's what truly matters here.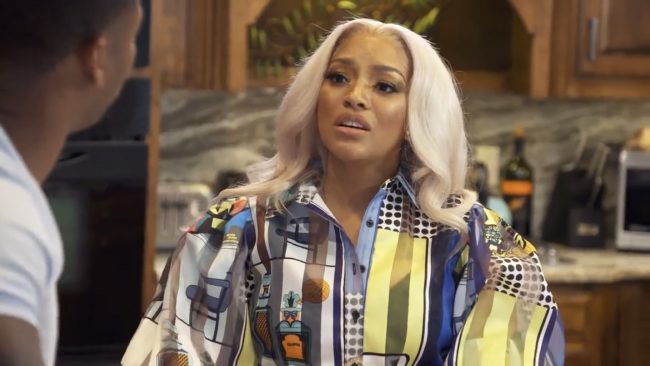 I swear, Drew Sidora looks different every time I see her. Not only that, but she's never around the group, so it's like her story exists in an alternate universe. I can't even connect to her at all. First of all, it was too much too soon with the airing of her marriage drama. Hold on honey, we don't know you like that. Give us some time.
Ralph Pittman seems to be doing a lot better following his father's passing. His energy is lighter, and they come across like they're connecting more. I appreciate their authenticity with their marriage, but they're coming in a bit too hot with it all. Give us time to know you better.
They release balloons in honor of his father, and say the kindest words. Hopefully their marriage survives being on the show. He's showing a much softer side after his dad died, and it's more than welcomed. Ralph was in the running for worst husband in Housewives at first, but I think he might turn things around. If he can show some respect to his wife and mother-in-law, that would be nice. ALSO, STOP SECRETLY RECORDING YOUR FAMILY.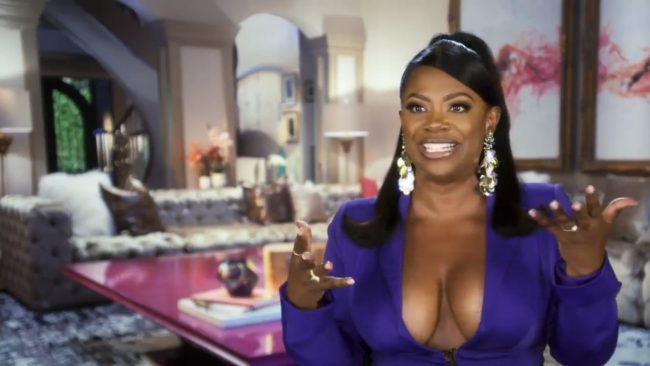 The best thing about the pandemic for Kandi Burruss is more time with her children. She's spent so many years building her empire that she's been a less than present parent. Working from home allows her to connect with her kids more and not feel like she's failing as a mother. Being a boss like Kandi takes a lot of work, but she has to think about her family also. They need her just as much as her businesses do.
Kandi's charity is helping families get groceries during the pandemic which is SO IMPORTANT. So many people are struggling right now throughout all of this. There's so many people still out of work because of the impacts from the virus. For someone like Kandi to take time out of her life to give back like this, it's a big deal. She doesn't have to do anything, but she's saving lives.
She's inviting all of the other women to help, so hopefully they put their drama aside for the sake of helping people. I think they can muster up enough civility for one day to do that. Right?
Kandi is going after Riley Burruss' father for back child support, and it's about damn time. She's going off to college right now, and he's really NEVER helped out. There's thousands of dollars that never went to supporting her like they should have.
I don't think Kandi being wealthy should even play a factor here. Riley's going off to school, and this could be a nice cushion to help her out. We all know how hard it is starting out into the world, and he can do his damn job as a parent. He apparently had quite the amount of money himself. He can afford it. It's not anything new. This is a long time coming, and it's the right thing to do. It's disgusting to even fight it. Be a parent. Step up.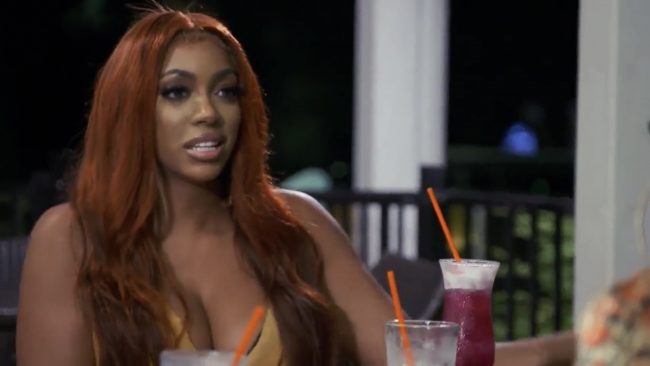 Porsha & Cynthia meet for a one on one chat, and Cynthia wants the tea about her relationship with Dennis. I love a girl who just dives right into the gossip and wants ALL OF THE INFO. Fish for that information! YES.
Every time Cynthia tries to secure the tea, the server pops in and interrupts them. She probably wants all of the information too. Leak that to the press and get herself a nice fat tabloid check.
There's a constant bickering taking place in front of their daughter, and that's a big issue right now. Porsha's moved on from the cheating, but the fighting hasn't ever dissolved. All of the toxic traits learned after he strayed never went away. That has just festered all of this time, and now everything turns into a war of words.
At least Porsha's aware she shouldn't be living like that or doing it in front of the baby. That's huge. Some couples don't have that type of awareness or care for their child to walk away. Trying to make things work for the sake of the child can sometimes go on to do more damage.
Porsha's out there on the frontlines fighting for justice, and that takes a mental toll. The last thing she needs is to come home to a different type of fight. Enough is enough. Hot dogs aren't for everyone. Her baby vegan status should extend to her relationship as well.
Cynthia pleads Mike's case to have Dennis attend the wedding. It's a failed attempt because as of now, Porsha doesn't want him near the wedding. I guess it comes down to history. Porsha & Cynthia have a longer history and deeper ties than Mike & Dennis. That's some skewed logic, but it's all I have. My mathematical pursuits have led me to believe that Dennis should not be allowed to attend. Sorry! Porsha Luther King for the win.
RELATED: Real Housewives Of Atlanta Porsha
Cynthia calls Noelle Robinson, and it's great to see how she's thriving out on her own! She's absolutely drop dead gorgeous, so it's not shocking she's become a beauty influencer. She's BOOKED solid, so she can't stay long for the wedding. It's in and out for her mother's wedding. There's not a whole lot of bonding time that's going to go down, but that's what happens when kids grow up.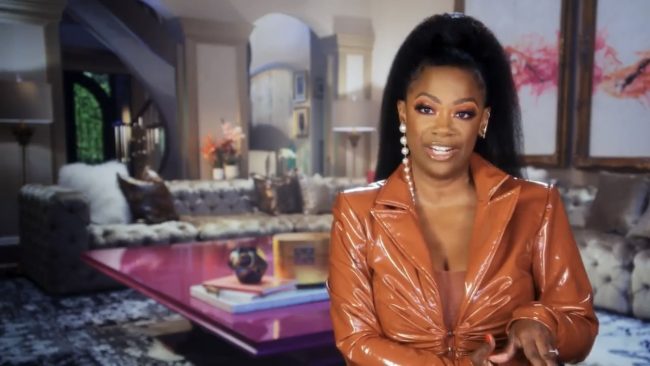 Kandi's latest confessional look is STUNNING. Why is she so effortlessly beautiful? All of the women on this show are. It's great to see all of the women supporting Kandi and her philanthropic efforts. Of course, Kenya assembly line Moore is already trying to control everything and tell everyone what to do. Why is she the way that she is? I wouldn't have it any other way though.
If we're being honest, the villain's of these shows really carry everything. Love them or hate them, people like Kenya give people a reason to watch. They don't care if they're hated, and they do what they have to do to put out an entertaining product.
Porsha tries filling in Tanya Sam about everything with Dennis and the wedding, but Kenya can't help herself. She says "can we talk and work?". Girl, please let them breathe. Everything's getting done, so let them be. Kenya says if Porsha and Dennis are in a good place, then why can't he come. She'd love nothing more than for Porsha and Dennis to have a big show of drama at the wedding. You know she'd get off on that.
Kenya's shade is deflected by Porsha, and she dismisses it. I appreciate Porsha's efforts to be more mature and not take the bait, but please stop. Her refusal to give into the drama has really made this season fall flat. Kenya's out here doing the lord's work and giving us many opportunities for drama. However, everyone's letting it fall flat and everything turns to a smiling kumbaya moment. ICK.
It's nice of Drew to Facetime the group and at least show up virtual. How does she have a peach this season and LaToya Ali doesn't? I'm wracking my brain trying to make sense of it. I don't want to see she's bringing nothing to the group dynamic because that's rude, but yeah she's a waste of time.
Kenya & LaToya came up with the idea to have a group getaway! FINALLY SOME GOOD GROUP SCENES COMING UP. I don't want to come across like a drama thirsty animal, but this has been too light for drama. Hopefully the trip to Charleston gives us the chaos we know and come to expect from this franchise. When the lights go out on a group trip with these women, anything can happen.
Noelle's in Atlanta for the wedding, and Cynthia tells her some family trouble is coming. She wants to invite her father to the wedding, and Noelle's the perfect buffer for when she tells her mother. That's honestly so smart to do because it decreases the odds of such a visceral reaction.
Cynthia's mother's feelings were hurt when Cynthia did a gushing post toward her father on Father's Day. Hot damn that's deep-seated resentment to the next level. I understand her mother's feelings here, but this is a monumental occasion for Cynthia.
That's not even her mother's only issue with Cynthia though. The entire making of the PSA is a problem with her. She got backlash for creating it, but that doesn't mean she should lie about not knowing what it was about. Her mother is playing a bit too dumb here. That's extremely rude for me to say, but she wants Cynthia to bite the bullet here and take the blame here.
Noelle chimes in to take the side of her grandmother which I don't think Cynthia anticipated. Cynthia breaks down over guilt for being born. She knows her mom becoming pregnant with her derailed all of her life's plans. That's a heavy burden to have on your heart and soul.
TELL US – SHOULD CYNTHIA INVITE HER FATHER TO THE WEDDING? DOES DREW DESERVE HER PEACH? OR SHOULD LATOYA BE FULL-TIME ON REAL HOUSEWIVES OF ATLANTA INSTEAD? DO YOU WANT MORE GROUP SCENES THIS SEASON ON REAL HOUSEWIVES OF ATLANTA?
[Photo Credit: Bravo]