StripperGate is FINALLY here. After months of speculation about what's going to go down, we are finally close to some answers. This has been a slow and rocky season of The Real Housewives of Atlanta, so the drama is welcomed. Anything that's able to spice up this dry season sounds good right about now. Cynthia Bailey has no idea what she's in store for with this bachelorette party.
Kandi Burruss is the perfect person to throw this type of event too. She always knows how to have a good time, and you know it's going to get freaky. The question looming over everything though is just how freaky will things get? What is the limit for these ladies? How far is too far? Who is going to be caught with their pants down with a stripper? It's time to let him out of his box. RELEASE BOLO.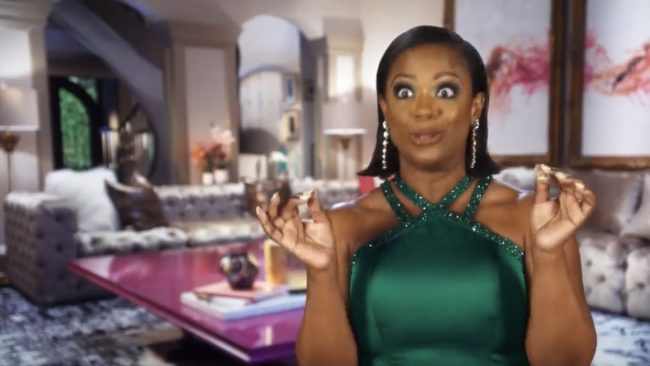 KENYA MOORE SMOKING AT THE BEGINNING OF THE EPISODE WHILE BEING ASKED THE DEFINITION OF A FREAK HOE HAS ME SHOOK. WHAT IS HAPPENING HERE? I CANNOT HANDLE THIS.
Kenya says there's not enough sage or holy water to erase what went down in the house. She claims someone screwed the stripper, but she iterates that it wasn't here. I believe her because that doesn't seem like her style, and her child is literally on this vacation. That would be some questionable parenting if she did.
I think Kenya's mission over the next few episodes is going to be determining who got freaky with Bolo. Now you KNOW she wants it to be Porsha Williams. After their argument at the most recent dinner, she's going to do whatever she can to prove it's her.
The ladies are getting into their outfits Kandi provides, and Cynthia's winding down in her robe. It's hilarious how oblivious she is to her surroundings. Her friends are downstairs dressed like dungeon hoes, and she's casually chatting with Mike Hill in the bathroom. Honey, have a little awareness of what's happening around you.
I will say, everyone looks STUNNING. They hear someone coming down the stairs, so they tried to hide in case it's Cynthia. There aren't enough hiding places in that house to keep that much ASS a secret. That's just the honest truth. I've never seen so much booty in a room scrambling to hide before.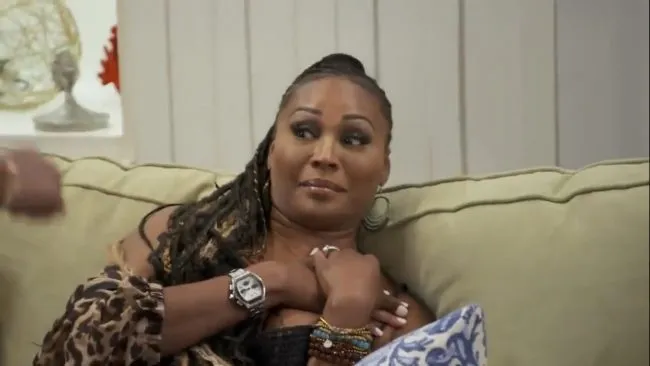 Cynthia has no idea what's happening once she enters the room. She's not sure if she's getting a spanking from Kandi or what, but she's very out of her element. All of the women come in the room in full character. Crawling on the floor and everything. We aren't in Charleston anymore. We've officially entered the DUNGEON.
Kandi let's everyone know it will be a judgement free zone. However, in her interview Drew Sidora shades Kenya doing the splits. She says if Kenya did that a bit more maybe Marc Daly wouldn't have left her. That is cold as hell, but I mean she's just saying. If you're going to walk like a duck with the ladies, you better quack for your husband too. Something like that.
Kandi is living out her dream in this Mistress role. She has Shamea Morton go upstairs and put a little mini vibrator in Cynthia's panties. This all seems a bit much for Cynthia. If anyone sticks out like a sore thumb on this trip, it's the bride to be herself. Props to her for actually going along with all of this.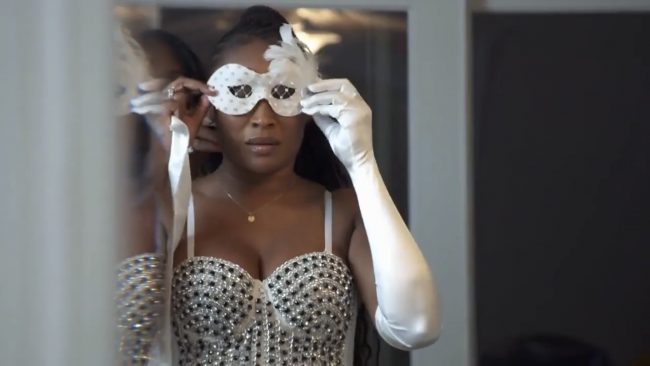 Once Kandi gathers the women, they head outside for their first interaction of the night with Bolo. It's clear right away that Bolo is packing some serious sausage in his Chanel drawers. According to Marlo Hampton he's wearing fake Chanel, but Chanel nonetheless. Leave it to her to be making a fashion critique against the stripper in the middle of this party. Only Marlo. Please never change.
Cynthia's asked about her interaction with the stripper by producers, but she says it should stay in North Carolina. Whew, this woman. I really don't think she did anything with the stripper because she can't even name the right state. I don't believe she's trying to do anything weird with Bolo and ruin her Chill.
CYNTHIA ONLY GAVE THE STRIPPER FOUR DOLLARS. She says she made it drizzle instead of making it rain. I know this is heading toward a ton of drama, but there's so much hilarity in these episodes. If anything, the ladies of Atlanta always bring the humor.
Porsha's rubbing on Bolo a little too close for comfort. She's one of the only women right now that can't keep her hands off of him. This isn't your party girl. Let someone else take a turn. Just keep your face shield on at least.
After Bolo's "performance", Kandi puts Cynthia in a sex swing and adds another vibrating element to the party. It's too much for Cynthia. She can't handle a party like Kandi wants to throw. She's being a great sport, but you can tell there are some elements she's uncomfortable with.
However, the women all want Bolo back. He is the star attraction of this event, so Porsha gets him to agree to come back out. There's one condition though. He doesn't want to return if they're still going to be filming. The ladies tell producers to turn off the cameras so they can have some real fun. I think it's a bit bizarre to be on a reality show and not show all of reality though. On a reality show, it's almost weird to me that the cameras aren't there always. ESPECIALLY DURING SOMETHING LIKE THIS.
The group comes together like never before to cover up all of the cameras in the house. I'm not sure everyone that was down to f**k, but it sounds like Porsha, LaToya Ali, Drew, Shamea, and Tanya Sam were at least in the room. In a confessional, a producer asks Drew if she knows where Bolo slept, but she says she doesn't. The mystery continues about what happened that night.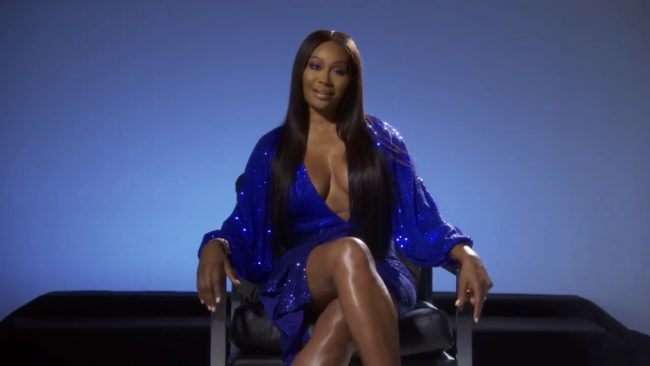 There's so much tea to unfold the following morning, but luckily Kenya's got us covered. She tells us that her nanny brought Brooklyn home at some point, and Kenya went upstairs to check on her. Once she came back downstairs she sat next to Cynthia and saw LaToya straddling Porsha and making out.
It comes across like a lot of the women "took a turn" with Bolo, but one thing that's clear is Tanya didn't want to. She felt like she would get into real trouble if she didn't. I'm not sure if that means she absolutely didn't do it, but in the footage we could make out, she didn't want to. Allegedly.
The next morning Kenya comes downstairs at 6 AM, and she's hearing sex noises from a bedroom. She doesn't say who it was from, but we see a clip of Bolo not leaving until after 7AM. Someone was fornicating with the stripper all night long. Let the mystery begin.
Cynthia chats with Drew later that morning to dissect what went down after hours. At first Cynthia thought Drew went to bed before she did, but she's stunned to learn Drew came back out. I don't want to say Drew had relations with Bolo, but it damn sure comes across that way. If she was still up as the sun was just coming up, she had to have been privy to who the sex noises were coming from. If it wasn't from her, she has to know WHO.
I'm more shocked that Drew actually had some fun with the other woman than I am anything else. She was such a dud on Real Housewives of Atlanta so far, so it's nice to see her mingling with the ladies and letting loose. The majority of the group seems ready to embrace their freak hoe side at any given time.
Kandi is NOT spilling any secrets about what went down in the dungeon. I admire her ability to actually keep her mouth shut even though I desperately want to know. The only one truly on a crusade to bust the stripper f**kers is Kenya. What Kenya wants she usually gets, so don't be surprised if she exposes the truth.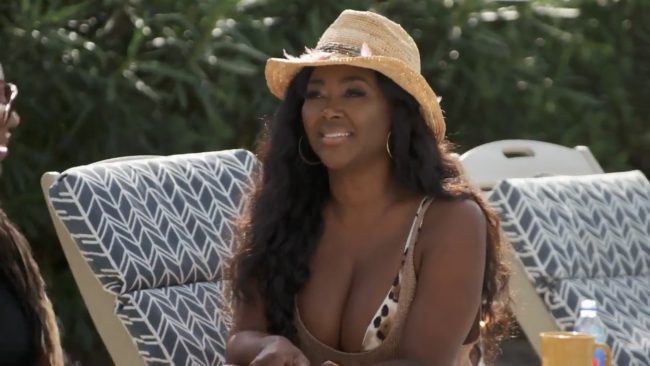 Some of the group is sticking around at the house while the others are going on a fishing boot. Once everyone's gone, Kenya starts grilling Cynthia about the previous night's events. Cynthia says she enjoyed watching the other women going at with each other. It turned her on. Nothing wrong with that. There were some beautiful women having loads of fun at the party.
Where things begin to come into question though is what role Bolo played in everything. We'll find out soon enough hopefully. The more things come to light, the more it definitely seems like Drew was definitely involved with him. Is there any question as to if Porsha was? She's pretty honest about being with everyone that night, so I don't think she'd even protest the allegation.
We learn it couldn't have been LaToya with Bolo at 6AM because she was on Instagram at that time. Look at Ms. Toya with the rock solid alibi. Good for her. In the court of Kenya's opinion Shamea is also cleared. She was almost guilty by hoe association, but in the end she was found not guilty!
Tanya on the other hand might have some extra explaining to do. She couldn't provide Kenya with an accurate timeline. Kenya feels like the ones who pretend to be prim and proper are usually the freakiest. I personally feel like it was Porsha and Drew with the stripper. I don't think Tanya was really that involved in the sexual sunrise activities.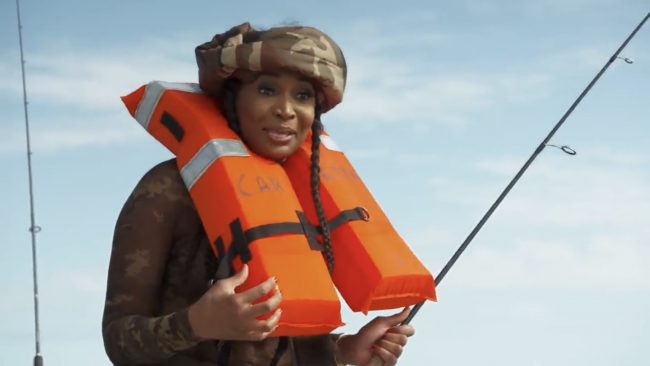 A positive thing that came out of the party was some bonding taking place between Marlo & Kenya. On the boat, Kandi tells Marlo they're letting old s**t get in between a friendship. If Marlo & Kenya can't let go of stuff from many years ago, they'll never work through their issues. Choose last night's laughter at the party as a launching pad toward a fresh start.
Of course Marlo hooks a shark on the boat! Of all people to be going toe to toe with Jaws, it would be Marlo. She's bound and determined to reel it in. I honestly was mocking it at first because I thought it would turn out to be an itty bitty baby shark do do do do.
HOWEVER, it was kind of large. It certainly wasn't little Nemo that's for sure. There's just something about it being Marlo of all people to do it that makes it that much more entertaining.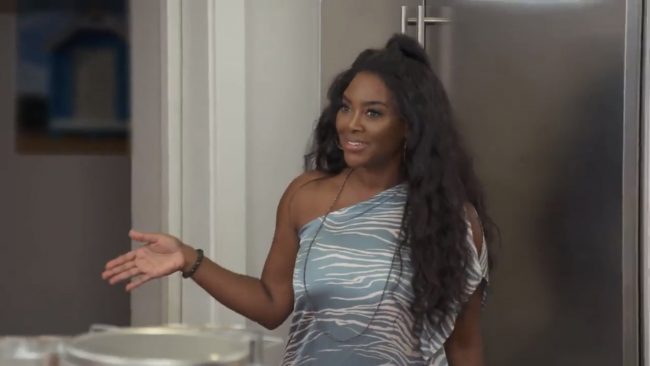 Kandi's growing increasingly frustrated with Kenya's pursuit of who slept with Bolo. She is obviously never going to divulge the information Kenya wants to hear. I get where she's coming from though. If you didn't actually see it, why are you still carrying on about it?
Kenya says she immediately recognized Porsha's voice, so knows she was one. That one is kind of DUH, but anyway Detective Kenya scores her first win. She still can't identify the voice of the second woman though. With the evidence we have so far, it has to be either Drew or Tanya. That's what makes the most sense.
Kandi slips up in her confessional and appears to almost admit there was a threesome. Her bedroom was right next to the open room where this happened, so she must know what went down. One step closer to another case closed!
Cynthia doesn't want another trip with the drama following them back to Atlanta. With that being said, she wants to mediate a conversation between Marlo & Kenya. They've been feuding for so many years, it's time for some resolve.
Kenya isn't here for Cynthia trying to facilitate another peace brokering session between them. It didn't work when Kandi tried, so why would it work now? The issues are much deeper than the surface level arguments they've had recently. It goes back to four years ago when Marlo talked about Kenya's mother not being bothered with her. On top of that, Marlo made disgusting comments toward Kenya while she was heavily pregnant with Brooklyn.
After pouring her heart out to Marlo, they both apologize to each other. It's a long time coming, but it's BEAUTIFUL they've finally come to this point. Their issues stemmed from such a deep place of hurt, so now they can move forward.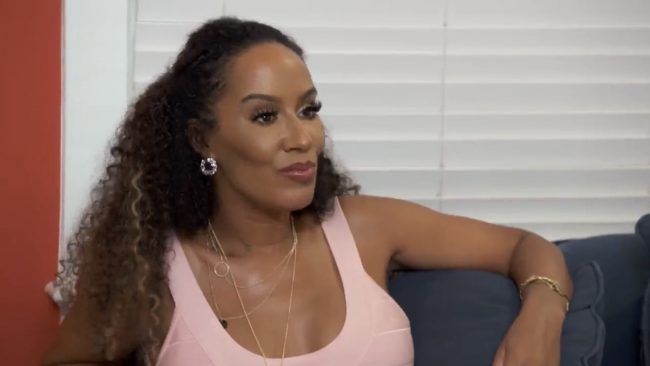 The skits that they have been doing throughout the episode about the stripper come to an end when Porsha refuses. She's pleading the fifth, and that's all there is to it. This isn't a shock. Not at all. She isn't fooling us. We know it's you.
Shamea tells Tanya & Porsha that Kenya heard sex noises from the room. Thankfully for Kenya, Marlo admits to her that she too heard the sex noises. At least someone is able to back up part of Kenya's claim. It doesn't feel like it was Tanta. I'm just not sure.
LaToya says she understands everyone's issue with Kenya because she's making their fun into a problem. It took her long enough. Everyone's flabbergasted when Kenya & Marlo show up to dinner together. It's really eating at Porsha that Kenya has a new ally in the group.
TELL US – WHICH REAL HOUSEWIVES OF ATLANTA STARS DO YOU THINK HOOKED UP WITH THE STRIPPER? IS IS WRONG OF KENYA TO INVESTIGATE? DID YOU ENJOY THE BACHELORETTE PARTY? 
[Photo Credit: Bravo]