A season like no other is finally coming to an end. The last chapter of Season 13 of The Real Housewives of Atlanta is HERE. It's felt like it's been on forever. This is partly because of the never ending feud between Kenya Moore & Porsha Williams. It's time to simply realize these two will NEVER get a lot. It's not going to happen. There's no amount of mediating in the world that will bring these two together as friends.
The last part of the reunion will probably put a spotlight on what went wrong for those two this season. They started off rocky and ended in an even worse place. However, they aren't the only two constantly add odds. Taking a similar trajectory as Kenya & Porsha, Drew Sidora & LaToya Ali immediately clashed as well. The bad blood is very real between those two. 
Bolo Court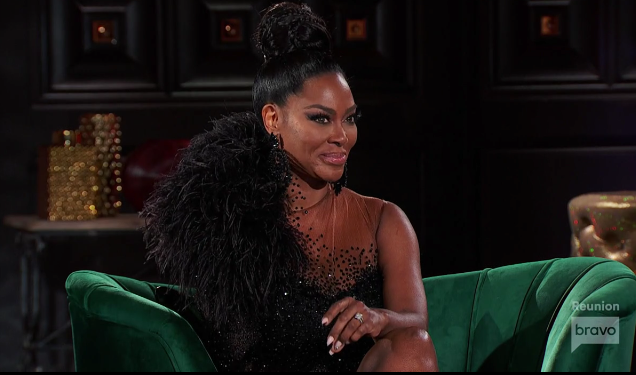 I feel bad for Porsha in a lot of ways with this Bolo stuff. The girls thought once the cameras went down or got covered, they were good to go. All they wanted was to have a good time, and Kenya kind of ruined that. In many regards, she broke girl code and violated the privacy of all of the women.
Production was asked to leave so the women could have the wild party they actually wanted. Kenya however went out of her way investigate and get answers about what went down. I actually understand her point though. She seems to be the only one who remembered they were filming a television show. She knew what needed to be done to create a story line worth watching.
Kandi Burruss says she doesn't control Kenya, so she couldn't shut her down. Obviously Kandi didn't think what Kenya did was right, but she only has so much sway. Kenya's her own woman and is going to whatever the hell she pleases.
Another valid point by Kenya is that she wasn't the only one talking about it the next day. Drew & Cynthia Bailey were full on discussing the sexual actions of the women with Bolo. Kenya is being vilified for this, but it's hard to fully hate on her for doing her job. Kenya believes if she was in Porsha's shoes, they would've roasted her harder than anyone else.
Andy Cohen calls Kenya out for exposing anyone's sexuality on camera. Some of the ladies likely didn't want anyone knowing their private business like that. Kenya went to expose their actions with no regard to how it might impact their lives. That's just not okay.
Kenya fires back at Andy and cites the location and purpose for the visit as why it was okay to do. They are filming a reality television show and staying in the cast home. I want to drag Kenya for what she did here, but she does keep making points that make sense. The women who engaged in this definitely picked an odd setting if privacy was so paramount.
Marlo Hampton tells everyone Kandi told her the next day exactly what happened. BUT NOW WE SAID IT. Speak on it honey!
Kandi wants to defend herself after Marlo exposes this, but Marlo's not having it. She wants to talk about the reason for the dungeon set in the first place. Don't we remember Porsha accusing Kandi of having a sex dungeon? Do we recall the drug and rape allegations? We're talking about THAT.
DUNGEON ORIGINS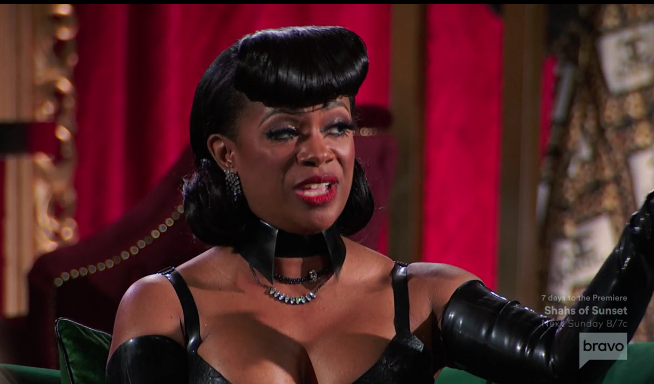 Kandi's getting visibly upset about this becoming a discussion. That hiccup from the past generates a lot of emotions from Kandi, and maybe she's not that over it. Hmm.
Kenya explains why she won't let her issue with Porsha about Bolo go. Apparently being called a liar in this group despite allegedly never lying is too much for her. Porsha doesn't take kindly to this because she feels Kenya's obsessed with her. Why is she so bothered by her? That's a good question.
This is really just a tit for tat with these two anymore. They go at one another over EVERYTHING. Kenya is sort of slut shaming Porsha here, so siding with Porsha feels less dirty. It feels like the least toxic side to choose. However, the entire feud is beyond nauseating at this point.
Porsha says if Kenya paid this much attention to Marc Daly, they'd still be married. AND THERE WE HAVE IT WITH THE WILD LOW BLOW. It has to be fair game to discuss though, right? If Porsha reportedly sleeping with Bolo is alright to go after, Kenya's public marriage is too. It's only fair.
Andy asks if Porsha really did sleep with Bolo and wanted to keep it with herself, but Kenya can't accept that. If Porsha doesn't want to disclose her sexual partners to Kenya, she's not required to. She doesn't owe an explanation to ANYONE.
Kandi interjects and says it actually isn't that bizarre that Kenya wants it all out in the open. She compares it to four seasons ago when Porsha blindsided her with the "undercover lesbian" stuff. Well this is getting juicy. Please go on.
Kandi says Porsha did all of that but left out the parts SHE did herself. This is definitely comparable to that. Somewhere down the road that same type of thing could happen if the details of the night aren't clear now.
This pisses Porsha off who feels like she's being condemned for something that happened four years ago. Kandi tells Andy she's always going to feel some type of way about what went down in the past.  It is a bit odd to drag four years ago into all of this though.
This is a sensitive subject for Kandi herself. It's hard for her not to be. Having your name plowed through the mud will do that to you. It's not the type of thing you can easily erase from your memory bank.
"Who Leaked That?"

Marlo & Kenya are still cool, but she hasn't been to her home since they wrapped. So is this a real friendship or is it not? That seems weird to me.
Kenya trusts Marlo because she's a straight shoot. Marlo however doesn't fully trust Kenya. She's not in a place where she feels comfortable just casually hanging out with her. She's not there yet.
Things between Marlo & Porsha went south the moment Marlo made up with Kenya. That was the moment that derailed everything. Marlo tells Porsha to get some lipo which is a step too far. There's no need to fat shame someone in the middle of this argument. When things devolve to petty insults like that, you know it's gone too far.
Everyone thinks Kenya leaked the story about StripperGate to the press. Kenya denies any and all accusations hurled her way about that. It does look fishy though. However, in all honesty it was probably production to generate buzz for their season.
Porsha is still on speaking terms with Tanya Sam, but she won't say anything else. Tanya's done with the group following the revelations from the trip to Charleston. That might negatively affect her home life.
Kenya starts explaining why she thinks Tanya fled the group, but everyone interrupts. They don't think it's fair to rag on Tanya when she isn't there to defend herself. This will be unpopular, but whose fault is that? Nobody forced Tanya to run away and leave the group. If she wanted to have a voice in all of this, she could've easily had a chair in the dungeon set. Let's be clear.
Kandi didn't realize spilling details to Marlo would have a negative trickle effect. At the time she divulged the hot tea to her, she thought Marlo & Porsha were still on good terms. That's an oopsy moment on Kandi's part, but who even cares? We all know what happened, so let's stop acting like we don't.
The Prophet Saga
Drew wants to do a group prayer before they dive into the Prophet Lott drama. Oh lord. She really is always doing the most. This is NOT that serious. She is the sole entity making this into an issue for no apparent reason.
NOT DREW ASKING GOD TO ANOINT HER TONGUE. Say what now? I'm feeling some type of way about Drew using religion to attack someone right now. It feels all sorts of wrong. It also feels like she set this entire thing up as a way to attack LaToya. Gross.
LaToya still claims she never had a personal relationship with the Prophet. She can't understand why Drew's so triggered by her being connected to him regardless. Drew says this caused a ripple effect in the "prophet community" that made her baby blessing untouchable. I can't y'all. This sounds INSANE.
Kandi hates when people use religion as a way to explain behavior. Not only that, but the entire recording fell flat. There was NOTHING on the cassette tape that was incriminating in any way, shape, or form. It was another example of Drew doing the most and reaching for the stars.
Drew bringing a gag gift to that Secret Santa party left a sour taste in everyone's mouths. Nobody would've ever wanted that ugly ass wig. It was in very poor taste.
Shockingly LaToya reveals she wants to move forward with Drew and build something real. There's a hell of a lot more hope for those two than Kenya & Porsha. Thank goodness we might see some genuine healing between those two.
8 Years & Counting

Kenya felt the friendship with Porsha derailed after Porsha made fun of how she acted around Marc. That was too much according to Kenya. In Porsha's defense, Kenya around Marc was like an entirely different woman. I couldn't even recognize her. All of her normal traits were missing in action.
Porsha said she bonded with the sensitive side of Kenya. Doing negative things to Porsha's friends was the last straw to her. She's referring to Kenya crashing Marlo's event last year, but that doesn't make sense. Porsha was all over the floor laughing her ass off when that went down. Why is she acting like she was this biggest cheerleader of all time for Marlo?
Both Kenya & Porsha think it's unfortunate the friendship is over, but it is what it is. The back and forth between them will NEVER end. The door is CLOSED. The end.
TELL US – WHAT DID YOU THINK OF THE REUNION? WILL PORSHA & KENYA EVER BE FRIENDS? IS KANDI OVER HER PAST ISSUES WITH PORSHA? 
[Photo Credit: Bravo]