Kyle Richards is an OG on Real Housewives of Beverly Hills. Viewers have seen Kyle's sisters come and go. Yet Kyle, and her unique fashion, remain.
Filming for Season 13 of RHOBH is underway, and some former favorites are returning. Kyle's sister Kim Richards is back in the fold, as are Camille Grammer and Denise Richards. I'm living for all the fantastic looks the Beverly Hills ladies always give us.
A Simple Statement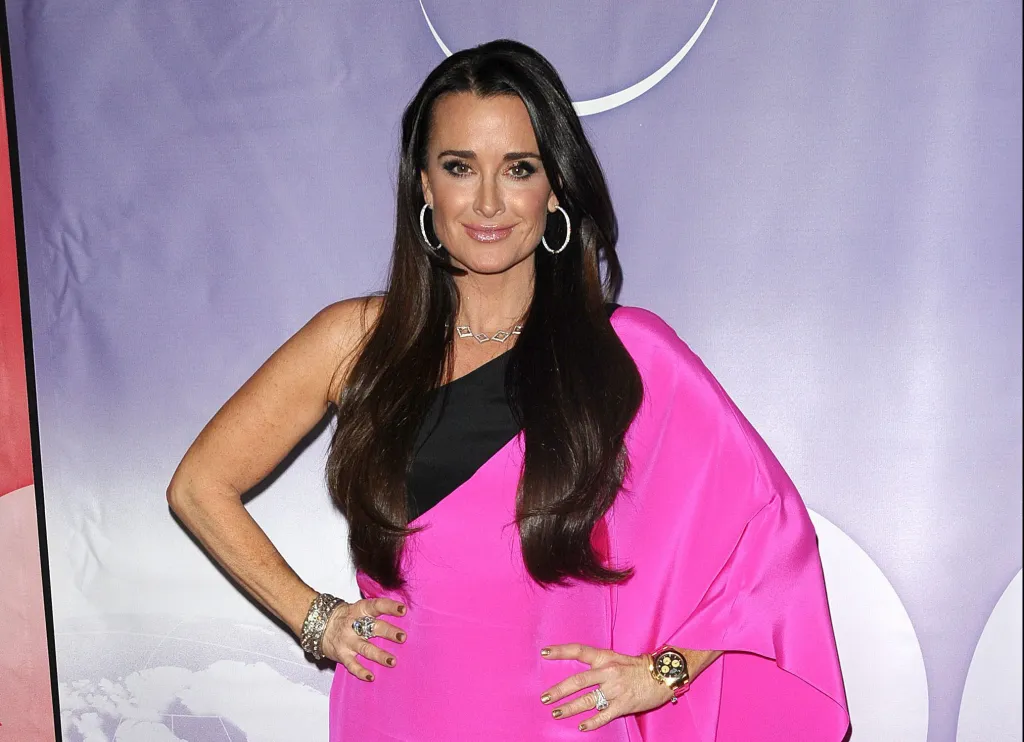 Besides being a wife to Mauricio Umansky and the mother of four daughters, Kyle is also an actress. She recently reprised her role in the thriller Halloween Kills. But she also has a passion for fashion. In this look from 2011, Kyle shows off a simple yet stylish ensemble. She accessorized the one-shoulder hot pink and black dress with some jewelry but doesn't overpower the look. Kyle loves jewelry and accessories. In this case, it elevates her outfit.
A More Casual Reunion Look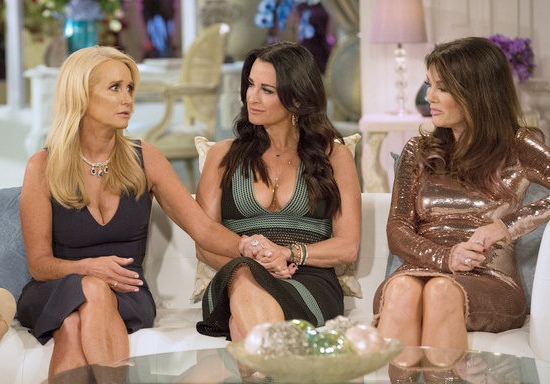 Kyle once again proved that less is more with this look from the Season 6 RHOBH reunion. Real Housewives fans know that the reunion is like a prom for the ladies. Every season is more elevated and glam than the previous one. According to Big Blonde Hair, Kyle rocked a black and green mesh and macrame dress. Her look is simple but elegant. And she once again accessorized with necklaces, bracelets, and earrings. It was a fresh look for Kyle. So, props for serving us something new.
Sophisticated In Pink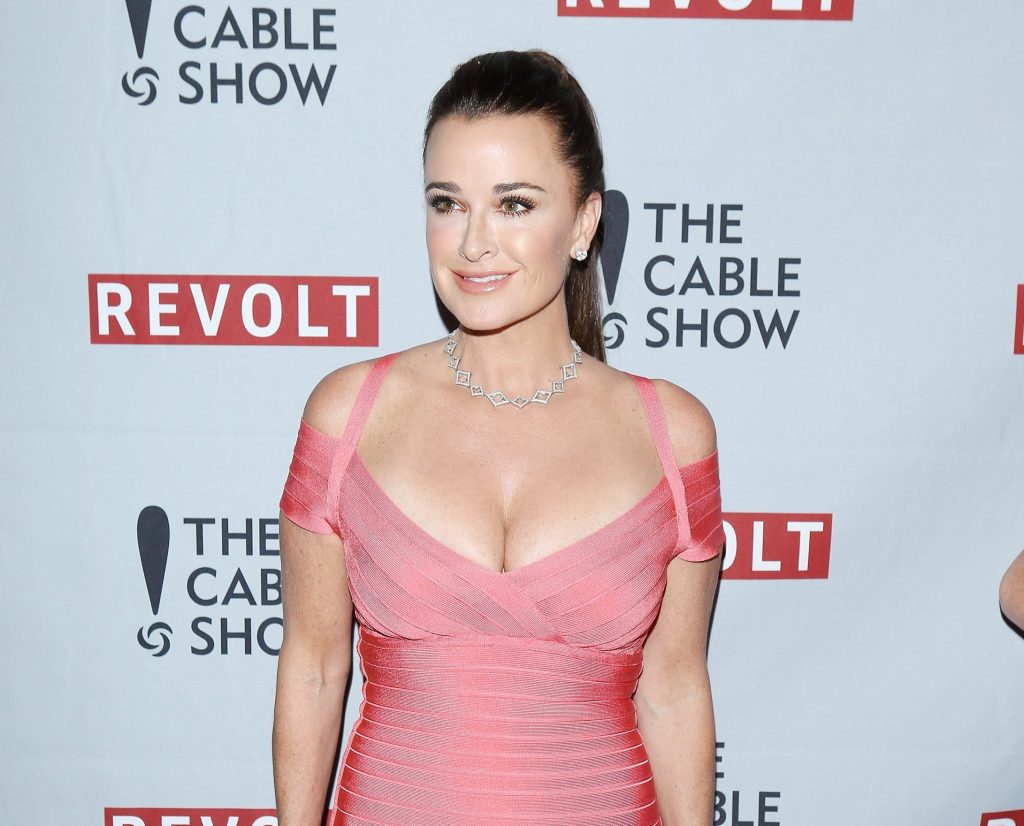 Kyle isn't shy about flaunting her assets. She loves a low-cut neckline as demonstrated in this curve-hugging ruched pink dress. She also has a fondness for off-the-shoulder or one-shoulder styles. Again she wore minimal jewelry to let the outfit speak for itself. In 2014, Kyle's first clothing line debuted on the Home Shopping Network. It was an eight-piece line of muumuus, or as Kyle called it, "relaxed glamour." This RHOBH star knows what she likes, and follows her own fashion cues.
Casual And Flowing Glamour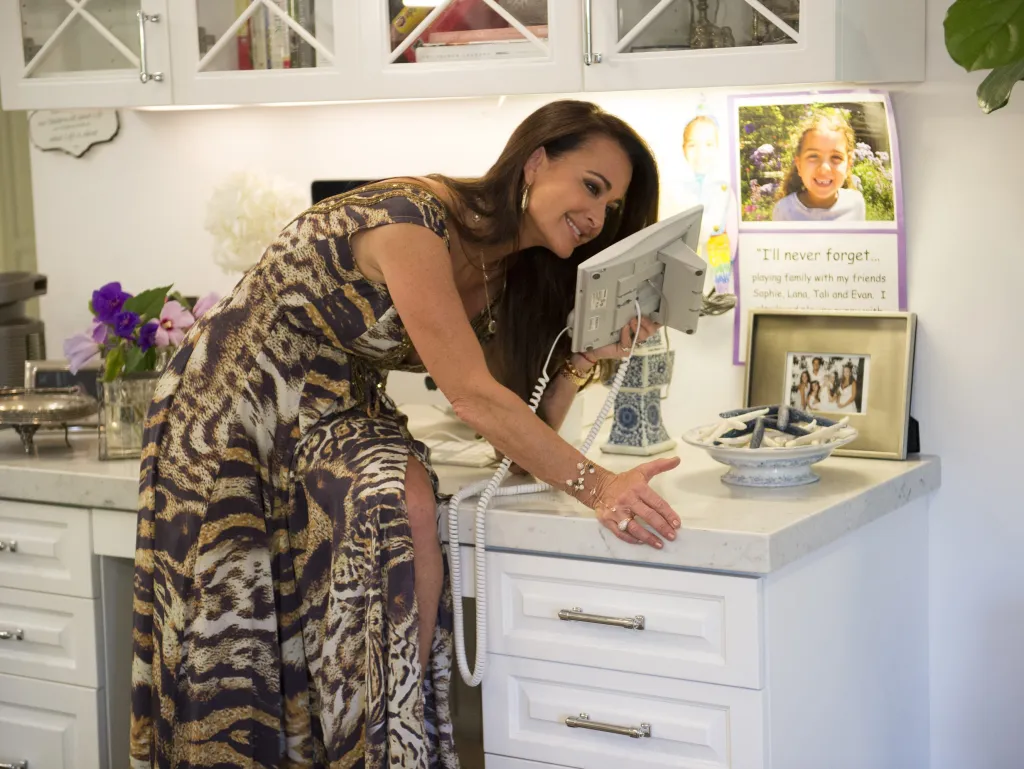 Kyle adores a muumuu or kaftan. Let's be clear- if she had her way it would always be kaftan time. Kyle's boutiques, Kyle By Alene Too, closed in 2018. But in 2019, Kyle was back at it. She partnered with Shahida Clayton to design a line of "contemporary, resort-ready clothing." The line, which included Kyle's trademark kaftans, was christened, "Kyle and Shahida." Kyle told Vogue in 2022, "People make fun of my kaftans, but I think they're really chic and remind me of yacht holiday photos by Slim Aarons."
Embracing Bold Colors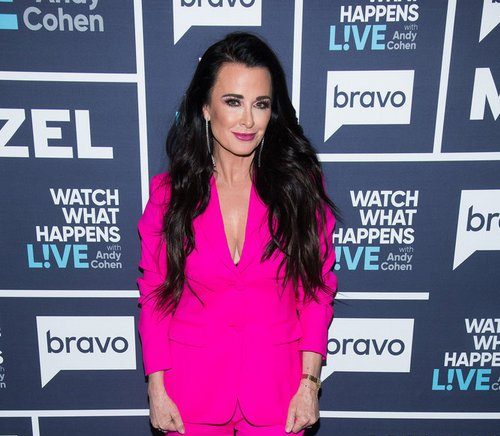 "I love being creative in fashion," Kyle said of her new clothing line. Kyle's line made its debut at New York Fashion Week. Of course, the RHOBH cast was in attendance. Dorit Kemsley, who is also a designer, tried to "help" Kyle out. Mostly by saying that she "saved" Kyle's show. We know that Kyle doesn't shy away from color. This hot pink pantsuit, featuring a plunging neckline, is the perfect example. She went with minimal jewelry once again to let the ensemble shine.
Kyle Debuts A New Hairstyle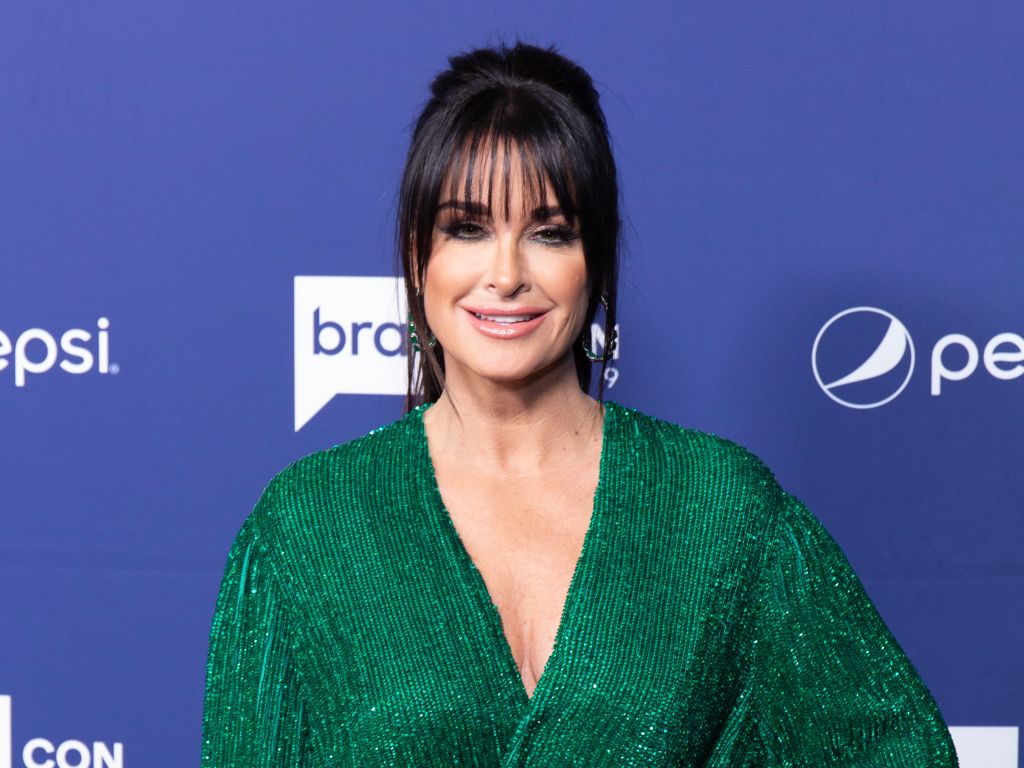 "Although I adore handbags, power-shoulder dresses, and jewelry, my style is actually extremely casual," Kyle told Vogue. She explained, "Sometimes when there are flashbacks [on RHOBH] to the first season, I'm horrified by what I'm wearing." But the actress took a chance and sported bangs in 2019 for a fresh new look. Kyle also wore a short asymmetrical dress. The green metallic ensemble was elegant, yet simple. The RHOBH star was sans necklace but wore earrings to complete the look.
A Big Fashion Risk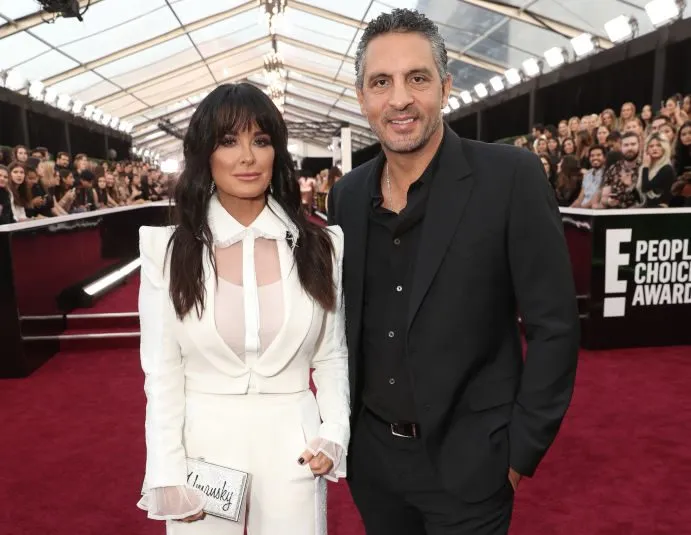 Kyle rocked an unusual look for a night out with her husband Mauricio at the 2019 People's Choice Awards. She wore a suit that she designed from her line, Kyle + Shahida. The white suit had a cropped jacket and rigid shoulders. A sheer button-down shirt with an embellished collar and ruffled sleeves completed the ensemble. It was a risky look for her, but I think it was a winner. She even sported a purse with her last name, "Umansky" on it. Kyle is a boss in this look.
Sleek Style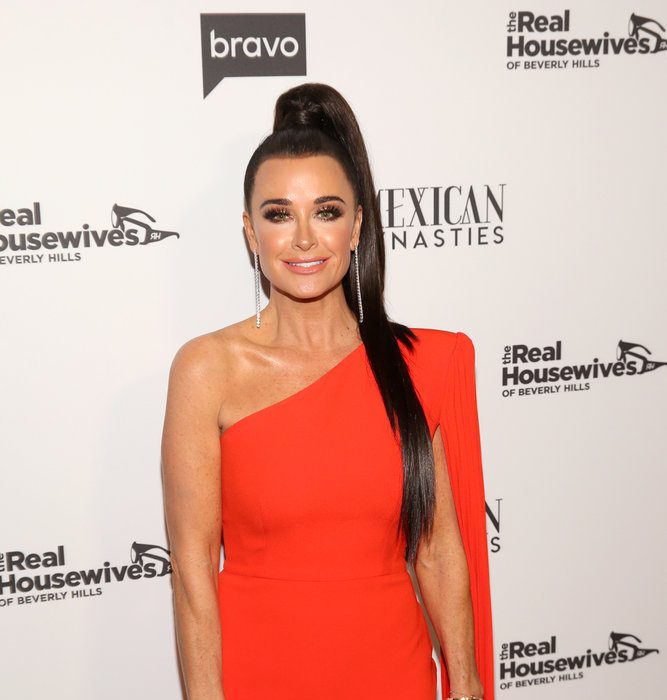 Kyle wore a one-shouldered orange dress to the RHOBH premiere party. One shoulder featured a long flowing cape. She doesn't play when it comes to power shoulder looks. Kyle didn't wear a necklace so as not to distract from the dramatic dress. Her hair was styled in a high pony. Once again, Kyle's love of bold colors is on display here. While Kyle can appreciate her co-stars' style, she would never don those ensembles. "I can appreciate how everyone dresses and it suits them well, but I would never wear any of it," she said during an interview with Vogue.
Stylish And Sexy
Kyle wore a stunning black and white evening gown with sharp shoulders. She accessorized the low-cut neckline with a long diamond necklace. The figure-hugging ensemble with partially opened sleeves was dazzling. Although it was simple, it was still elegant and chic. Kyle's style has evolved. While she still gravitates toward simple ensembles, the looks are more glamorous. Rarely is Kyle sporting an outfit with sequins and sparkles. Her style is more classic.
Beverly Hills Chic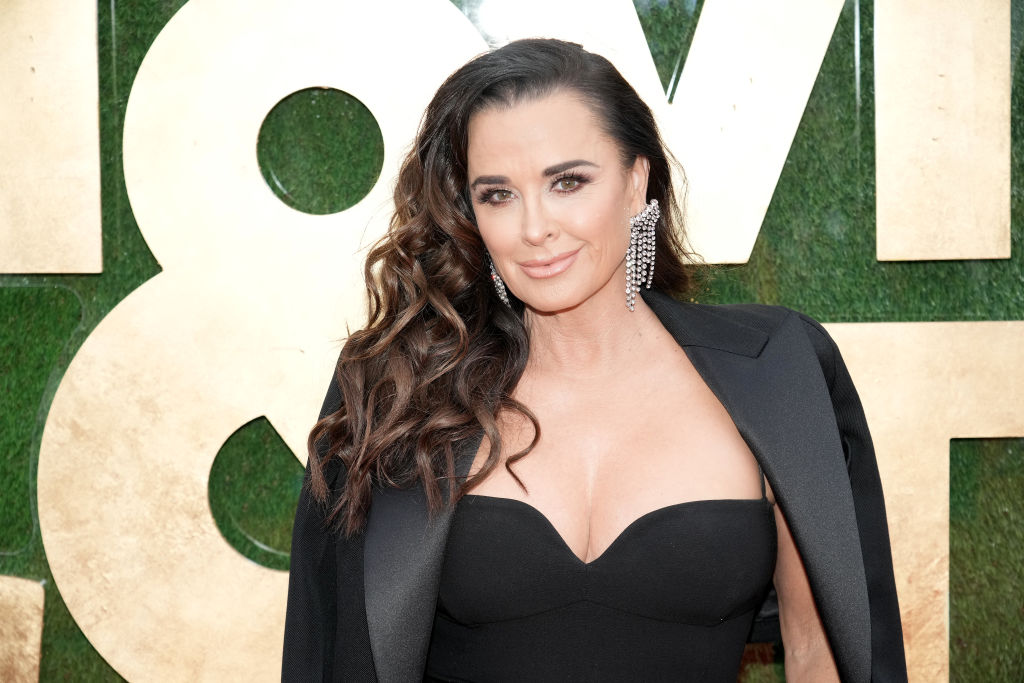 The RHOBH star stepped out in a black low-cut bustier-style top, blazer, and wide-leg pants. She accentuated her look with a bedazzled belt. Kyle added chandelier-style earrings that drew attention to her face. Her fashion game is continuing to evolve. She knows what she likes -strong shoulders, color, and jewelry. But she also loves to wear kaftans and jeans. Her signature style has become more classic and glam as time goes on. Kyle isn't afraid to take some fashion risks now and again. Just to keep us on our toes!
[Photo by John Medina/WireImage]