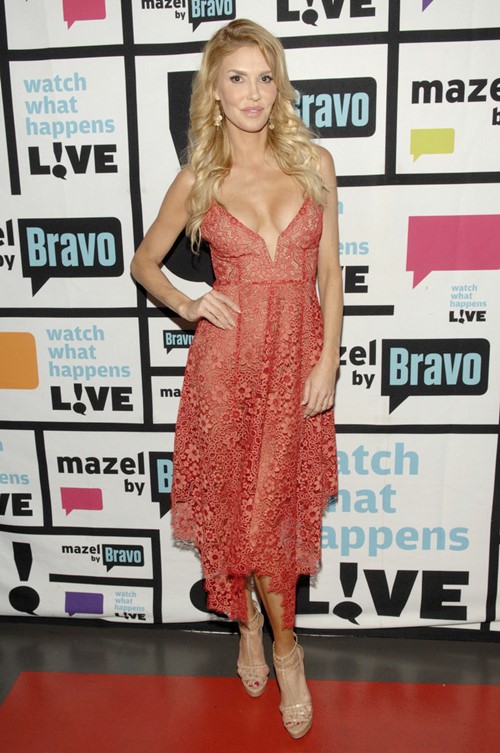 Brandi Glanville is, once again, complaining about Real Housewives Of Beverly Hills, but at least she gives a ton of behind the scenes scoops on casting, how the show and production works, and why Lisa Vanderpump will never be taken down! 
Brandi was a guest on the podcast Andy's Girls (and OMG – take your Xanax, but if you keep listening the hosts offer some insightful comments on the show and the women). 
"I can't really rip Bravo apart," Brandi warns, before spending the entire show basically ripping Bravo apart.
CLICK THE CONTINUE READING BUTTON FOR MORE!
Things start off with Brandi comparing Real Housewives Of Beverly Hills to Famously Single. "We were there to work on ourselves not to have drama. The drama did ensue," Brandi acknowledges, "but it wasn't like OK we're all thinking of reasons to fight with one and another, and I think that sometimes on Housewives, not that the producers, the women worry about the show and we try to figure out reasons to fight. On this show that wasn't the case. It was raw, it was very edgy… there was no glitz and glamour." 
On the topic of where the infamous Real Housewives drama comes from, Brandi has a lot to say! Watching Unreal, has started to change her opinion about the producers' roles, but it goes deeper than them pushing drama for ratings. 
"These producers are all freelance, if they don't have an interesting show, they don't have a job," Brandi explains. "It's a really fast rotating door of producers. You very rarely have the same one each season, so it's like this person's coming to make a splash, then leaving. You think they're your best friend – you really do – so now I'm wondering all these decisions back… which ones were actually my friends and who told me what on purpose… It's definitely a mind F."
Brandi "definitely felt" the pressure to bring it. "Not in the beginning because it was so easy, because the women all were horrible to me," she clarifies, "so for me it was very natural – the fighting."
"It's easy when people are coming for you, but when everyone makes friends and is getting along, I think, we all get scared for our jobs or for the show. And whether we do it to ourselves… it happens." 
Being absent from season 6 gave Brandi some perspective and, she concedes, a "really needed" break. "I think [Bravo] recognized that I needed that time off because I was mentally drained." 
In season 5 she actually threatened to skip the reunion, but was told she wouldn't get paid. Brandi's plan was to be go, but be "real quiet and uninteresting, so I can get my check. They obviously know I can't do that."
Brandi feels like the season 6 reunion video was her redemption. "I got everything off my chest, and I got paid – so I was excited! We shot for hours – they only used like 3 minutes of it!" [laughs] Hours of Brandi ranting. *shudder*
"I wanted to have a say, but I didn't want to sit and have the women come at me and it be a firing squad. I told Kim not to go as well, but she didn't listen," says Brandi. "I just felt like it's such an easy way for them to go back and attack us when they should be going at each other." 
Brandi reveals that during reunions the ladies get only a few breaks and producers are always by your side – even escorting you to the bathroom!
"I was texting with Yolanda all day. You can't really talk to the girls behind [the scenes], but she was texting me, 'Oh my god it's hell…'" 
Speaking of hell, Brandi has lots (AND LOTS) to say about Lisa and Manipulation-gate. 
Lisa "will always land on her feet – like a cat," laments Brandi. "She just gets forgiven. And anyone else – the public just takes them down." 
"I was kind of relieved to see that the other women were seeing what I saw," admits Brandi. "Kyle had been saying it for years, but no one wanted to believe her. Then Lisa and I became friends, and that friendship quickly turned into like constant strategizing… It was exhausting to be honest. We couldn't just go to dinner – it was dinner, let's talk about the show, let's talk about what's gonna happen next, almost planning everything, and I was, like, 'this is not how I roll.' Cause I can't plan what comes out of my mouth, and that's the truth! I wish I could, because I would not be in the lawsuits that I'm in…" [laughs] (Yeah, that's called BEING AN ADULT.)
RELATED – THE MOST MANIPULATIVE REALITY TV MOMENTS!
"She's not gonna go down," Brandi continues. "But I'm telling you the girls that cross her, she will come for them next season. And not just on the show – she will try to ruin their entire lives." 
When asked for examples about how Lisa tried to ruin Brandi's life, she references the Joanna Krupa lawsuit she can't talk about "because my lawyer will kill me" and straight-up implies Lisa committed perjury. "I know that she was telling people she wouldn't shoot with me," Brandi also adds. 
Here's the thing: Brandi has also made previous comments about Lisa's business, saying she was bankrupt, etc. Furthermore, accusing someone of what is essentially lying during a deposition, over pettiness from a reality show, is definitely – DEFINITELY – crossing over into 'the ruining of personal lives' category (in my humble opinion). 
"Andy loves her, and she has Andy's ear. And beyond that, she always would say, 'Well I have two hit shows…' so we all felt that Lisa always had the power, " Brandi insists. "All the other girls felt like, 'Oh she's gonna get this edited out, or she's gonna get this or that because she's got Vanderpump Rules as well…' So we kinda believed what she would say to us, and therefore were all a little fearful of really going in [on her]." 
"She is an executive producer on Vanderpump Rules, so we all joke that she thought she was producing the Real Housewives too, but then it kind of seemed like she was… These two shows are her life." 
Brandi "kinda" liked Eileen Davidson this year for not letting Lisa off the hook. "I didn't think she had the balls. I was really happily shocked that she was not putting up with her crap. If Eileen is back, and I think she is, I have a feeling that Lisa will go out of her way to try and ruin Eileen's life." 
Brandi also says Munchausen-gate factored heavily into Yolanda quitting. Uh-huh, yep, Yolanda quit – totally! Uh-huh. "She just felt so much better when she wasn't shooting. And I told her, as much as I miss the paycheck, I wake up smiling and happy; I'm in a better place in my head. Even though you're working 4 months out of the year, it's a full 365 days a year job." 
"Once somebody says something like that about you it's out there forever," Brandi complains. She laments that people think she's an alcoholic because the ladies questioned her drinking. Yes, Brandi's OWN behaviors had absolutely nothing to do with people getting that impression! (And the same goes for Yolanda, of course!).
"When people come up to you, they think that that's your whole life. They're seeing us out on beautiful yachts, and on trips, and at dinner parties – that's not really life." 
Housewives who offer more glamour and money will always have favoritism with Bravo, according to Brandi, who says Bravo does NOT pay for most of the cast events.
"They pay for the trips and the travel, but not the parties," clarifies Brandi. "They're like what do you have going on that we could film, and so there's a kind of a pressure to, like, entertain. You do spend up a lot of money that you make, because you don't want to be the only one not throwing a party. I think that these women that have so much more to offer the show – with the restaurants, and with the fact that they can afford many more parties and all of this – the show really takes that into consideration. Like with Lisa, it's like, 'We have access to the restaurants, we have access to this and this and this, and to the big house…' And that's always important to the show." 
More importantly, apparently, than some loose-lipped floozy willing to spout her mouth off, that is. 
If she returned to Real Housewives Of Beverly Hills – please God, no! – Brandi claims she's changed. "When I watch the shows I'm like, 'If that were me in the same season, I probably would've reacted different then, than I would right now today.'" 
She also won't come back unless she's in a relationship. "I think it's really easy for the other ladies to pick on 'The Single One.' When you have a husband there to back you up, it's really nice." 
Since she obviously doesn't fit in on RHOBH, would Brandi join RHOC? "NO!" she snaps snootily. "No offense to the OC – there's nothing to do and it is all bored Housewives. Everyone looks perfect and acts perfect – it's like Stepford community. And I don't fit into that mold and I never, ever want to. People might think that because of the way I look, but that's not who I am." 
Brandi adds that if she could pick another Real Housewives to join, it would be Real Housewives of New York, because she has many friends there.
Some random tidbits:
The casting process and Kristen Taekman: "I took her as a date to the Upfronts. I introduced her to Andy." The next day Andy texted for Kristen's number. "I got her foot in the door, but she got the job for herself," shares Brandi.  
RELATED – BRANDI COMPLAINS ABOUT BETHENNY FRANKEL!
"You go through all of these interviews: they meet your husband, they meet the kids, they wanna see the apartment, they wanna know what you have going on, they want all the fancy stuff and people that you know…" 
Donald Trump For President: "I will say that when the cameras weren't on [on Celebrity Apprentice] he was very kind and very articulate," recalls Brandi. "When the cameras came on he turned into the 'The Tough Guy – You're fired!' and that's what I'm seeing in these debates. At the same time I just can't get behind what he stands for as far as being president goes. He is a nice a person. And, I am hoping there's still that other side of him IF, for some reason, he becomes president…"
Brandi jokes that she'd rather rather vote for Ivanka. 
Shout out to Tamara Tattles for reporting on this podcast first and bringing it to your attention.
TELL US – DID ANY OF BRANDI'S REVEALS SURPRISE YOU? DO HOUSEWIVES LIKE LISA HAVE MORE TO OFFER ON BRAVO? 
[Photo Credit: Peter Kramer/Bravo]