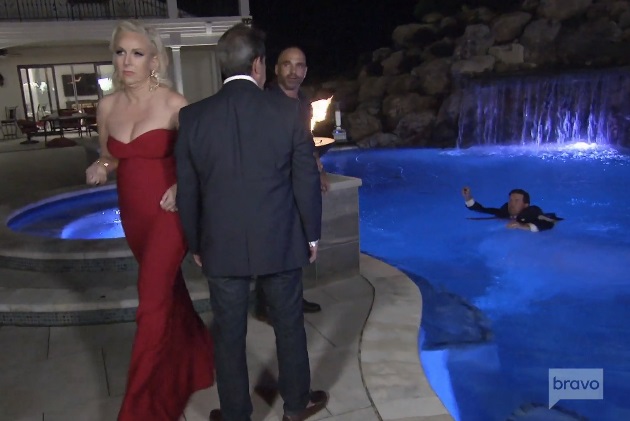 I can't believe we've come to the end of this season of Real Housewives of New Jersey. It seems like it has gone by so quickly, but in some ways, it's been quite a long, drama-fueled road that culminated in the ladies seeing red at Jennifer Aydin's anniversary party celebrating sixteen years with Dr. Poolhouse. Teresa Giudice and Danielle Staub are perusing scarlet ball gowns while discussing Margaret Joseph's gala. Danielle gets in a requisite amount of digs while questioning whether she'll be well received at the party. Teresa reveals that she doesn't have an issue with Margaret and sees no reason not to be her friend. Danielle bristles, questioning whether Teresa will have her back if someone comes for her at the event. Of course, Tre is nothing if not loyal. It was hard to even type that with a straight face!
Jackie Goldschneider takes her mother for a makeover, but her mom explains that her physical appearance has never had an impact on her self-esteem. Jackie believes her mother has felt she had to be frumpy to be taken seriously as a business woman. She compares that fear of finding beauty with her reconciliation with her sister after a fifteen year estrangement. I'm not sure what one has to do with the other, but her mother's hair and make-up looks nice.
Margaret and husband Joe Benigno are prepping for a dinner guest. They are hosting her stepson Brett in hopes of reconnecting him with his father, Margaret's ex-husband. Brett shunned his father at her charity event, and he doesn't have any qualms about not communicating with him. With some mild prodding from Margaret, Brett finally agrees to go out to dinner with his dad to appease her. While that may seem like a terribly awkward dinner, I'd dine with a feuding Brett and Jan every night not to have to watch the entire Aydin family terrorize a hibachi restaurant. As the kids wreak havoc, Jennifer chastises her husband Bill for not spending enough time with the family. He doesn't like Jennifer's complaints, but he listens when his children say they miss him when he spends so much time away from work.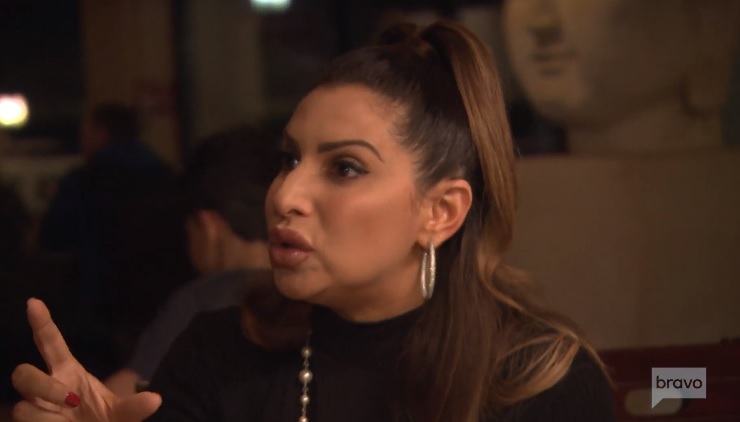 The home that Dolores and Frank Catania are remodeling is almost finished. Frank knows they are going to make a great deal of money on the house, and he hopes that Dolores will continue as his partner in future real estate endeavors. She admits to Frank that she's ready to move out of their family home. Dolores isn't sure of her next move, but she is ready to break free from her big house and live on her own. Frank is taken aback. She doesn't want to be roommates with her ex-husband anymore?
At home, Melissa Gorga and husband Joe are discussing her unknown, imaginary sister. Melissa is taking a DNA test in hopes that her mystery sis has taken the same test. If the company sees a match, she's found her long-lost half sibling. Joe gives daughter Antonia a hard time as she leaves to go to a party. At almost thirteen years old, Joe wants her to live in a bubble. Melissa scolds her husband on his defined gender roles. Antonia is starting to realize how her father talks differently about boys and girls. Joe doesn't take kindly to Melissa's criticism, but as she explains the importance of his words, he softens.
Jennifer is prepping for the big evening with lots of red decorations, belly dancers, gambling, hookah, and a red carpet. Even Bill seems excited about the event because he's obviously realized that cameras are following around his family. Jennifer hopes the bartenders won't be serving red wine after Margaret's shenanigans. The women are getting dressed and complaining about Danielle to their husbands. Melissa wonders if Margaret and Danielle's feud will pale in comparison to Marty Caffrey and Joe B.'s beef.
Jennifer is wearing a custom gown (I don't know who is going to claim that monstrosity) and tiara because she is such a Turkish queen. She and Bill lead Jennifer, Melissa, and their husbands out back to see the infamous pool house where Bill lives. Margaret and Marge, Sr. are next on the scene. She is dreading a run-in with Danielle, but Melissa is hoping the hookah will calm everyone's nerves. Jennifer is tending to guests and reminding everyone that her brother owns a jewelry store, in case they'd forgotten. Marty arrives with his new bride who is all fake smiles, air kisses, and mega-cleavage. She's even out-cleavaging Margaret which is quite a feat at this fete.
Tre tells the ladies about her meeting with Danielle and how she stated she would remain friends with Margaret. Teresa cites that Danielle is only bat shiz to people who provoke her. Meanwhile, Joe B. is stewing over Marty's earlier comments about Margaret, while Marty is mourning the loss of being the third Joe Bro. Joe B. didn't even say hello to him! Danielle urges Marty to be the bigger person and approach Margaret's husband to make peace. Inside, the ladies are still trying to convince Teresa that Danielle is toxic. While Tre remains firm in her loyalty to Danielle, she doesn't leave the conversation as the women complain about having to share air with their nemesis.
Meanwhile, at the poker table, Marty and the Joes are having a tense reunion. Joe B. has a hard time looking at his former friend, and Joe G. recognizes that Marty's comments were atrocious. However, Marty can't help it–he's possessed by the P! Joe G. escorts Joe B. to the bar when the name calling begins. The women hope to convince Teresa not to bring Danielle's level of crazy to their group, but she is hearing none of it. Nobody tells Teresa what to do…well, except Danielle.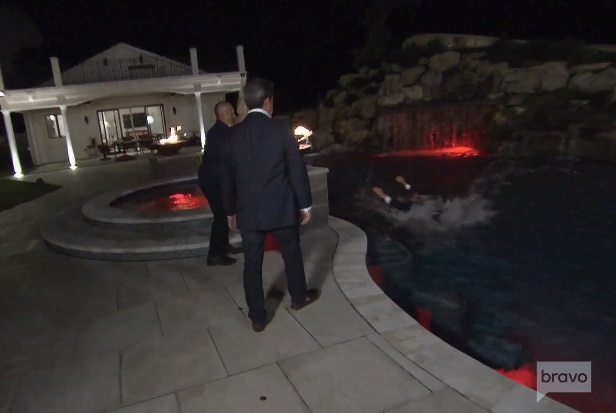 As the party rages on, Jennifer screams at her guests to be quiet so she can toast to her husband sticking around for sixteen years before Joe Gorga assaults my eyeballs with his belly dancing. After his Magic Mike routine, he is back with Joe B. and Bill, encouraging his Joe Bro to take Marty outside for a nice talk. They will either end up friends or enemies. That is so insightful! The next thing Joe will enlighten us about is if it's not daytime, it must be nighttime! Danielle drags Teresa outside to find out if people have been talking about her. Teresa hesitantly shares that the girls don't want Danielle's toxicity around the group.
Danielle screams about how normal she is and how crazy Margaret is. She starts hyping Teresa up like she's Rocky's boxing coach. She is big, bad Teresa Giudice and nobody tells Teresa Giudice what to do! Especially not Margaret! The women cruise back into the party, and Danielle has no intentions of going anywhere. Back outside, Joe is playing referee to Joe and Marty. Marty's baby feelings are hurt because the guys were busting his balls about Danielle just days before they got married.
Marty demands an apology, but Joe counters that he won't say he's sorry until Marty takes back the terrible things he said about Margaret. Marty refuses, yelling that Joe is jealous of his hot wife. He accuses Joe of staring at Danielle's rack since Margaret is lacking in the boobalicious department. Um, has he seen what she's wearing? Margaret wanders outside in the midst of the drama, and Joe relays Marty's latest tirade.
Yes, Marty proudly restate his insults, claiming he's simply lauding his wife's beauty. Margaret takes him to task. As the fight escalates, the audience grows. Joe B. gets in Marty's face as Marty screams about Margaret bitch-slapping and emasculating Joe. Oh no he didn't! Margaret swiftly pushes his ass into the pool.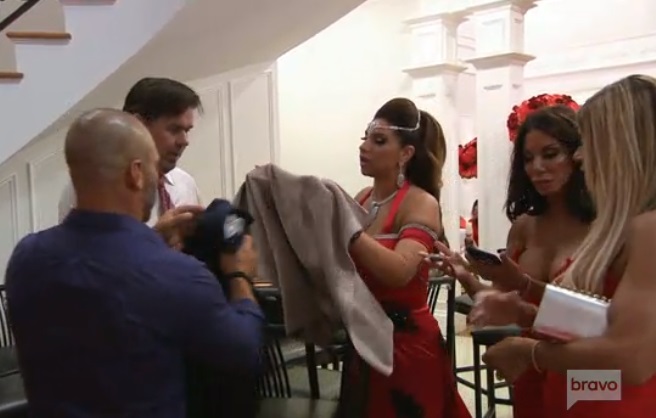 Margaret glides back into the house and casually tells Danielle that her husband is in the pool because she and her husband put him there. Teresa can't believe a sober Margaret is pushing people into pools. Danielle is irate and reminds Teresa that Margaret doesn't want her around. Tre yells that no one tells her what to do and she'll bring Danielle around all she wants. Margaret is fine with that, but her other friends remain baffled by her loyalty. They are all Team Margaret.
Jennifer grabs a towel for Marty as he whines about his ruined suit, and the other women sneak out of the party. They can't handle the drama. We get the standard "where are they now" rundowns. We'll hopefully get to see Margaret's new face on the reunion and hear about Jackie's only story line sister. Dolores is still house hunting, while Melissa is still sister hunting. Jennifer is planning her JEWELER brother's wedding and Teresa is awaiting the outcome of her husband's deportation appeal.
TELL US – WHAT DID YOU THINK OF THE REAL HOUSEWIVES OF NEW JERSEY FINALE EPISODE? WAS MARGARET JUSTIFIED IN PUSHING MARTY IN THE POOL? 
[Photo Credit: Bravo]