The Real Housewives of Dallas aren't letting a global pandemic stop them from DELIVERING. They tackled Brandi Redmond's racism scandal on last week's episode. No waiting to address that kerfuffle whatsoever. Right out of the gate, newbie Tiffany Moon is showing Brandi the full weight of her actions. With that in the rear view mirror, we're going to finally explore the group dynamic without LeeAnne Locken.
Picture the scene, Tiffany is new to the group and eager to showcase her culture to all of the women. What is the best way to do that? FEED EVERYONE CHICKEN FEET. An actual chicken foot. It's going to be hilarious watching everyone react to something so out of their comfort zone. Can you imagine Kameron Westcott of all people attempting to eat a chicken foot? This is going to be oh so good.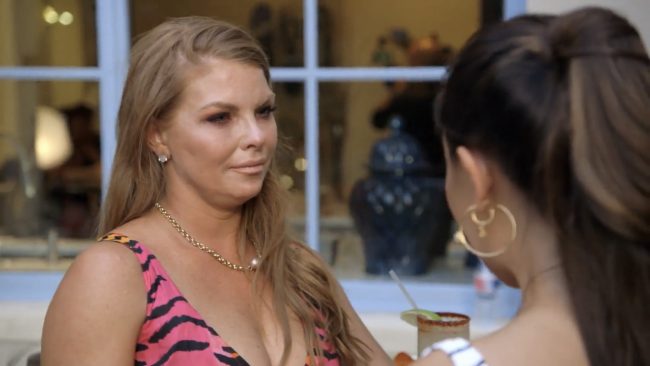 Tiffany's story about coming to America is as heartbreaking as it gets. You can tell she doesn't want to hurt Brandi by saying it, but it's a conversation that can't be glazed over. This is the reality of how your actions can cut someone so deeply. I do think Brandi is genuinely remorseful, but is it a case of too little too late?
The racism Tiffany's experienced goes much deeper than the things depicted in Brandi's video. With the outbreak of COVID-19 emanating from China, there has been a great increase in racism toward Asians in America. Tiffany shares with Brandi about how she recently tried to treat a patient, but they wanted to refuse her as their doctor. They automatically assumed she had coronavirus. How can people be THAT ignorant?
It's so nice to see these two having this conversation right out of the gate. It was a significant elephant in the room, and now the elephant has been hauled away, and they can move on. I'm sure in the back of Tiffany's mind, she's always going to wonder about Brandi though. However, for now, healing can begin, and a genuine friendship can emerge.
Having open dialogue like this is so important in today's day and age. It's time for everyone to come together and speak openly about the issues in the world. Hopefully their conversation leads to more open and honest chats all over. One thing that was definitely accomplished was Tiffany doesn't believe Brandi holds racist values. I wonder if she's going to hold on to that thinking for the duration of the season. Time will tell!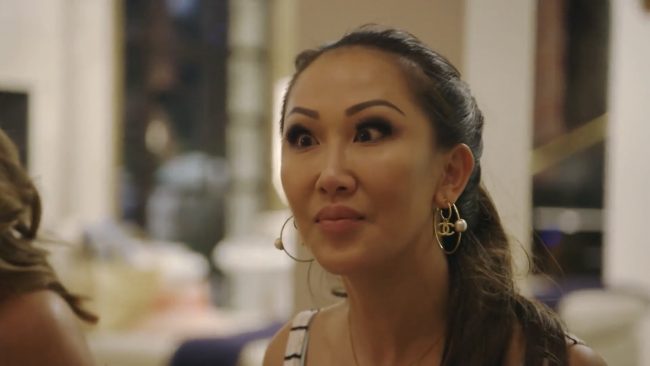 Kameron not knowing what cathartic means is so on brand for her. I wish she wouldn't play the dumb blond role so much because I refuse to believe she's THAT ditzy. It feels like such an act, and what for? Tiffany openly laughs at her when Kameron asks what it means, but that's how many people would respond. It's time for Kameron to trade her Birkin bag for a Merriam Webster dictionary.
Outside, Brandi fills Stephanie Hollman in about the conversation with Tiffany. She reassures Brandi that everyone around her has forgiven her. If Brandi can allow herself the same absolution, she can finally move forward. Until then, she's allowing herself to drown in shame and regret.
Does anyone else feel bad for the insane amount of exercise Kameron's new dog has to do? Sometimes I think my life is difficult, but when I look at the chart for this dog, I feel lucky as hell. Is it a pet Pomeranian or an Olympic hopeful? Can't you just let her eat snacks and chase balls?
The for sale sign is going back up in front of the Westcott household. She's one step closer to her dream home. She doesn't want the neighbors to start gossiping though as a result of the sign. Her mind is taking her to every scandal that could end up as the hottest neighborhood gossip. From COVID downsizing to delicious divorce, Kameron's mind is running wild. Running almost as fast as that poor dog.
I've never associated putting up a for sale sign with so much drama. Who knew that the affluent streets of her shiny Dallas community could be so cutthroat? Don't mess with high society.
Court Westcott tells Kameron they received a lowball offer on their home. He didn't want to tell her because he didn't want a repeat of the depression it caused last time. When the sale of their home originally fell through during early COVID, she was shedding tears and lounging in bed.
He's trying to protect her from her own worst traits. However, she feels like she's just not being included and having her voice suppressed. In a depressing turn of topic, she's afraid the spirit of her dead dog Louis might be trapped in the house. Dallas Barbie, say what? Sometimes Kameron can be so strange.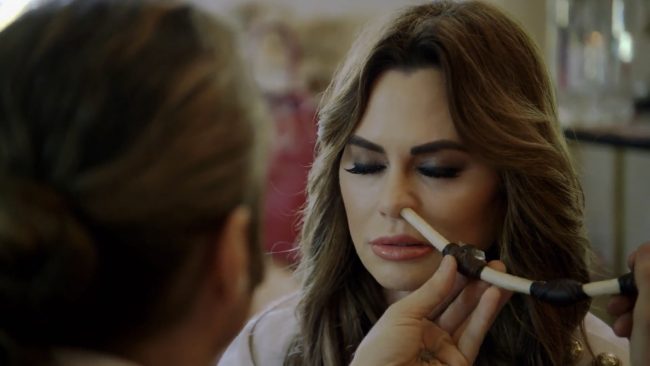 D'Andra Simmons' visit to her Shaman might be more bizarre and outlandish than Kameron's ghost doggie. I'm not entirely sure how to convey in writing the creepy sucking of D'Andra's snot or WHATEVER it was. The picture I've included shows what happened. Why? Why do that? D'Andra, I'm fine with you being overly reactionary. Stop going to this shaman. I'm begging.
The shaman asks D'Andra to imagine a lightning bolt coming down from the heavens and travelling through her body. This goes against all of the beliefs, but it's something helping her fix herself. She wants a better relationship with everyone in her life, but things with her other family are not in a good place.
It all stems from her father's suicide and leaving two different wills that said two different things. I LOVE A DALLAS ESTATE BATTLE. How Ewing Oil of them!
D'Andra was shocked when her stepmother reached out to tell her that her brother had a baby. This could open up her family to the necessary healing that's been missing all of these years. It's sort of poetic that a death tore the family apart, but the light of a new life could bring them back together.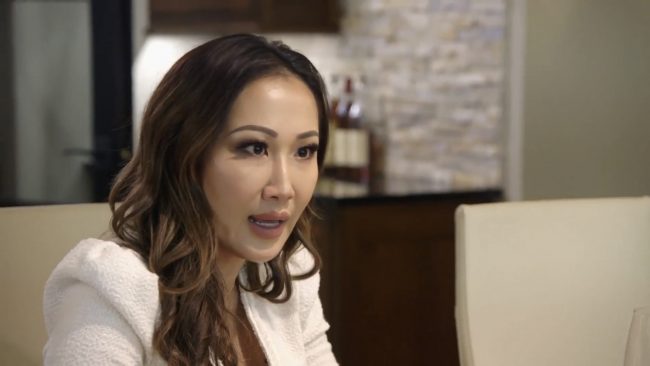 Tiffany is the kind of RICH that this show really needed. She's RICH RICH too. The wine cellar is to die for. Like I would actually sacrifice my soul to have a tour of it. They have their own wine label! I want to be rich enough one day to be like, "actually I can do that better", and start a competing wine brand when I visit a vineyard.
D'Andra & Stephanie are equally amazed by the wine cellar. F**k it, it's not even just the wine cellar. The entire time house is next level fabulous. SHE EVEN HAS A FINGERPRINT LOCK TO GET INTO HER CLOSET. Stephanie finds it excessive, and she might be right, but I'm still actually gagging over it. I want to have even one article of clothing that's worth enough to have that in my home. I have a cute cat who might lick you when you come after my clothing, but that's about it.
Stephanie's turned off by the bragging being displayed by Tiffany in the closet. While everything is spectacular, I'm inclined to agree. It has Dana Wilkey, "Did you know? $25,000" vibes. Which as we all know was obnoxious. In the span of five minutes, I've soured on Tiffany a bit. She's flaunting a little too much, and everything seems like a walking promotion.
D'Andra turns the conversation to Brandi's video, and Tiffany cements wanting to move on with Brandi. Apparently, Tiffany has some beef with Kary Brittingham. Finally, Kary has something to do other than show off her Claire's clearance rack jewelry. At the pool party, she felt as if Kary was bullying her to drink. She doesn't know when to leave someone alone and stop hounding them.
The two other women try to tell Tiffany that Kary is like that with everyone. That doesn't make it alright. That means she has quite a problem. Don't make excuses for your out of control friend.
Despite the drama with Kary, Tiffany is inviting all of the women to experience her culture more. Evidently, that includes the consumption of a real chicken foot. Nope. You lost me. Invite was lost in the mail. Couldn't make it. Sorry.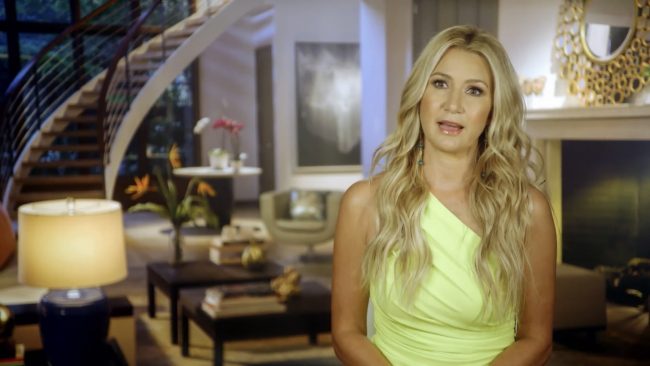 Sitting through a Kary solo scene is some sort of painful torture I don't deserve. For the sake of this recap, I will power through. All of her children are at home, so that's a new stressor to navigate. Her daughter Olivia is a BLM ally though, so bonus points for that. She is willing to give up friends by speaking her truth and fighting for justice. I can respect that.
Oliva's having a difficult time coming back to Dallas where people are openly racist. She's not used to people using the N word at a party because in Los Angeles, she sees that infrequently. Kary urges her daughter to always open up to her, and she wants to be a better mother than she had. Open communication is key to a successful relationship of any kind, so it's a good trait to instill.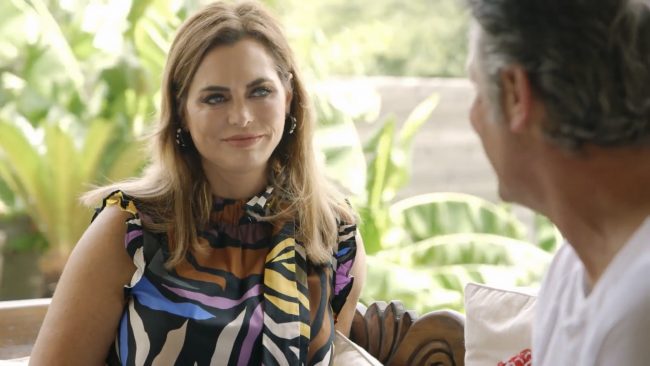 Jeremy Lock tells D'Andra he's noticing a new sexier step when she walks around the house. I guess the shaman is actually doing some good. The creepy nose blowing thing has a purpose after all!
They discuss her brother's new baby, and he didn't respond excitedly to her congratulations text. Jeremy wants them to either come together and hash it out, or let it go. He's right. You can't force things if they aren't going to happen. Choosing to let go of the past might be the only way she can rebuild her relationships with them. Open the door. Seek healing.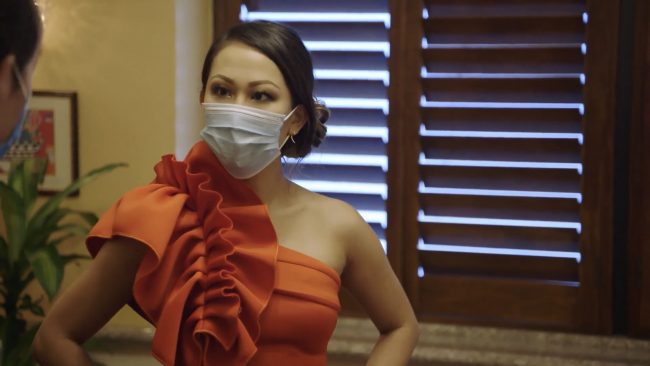 Brandi won't be coming to the restaurant, and maybe that's for the best. Walking into an Asian restaurant right after the scandal could open even more wounds. Going on her trip to Florida with the kids is the better course of action. At least for now.
WAIT IT IS ONLY 10 AM? Who is trying to eat a chicken foot that early in the morning? I need a lot more time before I'm willing to start eating hands or feet. It's too much.
D'Andra was having many COVID symptoms before coming to this meal, but she tested negative. Whew! Good to know! Kary tells Kameron on the way there that D'Andra is too dramatic about it. Well that's so rude. She continues to say that every time they speak on the phone it's always all about D'Andra. Could there be some trouble bubbling beneath the surface of this friendship?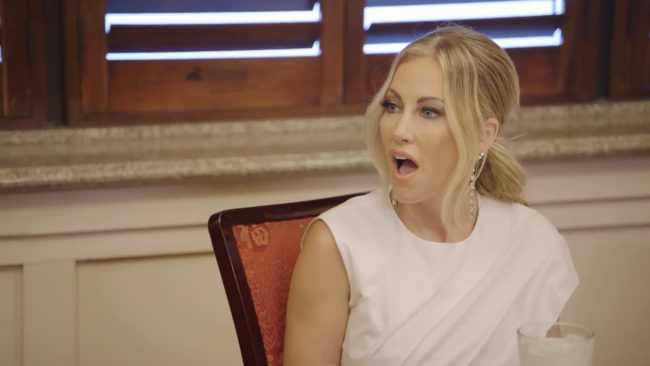 Kary & Kameron make a big spectacle making fun of D'Andra and about her being a hypochondriac. This pandemic has really been a challenge for many people with anxiety, so it's not right to mock her. Many people out there are terrified about contracting this virus. SHE HAD SARS BEFORE. GIVE THE WOMAN A BREAK. Kary just keeps picking and poking, and she doesn't know when to stop. How is she on this show? UGH.
Tiffany thanks everyone for coming, but Kameron is NOT feeling this menu. I can't say that I blame her. Anyway, D'Andra tries having a serious conversation with Kameron about her family, and Kary shouts from across the room. "ARE YOU TELLING HER HOW SICK YOU ARE?" Get off her jock. For real. Enjoy trying to act like the most cultured woman in the room, and stop looking for a fight.
I try to be on D'Andra's side here, and then she makes it weird chanting with a crystal in her confessional. WHY IS THIS HAPPENING TO ME? These women are bonkers, but I'm here for it all season!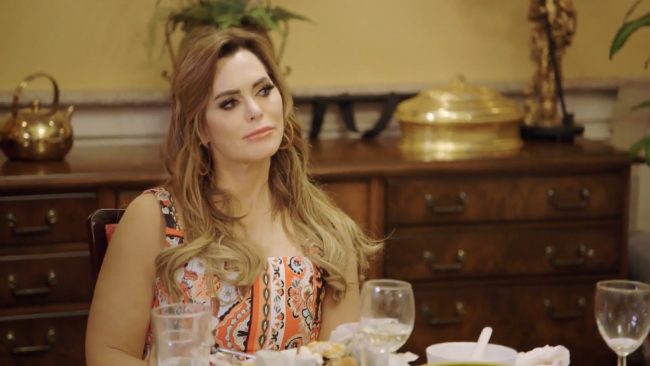 Tiffany passes out envelopes with questions inside of them to get to know everyone better. Question games like this on Housewives always end in chaos. It leads to more bickering between Kary & D'Andra, and Stephanie definitely takes notice. D'Andra wants to be a more tender person, but Kary doubts it. Kary is really ON HER ASS at this meal.
The chicken feet are brought to the table, and everyone is traumatized. I think I was fully lost when Tiffany said there would be little tiny bones you'd have to spit out. Just why? I will eat a chicken leg, a breast, a thigh, whatever. I was today year's old when I learned I draw the line at feet.
Tiffany is pushing Kameron way too hard to eat this chicken foot. If she's not willing to eat it, there's a reason to sit there and pressure her. She does the same thing when the liquor comes out as well. Yeah, there's something about Tiffany that's very annoying. The bragging, the pressuring, all of it, it's too much.
TELL US – WAS TIFFANY PRESSURING KAMERON TOO HARD? DO YOU DO YOU FIND KARY TO BE ANNOYING? ARE YOU ENJOYING THIS SEASON OF REAL HOUSEWIVES OF DALLAS?
[Photo Credit: Bravo]