Although it's been one of the weirdest seasons of Vanderpump Rules, it started picking up toward the end. This might be a finale that changes this group forever. Brock Davies planning to secretly wed Scheana Marie at Raquel Leviss & James Kennedy's engagement weekend is SHADY.
How do James & Raquel have the money to throw this party, but he needed help with the proposal? I guess it doesn't matter considering the wedding isn't happening anyway. Could you imagine going through with a public wedding in a relationship that doesn't make you happy. Well, I guess Luann de Lesseps knows all about that.
Despite the eventual outcome, this weekend looks beautiful. The atmosphere is stunning, and I'm having a major case of FOMO watching this. However, watching from home and not having to deal with these people is probably easier.
On a boat, Tom Schwartz fills in Tom Sandoval about Lisa Vanderpump's digs about their new bar. She (along with everyone on the planet) understands they're not ready for this. They're in way over their heads. She's right about the pair wasting most of their time on frivolous bull.
I know they're wanting to make a name for themselves and prove a point. This isn't it though. Nothing about this screams future success. Instead, they're putting a lot on the line for something that has minimal chances of taking off. It was honestly DOA.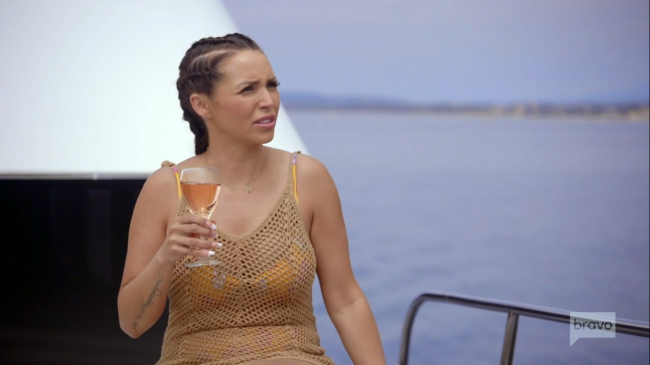 Sandoval & Ariana Madix process James' actions from the previous night. He's starting to come around a bit. His reaction to a conversation with Brock this time went a lot smoother than before. If I were James, I'd do everything in my power to avoid people labeling me with anger problems. If everyone is on your ass about it, they most likely have a point. Perhaps he recognizes that and is attempting to actually change his behavior.
Sneaky Scheana has slept on their plan to get secretly married, and she's NOT for it. She knows she wants to marry Brock because he's the one, but this isn't the way. However, Scheana's slightly disappointed about being unable to share the news of her engagement. She doesn't want to set anything in motion that could ruin the weekend.
The next stop on this whirlwind weekend is a trip to an ALPACA FARM. My favorite animal on the entire planet is an alpaca, so naturally I'm screaming. The level of FOMO just dramatically increased after seeing this furry little beasts.
James & Raquel are away on a horseback riding excursion which means drama is in the air. With the couple of honor out of the way, I wouldn't put it past Brock to pull some shady shit. Even though Scheana told Ariana the wedding isn't happening, I suspect Brock has other plans.
Lisa is rooting for James & Raquel's marriage to be a success. There's been nobody else quite like Raquel to keep James on the straight and narrow. It's difficult to imagine what he's going to be like now that the relationship is over. Lisa's lamenting this as the best chance James has ever been given. Lisa's important to James as well, so having her on his side hopefully will continue to carry the same weight.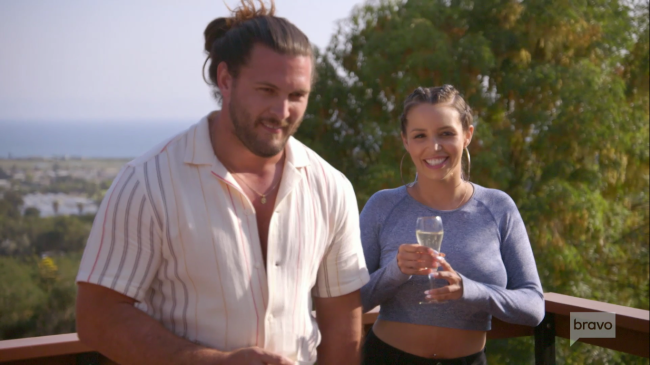 After the alpaca farm, Brock makes a toast to the rest of the group. Here we fucking go. Scheana spills the beans about their engagement, and the group looks perplexed. Scheana's going on and on about not making this about themselves, but Lala Kent's quick to point out, they ARE. Scheana's never been known for her self awareness, so I can't even be surprised. This is typical.
Even though Scheana squashed their plans to secretly wed, Brock apparently finds it appropriate to share that plan also. He actually takes it a step further and outs Ariana & Sandoval as co conspirators. DUDE WHAT THE FUCK. Brock's the absolute worst. I hope we never see him again after this season.
They ask everyone to keep it to themselves, but you know Lala's mind is spinning. This is the perfect chance for her to wreak havoc on the group like a Botox Thanos. With one snap, she's going to make the joy of this weekend disappear. Mark my words.
Raquel meets with her father who has made the trek for their engagement weekend. There's a tense feeling in the air every time she gets him to say he gave James his blessing. He didn't. He's making it damn clear that while he didn't say no, he still didn't say yes. Somewhere right now is a very relieved man because of their marriage plan falling through.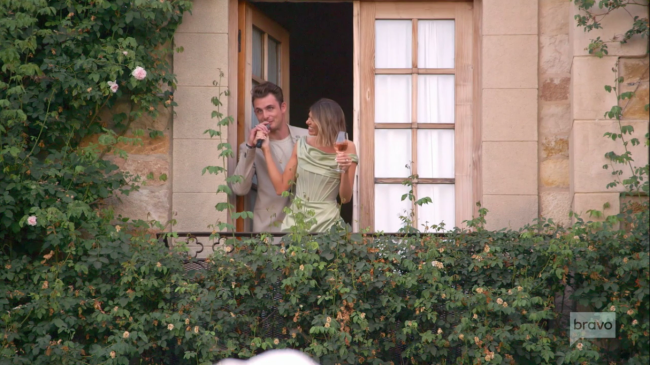 Raquel overcomes her fear of public speaking to deliver a speech to her guests. Did she really though? What was actually happening was James feeding her every line of the speech. It led to multiple awkward moments because she was fumbling through and mishearing him many times. How embarrassing.
I will say, Raquel's grown a lot since meeting James. She wasn't always the confident girl we know and love today. She was someone who allowed herself to get trampled by people like Lala. Thankfully, she's coming into her own and able to stand up for herself. I suspect that character growth is what ultimately led to her split from James. She understands her own self worth now.
Randall Emmett comes through for Katie Maloney & Ariana and wants to invest $150,000 in their restaurant. HOWEVER, you have to wonder if that's still the plan. With Lala & Randall on HORRIBLE terms, is there any chance they're still getting his money? Does he even have money?
Lala & Katie are still shocked about Brock & Scheana's announcement. The entire thing is tacky and classless. You don't do that at someone else's engagement party. It's common decency. Lisa's saying the exact same thing to Scheana as well. You can't get married at someone else's engagement party. How can you be that selfish?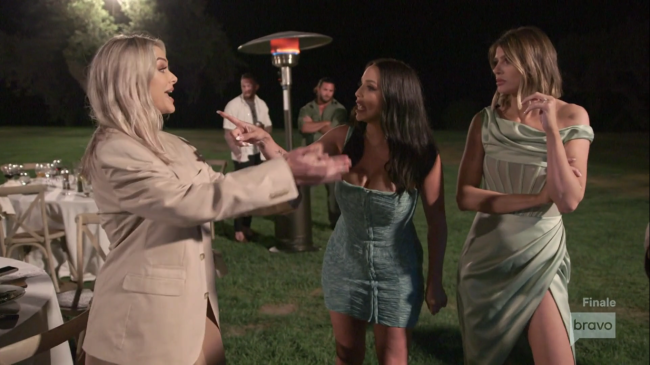 Sandoval's getting fed up with Lisa's nose in his business about the new venture. He doesn't feel the support from her like she's giving the girls. However, there's something else holding up the project in her mind. He denies any of her suspicions, but I suspect she's correct. This bar is never opening.
Lala can't take it anymore. She's ready to spill the beans to James. She spills EVERYTHING. Of course saying it to James is going to lead to an insane freak out, so let the drama begin. It takes about two seconds before James is confronting Brock about everything.
I can see the initial urge to make Lala the bad guy here, but she really isn't. At least not this time. Lala's laying it all out there for James to see what his "friends" were doing behind his back. It doesn't matter that they didn't go through with it because it was an active plan at one point. Friends don't do that to one another.
Brock's doing whatever he can to get a free wedding for his broke ass. It's gross to watch. Save your pennies and plan a real wedding or let your fiance pay for the damn thing. Stop being a free loader off the expense of other people.
Scheana and Lala have a war of words over everything, and I can't be Team Scheana here. It's selfish and gross. Also thank you to Lala for even making this season worth watching. Any sort of drama included her at every turn. Without her we'd be holding hands all season. Believe THAT.
Ariana accuses Lala of putting as bizarre spin on everything, but did she? She relayed exactly what happened. I'm failing to see what part of what she did was wrong besides the timing was a bit iffy. At least we got Ariana's classic line "I was born fucking cool" out of the fight. I've waited all season to finally hear that.
Even Raquel's losing her shit on Scheana because one of her best friends is sitting there keeping secrets. It's not cool. She finds all of Scheana's actions disrespectful, and I'm wondering if it's affected the friendship moving forward.
Brock gets kicked out of the party, but Scheana's staying and wearing her ring? WHAT IS HAPPENING? This is so weird even for VPR standards.
TELL US – TEAM JAMES OR TEAM BROCK? WAS IT TACKY FOR SCHEANA AND BROCK TO ANNOUNCE THEIR ENGAGEMENT DURING THAT WEEKEND? ARE YOU EXCITED FOR THE REUNION?
[Photo Credit: Bravo]