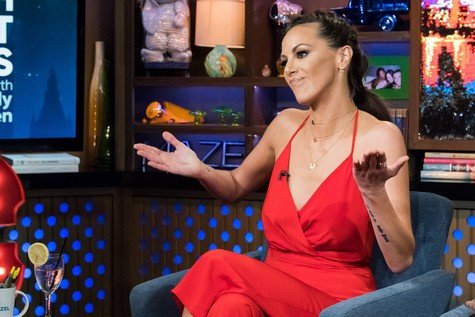 It looks like the next season of Vanderpump Rules is going to be a difficult one for Scheana Marie. It seems like everyone in the cast is getting along and she's the odd one out. Even Lala Kent has won over all of the women on the show after seasons of feuding, shading, and teasing.
Kristen Doute even came to Lala's defense when she was asked about her mysterious relationship with boyfriend Randall Emmett during an appearance on Watch What Happens Live. However, Kristen did not defend Jax Taylor when she discussed his relationship with Brittany Cartwright.
In a move that no one saw coming at this time last year, Kristen told Andy Cohen, "I love Lala. Give me some Lala." Same here, Kristen.
After a clip of Jax's conversation with Brittany's mom and sister, Andy asked Kristen, "Did you buy it?" Kristen told him, "No. I think he was telling the truth in that moment, but does that mean he's a changed man?" Let's hope so- for Brittany's sake.
During a game, Kristen was asked "Who do you think has cheated on their significant other the most?" She initially said "James [Kennedy]," which makes a lot of sense given their past relationship. However, Kristen changed her mind and said, "No, Jax."
Previously, Summer House star Stephen McGee claimed that Scheana Marie hooked up with Carl Radke. Andy asked, "Can you confirm that Scheana hooked up with Carl from Summer House recently?" Kristen said, "So I wasn't there, but I can one million percent confirm that it happened." Kristen is one of the few people who can constantly claim to be sure about hookups she wasn't present for. Nevertheless, I just hope this one is true, so I'm going to believe Kristen.
Kristen also clarified, "Pasta is not a code word for cocaine. I actually almost ate the pasta." Just in case anyone was wondering. Apparently that fight between James and Lala actually was about pasta….allegedly.
A caller asked, "What would it take for Brittany to break up with Jax?" Kristen admitted, "I wish I knew. I tried. I failed.  I did not conquer that battle." As harsh as that is, at least Kristen is keeping it real.
Of course Andy had to ask Kristen about the James and Logan Noh hookup rumors. Kristen shared, "I think he waded in the pond." Andy pushed, "With Logan?" Kristen said, "Yes." It looks like this will be discussed during the reunion taping.
A fan asked, "Why are you so easy to dismiss Scheana when Scheana was the only one who stood by you when everyone turned their backs on you?" Clearly Kristen was shocked by the question since she initially responded with a question of her own: "Are you Scheana's best friend?" She added, "Scheana loves that 'I was the only one there for you.' It wasn't easy to dismiss Scheana. I was actually the last one standing until it became too much."
It wouldn't be an interview with a Vanderpump Rules cast member, if the Jax and Faith Stowers cheating scandal wasn't addressed multiple times. Andy asked, "Do you think Jax has been faithful since the Faith Scandal?" Kristen said, "Since the Faith scandal? Yes."
Andy asked Kristen, "Do you believe as James does that Lala's boyfriend will move on from her when he can get someone younger?" Get ready for this one. Kristen said, "Absolutely not. No. They are so cute and so perfect together. James, shut up." Oh how times have changed.
RELATED: Kristen Doute Opens Up About Getting Along WIth Ariana Madix & Lala Kent
TELL US- DO YOU THINK JAX HAS BEEN LOYAL TO BRITTANY EVER SINCE THE CHEATING SCANDAL? DO YOU THINK THAT LOGAN JAMES ARE MORE THAN FRIENDS?
[Photo Credit: Charles Sykes/Bravo]