While Tom Sandoval was giving Tom Schwartz an 'I promise you an eternity of booze' ring, Jax Taylor finally yanked the bandaid off and dumped Brittany Cartwright on last night's Vanderpump Rules.
All it took for Jax to reach this inevitable conclusion was cheating with a friend, several screaming fights, a threatened moved to Florida for a fake job, a meltdown that nearly got him fired, meddling friends, a fake first date with a fake crush, the return to an abandoned identity, and one reiki instructor who fled to Africa! I mean would you stick around for the fall-out of that mess? 
Wouldn't it be amazing if Scheana Marie and Jax had conspired together to like set Brittany and Adam up just so Brittany would fall in love with the hotter, younger pre-Jax version of Jax, then dump OG Jax (who is now going by "Jason" in order to reclaim his unvarnished, virginal [successful] youth)? I mean, that would be some amazingness! Instead despite everyone's (re: Stassi Schroeder's) talk about how Jax has never dumped a girlfriend, and will never dump a girlfriend, he must have been really desperate to shed himself of Brittany because last night he actually went through with it! Maybe "Jason" took over his body in the brainform of Kelsey's level-headed sanity?
Who knows? But instead of going out for coffee and never coming home again, Jax adulted himself, sat Brittany down and explained that he's not happy, they're not happy, and it's just not working out, so they should just split. Maybe he felt forced, considering he can't even hide then seek asylum at SUR after his tirade at Lisa Vanderpump. Either that or Kelsey put some mind control elements in his Negativity Crystals. She was probably just tired of hearing Brittany talk about beer cheese in that stretched out accent she calls 'southern.'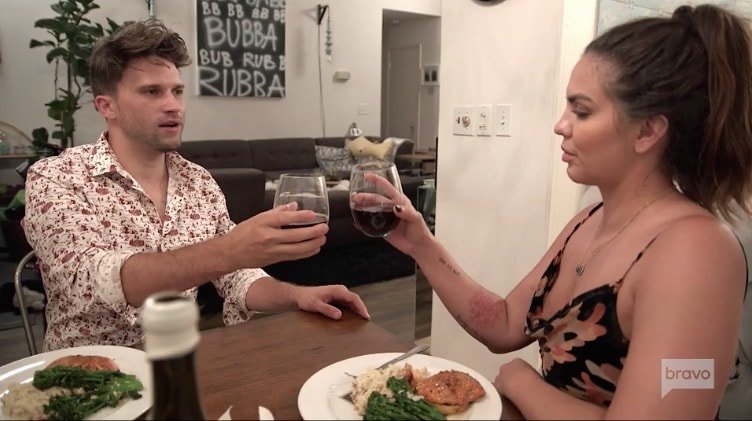 The truly crazy thing about last night's episode is that the only couple NOT having relationship drama was Katie Maloney and Tom 2. It's because after 10 years of being depressed, Katie launched a lipstick poster and got a personality transplant all in one fell swoop! Or maybe it's because Tom finally has everything he ever wanted – he has unions with both Katie and Tom 1, mixed in with booze, plus Katie gets to keep Stassi as her sister wife on the side.
Katie tells us that after struggling with PTSD related to her fall she's found herself again! The old Katie was a happy person with rational-decision making capabilities, and apparently was also a grown up? Isn't this also the tale Jax is trying to sell about how he's back to being "Jason"? Katie's revelation in happiness was inspired by her finding a bone in her salmon filet. It was a wishbone with magical powers or something. Tom 2 is overjoyed by this news. Now Katie will stop making rules for him, stop micromanaging him, and maybe, if she has babies, she'll ignore his carousing, cavorting, and canoodling with Tom 1 CoorsLight.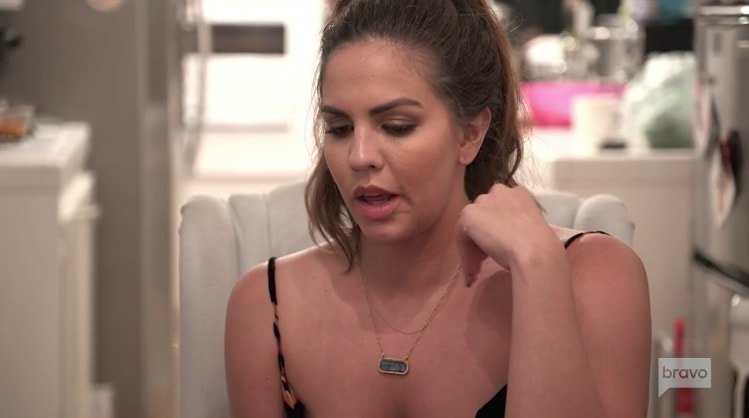 I wish them the best. I just cannot handle a happy Katie or a happy Tom2Kat. NOPE! Too messy for my equilibrium.
Oh I take it back about no one else being happy. Things are also hunky-dory between James Kennedy and Lala Kent. He's the Dre and she's the Eminem and together they make beautiful messes music. It's true – I love them together. Just be besties forever. At the very least Lala needs to stick around long enough to throw away James's chartreuse colored man-v t-shirt because we can't count on Raquel to keep James in check!
Now let's discuss all the 'deflated helium balloons which make everyone sound like Scheana' relationships. Speaking of, Scheana was basically absent last night. Praise Rob! Maybe he had trapped her in the Divorce Closet warehouse sorting through life-sized wedding photos and Shay's collection of G.I. Joes?
Stassi is having issues with Patrick. Of course. (Psssst… #HesJustNotThatIntoYou or your failure to launch life of being stuck in Reality TV adolescence). At least Stassi can distract planning Katie's Pucker & Pout relaunch, where miraculously Katie has secured a partnership with a lipstick company. This has absolutely nothing AT ALL to do with Katie being on Vanderpump Rules though! It's cause her blog, which hasn't had an update, since, oh, Scheana was still a married woman and Brittany was just a twinkle in our eye, is soooo influential! Mmmkay.
While Stassi and Katie blow up balloons, and then, because they're too inept to tie them closed, watch them deflate, Stassi confesses that things with Patrick haven't been good since Mexico. Apparently while in Playa de Carmen in the jacuzzi with James she was too drunk to return his text. She apologized profusely but it didn't matter, Patrick is still mad. I don't know whom to believe here because later Patrick comes over to Stassi's and claims she takes every small thing, makes it about her, and turns battles into war.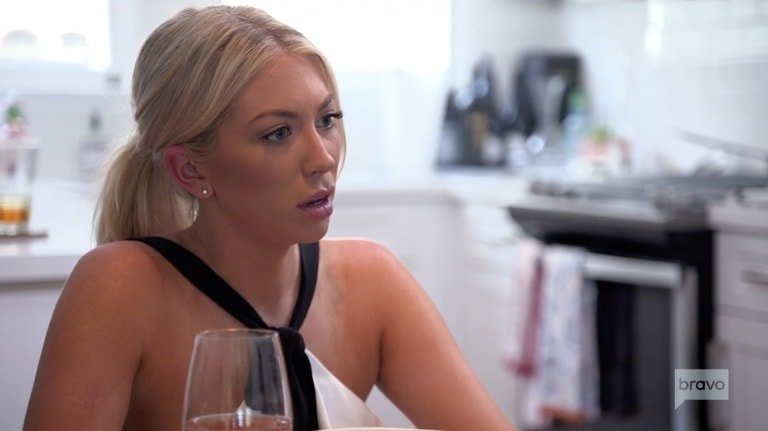 This is true, but Patrick seems like an emotional manipulator. Like while explaining all this he uses big words from his Dictionary A Day app making Stassi's brain explode into a bowl of sriracha covered mac & cheese. I personally think Stassi's problem is that she mixes everything – literally everything – with alcohol. And Patrick's problem is that he's Patrick, and thinks that listening to Zen & The Art Of Motorcycle Repair on Audible has made him a guru to effeminate hipsters with promise rings man bun affectations. This must be why Tom 2 reveres him!
However at Katie's party, which had nothing to do with Katie at all, the major drama is about Kristen Doute and Carter. Oh poor cuckolded Carter! Kristen is on crutches because she's clumsy and stubbed her foot into the wall. She imitates the wavy-armed inflatable car dealership guy to describe her movements through the world. This just makes so much sense. Kristen is pretty much exactly like that; just flopping about, bumping uglies into anything and hoping her general chaotic presence is so distracting no one will focus on the details – like how she got in a hot tub with her ex-boyfriend one drunken night in Mexico. Oh excuse me – it was a "plunge pool," which is basically the equivalent of a baptismal bath where one washes away all their sins, right.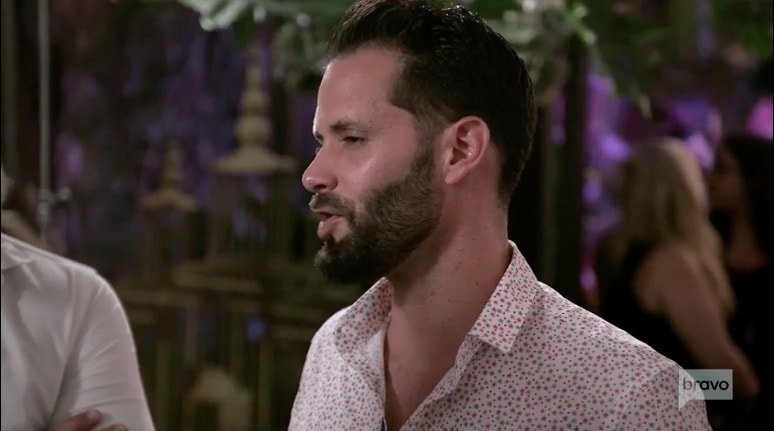 Carter is not buying this garbage – especially after he talked to Tom 1 who reminded him that Kristen used to try and sell him the same old lemon: pretending she wasn't doing anything or that it was just an innocent mistake, when in reality it was WHAM, BAM… No thank you ma'am! Kristen tries to stumble away from Carter's inquisition, but because she's on crutches and the exit is through a narrow hallway and she literally gets stuck. That was rough.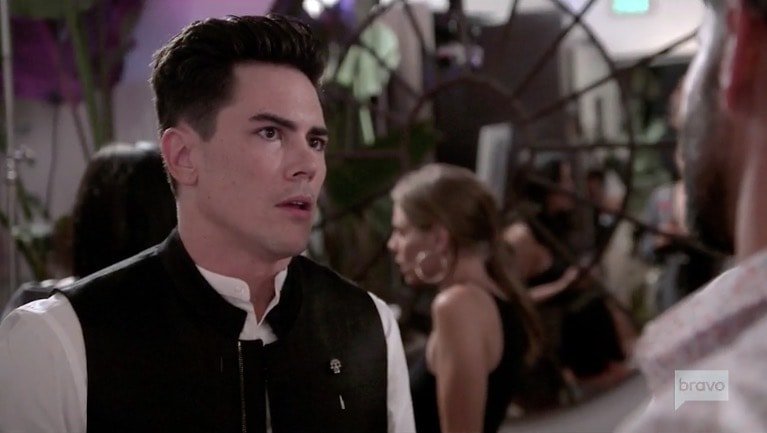 Honestly why is Tom 1 even involving himself!? He needs to let go of getting revenge on Kristen. Didn't he just Bro-Pose to Tom 2? Cementing their love with an interlocking-T ring and accompanying bar – shouldn't that make his life complete? Or maybe Tom ought to focus on his relationship with Ariana Madix, which is floundering over an unfinished cocktail book. A book Tom begged to be a part of and co-opted from Ariana, yet has subsequently abandoned for TomTom. Honestly Ariana should just finish the book alone, because is Tom even capable of writing anything besides texts that say "S'up Dude?! Beer Me!"
Jax isn't allowed at Katie's party because Lisa banned him from SUR until further notice. OOOOOOHHHH… so scary! While everyone else is testing lipsticks, Jax is stuck at home wallowing in ice cream and struggling to read the buttons on the remote. Phonics be hardz! The worst is he can't even call Kelsey for a reiki-up. She, like SUPER Rob, is out of FaceTime range. Or so she says… It doesn't matter, though, because Kelsey's advice that he isn't happy and he should leave Brittany sticks with him. Was Jax mad that Brittany ditched him for Katie's party, where she was getting unsolicited advice from Stassi about how Jax is the scum of humanity who will nevah-evah cha-ange? Poor Brit-Bit. What's a girl with Beer Cheese for Brains to do?! Jokingly refer to Adam as boyfriend apparently, which was like major foreshadowing of what's to come!
Leaving Jax alone with his thoughts turned out to be deadly, because the next morning he comes home from sulking at the Coffee Bean & Tea Leaf and announces to Brittany that it's over. Obviously Brittany flips because she stood by him through the cheating and everything else! She also stood by him while he essentially begged her to dump him, when the writing on the wall read "Jax's Cave" (and nothing good could happen there). Unfortunately just when Brittany thought there was a possibility of things working out, Jax threw everything in her face.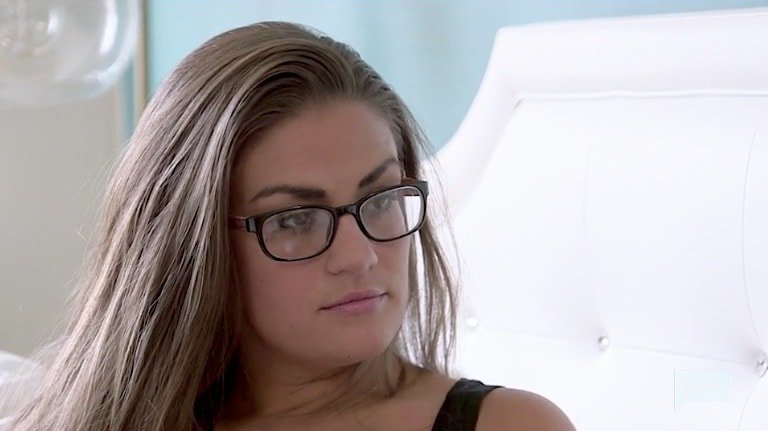 Honestly this was a good twist! Sadly we know they're back together now and that Brittany will, in fact, waste her best years on Jax because he's her best friend and none of us know the real Jax – the one she sees when they're alone, blah, blah, blah, Rob, Rob, Rob…  Maybe that's for the best!
TELL US – ARE YOU SHOCKED JAX DUMPED BRITTANY? DO YOU BELIEVE TOM AND KATIE ARE REALLY HAPPY?
[Photo Credits: Bravo]