According to Ramona Singer all the ladies on Real Housewives Of New York are going through a transition, and have found themselves single. Which is true. Before Dorinda Medley dumped John Mahdessian, she was the only woman on this show in a relationship. Unless you count Tinsley Mortimer dating "Bruce."
Who does Tinsley think she's fooling? Bruce was a made-up man to shut Dale Mercer up and hopefully make Scott Kluth jealous.
Anyway, it's fall in New York and the weather is wonderful so all the ladies are meeting outside in various parks to take walks and gossip. If this were a RomCom they'd keep bumping into each other on random benches and eventually fall in love. But this is Real Housewives, so if they ran into each other on random benches they'd actually just find the other person talking shit about them to their other friends, then they'd fall into hate.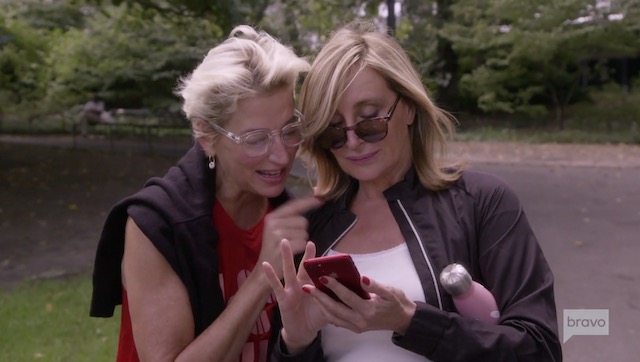 So that's what happens. Dorinda meets up with Luann de Lesseps and Leah McSweeney to talk about Tinsley. And Sonja Morgan takes a walk with Ramona to talk about Dorinda. And Tinsley meets up with Martin, the boxing coach, to talk about 'Dorita.' Martin is like a brutalist therapist who literally wants to knock some sense into the Tinz. He treats Tinz physically the way Dale treats her emotionally.
I do think Martin may have been hit in the head a few too many times, or his weird Pound Puppy bandana is cutting of blood flow to the brain. He somehow convinces Tinsley to open up about how confused she is about life. Tinsley starts whining about her situation with Dorinda and how they just can't find common ground. Martin thinks that "Tinsdale" needs to assert herself to "Dorita" and also focus on finding her inner power. Tinsdale whines that yeah, he's probably right but also her name is Tinsley.
Meanwhile, Dorinda insists to Leah and Luann that she no longer cares about Tinsley. However, as Leah points out, if Dorinda really doesn't care why is she always talking about Tinsley? Tinsley is the yellow brick road to rage in Dorinda's life. Dorinda wants to stay on a path of anger and Tinsley is the convenient scapegoat whom Dorinda decided has no brain.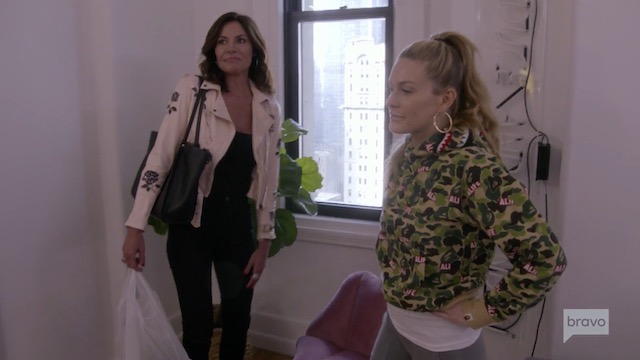 For some strange reason, Luann visits Leah at her apartment to bring her lunch. I swear production set this up and invited the Countess – the snobbiest person on the cast – because they wanted one of the women to snark on how 'normal people' Leah's apartment is. True to form Luann just isn't sure how one lives in a matchbox when they're not Thumbelina?
Leah doesn't even have a place to throw lavish dinner parties! She gave her daughter the master bedroom. Her houseplants are on the ground! It's all a disgraceful flophouse. Leah shrugs that she's not the 1% – more specifically that she didn't marry the 1%.
Leah and Luann talk about their decisions to drink again, and justify that they can handle it. Luann no longer feels her life is out of control, and Leah is tired of feeling like alcohol controls her. Ladies… I call this the slippery slope, and your Louboutins soles are dipped in butter. Is a giant bush really a safe place to land?
The big news is that Dorinda dumped John and they all found about it in Page Six. Ramona is relived. She felt Dorinda used John as a crutch and that he was so far beneath her. Dorinda has been with John for 7 years, yet she still talks about Richard like it was yesterday. Dorinda's mind is like a Tupperware – the past stays fresh forever.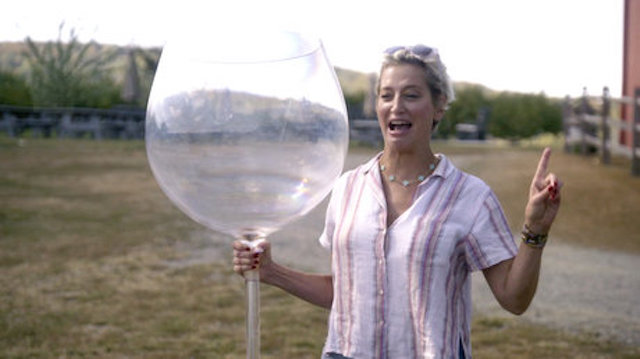 Luann has decided all the women need a day of celebrating fall so they head out of the city to Weed Orchards, for hayrides, lunch, and duh-duh-duh — a corn maze! So tell me, where was the Pumpkin Spice flavored wine? This place was an ode to Karen's and their "Love Live Laugh" wall-art, but Sonja is no Karen and she brings the party wherever she goes. Dorinda, on the other hand, brings the rage.
Sonja didn't even want to drink, but of course Sonja can't handle FOMO. I honestly think this is the biggest hurdle for Sonja in getting over her divorce and her past: Sonja hates feeling left-out, or specifically like she's missing out on something wonderful. Ergo she's not gonna be a Luann and miss the booze if she doesn't have to.
Something is happening with Ms. Sexy J though. Like maybe her hormone therapy isn't reacting well with booze because after about one sip she's wasted and slurring.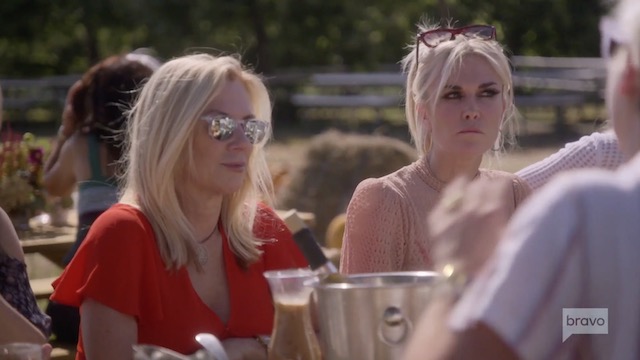 Over lunch, like a shape-shifter, Elyse Slaine has suddenly appeared, all ghostly and ghoulish, to ask Dorinda what happened with John. Dorinda says she simply outgrew him. She changed and grew-up, he stayed John. As Dorinda talks on and on about how now she feels ready to be an independent woman and finally grieve Richard, Tinsley fumes. Dorinda has been snarking at her for not being honest, yet they found out about her break-up in Page Six! Like a teenager who can't refrain from sassing her mom, Tinsley mutters something about hypocrisy, and Dorinda loses her shit.
Dorinda immediately starts screaming at Tinsley, calling her every name in the book, and Tinsley starts screaming back in a pitch that only dogs can hear. Which is unfortunate because everything Tinsley was saying about Dorinda was absolutely true: she's a bully, she's taking out her frustration on Tinsley, and she's straight-up MEAN. Leah and Ramona try to furiously calm them both down, but the drunk Dorinda train has left the station…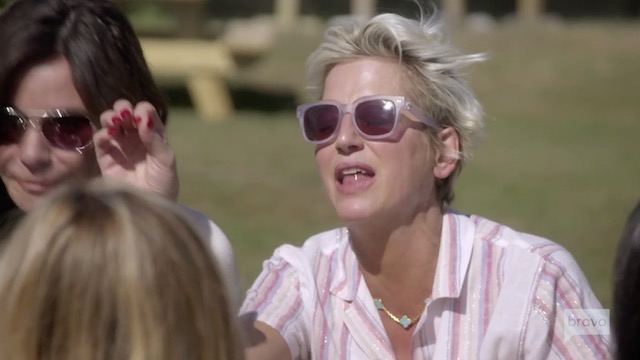 Finally Luann gets Tinsley away from the table where Tinsley complains that she's never allowed to have an opinion and she's tired of everyone speaking for her and over her. Leah again wonders why, if Dorinda claims that Tinsley is a "mint" that disappears in a minute and is never thought of again, she gets enraged every time Tinsley breathes? Is it because Dorinda is jealous that Tinsley has spent her life having everything handed to her and can now live in perpetual adolescence? It honestly doesn't make sense to me.
But like no one but Real Housewives Of New York does it, after that explosion they all rally to hop on the hayride. Sonja is trashed and spies a man who sparks her fancy: the orchard owner. Sonja's glasses obviously double as beer goggles. A magical prescription in which every man reads as a potential fling. The orchard owner is not interested in Slurry J.
So who would you like to be lost in a corn maze with? My answer is obviously Sonja. She, Tinsley, Luann, and Leah form one team while Ramona, Elyse, and Dorinda form another. It's Housewives vs. Nature, and Sonja is going to take that nature, stuff it in her purse, piss on it, stomp on it, and possibly grind her crotch on it.
When Sonja realizes there's actual corn in these husks, she literally rips them open and puts some cobs in her giant purse. This is a girl who understands opportunity – she's not leaving the corn; that's just not who Sonja is. Also, corn goes well with lobsters. These guys truly are like the drunken Wizard Of Oz. Tinsley just wants to click her heels together 3 times and be transported to Scott's house where he will tell her he loves her forever.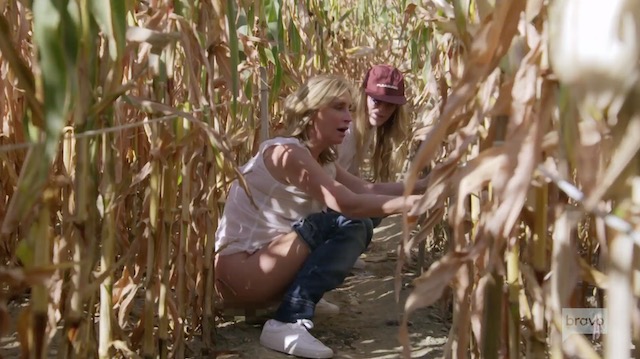 While Tinsley is whining and wailing that they'll never escape Dorinda, the wicked witch of the west side, Sonja, our lovable Scarecrow, and Leah, our UNcowardly lion, are popping a squat and taking a pee break. Tinsley offers them leaves as toilet paper. Shockingly it is this team that beats the maze and finds their way to the wizard first. The wizard happens to be the orchard owner, who when you're drunk and having blurry vision, truly does look magical!
He does not grant Sonja her wish though. She wishes for a little action, but as Tinsley reminds her: she just pissed in a corn maze, and is in no position to seduce a man.
The day concludes with a wine tasting. And lots of donuts. Sonja is trashed and making love to cheese, while talking dirty to it. I don't like cheese, but I'm sure many people can relate. I do love donuts though! While Luann is trying to have an intellectual conversation with the sommelier about why dick pics aren't a turn-on, Leah announces that they're a necessity for weeding out small peens. And here at Weed Orchards, everyone must work together to help our fellow sisters weed out the undesirables. In the immortal words of Ms. Sonja Tremont Morgan the eternal, "Never touch a small penis."
Except if you're Tinsley.
TELL US – WHO'S CORN MAZE TEAM WOULD YOU RATHER BE ON?
[Photo Credits: Bravo]