Someone please tell the producers of The Real Housewives of Atlanta to get their act together. Has there ever been a season of Atlanta this boring before? They're even cutting out dramatic scenes that they advertised? What's up with that? We all know the women are going on a trip to Charleston, so the potential for drama is there. Group scenes are key to a successful season, and this season has been lacking in that. FINALLY, the group will be all together.
With the entire group finally about to be in the same place, the true dynamics can finally begin. There's been a few little side feuds so far, but now allegiances will be formed. Sides will be chosen. Kenya Moore is trying her hardest to stir the pot, but nobody is taking the bait. The biggest thing looming within the group is the upcoming StripperGate drama. In what ways will an alleged night with the stripper change the course of this season?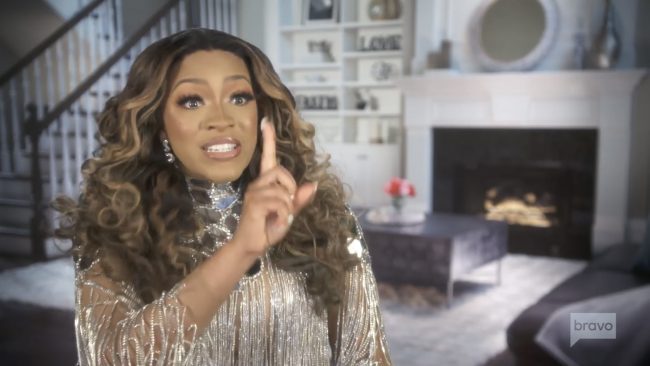 Cynthia Bailey's trying so hard to get a hold of someone in the group, but nobody will pick up. She was even desperate enough to call Porsha Williams whom she barely talks to. I wonder why Cynthia was so eager to get a hold of someone. This pandemic has everyone so bored out of their damn minds. Honestly, if she's not talking about her wedding, I'm here for it.
In everyone's defense, they appeared to be legitimately busy. Kenya & Kandi Burruss were on video chats, and Porsha was doing some sort of soul cleansing yoga. You know you need that kind of spiritual guidance to get by with this group. After getting through to NOBODY, Cynthia decides a simple text will suffice. A text is always the perfect way to get a hold of me. I will almost ALWAYS ignore your call and then immediately respond via text.
My soul cannot take any more of Drew Sidora's sham of a marriage. Transparency is one thing, but girl, we barely knew you. I'm not trying to go full Mariah Carey here, but I DON'T KNOW HER. Drew is almost never with any of the other women. It's literally as if her storyline exists on some alternate timeline from the rest of the group.
Almost overnight things appear to be better between Drew & Ralph Pittman. After six episodes of marital chaos, they're actually laughing and smiling for once. With the way they came so hard with their relationship issues, there's no way this is the end of their troubles.
Drew calls Kandi to verify her attendance for an upcoming dinner at her home. Everyone says they're coming, so maybe nothing exciting will happen on the trip that will follow. PLEASE DO NOT GET ALONG AT THIS DINNER. I'm not claiming that I want full on anarchy at this dinner, but something needs to go down. Everyone smiling and holding hands can only go on for so long. This isn't the girl scouts. It's Housewives.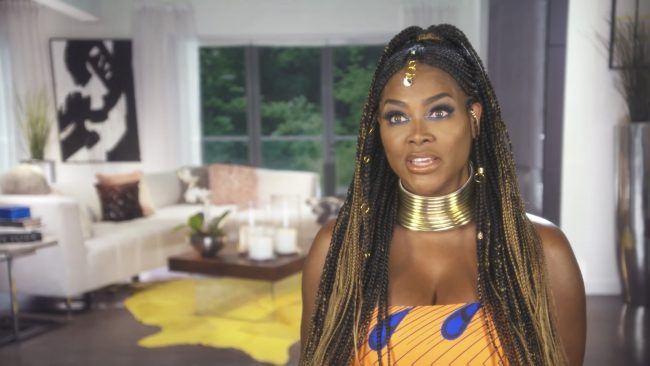 Kenya meets up with her minion LaToya Ali for some delicious breakfast. Kenya feels like she's gained too much weight during the pandemic, but I think she looks great. None of these ladies are fat or grotesque. No matter what, Kenya slays.
Kenya's bringing her daughter and a nanny, and on top of that, she's flying herself and LaToya private. How are the other women going to feel about that? That seems like a shady move for someone trying to organize a fun getaway for the group. However, at least Kenya is doing her part to stir up some drama. Bless her heart. We don't deserve her.
I've never seen Kenya so open with a new cast member the way she's been with LaToya. Their chemistry is through the roof. Yes, they're allegedly just friends, but the sexual tension is there, and it's THICK.
Kenya ends up speaking to Drew on the phone at the breakfast, and drops the nugget about the private jet. She just HAD to rub that in. She cannot help herself. I picture her doing an evil villain laugh in her mind when she acts like that. She wears that villain badge so proud.
Drew invites Kenya to her pre vacation dinner, and of course Kenya asks if LaToya's invited. Given it was on speaker phone, it was highly awkward when she paused for a moment before saying yes. I'm not sure if she realized LaToya was sitting right there during the conversation. Who would even want to go knowing they were originally overlooked?
LaToya asks Kenya for an update on her marriage to Marc Daly, and it's not positive. She doesn't think she can talk to Marc about anything. Every single time they try to interact it turns to a fight. Not only that, there's so much she can't do without his permission. Right now her rights as a mother are in the hands of this very volatile man. It's not a good situation.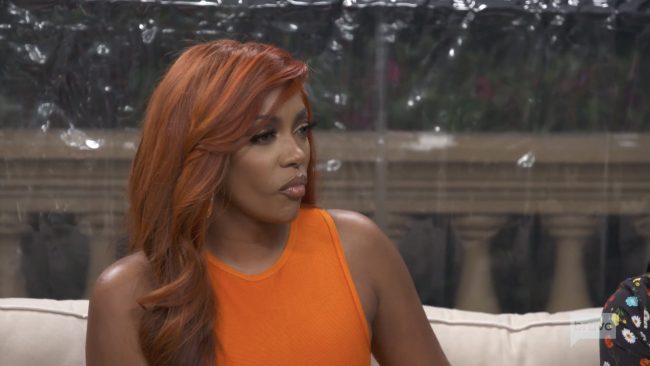 Drew's arranged for a private chef for the ladies, and that's the friends we all need to have. The theme is supposed to be "Hollywood", but Drew doesn't give off the vibe at all. Yes, she's a C list working actress, but her appearance is always so disheveled. Is that rude to say? Oh well.
She asks Cynthia about her wedding, and as of now the plan is to hold it outside. I'll believe that when I see it. I think Cynthia is going to do whatever is best for Cynthia. That's been the common theme throughout the season. She's bound and determined to have a spectacle of a wedding, and not even a pandemic can stop her.
Ralph is going out of his way to be a great and helpful husband at this dinner. I've never seen this man so cheery before. He's decorating and greeting the guests. That's big for him. I wonder if he'll be spying on the guests during dinner on one of his secret cameras in his lair.
Kandi's confused about the issue LaToya has with Drew's wig. She feels like it was probably just one bad hair day. Kenya & LaToya wanted to come for Drew from Day 1 for no real reason. It's shady boots season for them. I guess Kenya cannot be good with both newbies at once. She only has love enough to go around to one new face in the group.
All of the women are enthralled with how good looking Ralph is. I have a feeling Drew would snatch a bitch bald if they EVER came after her man. No secret trips to Tampa with Ralph for any of these women. Hands off. Period.
LaToya is a no show to Drew's dinner, but Porsha says that's a good thing. She does her Housewife duty and carries the bone to Drew about LaToya shading her wig. Like Kandi, Porsha's also confused about coming for Drew's wig. Her appearance isn't at all how Porsha imagined it would be face to face. Drew's a lot more put together than Kenya's lap dog made her out to be.
Drew asks the producer in her confessional what LaToya does for a living, and they respond that she has a YouTube channel. Drew's like "is that like a job?" Shade of the century. Now put THAT in your vlog and upload it.
Porsha tells Drew that Cynthia & Kandi were also present for the moment it happened. I wonder how it feels for them under that giant ass bus they just got thrown under. Well alright then.
The ladies get to know Drew better and learn she sings worship and praise at church. Of course that opened the door for her to have to give the women little live sampling of her vocal talents. She chooses to sing Amazing Grace which is the song that Porsha chose to perform at the Season 5 reunion. She did it first. Know the hierarchy.
Kenya lets the women know that she has arranged for them to meet at Kandi's house for their travel. Now, Drew's already aware Kenya & LaToya are travelling on a private jet, so her playing dumb at the dinner is odd. Kenya's finding the behavior to be sneaky, and I can see that. What's Drew up to right now?
Well, that mystery gets solved very quickly because Kenya is the one who told Drew not to say anything. Immediately following their phone call, Kenya begged her not to fill in any of the other girls about the private jet. Yeah, that's really weird. Pick a lane Kenya.
Kenya's unable to understand why the other women would be offended by the private jet. How is she not comprehending that? First of all, you shot down their idea to have Falynn Guobadia bring them on her plane. Now, you're actually doing the same thing yourself. That's some next level petty bs.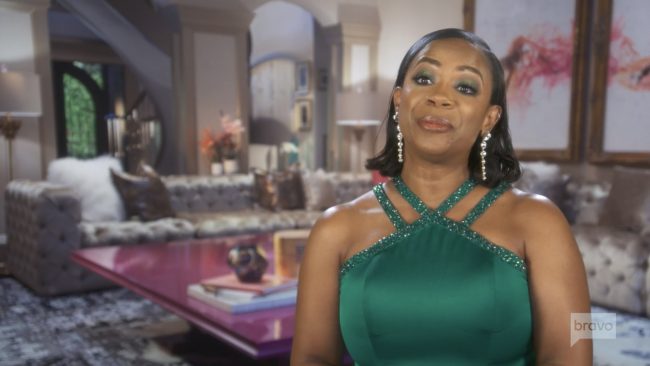 While talking about a possible bachelor party for Mike Hill, Todd Tucker comes up with a genius idea for the trip. Kandi should get a hold of some strippers. SO TODD IS TO BLAME FOR THE UPCOMING CONTROVERSY. Shame shame! Just kidding, I'm forever grateful for him for stirring this up.
Kenya doesn't have anyone that can take care of her daughter overnight. Kenya's left with no alternative than to bring Brooklyn on the trip. This might not be a popular decision in the group when they find out, but it's her only choice.
Kenya lets LaToya know that Porsha spilled all of the tea about what she said regarding Drew's wigs. They both think Porsha's too extra for that, but they're the most dramatic duo I know. Stop doing the most because having no self awareness isn't cute.
Both Kandi & Porsha are emotional about leaving their babies behind. I guess we know how they're going to react when they learn Kenya's daughter is present on the trip. Shady boots!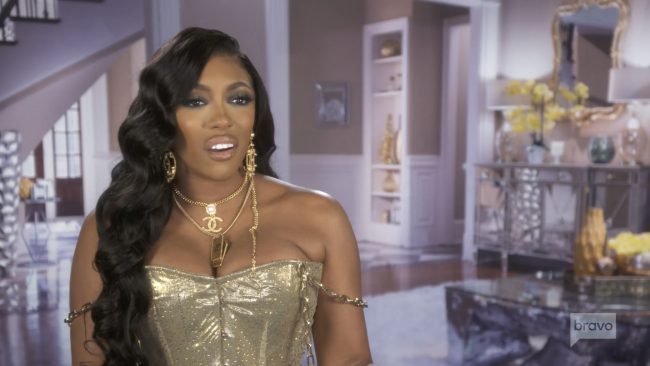 Marlo Hampton shows up to the trip wearing her craziest bee keeper hazmat suit chic outfit. I'm living for her serving us with this pandemic fashion moment. We do not deserve her.
Kenya's living out her petty dreams, so she's giving the people she doesn't like the worst rooms. Why even host a trip if you're going to act like that? To make things worse, the women are melting away on the bus ride. These are the worst accommodations ever.
Things are going from bad to worse for Kenya because a lot is coming out on this bus ride. First Drew makes it known to the other women that Kenya was purposely keeping the private jet information from them. That in and of itself is enough to ruffle some feathers.
However, Marlo is the gold star pot stirrer because she tells everyone that Kenya brought her daughter on the trip. HERE WE GO! To say Porsha is PISSED would be quite the understatement.
TELL US – IS KENYA WRONG FOR ONLY BRINGING LATOYA ON THE PRIVATE JET? ARE THE OTHER REAL HOUSEWIVES OF ATLANTA OVERREACTING TO KENYA BRINGING HER DAUGHTER ON THE TRIP? HOW ARE YOU FEELING ABOUT DREW SO FAR? ARE YOU ENJOYING THIS SEASON OF THE REAL HOUSEWIVES OF ATLANTA?
[Photo Credit: Bravo]