Tom Sandoval's had enough of Katie Maloney. If there were any doubts before, his rant at the end of last week's episode of Vanderpump Rules proved that. He doesn't want her to have any input in his new bar with Tom Schwartz. It's starting to look like Katie's opinions may derail their dreams of owning a second bar.
It's so cute to see James Kennedy & Raquel Leviss basking in this engagement bliss. What an evolution we've seen from James. This version of James is far different than the brash drunken fool from past seasons.
Raquel's meeting one on one with Lala Kent which should make for an uncomfortable moment. We've seen Lala bite her head off with ease in the past. However, so far this season it appears like they're in a decent place. Now that Lala's sober and in a better head space, hopefully she'll be a lot nicer to Raquel.
Raquel comes off like the sweetest person on this show. She has decent morals unlike half of the longtime cast. I don't want to see someone like Lala tear her down and rip away whatever innocence she has left.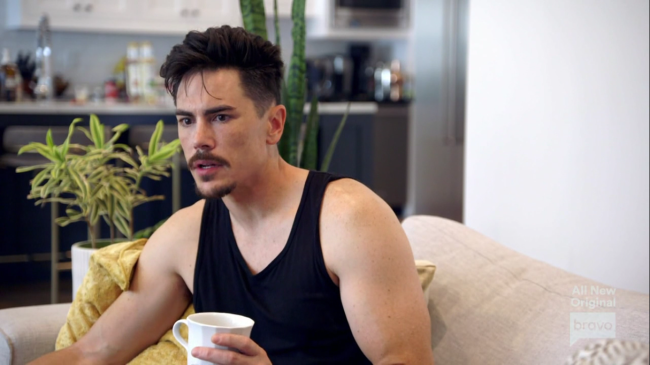 Everyone's trying to digest Sandoval's freak out from the night before. He's choosing to die on a hill over an issue from two years ago. He's mad because Katie yelled at him at a book signing from that long ago. Why's he so stuck on this? Can his ego not take that kind of hit?
Things are uncomfortable between Ariana Madix & Katie because of Sandoval's psycho moment. They can't even go over there now without having to deal with the lingering tension from Sandoval freaking out. His overly inflated ego's  unable to take any sort of criticism whatsoever.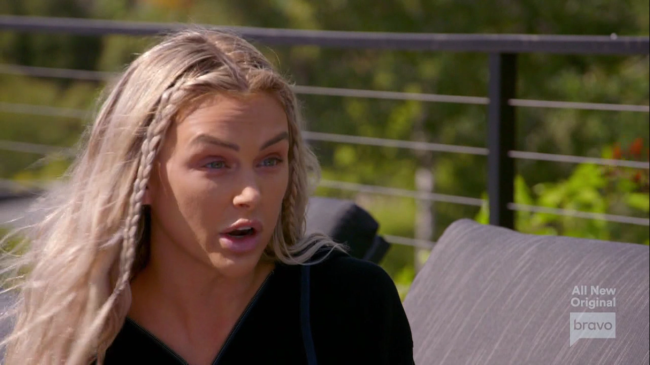 Lala's just as shocked as the rest of us that Raquel & James have lasted as a couple. However, they've proved all of their doubters wrong, and Raquel's finally finding her voice. Regardless of the past drama, it's nice to see these two finally in a semi-good place. More of this!
After losing a game of pickleball to Lala, Raquel's going to be forced to give a speech. We all know this isn't her element. It might be nice to see her continue jumping out of her comfort zone. More progress will help her come out of her shell.
Lala recognizes that without Raquel in his life, James would be in a far worse place. Raquel's singlehandedly held this man together. She left him with the ultimate choice, and he's making the most of it. Sobriety looks good on James.
Scheana Marie tries to make Sandoval understand where Schwartz & Katie are coming from. He's still stuck on the freakout from Stassi Schroeder's book signing. He's still choosing to die on this hill. He was the one rage texting Stassi which led to the big blowup. Sandoval's not the victim here that he's trying to make everyone think he was.
Schwartz & Sandoval get into it over the idea Schwartz walks on eggshells around Katie. What's the big issue about having Katie on board? That's Schwartz's wife. She's going to be involved in some capacity regardless. He has to accept that.
At Sandoval's, Scheana tells Brock Davies about Lala's concerns about their relationship. It's mind blowing to see Scheana shrug off all of these red flags. Obviously people are going to have a strong opinion when they hear something like that. Lala's not in the wrong for wanting better for her friend. The red flags about this man are flashing everywhere, but Scheana's choosing to keep her blinders on.
Lisa Vanderpump invites Scheana and all of the other girls to Villa Rosa. Scheana made sure to have the other women included so it wouldn't just be her and Lala. With all the heat on Scheana about Brock's relationship with his children, she doesn't want to deal with that alone.
Things aren't looking great for the Toms new bar. Schwartz got his home equity loan denied which could give Sandoval all the power. No way in hell would he want there. Imagine him as controlling owner of their business. Fuck that noise. Sandoval's already on a power trip, so this would exacerbate all of those issues.
It's crazy how James was able to get in a better place with the entire group. For so long he was on an island by himself. However, now he's good with everyone including Randall Emmett. Time does heal all wounds. Plus, cutting out the drinking certainly helped.
Brock apologizes to Lala for giving her the impression he'd ever leave Scheana and their daughter. Lala's coming from the perspective of being a mother herself now. It'd probably kill her if Randall ever did this to her and Ocean.
Brock doesn't want this being discussed throughout their entire friend group. He's trying to intimidate her into dropping this which is only going to raise more questions. Something's so off with this guy. At some point we're going to learn the truth about why he's not making an effort to reconnect with his children. There's no way we're currently getting the entire story from him.
It's obvious Brock doesn't want this being discussed on camera. They aren't saying it outright, but that's what's really going on here. However, the more defensive he's getting, the more uncomfortable it is to watch.
Raquel did it! At the dinner with everyone in the group, Raquel said she got so wet when James proposed. She conquered all of her fears, and everyone loved it. I love seeing her opening up more and blossoming!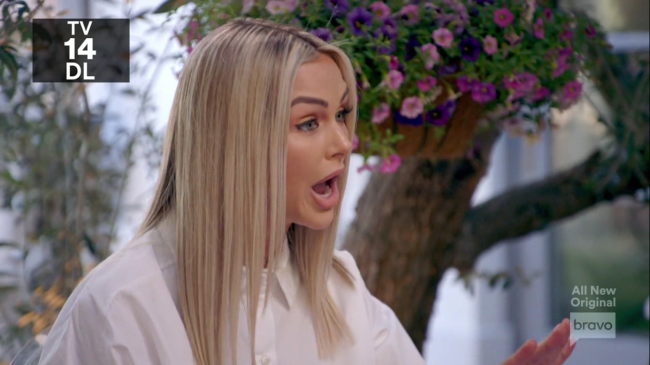 At the fertility clinic, everything with Katie is totally normal. However, things for Schwartz aren't looking as good. Nearly all of his sperm is deformed, so lifestyle changes are in order. If they're going to improve their chances of conceiving, he has to take this seriously.
Schwartz needs to cut his alcohol intake, amount of hot baths, and his marijuana usage. It seems like it might be a major ask for someone like him. He doesn't take a lot of shit seriously, so this could be a problem. Although Katie's annoying enough with her nagging to force him into submission.
Lisa's elated to finally meet Scheana & Lala's babies in person. The joyous moment is adorable, but it won't last long. There's an unspoken tension between Lala & Scheana that's going to erupt at any moment. The questioning of Brock has only one conclusion which is a fight between the two women.
At Lisa's, Lala tries to assure Scheana she's not out to attack Brock. Lala reveals she was told by Brock privately the real reason he can't see his children. He was in a relationship with the mother of his children and got a domestic violence charge. DING DING DING! There you go! The court decided he can't see his children. We all knew there was a lot more to this story, and here it is.
Lala's crying her eyes out talking about what she learned about Brock. Scheana claims this isn't the real reason Brock can't see his children. Hearing Scheana say the domestic violence incident has nothing to do with his kids is alarming. Take off your blinders. Very very weird.
Scheana texts Brock during his guys night blasting him for telling Lala about the restraining order. What the hell? That seems so fishy. Brock calling Lala a piece of shit is only going to further this issue. The drama's getting hotter and hotter the more this develops.
TELL US – WILL BROCK & SCHEANA LAST AS A COUPLE? TEAM BROCK OR TEAM LALA? DOES SANDOVAL HAVE AN INFLATED EGO? ARE YOU ENJOYING THIS SEASON OF VANDERPUMP RULES?
[Photo Credit: Bravo]