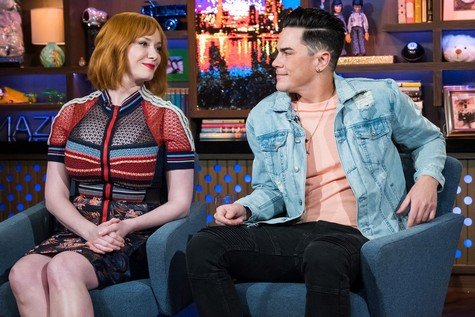 Let's be honest: Vanderpump Rules is the gift that keeps on giving. Don't get me wrong, I love (almost) every single show on Bravo, but I don't "like" them all equally. Some of them have been slacking with the recent seasons.
Vanderpump Rules has more going on in one episode than most Real Housewives shows do in an entire season. I'm looking at you, Beverly Hills Housewives. The story lines just keep on coming. So of course, Tom Sandoval was asked about 98484838737 different topics during his appearance on Watch What Happens Live last night. There was just so much to address from this season alone.
Host Andy Cohen asked Tom about the possibility of convincing his (openly child averse) girlfriend Ariana Madix to have kids with him in the future. Tom admitted, "I don't know. We'll see. I mean, right now, I'm not ready to have kids. I just eventually want to whether we adopt or whatever."
Then a viewer called in with an extremely condescending question: "After six years of being on an extremely popular TV show, how is it that you can't afford a house? " Tom answered, "It's about getting yourself in line to buy a house with your credit and everything and getting loans and stuff like that. It's not that we can't afford it right now, but it takes time. Finding a house in LA is like finding a condo in New York."
Andy asked a (seemingly) obvious question: "Is your apartment dumpy?" Tom responded, "It's shitty." Tom explained why they are still in the same apartment even though they are on a successful reality TV show: "But we've saved so much money. There's no point in moving into another place because all that will do is slow things down with getting a house. It helps motivate us." That makes perfect sense to me.
A viewer asked, "What was the reaction when you watch the episode when James [Kennedy] said he clearly 'hung out with' Kristen [Doute] and not 'hooked up with her'?" Tom shared, "You know, the funny thing is, even our producer who was there thought he said 'hooked up.' Jax [Taylor] thought he said 'hooked up.' Peter [Madrigal] thought he said 'hooked up.'" Tom confessed, "It was a mistake that we obviously all made and there's subtitles there for a reason."
Tom gave an update on the restaurant he is opening with Lisa Vanderpump, Ken Todd, and Tom Schwartz. He shared, "Tom Tom is either opening end of May or early June. We don't have a date set yet, but it's coming along. It's looking great. It's been a lot of work." He added, "Ken has been working really hard."
Andy stirred the pot a bit when he asked, "Do you think Jax's job offer was real?" After a pause, Tom started to say, "I think maybe it was a little exaggerated as far as the…. " Andy cut in with "job offer." Ouch. A caller asked, "Is there anything that Jax could do that would make you not want to be his friend anymore?" Surprisingly enough, Tom admitted, "Well, of course."
Just like the rest of us, Andy wanted to know "Like what?" Tom told him, "I don't know."
A fan asked, "Does Tom regret yelling at Katie [Maloney] and Stassi [Schroeder] over Jeremy [Madix] and not even trying to see Stassi's side?" Once again, Tom immediately owned up to his mistake (unlike most of his costars) and said, "Yeah. I do regret that. That was wrong."
RELATED: Tom Schwartz & Tom Sandoval Stick Up For Jeremy Madix After He Was Accused Of Being "Creepy"
TELL US- DO YOU THINK TOM WENT TOO FAR WHEN HE YELLED AT KATIE & STASSI FOR ACCUSING JEREMY OF BEING "CREEPY"? DO YOU THINK TOM & ARIANA WILL HAVE KIDS?
Photo Credit: Charles Sykes/Bravo