Here's what I was doing instead of writing a Vanderpump Rules recap: researching Captain Picard cookie cutters on the internet. But honestly, that might not be so far off-base. Any Star Trek TNG fans out there? Well, you should be – it would be super great if Captain Picard could beam down and save this mess from itself, because NO ONE interesting this season. Except James Kennedy, but that's beside the point.
I'm supposed to be all bent out of shape and emotionally invested because Jax Taylor finally manned up enough to dump Brittany Cartwright. She reacted by storming out of their apartment amid a stream of twang-laced obscenities (which sounds like what happens when you mix Tang with beer from an aluminum can) and Jax reacted by stress-eating himself a piece of greasy leftover pizza then strolling down the hall to Tom and Katie's.
Jax behaves like he deserves to be created Saint Jaxifarious for his selfless, kind, benevolent, thoughtful decision to set Brittany free from his terribleness. He even gave her the parting gift of morning of [break-up] sex. I mean, it's not quite being dumped on a post-it, but…. Honestly no one believes this break-up will last, especially cause Jax is used to Brittany doing everything for him while he throws tantrums from the couch. Who will make his sandwiches now?! (#GrubHub)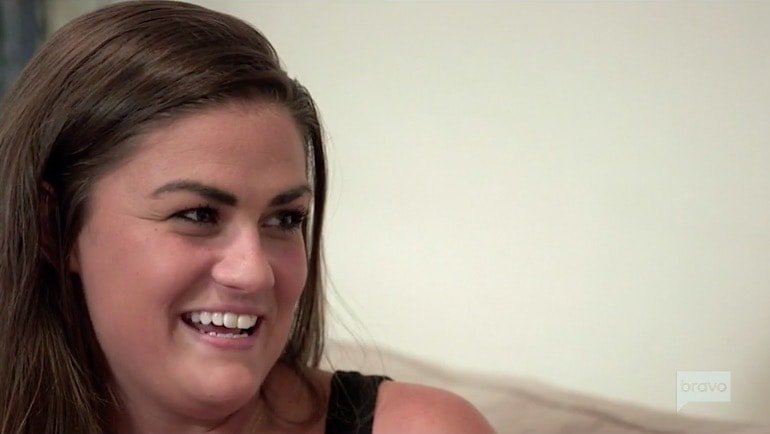 Later Brittany visits Kristen Doute, who is home on convalescent leave after twisting her ankle. Or maybe Carter just chained her to the sofa with whiskey to keep her away from James? Who knows, but Brittany has brought with her a friend from Kentucky, who mysteriously appeared in LA and now we're all supposed to believe that Huckleberry Homespun has always lived there, and is really Lala Kent's secret boyfriend who happens to be an A-list Hollywood producer too busy hanging out with Matt Damon to cavort with the likes of reality TV. What I'm saying is I don't believe for one hot second this 'friend' has been living in LA and we've never seen him, but I am 100% positive he'll be "working" at SUR sometime in the near future (UGH).  Brittany has been a busy little beaver in the 15 minutes she's been de-Jaxed – because she already instagrammed Hott Adam, the foil of Jax's past, to give him her number.
Both Brittany and Jax are staying in a hotel to avoid running into each other. Jax because he wants to see who's out there on Tinder give Brittany her space and avoid any messy scenes with her that could lead to reconciliation, and Brittany because she's too angry to handle seeing Jax. Presumably Jax and Brittany were so involved in their own inner turmoil they just up and left their dogs in the apartment. Someone call Vanderpump Dog Rescue!
When Brittany does return to the apartment to get some clothes she brings Ariana Madix and Scheana Marie with her as bodyguards. Jax though is already on his first Tinder hookup and not there.  Brittany cackles that at least she got some free boobs out of her relationship with him! Which, all things considered, is probably the right attitude to have about dating Jax. And she plans to put these boobs to good use by staying in LA and supporting herself waitressing at SUR. SUR-VIVAL. Brittany will SUR-VIVE; as long as she knows how to love… Why doesn't just open a Hooters franchise!?
So Scheana as a bodyguard… it's not a bad idea, because hearing her voice is a major warning to stay away. ROOOOB. ROOOOOB. ROOOOB. Robbed by Rob!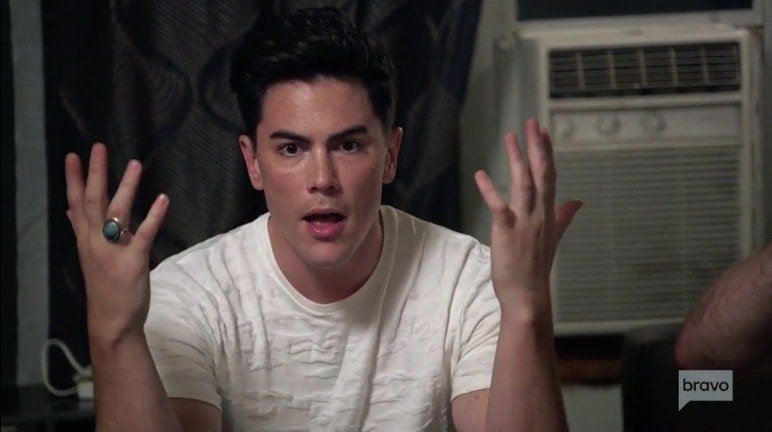 Meanwhile Tom Sandoval ditches his double-date with Ariana to race into the night to console Jax at his hotel. Tom and Tom bring booze and advice that Jax needs to stay broken up from Brittany. In some shocking about-face realism I wish he would apply to his own life, Tom 2 remarks that he has no sympathy for Brittany because she knew who Jax was and what Jax does, and unfortunately he fully expects these two to be back together with in a month. Gee… ya'think?! I mean it's a given that they'll turn into TomKatastrophe 2.0 and next season we'll be treated to JaxNey's Down-Home Weddin' Y'all! I bet all 20 of Brit-Brit's chickens can act as bridesmaids with the Shemotional Terrorism Club getting drunk on moonshine and crying about how Brittany is still TOO GOOD for Jax. (She's not and we don't believe them).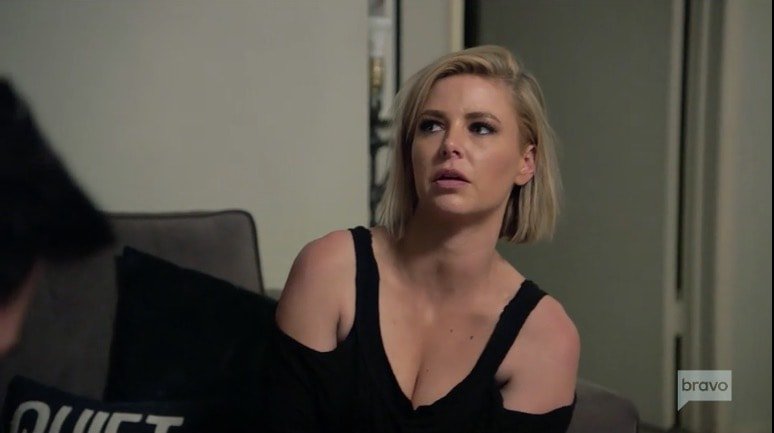 In other news Ariana is still pissed that Tom 1 keeps ditching her and their book for all his other endeavors. Which is a fair point – he did connive his way into her cock-tail book and now he won't even recipe test. Even worse he just wants to use the book to cross-promote Tom Tom and all of the cocktails he plans to put on the menu there. (psssst…Ariana you're a feminist, just tell your editor you need to drop him from the project and go at it alone! AGAIN!) Although it seems like Ariana is spending an awful lot of time obsessing about how much she isn't obsessed with her vagina instead of you know, writing that book!
Tom 1 is a very busy and important person, after all! Like he has shop for uniforms for Tom Tom, and proving that he is utterly full of the 3,000 plastic bags the grocery store gave Stassi Schroeder for the 2 bottles of ranch dressing she bought last week, Tom brings Tom 2 to an upscale men's clothing boutique to 'source' potential uniform shirts. Cause one doesn't need such amenities as stain-resistant, wrinkle-free, stretchy, etc. in a uniform! Does Tom really believe Lisa Vandeprump will turn this detail over to him? The staff will wind up wearing latex Bermuda shorts with prints of skeletons doing the Charleston or something equally appalling.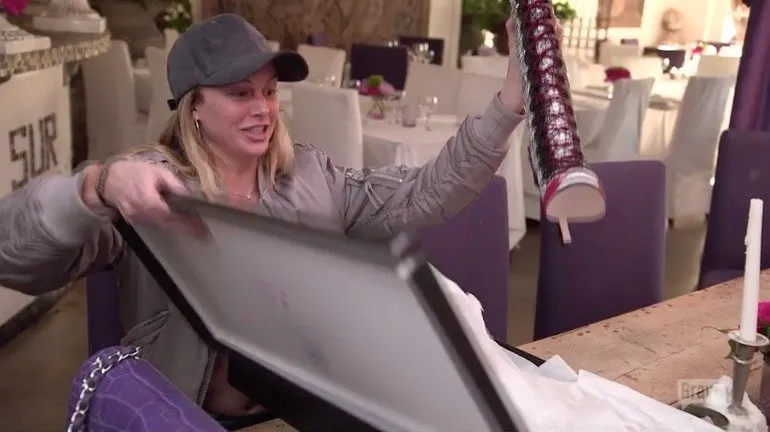 Lisa is too busy to baby-sit Tom and Tom though, because instead she has to babysit Stassi and Lala who are hosting an upscale evening of musical performances and drinks. As you know Lala has "anxiety" BIG TIME (eye roll), so as you can predict she's very, VERY nervous to be performing her 7 original songs on stage before a coterie of her former enemies turned friends and a select group of co-stars. To calm her nerves Lisa gifts Lala with a pair of knee-high boots that look like a toddler scribbled on them, then cut off the toe with safety scissors. Basically they're perfect. She can also wear a fanny pack with a baby bottle holster and string a pacifier around her neck. Obviously Lala loves the boots and they will imbue her with the confidence to walk out on that stage! Too bad Lisa won't be there since she has an obligation in Vegas which was most likely filming for Real Housewives Of Beverly Hills. The other person who won't be attending is Lala's man Randall, which is not OK according to James.
I'd be nervous too if I had trusted my event to Stassi, but she seems to have correctly ascertained that the only important detail was photocopying 100 line-drawings of Lala's face and positioning them around the restaurant next to some candles she stole from SUR. Lala was elated because Lala wants to give people the Lala.
Lucky for Lala she will always have James in her corner to remind us for all eternity that he discovered this magical unicorn with a voice that will bring world peace, give Jax a heart, and make Brittany understand once and for all that SHE DESERVES BETTER. (say it in unison with me!).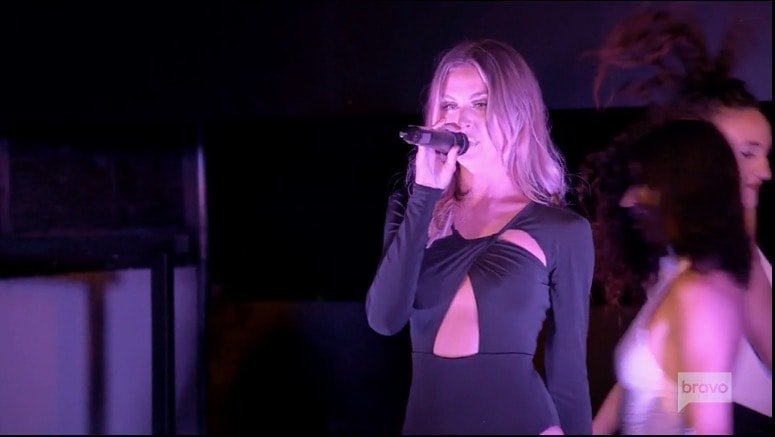 Finally Lala puts on her cut-out bodysuit for the "classy yet sexy look" and manages not to fall off stage or bomb and the singing, the small glimpse we got, wasn't all that bad! Stassi is pleasantly surprised she wasn't forced to endure a remix of Scheana'a past attempt at pop stardom, although Stassi shouldn't get too excited because now Scheana is feeling inspired to seek attention to relaunch her musical career. I call it Solid Gold – Resist The Urge.
Jax skipped Lala's performance because he's trying to avoid relapsing into Brittany's arms. Also the girls took her side – even Lisa – and now Jax is like subsequently banned from all events.Brittany, meanwhile, put the boobs he bought for her on full display and flashed them in Adam's face relentlessly. Tom and Tom call Jax from the event, and feeling FOMO, he's already having second thoughts about dumping Brittany.
Following her performance Lala pulls James aside for a moment; to thank him for all he's done to give her confidence and find her love of music. James cried, then they held hands and stared into each other's eyes, and I do believe that someday, in some dystopia future, these two will be getting married in the craziest, tackiest, most insane wedding of them all. Officiated probably by SUPER ROB, who became a priest in witness protection from Scheana. Stassi can plan the event, and will lock eyes with Rob over the teased hair and extreme spray tans of the guests, and they will fall madly in love – if only to drive Scheana over the abyss.
Oh, yes, Stassi and Patrick are still having 'issues'. Those issues are called you're both assholes and two wrongs don't make a right.
In more a more positive turn of adulthood, after years of squirreling away their tips (how did Tom manage this and funding his wardrobe?) Ariana and Tom are now ready to buy a home together! They have a sweet moment where they dry-hump on the counter of their potential starter home. All Ariana needed was a little reaffirmation of Tom's love to get that vagina working again, I suppose.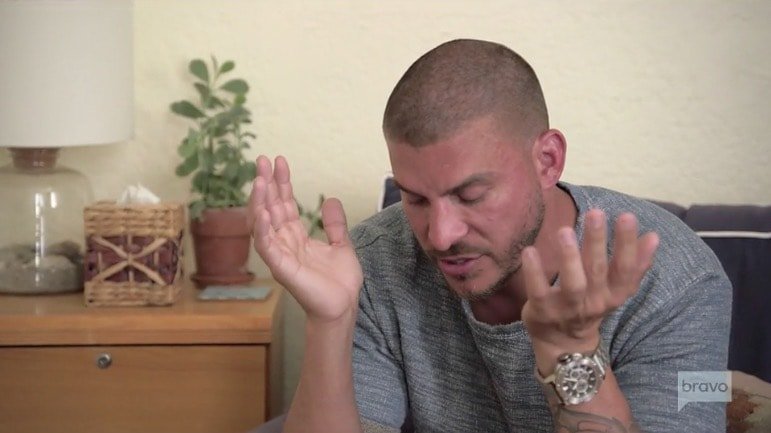 We conclude the episode with Jax visiting his therapist because Kelsey is still hiding in Africa. So she says… Jax fake cries about how doing the right thing is challenging because Brittany is the only woman he's ever truly loved, but she deserves better (say it with me!). Not even the therapist believes him or bothers trying to counsel him. I'd put in a little more effort just cause you know this is on TV and is a great way to promote your services, lady! And think of all the f–ked up people Jax knows who also need help?!
Predictably Jax has already been texting Brittany begging her back, but she's not ready to acquiesce just yet because she's waiting to see if Adam wants to touch her boobies. I can't really get invested in this so-called break-up because I know they're back together and also I just really don't care that much about either Jax or Brittany (or anyone on this show except James.).
But did anyone feed those dogs yet?!
TELL US – DO YOU FEEL SORRY FOR JAX AND BRITTANY? WHAT DID YOU THINK OF LALA'S PERFORMANCE?
[Photo Credits: Bravo]