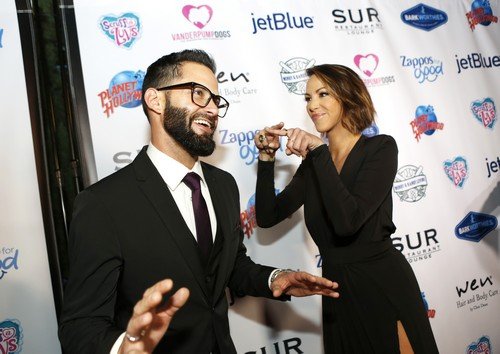 Where in the world is Lisa Vanderpump? Last night was the 3rd Annual Vanderpump Dog Foundation Gala and it was a Bravolebrity magnet, except that Lisa was MIA again (at least on the red carpet)! (see update below)
Nearly all of Lisa's Vanderpump Rules cast was there to celebrate: Kristen Doute and Brian Carter, Brittany Cartwright and Jax Taylor, Scheana Marie, Stassi Schroeder and Beau Clark, Katie Maloney and Tom Schwartz, Lala Kent and Randall Emmett and more! But no LVP from what we see in the agency pics.
Also there to take part in the event: Shahs of Sunset star MJ Javid and her husband Tommy Feight, former RHOC star Gretchen Rossi, former Flipping Out star Jenni Pulos. The Real Housewives of Dallas stars LeeAnne Locken and Kameron Westcott made the trek to Hollywood to support the cause. Even Real Housewives of New Jersey star Melissa Gorga turned up.
Ken Todd was there with Giggy, of course, and so was LVP's daughter Pandora. It's possible some photos of Lisa will pop up later today, but we're not holding our breath at this point. Check out the pics from the night below in the gallery!
ETA: Lisa WAS spotted out and about the day before the gala as she ran errands around L.A.
 UPDATE: she was in attendance for the gala!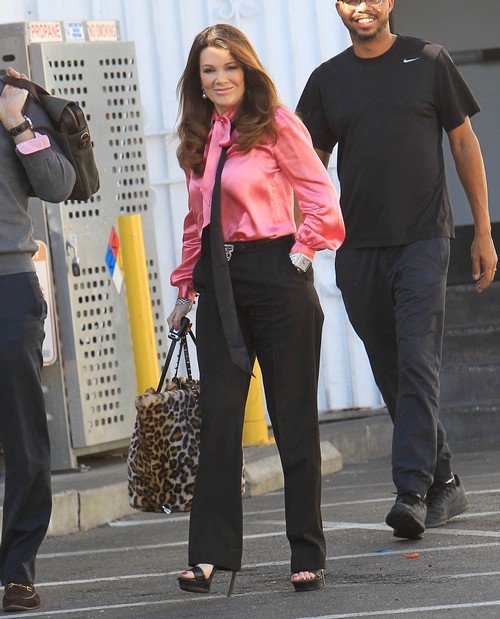 TELL US – WHO IS THE BEST DRESSED AT THE VANDERPUMP DOG FOUNDATION GALA? WHY DO YOU THINK LISA IS SO MIA LATELY?

3rd Annual Vanderpump Dog Foundation Gala
Gretchen Rossi

HOLLYWOOD, CALIFORNIA - NOVEMBER 15: Gretchen Rossi arrives at the 3rd Annual Vanderpump Dog Foundation Gala at Taglyan Cultural Complex on November 15, 2018 in Hollywood, California. (Photo by Aude Guerrucci/Getty Images)

Jax Taylor & Brittany Cartwright

HOLLYWOOD, CALIFORNIA - NOVEMBER 15: Jax Taylor and Brittany Cartwright arrive at the 3rd Annual Vanderpump Dog Foundation Gala at Taglyan Cultural Complex on November 15, 2018 in Hollywood, California. (Photo by Aude Guerrucci/Getty Images)

Scheana Marie

HOLLYWOOD, CALIFORNIA - NOVEMBER 15: Scheana Marie arrives at the 3rd Annual Vanderpump Dog Foundation Gala at Taglyan Cultural Complex on November 15, 2018 in Hollywood, California. (Photo by Aude Guerrucci/Getty Images)

MJ & Tommy

HOLLYWOOD, CALIFORNIA - NOVEMBER 15: Mercedes Javid and Tommy Fright arrives at the 3rd Annual Vanderpump Dog Foundation Gala at Taglyan Cultural Complex on November 15, 2018 in Hollywood, California. (Photo by Aude Guerrucci/Getty Images)

Stassi & Beau

HOLLYWOOD, CALIFORNIA - NOVEMBER 15: Stassi Schroeder and Beau Clarke arrive at the 3rd Annual Vanderpump Dog Foundation Gala at Taglyan Cultural Complex on November 15, 2018 in Hollywood, California. (Photo by aude guerrucci/Getty Images)

Kristen & Carter

HOLLYWOOD, CALIFORNIA - NOVEMBER 15: Kristen Doute and Brian Carter arrive at the 3rd Annual Vanderpump Dog Foundation Gala at Taglyan Cultural Complex on November 15, 2018 in Hollywood, California. (Photo by aude guerrucci/Getty Images)

Stassi & Beau Clark

HOLLYWOOD, CALIFORNIA - NOVEMBER 15: Stassi Schroeder and Beau Clarke arrive at the 3rd Annual Vanderpump Dog Foundation Gala at Taglyan Cultural Complex on November 15, 2018 in Hollywood, California. (Photo by aude guerrucci/Getty Images)

Melissa Gorga

HOLLYWOOD, CALIFORNIA - NOVEMBER 15: Melissa Gorga arrives at the 3rd Annual Vanderpump Dog Foundation Gala at Taglyan Cultural Complex on November 15, 2018 in Hollywood, California. (Photo by Aude Guerrucci/Getty Images)

Lala Kent

HOLLYWOOD, CALIFORNIA - NOVEMBER 15: Lala Kent arrives at the 3rd Annual Vanderpump Dog Foundation Gala at Taglyan Cultural Complex on November 15, 2018 in Hollywood, California. (Photo by Aude Guerrucci/Getty Images)

Stassi Schroeder

HOLLYWOOD, CALIFORNIA - NOVEMBER 15: Stassi Schroeder and Beau Clarke arrive at the 3rd Annual Vanderpump Dog Foundation Gala at Taglyan Cultural Complex on November 15, 2018 in Hollywood, California. (Photo by Aude Guerrucci/Getty Images)

Lala & Randall Emmett

HOLLYWOOD, CALIFORNIA - NOVEMBER 15: Lala Kent and Randall Emmett arrive at the 3rd Annual Vanderpump Dog Foundation Gala at Taglyan Cultural Complex on November 15, 2018 in Hollywood, California. (Photo by Aude Guerrucci/Getty Images)

Kameron Westcott

HOLLYWOOD, CALIFORNIA - NOVEMBER 15: Kameron Westcott arrives at the 3rd Annual Vanderpump Dog Foundation Gala at Taglyan Cultural Complex on November 15, 2018 in Hollywood, California. (Photo by Aude Guerrucci/Getty Images)

LeeAnne Locken

HOLLYWOOD, CALIFORNIA - NOVEMBER 15: Leeanne Locken arrives at the 3rd Annual Vanderpump Dog Foundation Gala at Taglyan Cultural Complex on November 15, 2018 in Hollywood, California. (Photo by Aude Guerrucci/Getty Images)

Christy Gibel

HOLLYWOOD, CALIFORNIA - NOVEMBER 15: Christy Gibel arrives at the 3rd Annual Vanderpump Dog Foundation Gala at Taglyan Cultural Complex on November 15, 2018 in Hollywood, California. (Photo by Aude Guerrucci/Getty Images)

Pandora Vanderpump

HOLLYWOOD, CALIFORNIA - NOVEMBER 15: Pandora Vanderpump arrives at the 3rd Annual Vanderpump Dog Foundation Gala at Taglyan Cultural Complex on November 15, 2018 in Hollywood, California. (Photo by Aude Guerrucci/Getty Images)

Jenni Pulos

HOLLYWOOD, CALIFORNIA - NOVEMBER 15: Jenni Pulos and Jonathan Nassos arrive at the 3rd Annual Vanderpump Dog Foundation Gala at Taglyan Cultural Complex on November 15, 2018 in Hollywood, California. (Photo by Aude Guerrucci/Getty Images)

Kristen Doute

HOLLYWOOD, CALIFORNIA - NOVEMBER 15: Kristen Doute arrives at the 3rd Annual Vanderpump Dog Foundation Gala at Taglyan Cultural Complex on November 15, 2018 in Hollywood, California. (Photo by Aude Guerrucci/Getty Images)

Brittany Cartwright

HOLLYWOOD, CALIFORNIA - NOVEMBER 15: Brittany Cartwright arrives at the 3rd Annual Vanderpump Dog Foundation Gala at Taglyan Cultural Complex on November 15, 2018 in Hollywood, California. (Photo by Aude Guerrucci/Getty Images)

Jax & Brittany

HOLLYWOOD, CALIFORNIA - NOVEMBER 15: Jax Taylor and Brittany Cartwright arrive at the 3rd Annual Vanderpump Dog Foundation Gala at Taglyan Cultural Complex on November 15, 2018 in Hollywood, California. (Photo by Aude Guerrucci/Getty Images)

Ken Todd

HOLLYWOOD, CALIFORNIA - NOVEMBER 15: Ken Todd arrives at the 3rd Annual Vanderpump Dog Foundation Gala at Taglyan Cultural Complex on November 15, 2018 in Hollywood, California. (Photo by Aude Guerrucci/Getty Images)

Katie Maloney & Tom Schwartz

HOLLYWOOD, CALIFORNIA - NOVEMBER 15: Tom Schwartz and Kaite Maloney arrive at the 3rd Annual Vanderpump Dog Foundation Gala at Taglyan Cultural Complex on November 15, 2018 in Hollywood, California. (Photo by Aude Guerrucci/Getty Images)