Everyone on Real Housewives Of Atlanta is struggling to find a balance in their relationships. For some, that means moving on, and for some, that means making concessions.
Kandi Burruss needs to stop focusing on checks and get a reality check about where her priorities should be. Todd Tucker is frustrated that she's never around and has basically left him to raise their 3-year-old son, Ace, as a single dad.
Sure, someone has to earn money, but Kandi is obsessed! She's basically temporarily moved to Chicago to film a TV show which counts as legal professional cheating because she gets to film steamy super graphic sex scenes with what I hope is a hot actor. Meanwhile, Todd is in Atlanta planning an over-the-top Hollywood themed baby shower to welcome their new baby.
This seemed… shady somehow? Passive-aggressive? Kandi has all but abandoned her family for her Hollywood dreams and now Todd is using this as the theme for the baby they're having through a surrogate? Also, Don Juan is acting as Kandi's surrogate shower-planner. Kandi certainly trusts him more than she trusts Todd. I guess we know where her ride or die loyalties lie!
Despite Todd telling Kandi that her days off she should be spending time with her family, she goes to visit Kenya Moore to complain about Todd and hear out what's going on with Kenya's divorce. The answer: Not much. Marc Daly hasn't called or texted. Not that he could get through because Kenya has him blocked.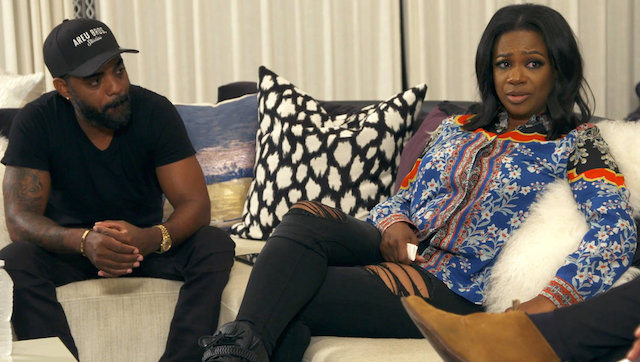 Even Kenya warns Kandi that she should take better care of Todd or she'll be cleaning out his side of the closet sooner than later. With that in mind, Kandi goes home to book an appointment with a couples counselor. To the counselor, Todd echos his complaints about Kandi's schedule. However, Kandi isn't planning to change her ways anytime soon. She claims she has a lot of people depending on her and needs to work.
They also got into it about their differing approaches to parenting (Kandi is a giver; Todd prefers a lot of rules and boundaries) and admitted that their sex life is more perfunctory than romantic. What do we think of this counselor? I felt like he was letting Kandi off easy without pressing her on any of her excuses, and meanwhile dismissing Todd as a callous parent?
Also is all this just fodder to get us interested in Kandi's new spinoff show?
Well, Porsha Williams and Dennis McKinnley certainly quit counseling too soon! However, I did notice that Porsha seems to have learned some lessons about setting boundaries. Dennis has still not officially moved back into Porsha's house because the commute from hot dog haven is too far. He's staying there on weekends only and blames his transient status on Porsha kicking him out of the house. Which she did because he cheated. Which he is conveniently trying to forget.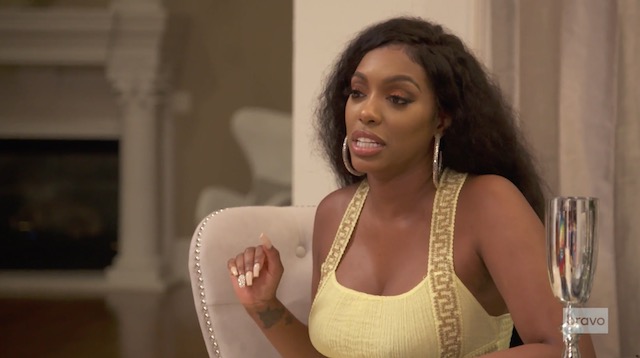 Porsha is trying to have a peaceful Sunday afternoon with her baby and her man-baby, baking cookies and doing mommy- daughter photoshoots, but clearly, Dennis was cranky and looking for a fight. Is he having some sort of bun withdrawal? Dennis refuses to move back in to be with his family claiming he doesn't want trust Porsha not to toss him out again. Then he starts pressuring Porsha about marriage. Dennis just wants to sign the prenup and get married, but she wants a wedding. Dennis is suddenly in no mood to celebrate or put on a huge celebration for other people, and he keeps trying to deflect this as her fault. Dennis is also salty because they don't own a home together. Porsha simply keeps reminding him, over and over again, that his wandering hot dog is to blame for all of this! She gets so fed up she takes all her cookies and storms out, leaving him with the baby and nothing sweet.
Dennis is still not taking accountability for HIS BEHAVIOR, which led to their relationship collapse, and this wedding should be on hold for a very long time.
NeNe Leakes is celebrating her 23rd anniversary with Gregg and touts their marriage as a paragon of survival and a true testament to upholding their vows. More like a farce! NeNe pretends she planned an elaborate romantic evening to allow Gregg re-entry into their bedroom for the first time in a year. They haven't slept together since the cancer. No mention of Gregg's rumored infidelity. The whole thing was ridiculous and cringe-worthy, made worse by Gregg whinnying and snorting like a horse and joking about making a back door porno. That was all the teaser I needed to see of 'Gregg & NeNe Do Atlanta.' Wasn't it Dennis being called out for beastiality? *Please DO NOT google that word seeking a spell-check*
Since Marc has left the manner, apparently permanently, he wants Kenya to send all his clothes to him in NYC. She enlists Cynthia Bailey's help packing up Marc's closet and there are a whole lotta of skeletons coming out of there!
As Kenya fondly recalls Marc slowly moving his clothing to Atlanta, she also reveals that Marc hasn't spoken to her at all since he left and is FaceTiming with Brooklyn through their nanny. Not only has Kenya never met Marc's parents, she's never even communicated with them! She doesn't even have their numbers, and they've never met Brooklyn. Cynthia is shocked by all this. As she should be.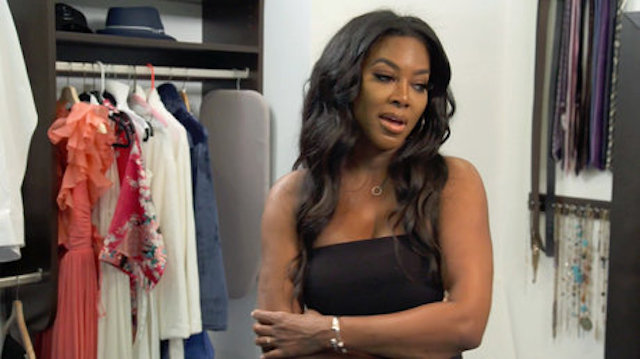 OK what is going on here?! Kenya is still saying she wants to work on the marriage out and give Marc another chance, but WHAT MARRIAGE?! She had no place in this man's life. Cynthia tells a crying Kenya that it will all be OK, but marriage is a two-way street so if Marc isn't invested then she's better off alone.
Personally I think that was a borrowed wardrobe to match the borrowed man, and staged to look like he lived there full-time. Even Cynthia questioned when Marc was supposedly living there and using all this stuff. Still Cynthia believes Kenya is such a catch she'll have no problem getting another man. Or not?! Kenya certainly hasn't been able to land a decent man in the past!! And Marc was no exception! Kenya needs to stop with men and try landing a decent counselor instead.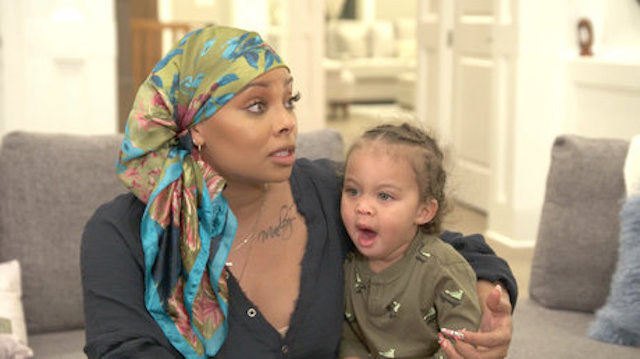 Guess what — Eva Marcille made an appearance this episode. I'd honestly forgotten what she looked like it's been so long. Eva has a new baby and a new house. The so-called 'Sterling Acres' is a charming normal McMansion in a normal upper middle class subdivision but Eva couldn't be more thrilled. She's also pretty close to Cynthia who drops by to be the one and only Housewife invited over. Of course not everything is perfect: Marley's biological father, Kevin, is now seeking full custody even though he's never paid child support and hasn't seen Marley in years. Eva has already come to the decision that Kevin is crazy (and dangerous), but now she's worried about him having a role in Marley's life.
Cynthia is also struggling with moving. Noelle Robinson is now in LA, wanting to be an actress, and is living with Mike Hill, aka Cynthia's fiancé. Why is Noelle not living with Leon?! Cynthia's entire family is now out west while she's in Atlanta, hawking wine at an empty wine cellar. Her sister Mal is her sole employee and doesn't seem too invested or excited to be running a tax write-off for Cynthia's drinking habits.
After Cynthia and Mal argue about how to improve business (aka having Mal work extra hours and not getting two days off each week), Mal presses Cynthia on what the long-term plan is for moving in with Mike. After all they've set a wedding date, but there's no discussion about where they'll set up house as husband and wife. Clearly the answer is Cynthia moves to LA and joins Real Housewives Of Orange County sinceMike's career and his daughters are in LA.
Meanwhile, Cynthia is in Atlanta purely for Real Housewives of Atlanta even though Bravo isn't breaking the fourth wall by admitting this. Kenya's desire to return to RHOA (and that awesome paycheck!) is arguably what broke up her marriage to Marc, and now here is Cynthia finding herself in a similar position. Although Mike is far more interested in participating in reality TV.
It sounds like Cynthia, just like Kandi, needs to figure out what her priorities are: family or career. If she truly loves Mike she'll follow her heart – not her bank account.
TELL US – IS KANDI CHOOSING CAREER OVER FAMILY? DO YOU TRUST DENNIS? DID MARC EVER TRULY LIVE IN MOORE MANOR?
[Photo Credits: Bravo]