On last night's Real Housewives of Atlanta, the ladies struggled to find balance in their various friendships as they opened up about painful pasts and future realities.
Suddenly Gregg and NeNe Leakes are in love. Is it because he now has a job being part of the American Cancer Society as an ambassador? Whatever the case, NeNe is just thrilled to see Gregg. She tells him this great tale of revisionist history about what happened in Greece.
NeNe was just this poor innocent bystander, trying to be kind and compassionate when "KEN" would not stop picking at her. NeNe conveniently leaves out the part of the story where she spit on Kenya Moore. Also she threw the popcorn cause girls gotta eat. According to Gregg, NeNe has extended so many olive branches to Kenya Moore that she practically gave her a whole orchard.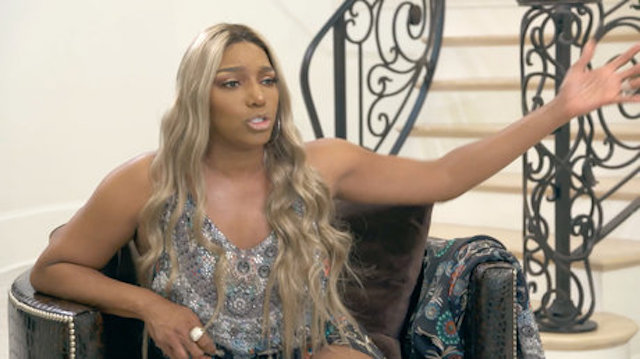 NeNe's latest problem with Kenya is that after she's trash-talked, and meddled in everyone's marriage and family situation for years and now Kenya's marriage is off limits. Well not where NeNe is concerned! When karma comes a'knocking, karma is here to stay as your house guest, BITCH. Honestly though, NeNe is correct and I loved the editor's shady flashbacks of Kenya being horrendous.
Across town, Kandi Burruss is trying (and failing ) to find a work/life balance. Their baby is due in 7 weeks. Yet, she's still jetting off to Chicago for 4 weeks to film for her new show The Chi. What Kandi's really running towards is the goal of sanctioned cheating via a sex scene on the new show.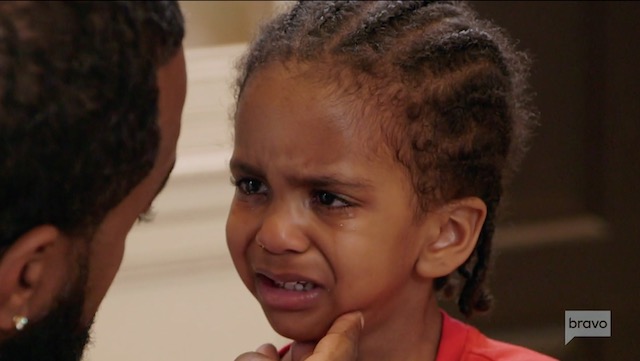 Kandi has only been away a couple days when Todd and Ace call to say hello. The second Ace sees Kandi over FaceTime, he bursts into tears about missing her. Kandi: STAY HOME
Cynthia Bailey drops by SWAGG Boutique to reassure NeNe that she and Kandi planned a light-hearted and fun tribute in Greece. Cynthia gets so carried away acting the way she wishes NeNe behaved (without mentioning any of the bad parts). As she is walking her over-exaggerated court jester routine into the parking lot, a woman in a black SUV pulls up. It's Cynthia's conscience! Just kidding… it's Porsha Williams. Porsha and NeNe are still neighbor. Porsha" just happened to be in the same plaza" and saw Cynthia reenacting Kenya's Gone With The Wind fabulous scene, so she had to stop to chat.
Coincidentally (eye roll), Cynthia and NeNe are both wearing leopard print.
Porsha reminds them that she has a March of Dimes fundraiser coming up and they better be there dressed like a gay pride flag (aka rainbow). Porsha is now an ambassador for the organization since she can share her story of the time she had a miscarriage.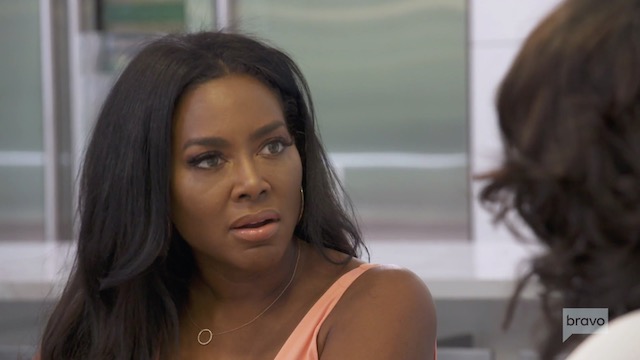 Kenya visits her estate planner to discuss completely cutting Marc Daly out of the will. Even if Kenya dies, he gets custody of Brooklyn, but no monetary gain. Kenya cries to her estate planner who has one emotion: stoic. She doesn't react at all when Kenya sobs about how badly she wants her marriage to work. In the event that she dies, Kenya has decided her Aunt Lisa will inherit custody of Brooklyn and all financial matters.
Kenya invites Lisa over to explain all of the details and tell her the good news. Lisa is gracious and kind about it. Then, she promises that if it comes to this she'll raise Brooklyn the way they were raised: to be ladies. Um, what part of Kenya is a lady? Interestingly, Kenya is so over Marc that she doesn't even want him in her house when he's visiting to see Brooklyn. Marriage bridge = burned!
Eva Marcille finally did something this season! Although we still didn't get to see it on camera. What Eva did was have another baby. This one is named Maverick and he's adorable.
Cynthia comes over to meet the baby. Thankfully, he sleeps through all her long rambling explanations about everything that happened in Greece. Eva is shocked when Cynthia tells her how Kenya accused her of knowing less about wine than your average high school senior. Boone's Farm Strawberry Fields is a rose, y'all. Cynthia insists she's over it after speaking with Kenya. Then, she complains about NeNe being annoyed that Cynthia lets Kenya get away with murder while holding NeNe to a different standard. Cynthia disagrees. And so do I. Anyone – literally anyone – Cynthia is friends with gets treated with 'do no wrong' kid gloves!
Dispelling the myth that she's Kenya's puppet, Cynthia shares that NeNe was initially willing and receptive to move past issues with Kenya – especially in light of her impending divorce – but Kenya refused to meet halfway. She wouldn't even entertain Cynthia's suggestion that they try to work it out.
Finally, Porsha hosts a charity event for March Of Dimes. I am so confused about how classy and legit charities are willing to get involved with Real Housewives Of Atlanta. I imagine that in her invitation to this event, Porsha had to put a smackdown demanding these women behave or else they'd be fined $10,000.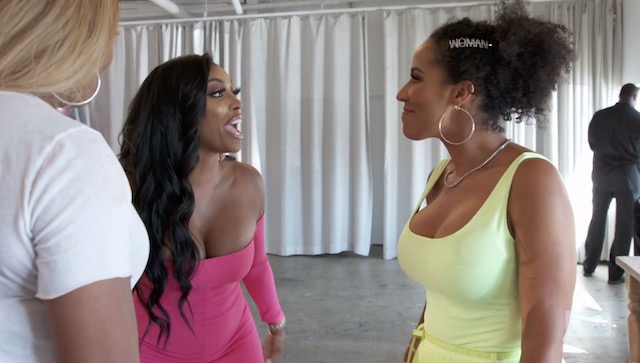 Things start to go a little to the left with NeNe, who has finally FINALLY come to one of Porsha's events! But only, probably, because she wants to talk shit about Kenya on camera. Specifically, Kenya's imploding marriage. Just that day it hit the blogs that Marc had several affairs while married and may have even had a secret family. NeNe is on cloud 9 over the irony that Kenya was flaunting the Cookie Lady and throwing her in Tanya Sam's face when her own husband was running around. NeNe advises Tanya to go find one of Marc's mistresses and bring her right on over to Kenya's house!
Porsha, trying to keep a classy facade although the gossip is literally affixing to her scalp like a Go Naked wig, says that she doesn't' know if the Marc story is true, so she's not going to claim it either way. She just wants it on record that she is not talking shit. Interestingly, Kenya is still wearing her wedding ring.
Meanwhile, Kandi admits to having issues with Todd and work. Todd is supportive of her acting career but he drew the line when he realized she filmed a racy sex scene. The scene was less sexy and more "one hand here, then a leg there, then get on top. Now pretend! ACTION." Still, Todd isn't comfortable with it.
Finally, the ladies sit down to lunch and Porsha shares the story of a miscarriage she suffered while married to Kordell. Then, Porsha invites all the other ladies to share. Tanya opens up about the difficulties of conceiving at a later age due to low egg reserves. Marlo Hampton reveals that due to some traumas early in life she was left unable to have her own children. She had two ectopic pregnancies and gave up. She has never felt comfortable opening up to the women about her life and past, until she legally adopted her two nephews and become a "muntie." Now, she understands the vulnerability of motherhood. Very sweet.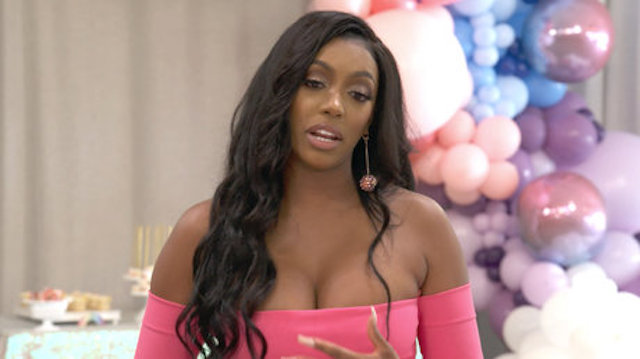 Shamea Morton tells everyone how when her water broke she went to the hospital and had a failed epidural. Her labor was traumatic and she wound up with a c-section. Then, she got a huge blood clot. She thinks about how she could've almost died. Kenya takes this pivotal moment to interrupt to share how Shamea called her after her water broke for advice. Porsha is shocked that they are that close. Since this is March Of Dimes, Porsha lets it go, but it is stored in this tiny factoid of her brain called "KENYA BELONGS ON THE CURB."
Lastly, Kandi is back in Atlanta for 2 days. She has completely booked her very limited schedule with events. Todd is irritated. He feels Kandi should be spending time with their family, and also him. Especially since soon they'll have a newborn coming. A newborn that Kandi wants to put on a tour bus and drive to Chicago with her so she can still work without sacrificing bonding time. Errrmmm…
Before she left for Chicago, Kandi suggested to Todd that they get counseling. He told her to pick a date and time since she's the busy one whereas he's just at home, putting his goals and dreams on hold, to play daddy daycare. Now his rage has boiled over. He tells Kandi that he always feels like second fiddle to her.
To appease everyone – ahem, Mama Joyce – who thinks he's a gold digging opportunist Todd gave up working in TV to focus on building the Kandi Korporation brand, including the restaurants. It's not at all what he wants to do and Todd is completely unhappy. Moreover, he feels he has to make the sacrifice to present a united front for their family.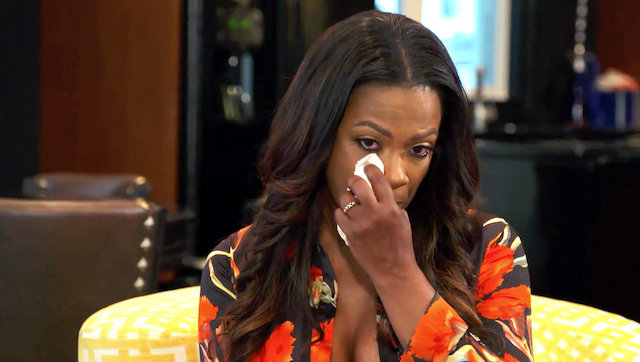 In exchange, Todd wants Kandi to at least acknowledge this, or him. But, instead, she's so focused on her career it's like that's her husband. Uh oh… It looks like Kandi's money can't buy Todd happiness after all. Not a good time to be adding the stress of a new baby!
TELL US – HAS NENE EXTENDED THE OLIVE BRANCH TO KENYA? DOES TODD NEED TO ACCEPT KANDI'S CAREER, OR DOES HE MAKE A VALID POINT?
[Photo Credits: Bravo]