Happy Valentine's Day, esteemed Reality Tea readers! To demonstrate how much I love you all, here is a gushing, love-filled recap of Vanderpump Rules. Last night, we found ourselves dealing with stinky situations in the city of saints, sinners, and voodoo. No, it was not corpses escaping their graves in a zombie apocalypse, it was just more Tequila Katie.
As always, the three-headed shebeast proceeded to terrorize the menfolk in a manner befitting of epic trilogies from the ancient years before cell phones could take photos and people were able to communicate with only the push of tiny buttons. What I'm saying is that Tom 2 is on his own Odyssey, charting a territory only tepidly paved by Tom 1's Iliad before him (that would be surviving Kristen Doute). I can't compare Jax Taylor to anything other than Dr. Jackhole and Mr. Jax'd. He writes his own unsavory story – warts and all.
CLICK THE CONTINUE READING BUTTON FOR MORE!
I truly do not understand Katie Maloney. For five seasons now, she's been whining that Tom 2 won't commit, badgered him into a commitment beyond rings on strings and rescue dogs, but now she's more miserable than ever? Obviously, the sister wives relationship she and Stassi Schroeder are attempting, which involves forcing Tom 2 to be their lackey-whipping boy, isn't fulfilling any of them emotionally. They should just release the Tom.
Katie and Tom 2's joint Bachelor/Bachelorette party happened in New Orleans, the city of Stassi's ghosts, and yet again this was supposed to be one of the happiest days of Katie's life, but it was overshadowed by a negative cloud of awesome sauce that is Ariana Madix. Now it is Ariana and Tom 1 who are the cause of all Katie's misfortunes. If it weren't for them, Tom 2 and Katie Too would never fight. Yeah, probably, because Tom 2 is able to contrast how happy Tom 1 is against his own situation.
Seriously – if Tom 1 and Jax have taught us anything, it's that dating girls outside of this incestuous nuclear friends circle brings uncanny happiness.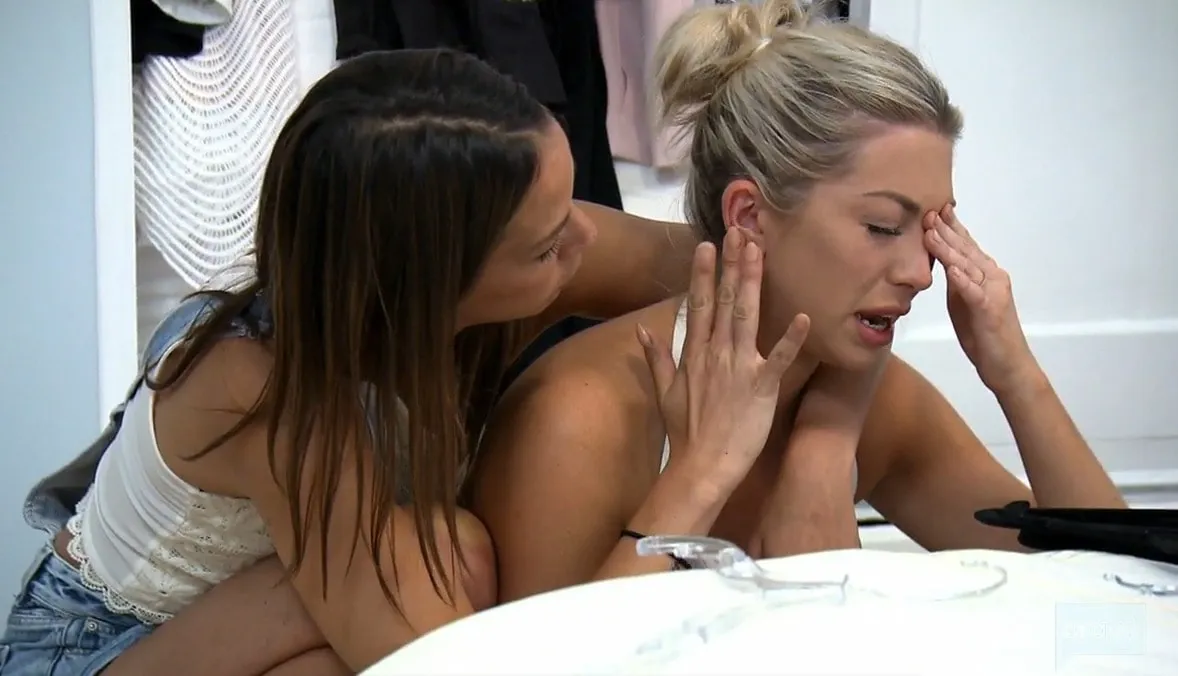 First though, we must all collectively bemoan Stassi's unhappiness. Since breaking up with the ILLUSTRIOUS SUPERHUMAN PATRICK (all CAPs necessary), she's bereft with grief because she no longer can lord her exalted adulting relationship over the heads of her friends. Now Stassi is alllllllllll byyyyyyy herseeeeeeee-eeeeelf. Kristen supervises Stassi packing her all-white wardrobe, in her all-white apartment, where the only thing of color is their all too-orange skin tones, and Stassi bursts into tears because she will be the only single one on the New Orleans trip.
Meanwhile across town, Ariana's mom is visiting, and after Tom turns on the microwave while the AC is running plunging them into darkness, they start having dark thoughts: specifically about why Katie is suddenly plotting their demise.
RELATED – Kristen Yells At Viewers For Being Unkind To Katie
Tom 1 and Ariana are the latest victims of Tequila Katie's Texts Of Terror. She blames them solely for her issues with Tom 2. Um, no. You should be embarrassed to even attempt to present that excuse. And since Ariana is the smartest person alive, she can probably explain to you why your logic is a fallacy. Mama Madix postulates that it is KATIE who may have cold feet. Interesting theory…
Since they're about to go on a vacation, Scheana Marie decides they first need a relaxing pool party at her mom's house. She's got a taco station, a full bar, pool beer pong, floating unicorns, and tons of people having fun. NOT!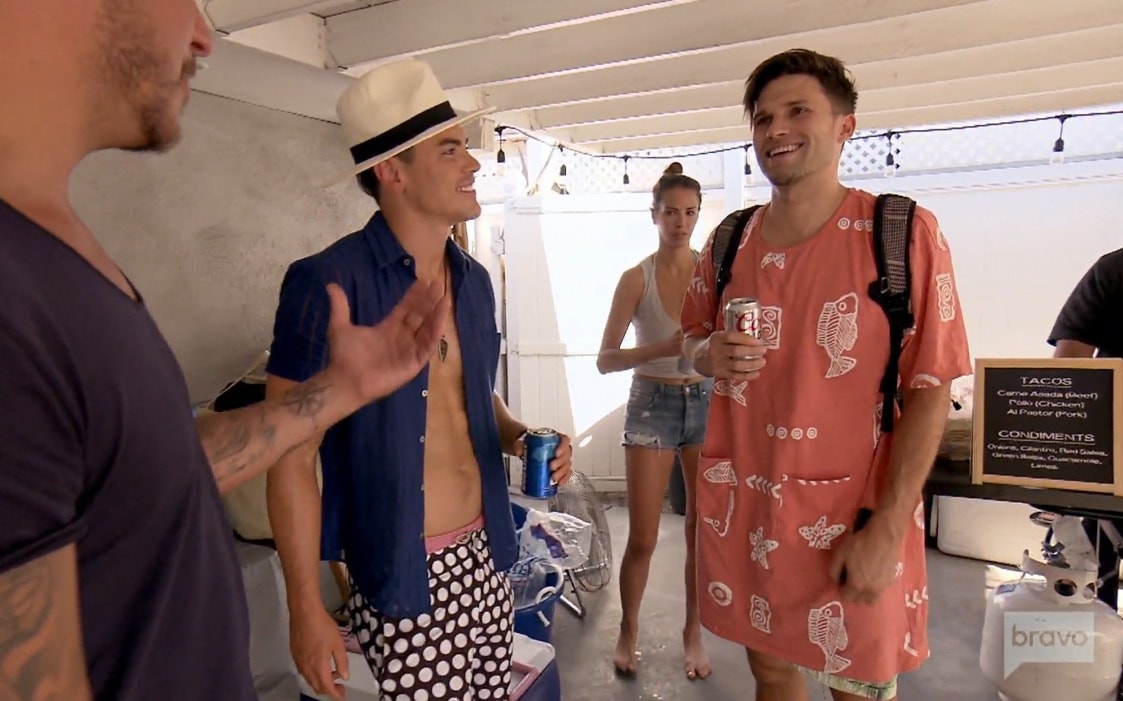 Katie is literally drowning in her misery, and Tom 2 came to the party wearing a mumu. Literally. It was the sort of garment a Palm Springs gramma wears in the safety of her own backyard. Not even Kyle Richards would wear that kaftan. But, as Tom explains, "It's what I wear when I've given up."
Even Jax is cognizant enough to recognize that those are not the words to be uttering weeks before you commit to a lifetime of love, happiness, and Tequila Katie. Has Tom 2 enrolled in self-defense classes? He's already the subject of a Lifetime movie in which the husband was abused by the wife (Way back to the Judith Light years).
Shockingly, it is also JAX who is able to articulately express Tom and Katie's dysfunction using helpful a metaphor. When Tom concedes that he'll sweep yet another round of Katie problems "under the rug," Jax motions that the rug has a ginormous bump under it, then he elaborates, "Tom and Katie's relationship is like a stinky room. And instead of finding the cause of the stink, they just Febreeze over it and hope it goes away." Precisely.
In the pool, Katie complains to Stassi that Tom 2 defending Ariana, RUINER OF BRIDAL SHOWERS AND RAINER ON HAPPINESS PARADES, hurts her feelings and proves that he doesn't have her back. Basically Katie is jealous. Katie desperately needs therapy. It's really actually sad.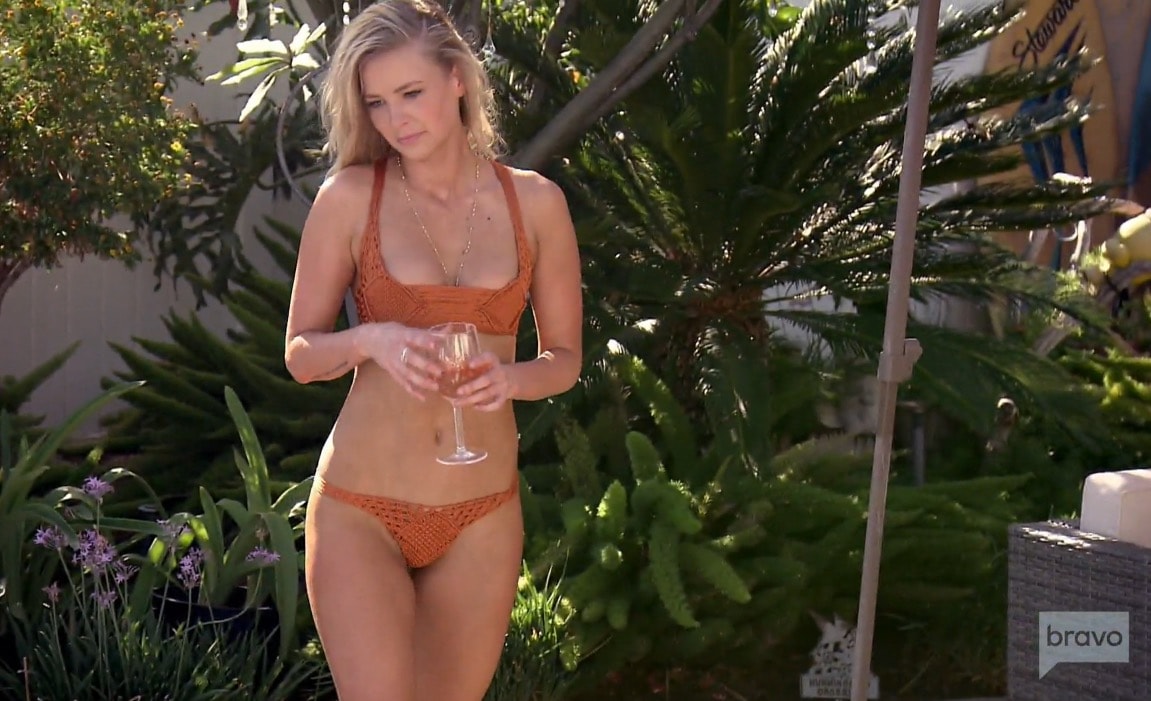 Katie wonders if she should be thinner, blonder, or cooler like Ariana, and then Tom 2 would love her. Well she tried the blonde thing and it was a total disaster, but trying to be cooler wouldn't hurt.
Katie resorts to sulking on a lawn chair, baiting everyone to come over and ask her what's wrong. Most of all Tom 2, since they haven't spoken all day. Tom, meanwhile, confesses to Scheana, Kristen, and Jax that he's over dealing with Katie's psychosis. Kristen threatens to beat the shit out of him and turn back time to the Krazy Kritter years if he doesn't stop saying mean stuff about her beloved Katie. So Tom is persuaded to go and patch things up with Katie in lawn chair purgatory.
If they love Katie so much why don't they marry her?!
When Tom appears, ready to make-up, Katie shoves him away to berate him for pushing her until she's forced to explode. See, I told you – Lifetime Movie.
Then the group packs for New Orleans. For Tom 1, this means bringing drag queen underwear. For Jax and Brittany Cartwright, this means a return to traditional gender roles, and confronting the enormous pile of laundry that was Brittany's chore. Now she won't get her allowance! Except, all Brittany wants is some decent treatment from Jax, as well as the occasional apology after his outbursts.
In New Orleans, Jax gets his comeuppance when, once again, his credit card is declined. This time at the hotel. DUUUUDE. Really? You have to actually pay those numbers listed on the little pieces of paper found in the magic box near your apartment. Maybe Jax should add bills to Brit-Brit's chore list?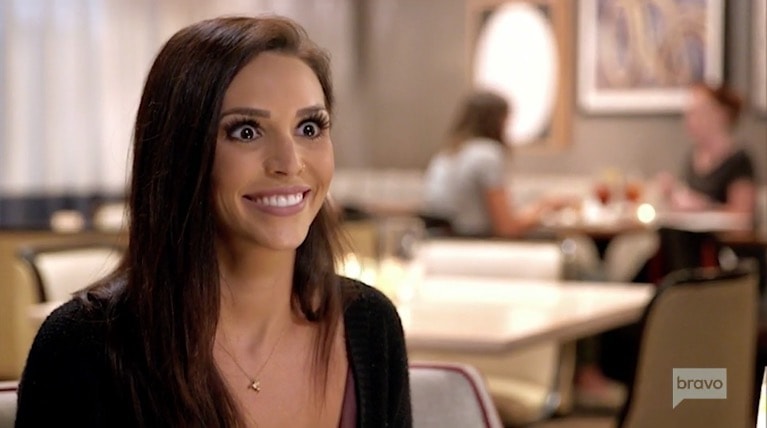 Scheana and Shay skip off to celebrate their 2nd anniversary. As Scheana informs us, marriage is work. Especially when you're forced to cohab with some sober boring person. Unsurprisingly, since everything is about Scheana, and one can never look at too many photos of Scheana, she gifts Shay with a book full of nearly naked photos of herself.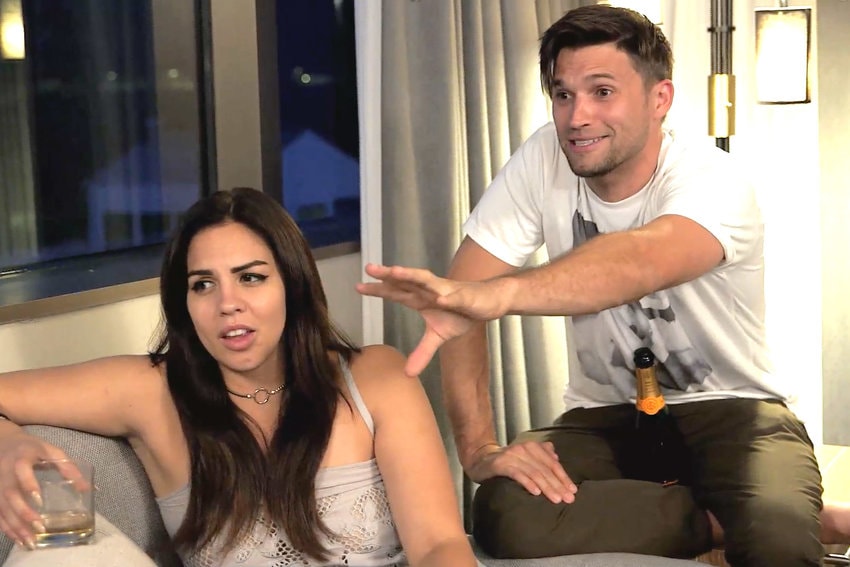 Back at the hotel, Stassi once again bemoans her aloneness, then decides to crash Tom and Katie's suite. Just when they were having a nice moment, opening champagne Lisa Vanderpump had sent to them, in walks Stassi and the love just evaporates.
Stassi is upset she's the only single person the trip, but wasn't their friend Rachel there too? Can't she crash her room?
Back in L.A., James Kennedy is DJing at PUMP for a Daily Mail party because they hired him to play the event. Much to Lisa's chagrin. 'Shockingly' with all the other SURvers out of town James manages to avoid booze, beat downs, and trolls, so he grovels for his job at SUR, but Lisa turns him down. James, it seems, will never learn that SUR is not his home. He actually cannot live in the dumpster alley, where all the drama in L.A. comes to matriculate, copulate, and reproduce in multitudes. Too bad!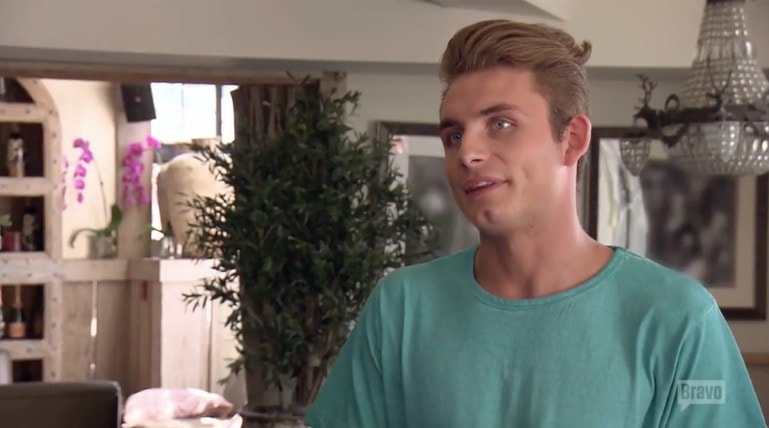 The motley crew in New Orleans makes their way to Bourbon Street where some sensible reveler attempts to knock some sense into Katie by flinging beads onto her head. Alas, it doesn't work. Even Ariana makes an effort to get along with both the boys and the girls (and seems to actually be having fun, I might add), but that also isn't acceptable to Katie and Stassi, who complain that she's fake. Weren't they previously complaining that she wasn't fake enough?
RELATED – Lala Kent Is Done With DJ James Kennedy
As Katie sulks throughout her bachelorette party, she blames Tom 1 for ruining her fun because he mentions that perhaps she and Tom 2 might consider some pre-marital counseling to work out the very, infinitesimally small issues that have been plaguing them. Like the fact that neither one of them can stand each other?!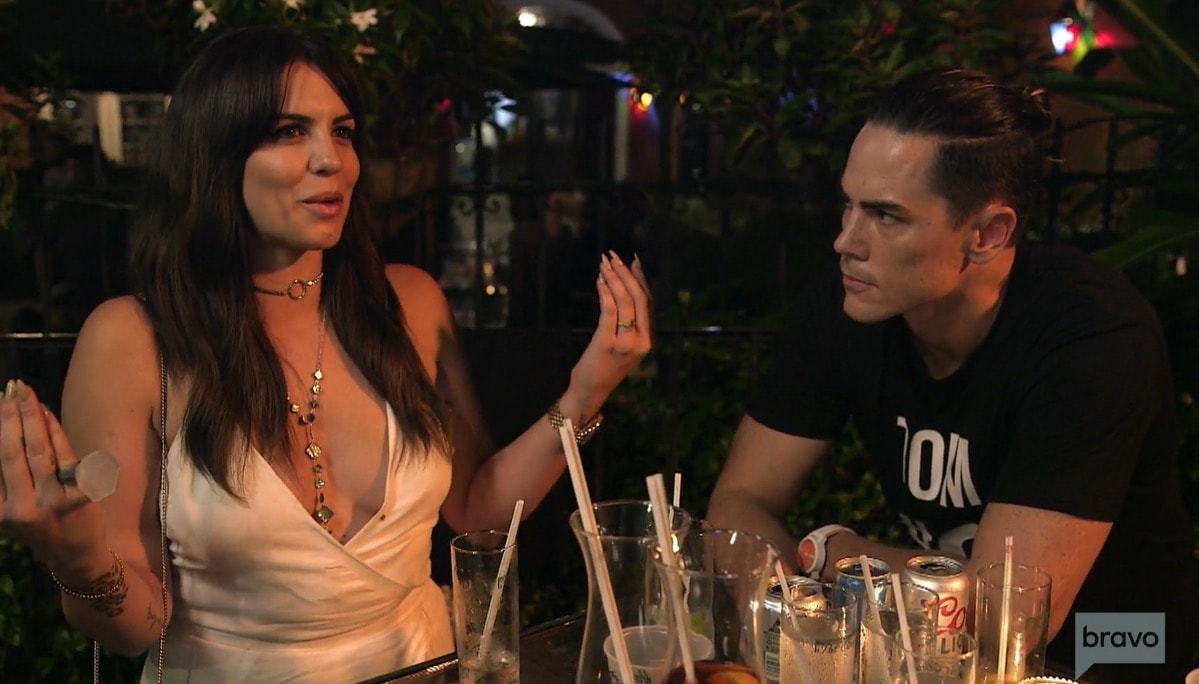 Katie erupts that if it weren't for Tom 1 psychoanalyzing her because of all the things Ariana and Lala Kent do wrong, she would be dancing and having fun. Tom 2, who was just having a lovely chat with Ariana, rushes over to be yelled at, again, by Katie over his friends. FOR THE LOVE – and I actually mean 'for the love' – stop it! She is unbearable. Weren't you on pot to deal with your moods and rage? SEEK HELP. There is no one to blame, but YOU for your behavior. Start adulting.
Of course, Stassi is having her own petulant meltdown. She's crying to Brittany over Patrick when Jax comes over to kiss his girlfriend. Which he apparently did intentionally to rub in Stassi's face that she is unlovable, therefore, Stassi decides to blame the demise of her relationship on Jax's continued presence in her life.
See, Patrick knew all the horrible, no good, very bad things Jax had done to his beloved Stassi, and refused to socialize with Jax, or shake his hand, or associate with him at all, which drew a wedge between Patrick and Stassi. Obviously there was was no way she'd give up her only paycheck or job friend group (again) for love! Basically, Stassi is bitter because she chose reality TV over Patrick, and he wasn't all that bummed to watch her walk away. It's convenient to blame Jax. I'm sure next week he'll be new the reason Katie and Tom are having problems.
So, Stassi cries about Jax ruining her life, then demands an apology. Jax, drunk, and with tears in his eyes, admits he was an awful person who did awful things that Stassi didn't deserve. He actually apologizes. It was a commendable performance of sincerity. Personally, I think Jax and Stassi were horrid to each other. What's with her and Katie being bitchy, then storming around demanding people apologize for making them feel bad by calling them out? No, boo-boos, that's why you only have each other (and Kritter).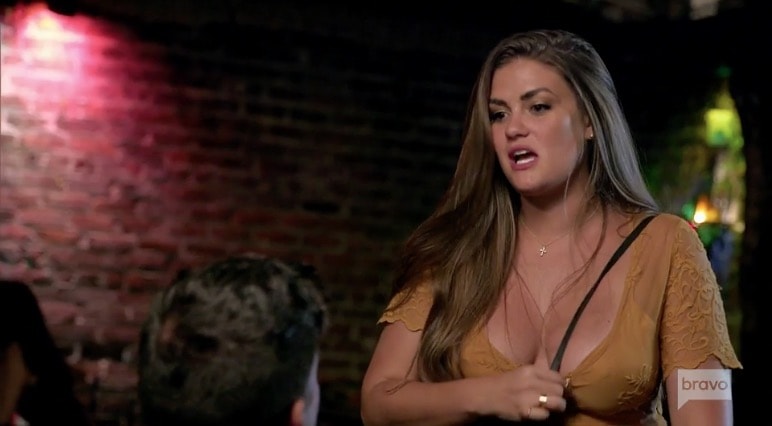 Sadly, Brittany is sitting there watching this entire display. And while Jax treats her like garbage, he's sobbing over his way back ex-girlfriend, begging her for forgiveness. To Brittany's dismay, she realizes that Jax is never going to be type of "real man" her daddy encouraged her to find.
Brittany stomps away, leaving Jax to wonder if he'll ever understand humanity. There is no Febreeze strong enough to cover up these stinky messes.
TELL US – ARE TOM AND ARIANA THE REASON TOM 2 AND KATIE TOO ARE FIGHTING? DID STASSI DESERVE AN APOLOGY FROM JAX?
[Photo Credits: Bravo]