Did she, or did she not?! Did Porsha Williams attack someone at Kandi Burruss' party, I mean because that's all anyone talked about on last night's Real Housewives Of Atlanta.
The drama began when Kandi threw Todd Tucker a Michael Jordan themed 45th birthday party. Being benevolent (Or something like that!) Kandi invited Porsha and Dennis McKinley. And because parties are gathering places to bring people together from all sides of the spectrum Kandi also invited her "worker" Jami. Jami happens to be friends with Dennis' ex Sherri. Sherri happens to be tattooed on Dennis's body, and Jami happened to bring Sherri as her plus one. And then Sheri happened to loiter around Porsha and Dennis until Porsha walked away, then Sherri walked over to Dennis and gave him a hug and a kiss, just as Porsha happened to walk back over. Obviously Porsha got a little miffed and confronted Sherri. Wouldn't you?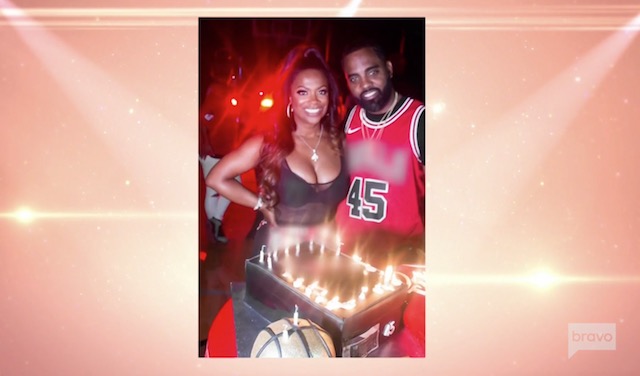 This is where things get squirley. According to Kandi and her Ko. Porsha chest bumped Jami, then got in Sherri's face as she walked away so Kandi's team had Porsha kicked out. According to Porsha she just demanded to know what was going on and got a little aggravated, but then realized it was a set-up, so she and Dennis decided to leave. As they were walking out they were chased down by security and one of Kandi's workers, who told them they were kicked out. Porsha texted Kandi about what happened and was told they'd discuss it later. The next day Porsha woke up to stories all over the blogs claiming she got physical with someone at the party. So, she called Kandi, again, but this time got no response. Porsha finds this very suspicious.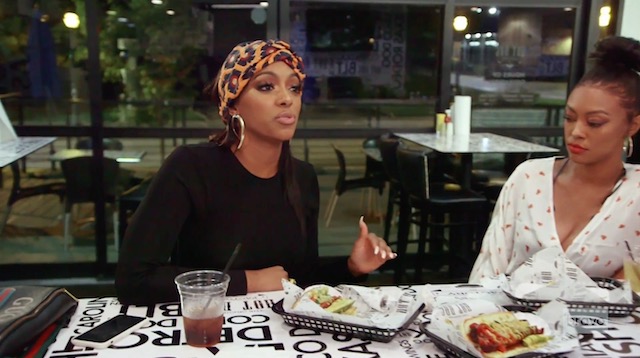 First of all, anyone with half a brain – like say Porsha – knows Kandi was being messy and invited this Sherri to cause drama. I don't know why Kandi is trying to deny that. She wanted to get Porsha riled up on Hennessey, but little does Kandi know that Porsha is prego! Second of all, are we really supposed to believe Bravo cameras weren't there capturing every second of this party in the hopes that Porsha would do something crazy?!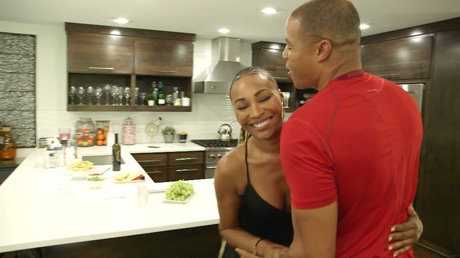 In other news, Cynthia Bailey is madly in love with Mike Hill, even though they haven't seen each other in two months. Mike is finally coming to visit and for the first time ever he can stay at Lake Bailey since Noelle is off at Howard. Did Noelle change her number and not set up her voicemail to avoid Cynthia's constant calls?
The purpose of Mike's trip is because he has something very important to ask Cynthia. Can he serve her sexually on her kitchen counters again? Kidding! Cynthia hopes this mystery question turns out to be a proposal, but he actually just wondered if she'll officially be his lady. Cynthia is disappointed because they've been "exclusive" for months so this seems redundant. Um, maybe Cynthia's been exclusive with Mike but this is his way of admitting he hasn't? Am I a cynic?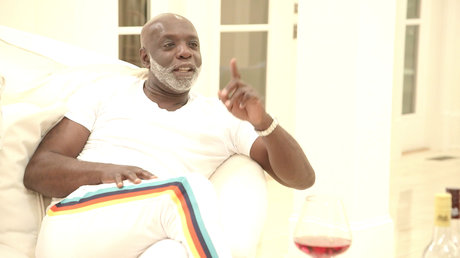 While Cynthia is doing all that Peter Thomas visits NeNe Leakes' house to check in on Gregg. Peter was, of course, in town for Todd's party. Alas, he also missed all the action with Porsha while he was too busy ogling every woman there and hoping they all forgot his failed nightlight ventures in Atlanta. And that he used to be Mr. Cynthia Bailey.
Shamari DeVoe goes to couples counseling with Ronnie where she laments that his career is re-taking off while she's stuck at home raising toddlers (with nannies), even though she's the one who can actually sing. Still given that her mom worked all the time a part of her wants to be home with the boys. Shamari just doesn't understand mothers like Kandi who can go for days at a time without seeing their children. Well, Kandi's financial and professional success speaks for itself!
Since Eva Marcille's fiancé Michael Sterling went to college with Tanya Sam's fiance Paul Judge, Tanya has them over for a little couples cocktail night. Eva warns Tanya that NeNe is offended that she called Swagg boutique lowbrow in comparison to Dior.Tanya being nice, naive, and apparently, a novice in the workings of NeNe doesn't see the problem… Dior IS couture and a very old fashion house, whereas Swagg… is, well, NeNe's tax shelter business extracurricular activity.
Since NeNe is already mad at Eva over the bachelorette party Eva proposes that she plan another bachelorette. A pre-wedding girl's trip someplace far-flung. Tanya drags her globe downstairs so Eva can spin it and wherever her finger lands they'll go. Except that Eva lands on Russia. Then Tanya hits North Korea. Finally, they decide on Japan since Tanya coincidentally has a Hibachi room in her house. They can host a sushi-themed dinner party to announce the trip. Too bad they're both such outsiders neither knows that Kandi and Porsha are not speaking!
By the time the party rolls around tensions are at an all-time high. Especially because Porsha had NeNe, Cynthia, and Shamea Morton over to share what happened at Todd's party. Shamea saw the entire exchange and swears that Porsha is innocent.
Cynthia and NeNe are shocked that Kandi would have her "workers" throw an invited guest out of her party. Furthermore, they can smell the stench of messiness emanating off Kandi like some stale OLG chicken. But everyone has better things to focus on after Porsha reveals her pregnancy! Woot.
By the time Tanya's party rolls around the drama has been escalated by the telephone game. And not the kind where Kandi calls Porsha like she said she would…
The second Kandi shows up, everyone starts talking about Porsha. Cynthia tried to confront Kandi, in her way, about the so-called altercation. However, Cynthia rolls over faster than a taquito on a plate. Still, the mere mention of Porsha accusing Kandi of setting her up has Kandi riled up. When NeNe walks in the door Kandi instantly starts questioning her about what Porsha is saying. By the time Porsha, who arrived last, gets there (and can't even drink) the mood is tense and Kandi is glowering… Porsha claims she was planning not to mention their altercation during the dinner party, but too late!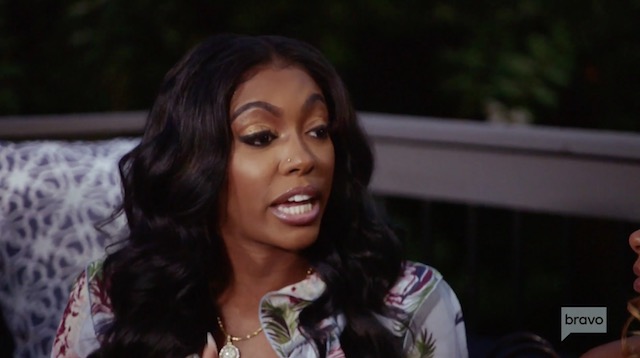 Porsha flounced in, wearing her a flouncy floral dress, and she is hungry, but it's Kandi who is hungry for a fight! They immediately get into about who is to blame for the ruckus at Todd's party, and apparently, Kandi thought SHE deserved an apology from Porsha for potentially ruining Todd's fancy birthday. Being pregnant has given Porsha the wisdom to recognize phony friends (too bad she didn't have that at her disposal when Phaedra Parks was in the picture!) so she calls Kandi out for being fake.
This time it's Kandi who needs security – she stands up and announces that she is leaving and accuses Porsha of not being able to control herself. Around Dennis's hot dog – definitely, but I actually think Porsha has been pretty composed this season – and last. Dare I say the therapy has been taking baby steps towards working?
Personally, I don't think Porsha tried to get physical with Dennis's ex. DO I think she got loud in asking what was going on? Yes, but as Porsha said Kandi would be all over Todd's ex if she came to a party and kissed him on the cheek. Kandi was 100% being messy here. Just like she was messy when she invited Apollo's fiancé to the opening of the OLG a couple seasons back. Kandi has a history of letting her team do her dirty work. As NeNe said, that came from the top, and she should just bury this all-beef feud with Porsha because clearly she and Dennis are happy. And because dragging on a pregnant girl is not a good look!
TELL US – DO YOU BELIEVE KANDI OR PORSHA? WHAT DO YOU THINK ABOUT THIS SEASON OF REAL HOUSEWIVES OF ATLANTA SO FAR?
[Photo Credits: Bravo]