Last night the Real Housewives Of Atlanta entered the dungeon … NeNe Leakes' closet – and no one emerged unscathed!
It's a few days after NeNe's "Bye Wig" party, and it would be a welcome relief if the only drama had been Kim Zolciak getting dragged out by her wig. But, alas it was far worse! It was actually a pregnant Porsha Williams being chased out (or dragged out by her belt?) for going in NeNe's closet without permission. Seriously -what happened with the belt?!
Porsha meets up with Kandi Burruss and Marlo Hampton for a mid-afternoon gab session, and even though she does NOT – under no circumstance! – want to talk about belts, Porsha is wearing a dress with like 3 attached dress. So Freudian belt? Subliminal message?
After NeNe yanked the cameraman's shirt as he was entering her closet she freaked the f–k out and started pushing and grabbing Kandi and Porsha. They hightailed it downstairs with NeNe following after them. They managed to run out of the house, but Kandi alludes to something happening with Porsha's belt being off – which we're not allowed to speak of. It was insane. And now we have The Mystery Of The Phantom Belt. Someone get the Scooby Doo Mystery Machine on the case.
The funny thing is that Marlo, who was at NeNe's the entire time, pretends she has no idea what happened and didn't notice NeNe fly into a rage and assault pregnant women. Porsha finds this highly suspect. She also finds NeNe's behavior completely unacceptable — after all, a few seasons ago NeNe was lecturing her about keeping her hands to herself. Now the Louboutin is on the other foot!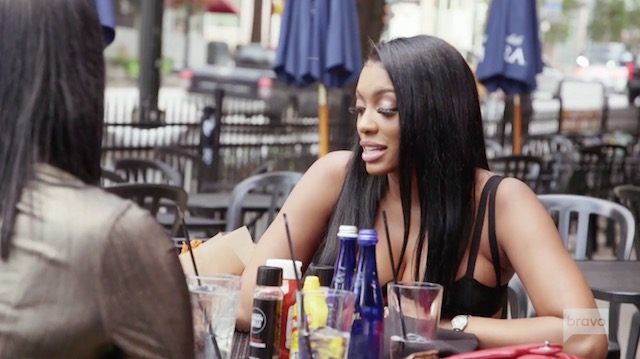 The other issue that Porsha is not sure how to even approach NeNe to resolve or discuss the issue.  Especially since NeNe knows she has behaved badly and is avoiding everyone as a result. Porsha and Kandi made a pact to wait and talk to NeNe together. However, Porsha learns that Kandi went ahead and texted NeNe and now everything is f-i-n-e between them. Meaning that once again Porsha missed the Underground Railroad train and is now standing on the platform, confused.
Across town Shamari DeVoe and Tanya Sam visit Eva Marcille. Sharmari is there begging. She apologizes to Eva after she threw up all over her shoes and dress, which Tanya had to clean up. Shamari is shocked to learn that not only did she puke, but she was pawing at Tanya's crotch and licking Eva's boobs. She was a hot mess, but strangely Shamari isn't that upset about it. "I was blaqued out with a 'q,'" she laughs, sipping the cocktail Eva pours for them.
The real purpose of this get together is not to discuss Shamari's boozing, but to defend NeNe. Eva and Tanya both take the stance that since NeNe warned everyone that she didn't want them in her closet, it justifies her wig out. Cynthia Bailey says NeNe has just simply snapped – officially reached her breaking point. Obviously, she didn't want anyone seeing her collection of Kim Z wigs hidden in her closet. So, I mean it makes sense!
Erm. OK. NeNe did not appear in this week's episode to make excuses for her actions – not that we care or wanted to hear what she has to say. Next week she will be back in full-force with a Birkin stuffed full of BS. Too bad she wasn't able to go along for the colonics.
Cynthia met Eva for a colonic to "put all the shit on the table." Except not really because NeNe's shit is still very much being swept under the rug (as usual)! Cynthia hasn't really spoken to NeNe since the Coming Out Of My Closet party, but she is graciously giving her friend her space by addressing toxicity her own way.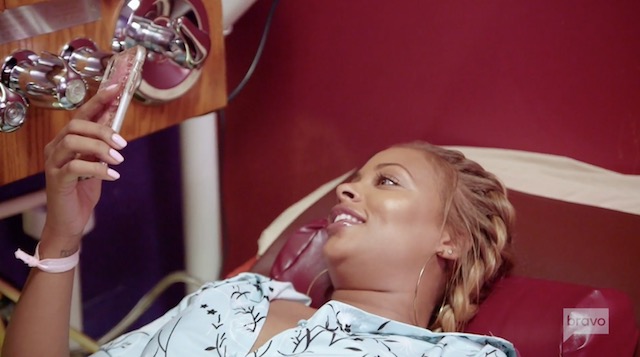 Instead, Cynthia and Eva discuss how over-budget Eva's wedding is. After a couple of gig,s Eva is caught up on all the bills. Leaving me to wonder: what kind of gigs are these? Now Eva just has to focus on getting into all of her 3 magical gowns, which explains the colonic. With a tube up her butt, Cynthia FaceTime's Mike Hill who is really getting an eyeful this episode. Then Cynthia and Eva chat while getting purged.
Kandi can't really worry too much about NeNe because it's the day before her burlesque sex variety show "Welcome To The Dungeon." They are so behind schedule they haven't even done an official run-through. Even though is Shamari's big return to the stage after almost a decade away, Ronnie went ahead and booked his own tour and isn't even going to be there for opening night. Cynthia drags her boyfriend of 5 minutes Mike Hill to the dress rehearsal, though. He looks as confused and squeamish as I feel. In fact, Cynthia looks like she majorly regrets VOLUNTEERING to participate in this embarrassing display of 50 Shades Of Grey worship. But the show must go on — especially a show Kandi paid to produce and hopes to turn into a national tour.
Of course, 3 hours before the show premieres Shamari comes down with laryngitis and has to lip sync like an "S&M Ashlee Simpson." Porsha isn't attending the performance because obviously, it would be awkward and weird for her to attend the show based on a lie she told about Kandi's sex life, which Kandi has decided to leverage the victim narrative for profit. Smart! NeNe is still, embarrassed, hiding in her closet, and Eva is doing wedding plans. Um, buying a 400th dress?? The other girls – both of them (Marlo and Tanya) – arrive in costume to support Kandi.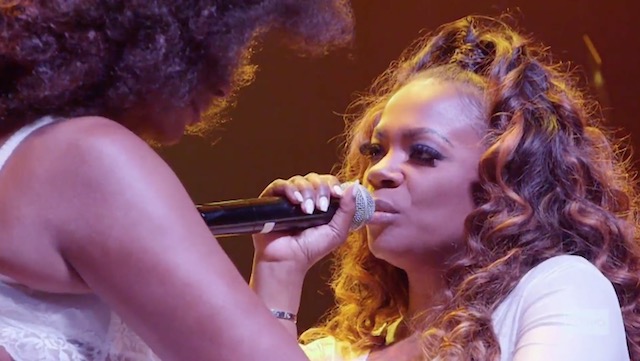 Shamari is a pro and lip syncing isn't an issue. Cynthia, on the other hand, is NOT a pro. She visibly squirms on stage while Kandi gyrates all over her, asking questions about how 'wet' she is. By wet does Kandi mean covered in sweat and puke? Because Cynthia looks like she wants to vomit from fear and regret. Marlo also looks like she wants to vomit — because Kandi Koated Cynthia is too much for every one.  It was like catching your parents have sex.
Also, why was Todd Tucker dressed like an cult leader at a baptism for his harem?
There are two people here who care greatly about Shamari's drinking. Two very, very unlikely allies, one might say: Marlo and Ronnie DeVoe.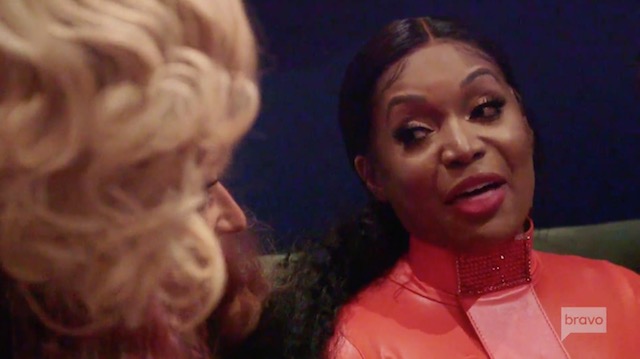 Backstage, after the dungeon, Marlo and Tanya catch up with Shamari and Cynthia who have escaped the dungeon for much-needed celebratory drink. Marlo gets offended that Tanya jokingly pushed her off the sofa. She accused Tanya of needing to go to AA with Shamari. Tanya was having a good time, though, and didn't let it get to her. "You tell her, Shamari!" Tanya jokes as Shamari gets up and imitates screaming at Marlo, except with no words coming out.
So Marlo decides to announce that she is "concerned" that Shamari has a drinking problem. Marlo says this knowing Shamari literally cannot talk back to her!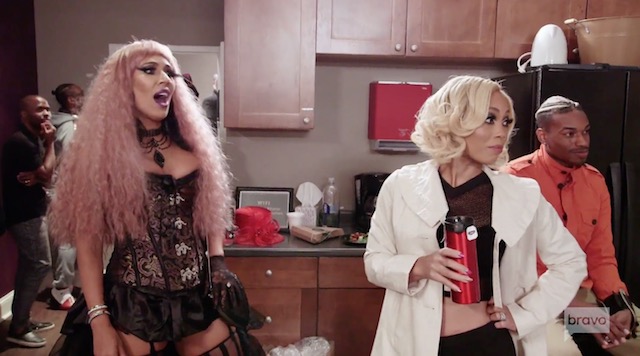 Shamari is offended though – and rightfully so! Shamari is a mother of twins, who likes to go out and let her wigless hair down sometimes (aka, every time she films for Real Housewives Of Atlanta). Where as "MarHO" is a mother f–ker, not a f–king mother, and has no room to talk. Cynthia thinks that being around Marlo just makes everyone need to drink in excess to deal with her extra-ness. Perhaps!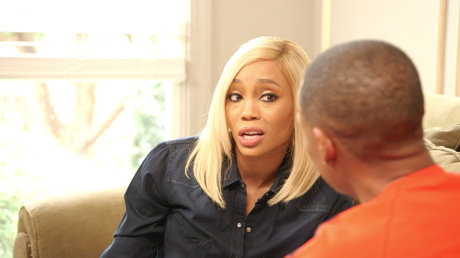 Ronnie certainly thinks Shamari needs to keep her lips closed to booze and her hands off her friends. He is concerned that these occasional drunken nights out are the path that leads to temptation and separation, as Shamari loses her inhibitions and explores her bi-curious side again. Ronnie plans to start keeping tabs on Shamari's drinking. Meanwhile, Shamari warns Ronnie that this is not license for him to do any extracurricular exploring of his own!
Ronnie is controlling and their relationship is toxic.  Who do we think whines more: Ronnie, or Shamari's one-year-old twins?
TELL US – DID NENE GRAB PORSHA'S BELT? DOES SHAMARI HAVE A DRINKING PROBLEM?
[Photo Credits: Bravo]