Vanderpump Rules is back! It's been an excruciatingly long hiatus, but a new season is here! Let's f**king go! What have our favorite SURvers been up to?
Lisa Vanderpump, Tom Sandoval, & Tom Schwartz are ready to open back up for business! It's been the longest wait for bars and restaurants to open back up in California. The pandemic nearly wiped away the entire industry. It's good to see Lisa and the boys putting in the work to provide quality service to customers once again. Slowly but surely, things are going back to normal.
Schwartz says he and Katie Maloney put in a large effort into making a baby during the quarantine. Could you imagine him as someone's parent? He's the biggest hot mess of a person. Is it wrong to be grateful to learn they didn't actually end up getting pregnant? So much oof.
Sandoval is nervous to see Ken Todd & Lisa because they're opening a new bar. They have to tell her because finding out from someone else might be an issue. She could be offended they're going out on their own like this. They have to tell her the truth.
Lisa straight up asks the boys if they're opening another bar, and they're forced to admit it. At least the truth is out there now. The biggest issue is the name they have in mind. Schwartz & Sandy's is quite possibly the worst name I've ever heard for a bar. Nobody wants to spend money at a place with a cringe ass name like that. Katie & Schwartz are 100% correct in hating the name. It's dreadful.
Ariana Madix & Katie have become quite close, but Katie getting involved in the new bar might be a problem. She's always clashed with the other time, so this might become an issue. The last thing they need is a giant screaming match in the middle of their new business establishment.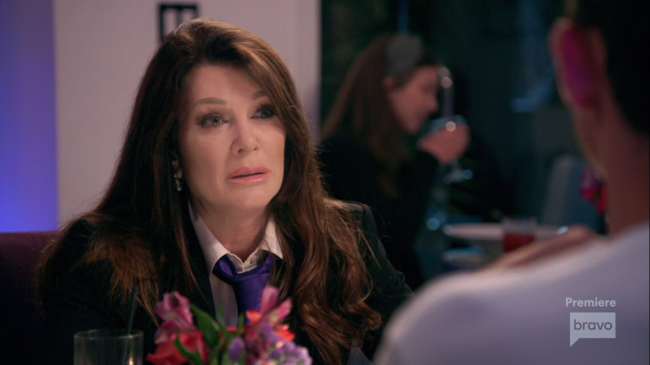 We love Charli Burnett being the only newbie from last season to keep her spot in the cast. Good for her! A lot of the old cast members (especially Jax Taylor) were so triggered by her. She's here, and he's not though! Someone is winning in this equation, and it's NOT Jax.
James has been sober for nearly two years! This is the best news we could've heard from Raquel Leviss. The drinking has ceased, but he's still smoking weed every day. That's not terrible I suppose.
His DJ career is still taking off, but he wants to get back into the booth at Lisa's restaurants. He seems genuinely remorseful for the things he's done in the past. However, things between he and Max Todd are contentious. He wants on a profanity laced rant about how f**king fat Max is and other things.
James is trying to play this off and defend himself, but DAMN DUDE. James is far too explosive at times. He needs to get his anger in check. It's delightful that he's sober, but clearly he still has a lot to work through. The way he blows up at people is unacceptable, and he seems to have a victim complex. He makes way too many excuses for his questionable behavior.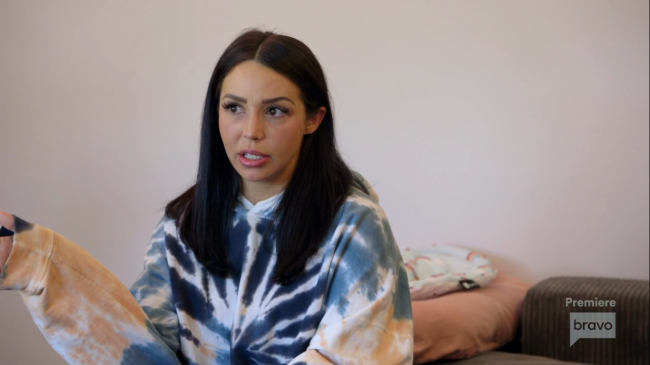 I already don't know how I feel about Brock Davies. There's something off about him. It's cute to see Scheana Marie get her dream man and finally becoming a mother. That's all well and good. However, there's still something not right with this man. Let's see how this season progresses.
Lala Kent is disappointed because Randall Emmett won't milk her and drink her breast milk. Damn this woman is maybe too open. There's some shit you don't HAVE to share. That might be one of them.
While at Lala's, Katie gets an invite to Scheana's birthday party. As of now Lala isn't getting a spot on the guest list. Scheana's still pissed because Lala wasn't there for her during her miscarriage. She feels like Lala chose making celebrity appearances over being there for her good friends.
Lala refutes this entire claim because she says Scheana told her she wanted to be alone. People started messaging Lala telling her they hoped she has a miscarriage of her own. Why do people on the internet take things too damn far? I think they're both looking for an apology here, but neither are willing to give one.
It's hard to say which one is actually telling the truth here. From my recollection, Lala's typically very upfront about her feelings. Scheana on the other hand is always a ball of chaotic emotions. If you go by that version of history, it might be a misunderstanding on the part of Scheana.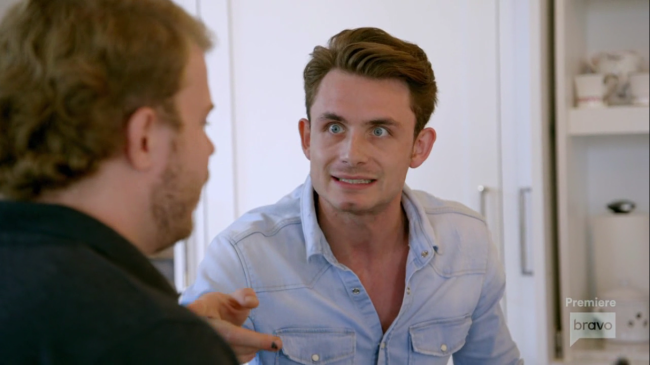 After being roasted for the longest time, Tom and Ariana FINALLY have actual furniture. It was well worth the long ass wait because everything's gorgeous. Loving their interior design skills!
Scheana calls Tom & Ariana because Lala went on a podcast and made a comment about Ariana. She claims Ariana doesn't give a f**k about Lala. That's far from the truth. Ariana was going through a lot in the past and opened up to this girl. There's no reason to go on a press tour where you talk shit about your friends.
I understand the need to sell her book during a pandemic, but this isn't cool. It looks like Lala's going to contend with more than just Scheana at the birthday dinner. You can't go around and trash your "friend" and show up to their house and think everything's fine. That's not how life works. At all. For anyone.
Max doesn't think James deserves to be forgiven for his actions against him. Lisa's forcing a conversation between the two of them because we can't have this lingering for too long. This is a relationship that needs to be repaired. Max has been a longstanding ally to James, so he can't afford to lose it.
Max accuses James of taking a drug the day of their altercation. James shuts that down really quick and claims it was a pre-workout vitamin that triggered his behavior. They can't have a civilized conversation without bouts of danger. Max is drawing a line in the sand and refuses to let James come to SUR. James is being so rude and keeps calling Max weak. As of now, they can't even be in the same room as him. This doesn't bode well for his DJ career.
James breaks down crying after Max leaves because he treated Max like this. He doesn't comprehend the gravity of his actions in the moment. That's always been his problem. He always reacts in the moment like a demonic White Kanye and begs for forgiveness later.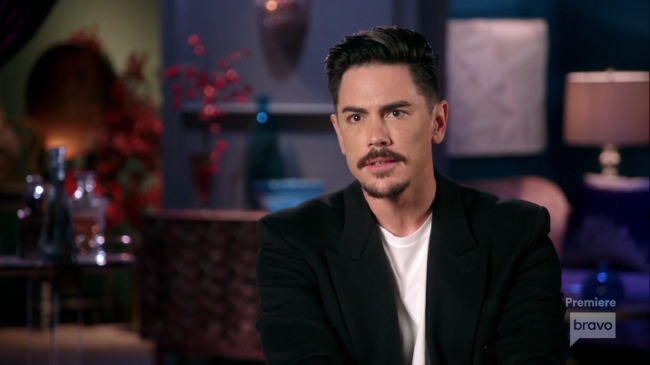 Katie's desire to get involved in Tom's new restaurant is going to be such a problem. There's no way Sandoval's going to be okay with her having an large role in the company. The worst case scenario is the intensity heats up so much to where it damages the Toms' relationship with each other.
Lala walks into the party like there's no issues between her and any of the girls. I'd love to live in a world of delusion like she does. To live life with blinders on like she does must be bliss. She doesn't have a care in the world for the hurt she's inflicted on her so called "friends".
At Scheana's dinner, Katie asks Sandoval if she can have a host gig at the new bar. Before he can think about it, she openly trashes the name of their new bar. As long as they don't go with the horrible name he wants, it'll be a success.
Why is he getting so upset over Katie expressing her opinion? Ariana voices whatever the f**k she wants at any and all times. Why shouldn't the other Tom's wife be able to do the same. It shouldn't be Sandoval's way or the highway. That's not how life works.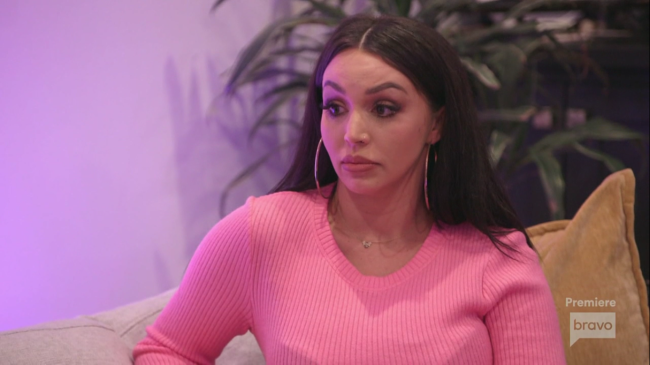 Scheana knows she has to speak to Lala. The surface level bulls**t isn't going to cut it. The hurt between these two runs deep. The writing's been on the wall for many seasons though. You could see a natural shift in their friendship, and things have finally come to a head.
Scheana opens up about how badly she needed Lala when she was going through the miscarriage. Honestly, Scheana's the one not making a ton of sense here. She was the one going back and forth about what she wanted from Lala. Lala isn't a mind reader, so it's not fair for Scheana to expect her to be.
They missed out on their pregnancy experiences together because of this mess. Luckily for their friendship, they hug things out which is a sign things may be salvaged. However, Lala has no idea the other threat lurking outside for her. She's not going to leave the party without facing off with Ariana for those podcast comments.
Raquel weirdly tries to bring up the past with Lala, but it's so out of place. Their s**t is so old. Let's move on sweetie. Worry about your man who loses his shit at the drop of a hat.
Ariana calls out Lala for the negative podcast comments, but Lala is unphased. Lala says they've been so surface level, and they don't give a f**k about each other. Everyone has it out for Lala at this party. They're forcing her to own up to her past actions, and she can't stand it. This season is off to an explosive start already!
TELL US – TEAM ARIANA OR TEAM LALA? SHOULD MAX FORGIVE JAMES? DO YOU MISS ANY OF THE FORMER CAST MEMBERS? DID YOU ENJOY THE SEASON PREMIERE OF VANDERPUMP RULES? 
[Photo Credit: Bravo]