Last night's Real Housewives Of Beverly Hills was a filler episode of wealthy women doing what Bravo wants us to believe wealthy women do: shopping and pastry decorating in between filming PSAs about parental abandonment (aka empty nesting) and eating disorders coinciding with the launch of your Instagram modeling career.
Things begin with Kyle Richards driving Lisa Vanderpump to Dr. Ourian's office. Dr. Ourian is the plastic surgeon to Kardashians and also Brielle Biermann's lips, so you know… do what you will with that. Then book an appointment with Paul Nassif immediately afterward.
Anyway, Lisa takes a hit of laughing gas, which according to her "is like drinking a whole bottle of wine without the hangover" and gets her neck tightened. Kyle videos the whole procedure, and LVP explains that laughing with Kyle is necessary for her as she deals with the loss of her brother.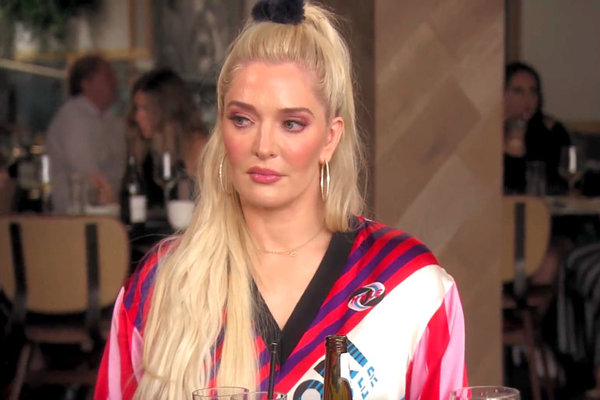 Three fashion victims walk into a lunch. Honestly, what was that collection of horrors that Lisa Rinna, Dorit Kemsley, and Erika Girardi were wearing? Lipsa's sequins were right up her hairless butt, which I seriously imagine looks like Dina Manzo's cat. Dorit looks like how I'd dress my Barbie & The Rockers doll circa 1992.
This trying to compete with Erika Jayne's pseudo-outlandishness and develop 'inner characters' is getting lame. I mean, these people have the depth of a puffy sticker. Then Erika, of course, one-ups them all again by ordering a beer… CARBS. No one else has had a beer since I owned a Barbie & The Rockers doll, So this is a high scandal. Lipsa and Dorit salivate remembering their youth as filled with keg parties and the freedom of consumption.
Over the 'lunch' where no food was ordered, Dorit recounts the tale of her robbery – to Erika's side-eye – and sighs that what she could really use is a getaway. "A girls trip" to be precise. Um, didn't Dorit just get back from ditching her kids for a Me-Time trip to climb mountains? Which caused her hair to go right off a cliff. First, they suggest Tahoe, where Erika 'thinks' she owns a house.
Then Lipsa remembers she owns a house in Palm Desert, which obviously she stole from Kim Richards, where coincidentally Erika also owns two homes there. One-upping with vacation homes – only on Beverly Hills! Even worse is complaining that your vacation home is just too shabby to visit. Meanwhile, Dorit has no houses. Period.
Eventually, everyone decides to go to the Bahamas and Dorit is so gracious she's even stooping to invite Teddi Mellencamp Arroyave. If only so Dorit can convince Teddi that she is not some dog-napping asshole with an agenda to destroy LVP's reputation. Speaking of, LVP is also invited so she and Dorit can patch things up. At least Dorit has the recognition that other than Peekray, the Kemsleys are done with dogs.
I do love Erika's leopard confessional look, though. I just adore that kind of insane big hair.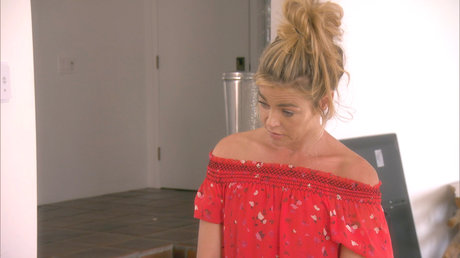 Denise Richards just moved to Malibu with her boyfriend Aaron Phypers. It was love at first sight in his body alignment studio for the sexy and divorced. Denise grew up with strict parents and as a result, turned to the wild side almost as soon as she was 18. She doesn't want her daughters to follow in her (or Charlie Sheen's) footsteps. "Their father and their mother were both nuts, so maybe they have a shot at being somewhat normal," Denise hopes. I also appreciate that Denise has goals for her daughters beyond acting and modeling.
However seeing Charlie Sheen parent and give advice on anything… omg. Do as I say, not as I do, right!? It's like he was playing his character from that dumpster fire of a show Two & A Half Men.
Lipsa and Teddi meet for a hike in the stomping grounds where you are most likely to find Harry Hamlin (which is probably why they're there). In his other life, Harry is apparently a hermit, living in the woods to escape Lipsa's floppy hair.  Which like a thing possessed takes over everything in its path, curling and flopping its flowby wisps and highlights over your life until you are a subjugated presence in her vision of 'The Dream Life.' Someday archeologists will find this hair, in-tact, on that very mountain and wonder what creature this was? The fossilized remains of B-List Hollywood. The lips will still be flapping nearby.
As Lipsa and Teddi walk they spy a snake in the grass… Is that foreshadowing?! You know it is! And like Lipsa's hair, another thing that never changes in Hollywood, are the unrealistic standards for women. At one point in time, Teddi had dreams of being an actress, but was told to lose 10lbs. In rebellion, she gained 100lbs, and spent years making food her best friend. Now it's her worst enemy. Lipsa pretends to be sympathetic and shocked while explaining that maintaining her weight is not a problem for her, but it is important for her career.
Later at home, while Lipsa is wearing these weird 70's truck driver glasses, which actually really work with her dated hair, we learn Amelia is in recovery from an eating disorder she developed trying to break into the modeling business. One year later, Amelia is probably not cured, but all of that is in the past! She's back to loafing around Malibu, or wherever, getting her nails done and adopting pets. Hopefully from Vanderpump Dogs! She should work at SUR. Lips also suggests that Amelia meet Teddi and share eating disorder experiences.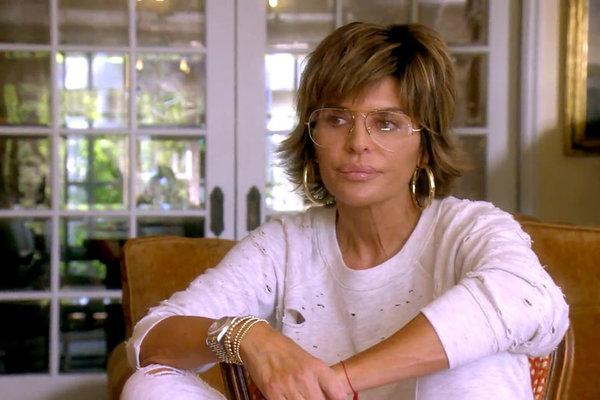 Lisa handles Amelia's eating disorder with all the intensity and seriousness of someone who doesn't really understand why this is a problem. It's glossed over and placed in a neatly wrapped box, tied with a Barney's bow, and delivered to 'the past' by a courier. After moving that heavy object, Lipsa metaphorically dusts off her manicured hands, fluffs her hair helmet – which is truly her best friend and most formidable sidekick – smacks her lips and decides to host a pastry making party for her friends. Almost as a way to announce: SEE, I DON'T HAVE A EATING DISORDER. I AM NOT THE CAUSE OF AMELIA'S ISSUE.
I have no doubt that Lisa loves her daughters dearly and wants them to be healthy, obviously, but it's also obvious that she wants to exonerate herself from being in any way culpable for them potentially having a weird relationship with food. Furthermore, it's becoming apparent that Lipsa's weight is going to be a storyline this season.
"Harry's away, the kids are away, and I can only post so many bikini pics on Instagram to get attention, so I might as well have the ladies over," exclaims Lipsa as her official reason for having the chocolate party.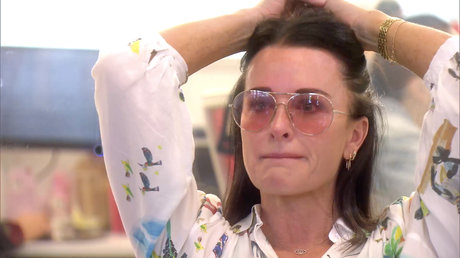 Kyle will not be attending. She's dealing with a weird eye thing caused by anxiety when one of her children attempt to escape her suffocating love. Kyle just wants to stuff them all under her kaftans and never let them breathe their own air. She visits Mauricio at work to cry over Sophia being the latest one to go to college, and Maurico reminds her that they all come back into the fold of Mommy's money and endless capacity to dote on them and spoil them. Until Sophia comes to her senses, Kyle is hoarding more dogs. Who does she think she is LVP?
OK, I do so get what Kyle is going through – my kids drive me bonkers, but the mere thought of them being too old to snuggle or god forbid move out, has me in tatters. (My kids are 5 and 8).
Furthermore, Kyle may be in hysterics and hypochondria about her kids moving, but she's still going to the Bahamas!
LVP also skipped Lipsa's party, because she is still feeling so emotionally drained and would rather decompress in the lily-white serenity of Villa Blanca with her boys Ken and Giggy, as opposed to the high stakes competitive social environment of Erika Jayne's influence. Erika seems like the type of woman who just inspires toxic competitiveness in other women because it masks her insecurities. Back on subject, LVP is worried about leaving Giggy for the girl's trip because he's getting a pacemaker. She does believe the trip will be good for her friendship with Dorit, though, and clarifies that she is not mad about the dog. It is what it is, and what it is is that LVP is a woman who gets heart surgery for her dog, while Dorit is the kind of woman who dumps a dog at a shelter and doesn't bother telling her friend who owns a dog rescue. That's just "Dorit being Dorit." Which is the very problem.
With LVP and Kyle absent-ay, Camille Grammer's mute smirk joins the group and she is not trying to compete with the stupidest sequined outfit and instead dresses like an actual classy, wealthy mother. Camille, as always, is above the fray and Erika influence. Denise has very cute, laid-back LA style, as does Teddi. So good for them for being independent. What I love about Camille is that she barely speaks but her expressions say it all – her side-eye is the best read in town. And it is aimed always on Dorit's BS.
Now one thing I can agree with Erika on is the necessity of life with champagne and cake. "Superb" indeed. As she's hanging out at this pastry party, watching all these women pick at one teeny morsel of cake, her attitude is "Eat the f–king cake." And have hair the size of Marie Antoinette's while doing so! Am I so-far loving Erika this season? Well, check back with me next week…
Anyway since this Valentine's Day party (on non-Valentine's Day – I'm not clear?) everyone is chattering about their sex lives. It should come as NO surprise that Teddi schedules sex twice per week, and probably holds Edwin accountable with performance goals and points.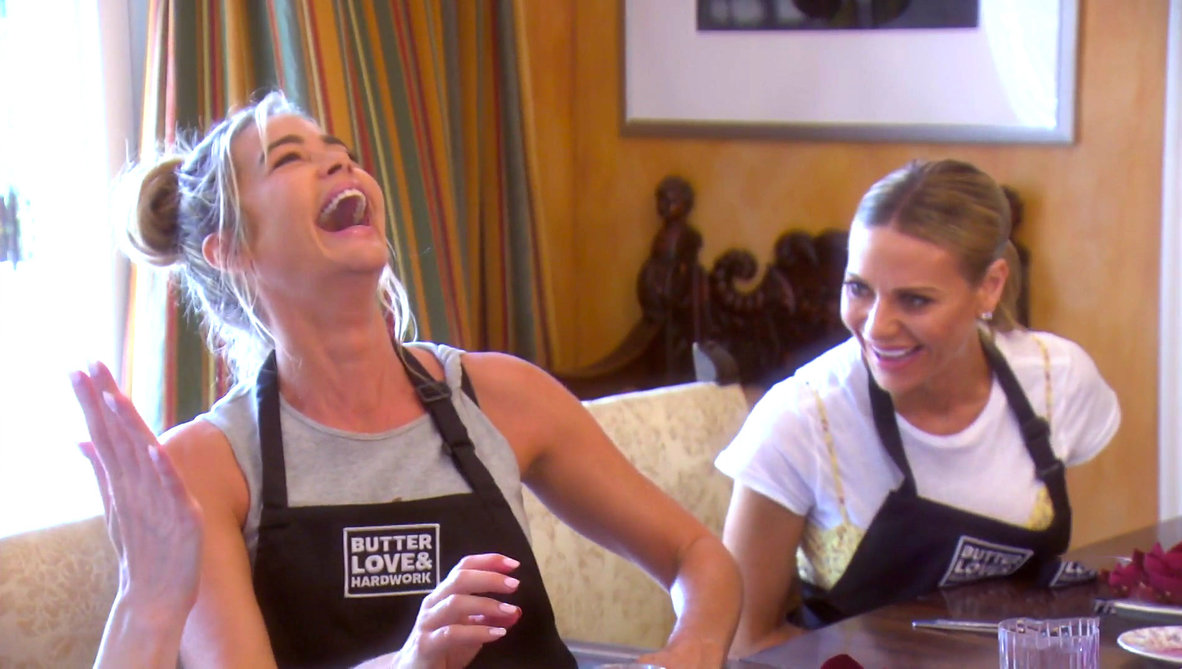 Denise and Aaron, meanwhile, have sex everyday. And if they are physically apart, they do it over FaceTime, so we'll be seeing that on the Cloud soon. Erika deems it her version of porn, and it's probably because she's literally watching it from The Cloud. That's not the only thing Denise is sharing though – it turns out Aaron and HarryHamlin™ share an ex-wife in Nicollette Sheridan. Actually, Nicollette is still married to Aaron, in a long protracted mysterious divorce. They have been separated for 2 years though.
In what is quite possibly my favorite RHOBH tale ever, much to Lipsa's everlasting joy. we learn Nicollette left HarryHamlin for Michael Bolton after attending his concert while HarryHamlin was out of town. That long fluffy mane like an ungroomed poodle! That nasal crooning! The synthetic background music! He definitely touched her there! There is no better representation of the plasticized loves and lives of these people than this incestuous revolving door of second-tier Hollywood love stories, where Michael Bolton in his prime was the ultimate trump card of success.
Now, you know we're all simultaneously Googling Nicollette!
Anyway, getting away from Nicollette, all of this is mostly significant because as LVP is cosseting herself in grief and Pom fur, the rest of the women are bonding on a different level, and experiencing life outside the strictly controlled confines of her dictates. It is immediately clear that Erika will replace her as HBIC, and these women need a leader so they welcome her. Kyle, who has (had) a true friendship with LVP will be the last holdout, but Kyle is extremely susceptible to peer pressure and being popular, so… fetch! Also clear is that LVP assumed respect for her grief would put her clearly in the 'safe zone,' but after years living in LA she should know they kick your heels out from under you while you're standing on your tippy toes, and if the crown is askew, even for a moment, it's up for grabs!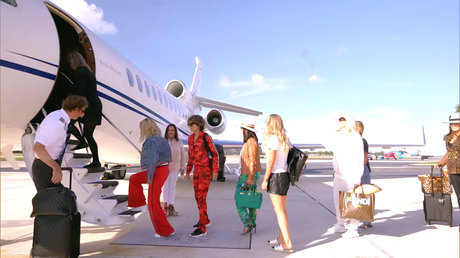 As everyone boards the private jet to the Bahamas, a real private jet, with a stewardess and fancy chartreuterie – take note Lala Kent! – it's evident by the constant jabs that LVP has definitely not forgiven Dorit and she expects Dorit to be like her lapdog on a leash, and sometimes in a gilded carrier. Unfortunately, LVP fails to realize that Dorit is now bolstered by her friendships with the other women, and doesn't need to capitulate for fear of being ostracized.
It doesn't matter that all the women know Dorit is a grifter, not of their level; what matters is that she can join their ranks as a good soldier so desperate is her need to be considered 'relevant' and 'vital' and 'successful' – and most importantly 'included' as one of them. And most importantly that everyone ignores the realities of Dorit's 'have not' wannabe status.
Dorit proposes that she and LVP share a suite, a good bonding time, but LVP mocks this arrangement. Dorit's feelings – all one of them – are hurt.  Erika, who doesn't want anything ruining the fun vibe of their trip, is immediately annoyed by LVP's attitude.
Stone me, but I do see Erika's point here. Everyone wants to have fun, they're in good spirits, most of them actually like-ish each other (at least enough to have a good trip), then here comes LVP, like the mean mommy imposing weird etiquette dictates on everyone and warning them that they are just one glare away from the timeout chair! To put it like a teenager would, it's a buzzkill.
Next week Erika comes for LVP, much to Lipsa's other everlasting joy!
TELL US – IS LVP BEING UNFAIR TO DORIT? IS ERIKA TRYING TO SEIZE LVP'S CROWN?
[Photo Credits: Bravo]