I'm just gonna be honest: I was bored watching the Real Housewives Of Beverly Hills reunion. Maybe it's because this season has been so overblown. All the revelations about Lisa Vanderpump not showing were already out and it was just a big old meh. It was big old gushy fake love fest about how Kyle Richards is queen… And Erika Jayne needs one of Dorit Kemsley's CLIPs to be put over her mouth.
Speaking of clips, the ones in Dorit's hair should have read, "Fake" "Broke" "Grifter" "Dog Dumper" "Liar" "Bad Designer" And worst of all, "PK's Wife." The rest of Dorit's outfit looked like a disco ball blew up. Hey, they're broke so reduce, reuse, recycle to make the most of life on limited means.
Kyle looked like a lemon who tried mating with an orange and wound up a tangelo with a complex. Lisa Rinna looked like someone took a lemon and painted it with a high lighter then got carried away with a bottle of Sun-In from the 80's. Speaking of the 80's, I call Erika's look 80's socialite at the 2nd tier country club. Also it's drooping in the front.
Denise Richards was basically figure skating costume on top, cloth napkin at Erika's country club on the bottom. That leaves Teddi Mellencamp Arroyave and I honestly completely forgot what she was wearing because it was so unmemorable. I think it was grey. I think it was sparkly. I think it was a cross between Dorit's dress and tar paper? Project Runway unconventional materials challenge anyone?!
Andy calls them all "elegant and enchanting." Sure, OK.
Denise is HERE for her first reunion. It's 8am on set but unhappy hour somewhere! Denise starts drinking before the cameras start rolling. It's confirmed that Denise owns part of this tequila company or something, right? Or they are paying her to advertise it on the show? Or she is contractually obligated to say the words "Casamigas," "Charlie Sheen," "Camille," and "Cock" every episode or she won't get her paycheck?
Like one part of me is like I love Denise. And I do. But another part of me is like Denise … Who exactly is Denise? I feel like the only thing we know about her is that she was married to Charlie, likes sex and tequila, and is basically a sorority girl who woke up pregnant after a romp on the Girls Gone Wild bus. And lucky for her the guy had a big dick.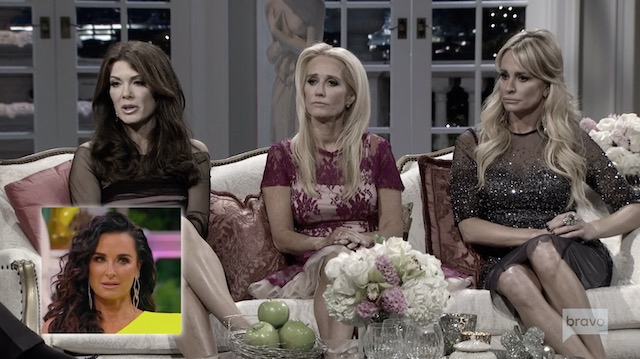 I don't think we really need to get into LVP skipping the reunion.. It's a subject matter that has been washed, rinsed, dried, repeated until it's turned into Giggy's molting coat. Sure, the clip of LVP calling out Adrienne Maloof for bailing on a contentious reunion was damning, and hypocritical, but maybe the difference was that Adrienne wanted to remain on Real Housewives Of Beverly Hills, whereas LVP has very emphatically quit.
I was mostly struck by how young everyone looked with such mobile faces. But that's because Adrianne wasn't there of course! LVP didn't even tell Andy directly  – she told The Daily Mail the day before the reunion. Ouch. She should've at least had the decency to film a one-on-one sit-down with Andy explaining her departure, but to just no call/ no show? LAME. What about us, the viewers, getting some closure? I assume that sit-down will happen in the future…
I also think LVP knew she would have NO friends on that stage. Kyle, for all the times she was in the weeds dealing with Kim Richards and Brandi Glanville, always had some support. Namely from LVP. Kyle was all set to make amends by bringing LVP's ungifted birthday present along with her. It would've been this season's Blue Bunny. And isn't it just like Kyle to wrap up a box of Manolo's without wrapping paper to show off that she's giving someone $600 shoes?
Teddi and Lipsa don't quite believe LVP has left and keep waiting for her to waltz through the door, tossing a fur scarf over her shoulder and brandishing a riding crop in a sequined holstered.  What's interesting is that these women really DO NOT seem to be getting it. I doubt LVP, queen of the egos, is avoiding them because she's been 'unmasked' – as Kyle suggests – it's because LVP literally doesn't care. She has dumped them like a pet adopted by a Kemsley. Erika understands why LVP is being so dismissive though, and it's probably because Erika empathizes with not caring about this show or the people on it.
Kyle believes LVP's anger stems from the Radar accusation, but again – that's not the issue. The issue is Kyle choosing, blindly, to believe Dorit and Teddi over LVP – her longtime friend who was also in the midst of grieving for her brother. Maybe LVP was completely in the wrong to believe she could expect sympathy during that time? Maybe that's not the nature of reality TV, but it should be the nature of humanity.
Instead of LVP strolling in, it will be Camille, escorted by Kimber – her newest Handbagler. While Camille is putting her second face on, Denise opens up about divorcing Charlie Sheen and parenting Eloise.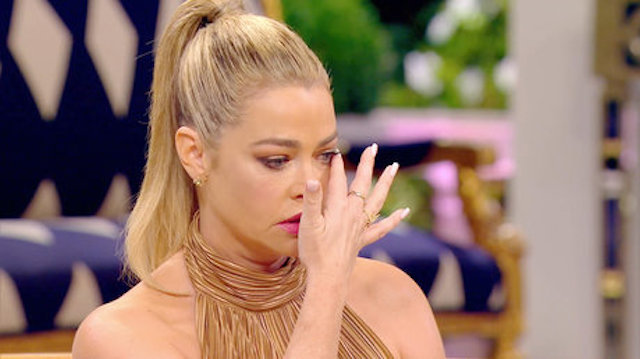 Eloise doesn't speak because of a deletion in chromosome 8, a rare disorder. Erika was very sweet and compassionate here, whereas Dorit compared Eloise's struggles to Jaggy's minor speech delay at aged 2 and made sure to point out that now he's doing exceptional. This was just after Denise finished saying how hard it is to see toddlers who can talk while her 8-year-old daughter cannot. Maybe Dorit was being empathetic, but she has a funny way of showing it.
As for dealing with Charlie, what can Denise do but keep calm and carry on? At least she's no longer living in the same neighborhood as him and having to pick Charlie up off a hooker's lap at 2am. Speaking of, Charlie was annoyed that Denise told the word about that one time he brought "a lady of the night" (his words) home for Thanksgiving. For Denise the most important thing is not tainting her daughters' relationship with Charlie, even if that means biting her tongue (or Aaron's unmentionable) a lot.
Hilariously Andy uses Bethenny's margarita intro to describe Kyle's life. Yes, Kyle, like 3/4 of the drinking world can use tequila and limes to make a margarita. Kyle can also have a panic attack at 3 am because Sophia didn't react to her IG Story. One time Kyle clutched the phone and sobbed so hard Mauricio almost called 911 to have the ambulance take Kyle away just so he could watch TV in his underwear on edibles in peace. I know I should be more sympathetic to Kyle's 'generalized anxiety disorder,' but I was so annoyed at her that I accidentally dropped pizza on my bed while watching this. Which means it was clearly Kyle's fault if you are in Teddi's accountability coaching club.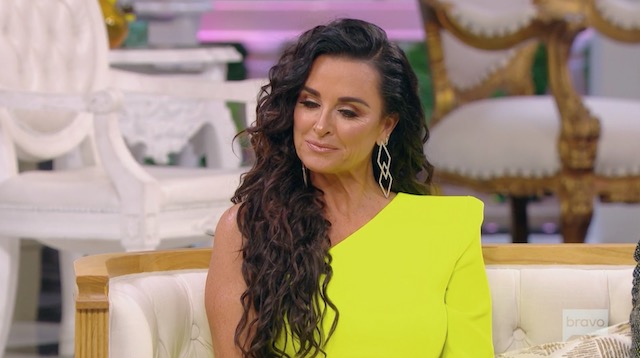 My two favorite parts of the reunion are when Erika insincerely and smugly referred to Kyle as the new queen, and Kyle looked down at her dress like her heart wasn't gonna explode with triumph. Oh Kyle… you are not prepared for when Erika turns on you next season! She is spinning you up to unravel you (and also piss LVP off) and all that will be leftover is some sad little wooden husk of a broken olive branch broken from the gorgeous trees at SUR. Also Kyle is only the last original castmate until Camille waltzes through the door. With Kimber holding her receipts.
One thing I DO like about Kyle was her decision to show the mammogram. IMPORTANT.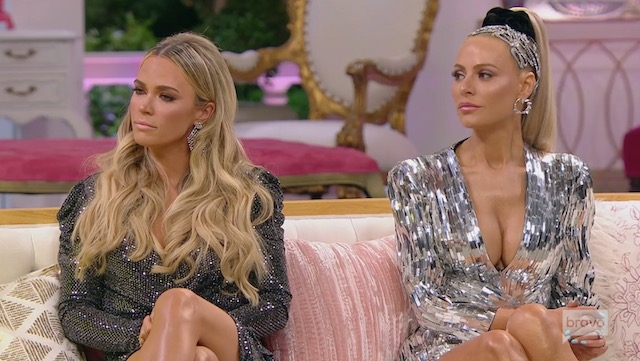 Speaking of, my second favorite thing that happened at the reunion was when Andy shaded Dorit's "gigantic breast implants" through a commenter. Dorit doesn't think they're gigantic becuase she believes in an excess of everything except common sense.
I refuse to discuss the vagrancies of sex with Tom Girardi, HarryHamlin, Lisa Rinna doing Jazzercize (probably called Rinnacize ) or Nicolette Sheridan doing anything or anyone connected to anything or anyone on that stage. Also Aaron's eggplant which looks like a Louboutin and was fondled by a geriatric masseuse whose happy ending doesn't include retirement benefits.
Instead I will welcome Camille Donatacci Grammer Meyer, with any or all of her surnames, to the stage because she is my favorite. I don't know if you guys know this about me but I loved Season 1 Camille Grammer during season 1. In fact she has always evoked a certain glee in me that taps into my puerile desire to be as callously and offhandedly arrogant as possible without caring. Like when Andy cuts to a scene of S1 Camile complaining about having to stay in a 3,500 square-foot rental apartment on the weekends they visited Kelsey in NYC for his broadway performances. I mean [Camille shrug]. Now, after the fires, Camille is really living large in a 1,200 square-foot luxury trailer and she's perfectly happy. We're all assuming David Meyer doesn't have his own home, right!?
I don't see why Andy was asking Camille to weigh in on how Denise handled her divorce settlement? I honestly don't think Camille was implying Denise did nothing but shop and eat bon bons. I think she didn't know how to answer and felt awkward just as Denise didn't know how to respond and felt defensive. It honestly seemed like a miscommunication spurred by Andy asking an intentionally unfair question to try and create discord.
I also don't know why everyone rags on Camille for getting rich through her divorce? Kelsey publicly cheated, knocking up a younger woman, but during their marriage he publicly crediting Camille for saving his life from addiction. Just as apparently Charlie was broke when Denise resuscitated him. I say if you are married to men this horrible you all deserve everything. Take it all! And then buy bon bons to throw at people shopping at the Encino mall as they drive away in the Vandercanthaul.
Finally after all this meandering and weaving we get to the penultimate moment: that time Teddi lied about her involvement in PuppyGate. Oops! Clarification. Because Teddi is still lying about her involvement in PuppyGate. Except this time all the women have the benefit of hindsight and have seen the 99 point font textestess provided by Ken Todd's dollar store magnifying glasses to realize that Teddi wasn't some innocent fawn adopted by Vanderpump Dogs (and other wounded, abandoned or in need animals), but a bull in a puppy shop also in possession of John Blizzard's phone number. And wow, to retroactively rewatching Teddi's LIES in the Lucy Lucy thing. Pathetic.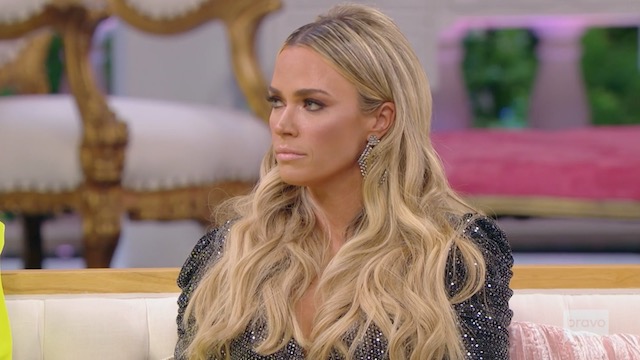 In the 32,000 recaps I previously wrote on this matter I've said all I need to say about Teddi being a big, fat, fraud but it was nice to hear Andy realize her stories don't pass the sniff test. Like if Teddi wasn't close with John Blizzard why was she TEXTING WITH HIM, plotting with him, conniving with him (for months) and believing everything he said? Teddi thinks it's fine that she didn't do any research because 'Lisa's head guy" said to do it to make Dorit look bad. Except the queen of accontability and honesty never thought to ask her so-called friend first? Even Erika is surprised by how far Teddi took things.
Like Dorit said it wasn't about Teddi's conscience, she just didn't want to get caught trying to make Dorit look bad and taking all the blame for it.
Honestly that could have been 1 part. Please say it isn't 3 (it's three parts, isn't it?)
TELL US – ARE TEDDI'S APOLOGIES SINCERE? WHO IS BEST DRESSED?
[Photo Credits: Bravo]