You guys LeeAnne Locken is the most exhausting person I have ever encountered! I was literally so drained by her negativity and attention-seeking antics I had to lie down after last night's episode of Real Housewives Of Dallas.
So everyone is in Thailand and addressing the L'Infinity Dress drama that will never end. Just like tales of woe from LeeAnne's childhood, this dress and this saga have 1000 different reiterations and incarnations including that when LeeAnne was living at the carnival she was training gorillas. Girrrrrrrrrrrrrrrrrrrrrrllllllllllllllllllll….
How come in Season 1 and 2 LeeAnne was mostly raised by her grandparents after being abandoned by her mother but now she's wrangling elephants in an RV? Little LeeAnne … literally raised by animals to be a feral child. I think there's a famous book about that, turned into a couple Disney movies..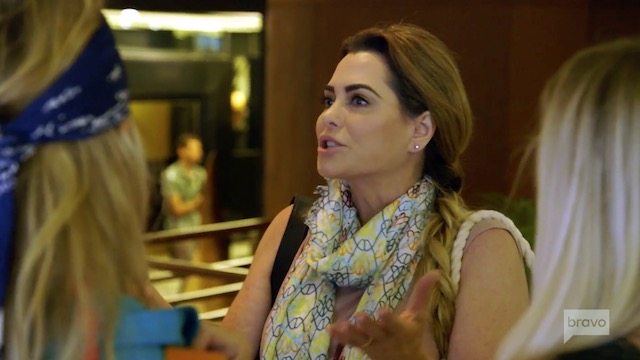 Anyway, D'Andra Simmons is also rewriting history! Now D'Andra claims her decision to wear the L'Infinity dress was a complete and utter joke, done without malice. D'Andra was so desperate to be funny she bought not one, but TWO copies. And I think these were probably the only two copies ever sold! Drawing on their rich complex history as friends, D'Andra assumed LeeAnne would laugh. Yeah, but LeeAnne was only friends with D'Andra when she was a wealthy and influential socialite, now…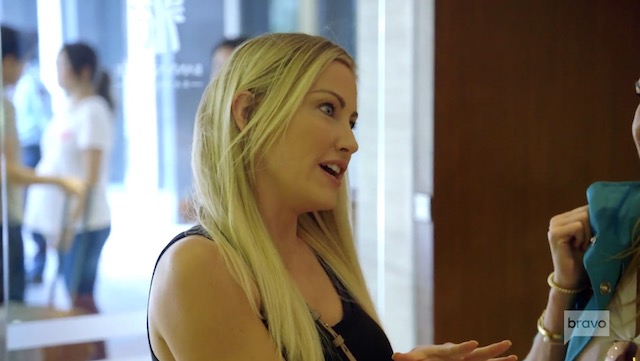 Stephanie Hollman and Brandi Redmond point out that it wasn't that D'Andra wore the dress, but that she and Kary Brittingham kept pointing out its flaws.
The women are spending 2 hours on a bus traveling to a wildlife preserve where actual wounded and abused animals live. So, D'Andra is eager to wrap this drama up in a surplus sleeve-cape.
LeeAnne, however, is in no mood for D'Andra and Kary's revisionist history. On the bus, Kary fake apologizes. LeeAnne asks how she would feel if LeeAnne compared one of Kary's pearl necklaces to anal beads? Cut to a clip of LeeAnne doing just that in Mexico! But Kary has pearls of steel. She scoffs that if LeeAnne wants to pay for her jewelry she can do whatever she wants with it – even shove it up her ass! Girl, YES.
Look – Kary and D'Andra can insist all they want that the dress stunt was all in fun, but it's not true. They were trying to provoke a rise out of LeeAnne by mocking her dress. With all the other women defending LeeAnne, Kary and D'Andra are now trying to alter the tone. That still doesn't excuse LeAnne's racially charged comments, which blessedly we will be treated to many more of in the coming episodes! UGH.
Brandi turned animal rescue into tailgating by bringing a cooler full of beers to play "Never Have I Ever" with. And finally in Thailand everyone gets a baby elephant! All the women have an amazing time connecting with the animals and learning about the rescue organization. But, of course, LeeAnne makes it all about her own wounded childhood. She cries over how she relates to an elephant that was formerly used as an animal taxi. Brandi is disappointed that yet another positive experience is now being spent rehashing LeeAnne's ever-increasingly tragic childhood. Everyone else stares out the window as LeeAnne musters fake tears and Kameron Westcott consoles her.
Back in the hotel, the women are dead from jet lag and non-stop activities, so they decide to order in and go to bed early. Plus the following day they're going to the world's biggest open market. Rest is necessary for marathon shopping!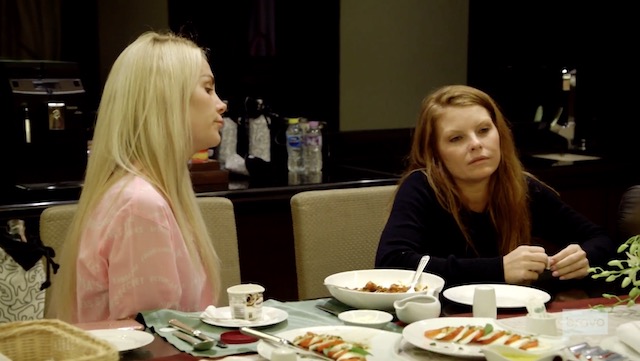 The market smells worse than a wildlife preserve, but D'Andra wore a muumuu maxi dress and came prepared to eat fried squid from a food cart. Both D'Andra and Kary possess a spirt of adventure and low-key travel that I really admire. D'Andra literally wore like Lands End explorer shorts in washable, wrinkle-proof microfiber khaki to the elephant preserve instead of trying to look cute and fancy. Good for her!
Everyone decides to buy friendship bracelets, except LeeAnne who refuses because she doesn't want to be fake by honoring inauthentic relationships. Counselor Stephanie tells LeeAnne to do her own thing, and brushes it aside. But, LeeAnne keeps going on about it. Of course LeeAnne caves the second Kameron acknowledges her pain and begs her to participate. Why can't LeeAnne just not buy the bracelet? Why make not buying it into a scene by mentioning it to everyone, waiting for someone to ask about her reasons so she can throw a fit about how these women aren't her friends. Everyone was wise to ignore her and it seems even Kam is catching on – finally – to these antics!
Then Kary, Kam, and D'Andra go get massages in the only air conditioned place in Thailand. Meanwhile, Stephanie and Brandi get stuck babysitting LeeAnne at lunch. You know Kam was trying to ditch LeeAnne like some dead heel skin.
Since they can't drink the water, it's time for more beer. Stephanie and Brandi keep it light and don't want to discuss drama over the dress. Meanwhile Kameron uses her time alone with Kary and D'Andra to explain why the dress stunt was mean. Kam did excellent as a mediator here! She defended LeeAnne without offending the other women and was able to articulately explain why the prank went too far.
Kary is inspired to offer LeeAnne a sincere apology. D'Andra, meanwhile, keeps trying to justify it because she and LeeAnne used to joke around with each other all the time. However, that was before they fell out squabbling for dominance on Real Housewives Of Dallas!
Before dinner, D'Andra calls Mama Dee to debrief her on all the happenings. I point this out only becuase Dee is listed as "ICE Mom" in D'Andra's phone, which is just the most hilarious unintentional irony ever! It actually stands for "In Case of Emergency," but the double meaning still applies.
The plan for the evening is to hit the red light district for the much ballyhooed Lady Boy and Ping Pong shows. ALLLLL the women are on board with this plan and LeeAnne even mentions at lunch that she really wants to see the famous Lady Boys.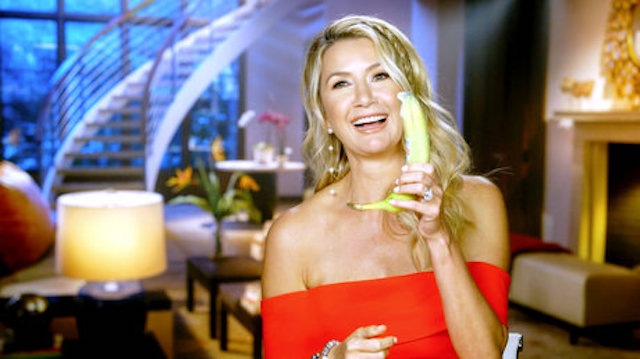 On Travis' recommendation Stephanie decides they should all go to dinner someplace silly and lighthearted called Condoms and Cabbages, a restaurant dedicated to promoting safe sex in Thailand's Red Light District. All the art and decor is done with condoms. Kary has never used a condom or seen one and gets an introduction to safe sex when the producers have her practice putting one on a banana. This will come in handy when she divorces Eduardo once her jewelry collection hits QVC. [side eye] Am I the only one who kind of enjoys Kary? I don't like her interactions with LeeAnne, but on her own she's pretty fun.
The scenery = A+, the food = worse than a street cart. Stephanie compares it to TGI Fridays. But the true trouble is that Kam and Kary have now become two halves of a friendship bracelet. LeeAnne no likey. First, Kam and Kary share dim sum and LeeAnne almost explodes like an overstuffed bun. Then in the red light district they forge a bond fleeing from sex shows . This sends LeeAnne in a downward spiral of racist epithets. She treats Kameron like a badly behaving child!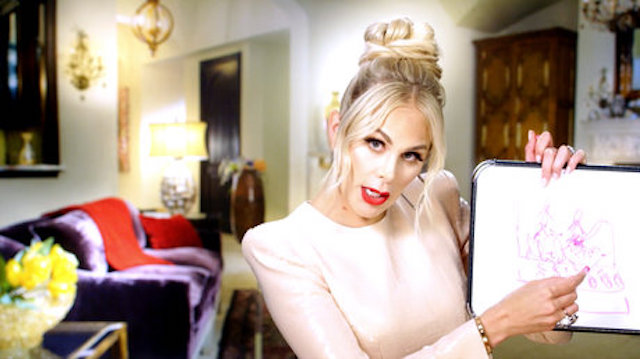 The lady boy shows are not drag theater, but literally live-action group sex porn performed by men wearing women's clothing. The women got a front row seat and courtesy of Kameron's trust dry erase board demonstrations (she really missed her calling in teaching, but I see why that art degree never amounted to anything), we understand the mechanics of what happened and why the women lasted all of 10 minutes before fleeing in horror. Outside they are all laughing hysterically and having a great time, except for LeeAnne who is glowering as if they forced her against her will to participate.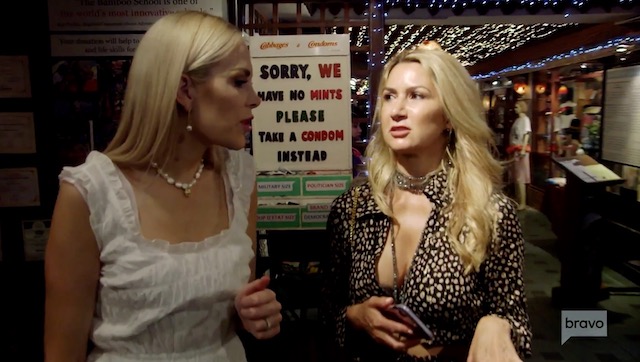 Kary, Stephanie and Brandi still want to check out the ping pong shows. They assume these will be funnier and more innocent. They promise to only stay 10 minutes. And literally 10 minutes is all they lasted! After being handed ping pong paddles and being instructed to swat vaginal fluid covered plastic balls away from their heads with them, Kary and Kameron were the first to run out, with the other women right on their heels. Everyone is literally doubled over with laughter and racing for the beer carts — except for LeeAnne again!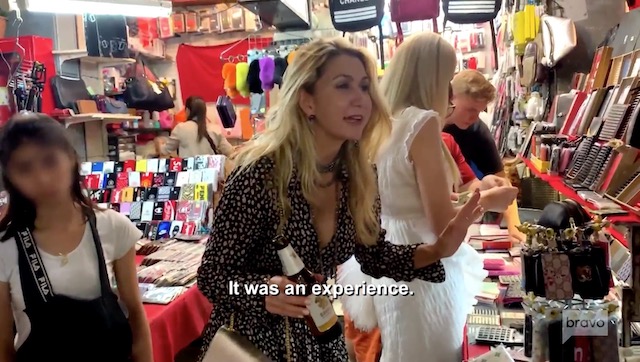 Somehow, for LeeAnne, this becomes into Kary kidnapping Kameron, forcing her to violate her innocence, and then while vowing to act as Kam's protector failing to be "all Mexican and strong" by being the first one to run out. I'd like to mention that all the women were having fun. As Kary said they tried it, it was an experience, and she doesn't regret it. But, to LeeAnne, Kary is the ping pong ball and she's the one holding the paddle!
LeeAnne also decides this is a super bad neighborhood. TThey all need to leave RIGHT NOW for their own safety. They had security with them, and everyone else seemed nonchalant about getting a taxi. What LeeAnne really wants to do is get Kameron alone so she can fill her head with tales of how Kary is trying to destroy their friendship. Like Kary is the foreign object stuck up the KamLee-Gina.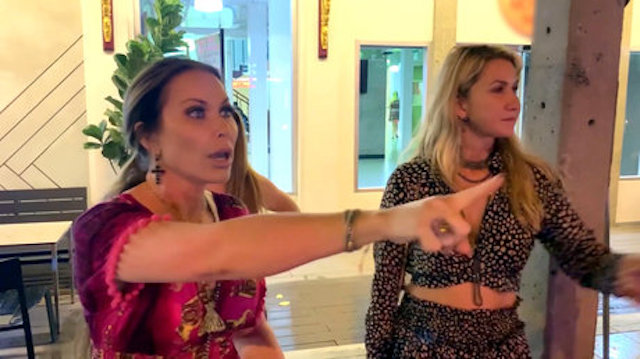 Kary is tired of LeeAnne always telling her what to do. She snaps at her that when Kary was in Thailand alone for a week with her daughter, they were actually in this neighborhood buying fake Gucci. I assume it was daylight, but the women had security with them (plus production) and no one seemed stressed except LeeAnne. Especially not Kameron, who just wants to pee. Which isn't allowed per tour guide and gang awareness officer LeeAnne!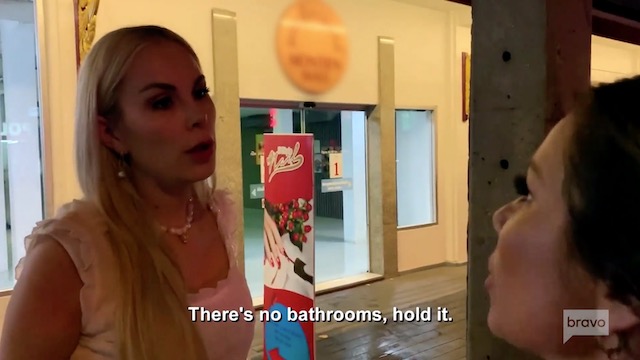 LeeAnne starts screaming at Kameron. She's not allowed to go shopping, or urinate, because she needs to get in a taxi NOW for her own protection. Um, Kameron is a 40-year-old grown woman who does NOT need LeeAnne, of all people, telling her what to do. Kameron already has Court and Jimmy for that, and they have money! Although I was impressed by Kameron's calm stoicism in ignoring LeeAnne, without making a big deal of it.
Ergo LeeAnne winds up in a taxi with Stephanie. She's ranting and raving about how Kary is a bad Mexican who doesn't know the first thing about surviving a bad childhood. Stephanie knows this is about LeeAnne feeling threatened that Kameron and Kary are bonding. LeeAnne totally sees Kameron's friendship with LeeAnne's Enemy No 1 as a personal betrayal. This is a battle for dominance over Kameron.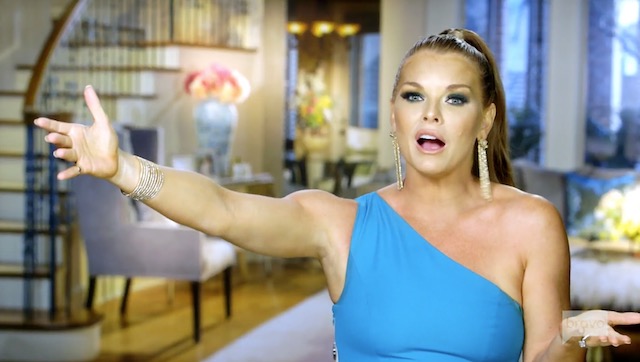 Kary and Brandi ride together and commiserate about how exhausting and toxic LeeAnne is. Brandi is annoyed that by 10 PM the night is over courtesy of LeeAnne's tantrum.
D'Andra and Kameron used the bathroom. They managed to make it back to the hotel 20 minutes after everyone else: safe and sound.  I don't even think there was a wrinkle on Kam's white dress. As soon as Kameron opened the hotel room door, LeeAnne started to go 'These Hands….' on her (LeeAnne doesn't go ham, she goes 'hands') and rails about how she was forced to see sex workers which was all Kary's fault.
We know this will all cycle back to LeeAnne's tragic childhood where she threw ping pong balls at gorillas and at aged 5 had to save a trapeze artist forced into prostitution to feed her ailing chihuahua from being extorted by her pimp, by smuggling her out of the carnival in a giant teddy bear… BLAH, BLAH, BLAH. Let's just hope it's what Kameron needs to wakeup!
TELL US – WAS KARY MANIPULATING KAMERON? WAS LEEANNE OVER-REACTING OR BEING A GOOD FRIEND?
[Photo Credits: Bravo]