Who is ready for Teddi Mellencamp's baby shower? NOBODY. Nobody asked for this. Somehow, she is still a Housewife, and we are being forced to endure this. The only fun thing coming out of this will be Dorit Kemsley vs Brandi Glanville. For the most part, all of the women appear to believe Brandi. Dorit isn't about that. Let's find out what happens when Brandi is confronted by a Denise Richards defender for the first time.
Last week's episode of The Real Housewives of Beverly Hills saw the end of the Rome trip. What a trip from hell it turned out to be for Denise. Her friendship with Lisa Rinna will likely never be the same again. That's what will happen when you don't have your friend's back. However, it's hard to have someone's back that is clearly lying through their teeth.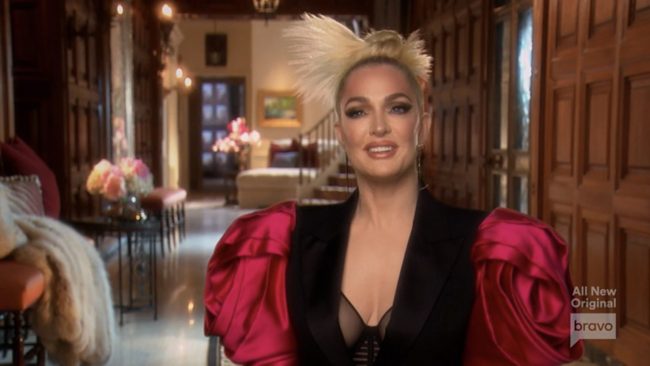 Erika Jayne is heading off to Broadway! Major congrats to her on the huge accomplishment. There is a ton of hard work and dedication that goes into a show like that. It's not for everyone, so it's cool that she's able to live out her dream like that.
The preview video for Erika's performance was so fun! Erika is somehow a natural fit for the role of Roxie Hart. A much better fit as Roxie than as a real housewife. Her time has to be up after this season. She's offered us absolutely nothing this season but confessional gangster moments.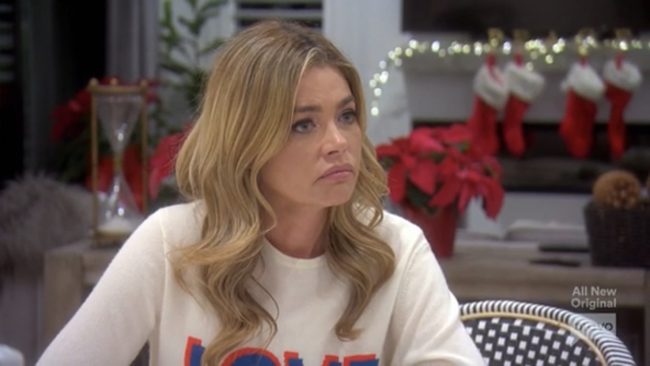 Denise stops by Garcelle Beauvais' house, and I'm in love with Garcelle's Christmas decor. This has been longing for the holidays so much.
Denise thanks Garcelle for being a real friend and having her back in Rome. There's definitely a big difference between that and how Rinna behaved with her. There should be a certain etiquette when you've had a friend for that long. If there was, Rinna betrayed it in the worst possible way in Rome. At least from Denise's perspective.
Of course, Aaron Phypers isn't happy about what went down in Rome. He has really gotten dragged by the ladies all season. I would say a lot of that is his own doing though. He stuck his nose into the women's business, and this is what happens. He was aggressive and hostile toward them on multiple occasions.
Denise and Garcelle talk about Rinna, and Garcelle finds Rinna to be a lot harsher than who she used to know. She thinks she is way too aggressive. I actually don't think Rinna behaved badly in the confrontation portion of Denise. Denise constantly dodges and evades subjects, and that must get exhausting as her friend.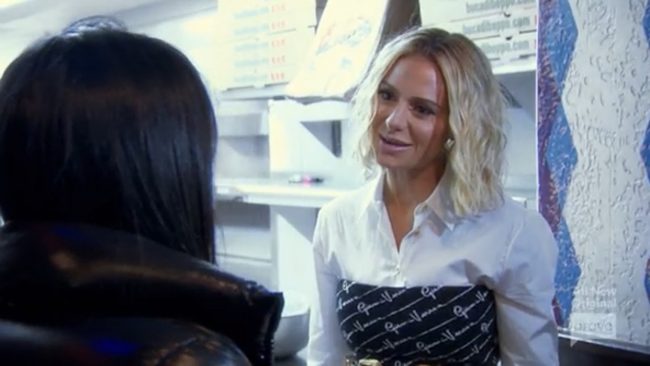 Once again, Dorit has saved the day for Kyle Richards. She's basically done everything for Teddi's baby shower. Dorit has been the white knight for Kyle all season. She doesn't get the credit she deserves from her either. Instead, Kyle has been vile and nasty to her on more than one occasion.
Dorit's so excited about her Capri room design, and I hope it's everything she wanted and more. She is beaming with joy about it, so it better not be ugly. That'd be the ultimate disappointment. Normally she designs swimwear. This is a huge detour from her niche. I'm a little nervous for her.
This may be an unpopular opinion, but I LOVE DORIT'S CAPRI ROOM. Obviously, I was expecting a little more from it. Overall though, I'm low key impressed.
There's a lot of uncertainty about whether or not Denise will be at the shower. It's probably for the best if she doesn't show because Kim Richards and Brandi will both be there. Kyle is positive Denise won't show. That's a safe bet. There's slim to no chance that Denise ever interacts with Brandi again. She wants no part of OWNING IT.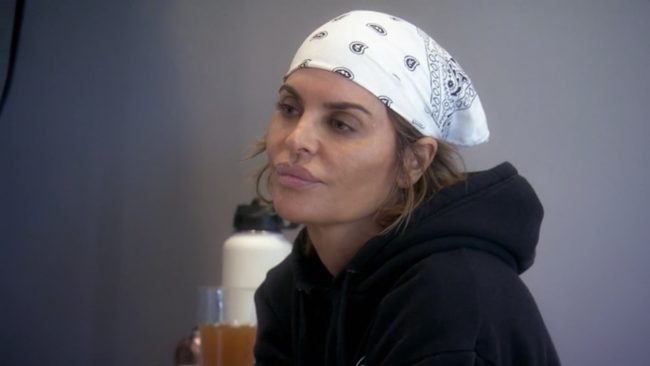 Amelia Gray is moving to her new apartment soon! I guess she found a place that met her million demands. Allegedly she's paying for it herself, so it's up to her what she wants, but damn.
Rinna asks about Amelia's therapist, and things are FINALLY going well for her. After so much anxiety and a highly publicized eating disorder, things are back on track. THANK GOODNESS.
The topic of Garcelle bringing up Rinna's Instagram videos comes up, and I'm anxiously awaiting Amelia's opinion. Amelia thinks Garcelle needs to f**k off. At one point, Amelia did blame Rinna, but she realizes it's not fair to blame her. I truly don't think it's fair to blame Rinna for the eating disorder.
Everyone is quick to place the blame on her though. What I actually think is every LVP stan in the world has a grudge against Erika, Teddi, Rinna, and Kyle after last year. Sorry….well not really.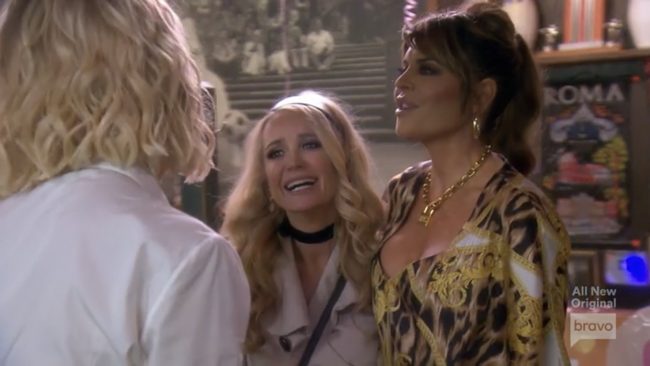 RINNA BRINGING A BUNNY TO THE BABY SHOWER AND LAUGHING WITH KIM ABOUT IT IS ICONIC POP CULTURE. The idea of Rinna and Kim possibly becoming in-laws is actually everything. The fact that they're even speaking at all after all of their history is so huge. That's something I would have never expected five years ago.
After patching things up in Rome, Rinna is looking forward to seeing Denise again. This could be a perfect chance to further repair their friendship. However, that won't be happening because Denise won't be showing. Shocker. What a fu**ing coward. Just face the issues like you signed up to do. Do you even know what show you're on?
Is it bad that I think Teddi having her baby shower at Buca di Bepo is what she deserves? It's the most irrelevant place for the most irrelevant cast member. Just saying!
Nobody believes Denise is really sick right? That's the reason she's using to get out of this shower. I'd have more respect for her if she just said she didn't want to go because she hates Teddi. That's something I could actually understand. Eye roll.
Teddi is ecstatic upon arriving to her baby shower. What a journey Dorit and Teddi have gone on to get to this moment. They loathed each other for so long. Teddi couldn't even be grateful though. She's irritated that Dorit is making the shower about her. She did plan the entire thing though. Say thank you and sit down.
Kyle doesn't buy the sick excuse either. Duh. It's probably for the best though, at the end of the day. Denise being there would just create a cloud of awkwardness over the event. That's not good for the baby!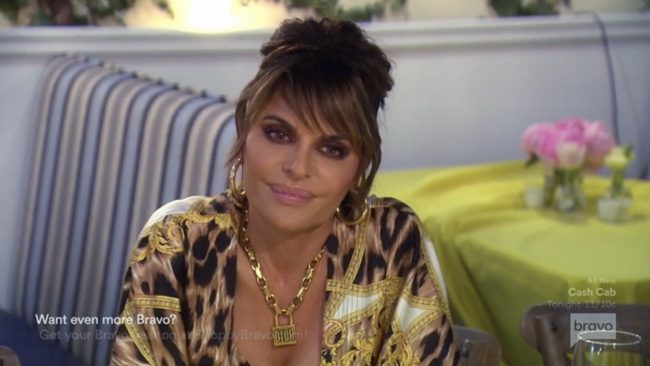 Erika is wearing what appears to be some sort of octopus on her head. This wig is a choice. Please burn it and NEVER wear it ever again. I'm begging.
Rinna does a toast celebrating Erika's role as Roxie in Chicago, and this somehow triggers Garcelle. She feels like every time someone brought up Erika as Roxie, Rinna stole her spotlight. Is that really what was happening? It looked more like two friends bonding over a shared role and interest. Rinna seems genuinely excited for Erika. Garcelle is great and a breath of fresh air, but she's also the Queen of The Reach.
This random issue with Rinna seems more about Denise than Erika. It feels very retaliatory. This is just a shady way to get back at Rinna. I don't really have a problem with it either. It's super messy, and I've been waiting for Garcelle to do this.
Sutton Stracke and Garcelle leave the shower early, but Garcelle says sorry to Rinna first. I'm happy to see that. The reach was a lot with that one. It's for the best they left because Brandi is on her way. HELL YES.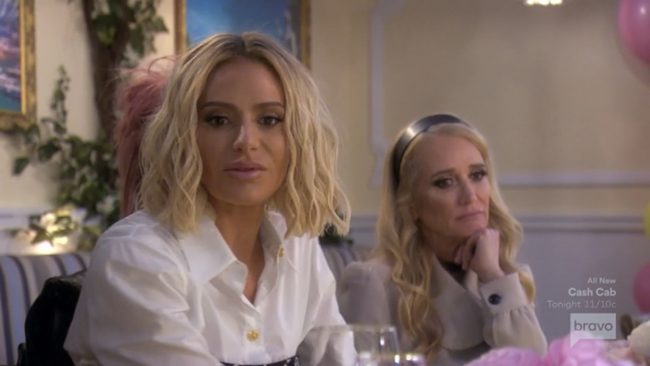 Dorit thinks it's easy for Kyle to believe Denise to believe Brandi because of her issues with Denise. It's time to address the elephant in the room about the Brandi and Denise stuff. I may be Team Brandi, but I respect Dorit for grilling her. She's doing her due diligence about this drama.
Brandi feels awkward because Rinna won't even look her in the eye. Also, Denise isn't around. This is a major conversation to have without her present. It's even weirder because Brandi doesn't even know most of the women at the table. Teddi's everyday friends leave (very rude to kick them out), and we're about to get some tea. I feel bad for the friends, but I really want to hear this conversation.
They all fill Brandi in that Denise claims she's lying about the incident. This is going to trigger Brandi so hard. Someone controversial like Brandi has been missing from this city for a long time. We need her back ASAP.
Brandi really hates cheaters, and I think that's the root of this entire issue. She was made into being a cheater by duplicitous means, and she's pissed. I don't blame her. That's a fu**ed up thing to do.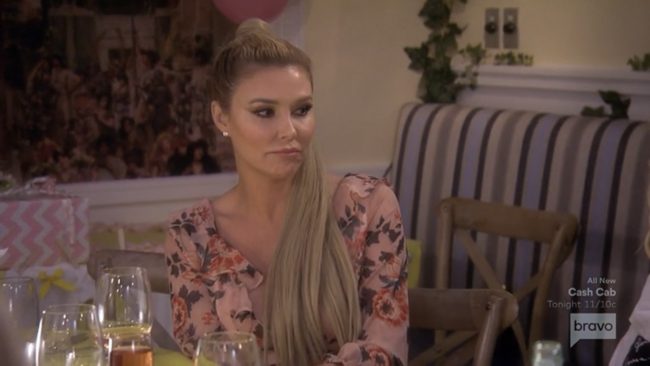 It makes sense that Denise would call Erika a cold bitch after the Shoe Dazzle event. Erika wouldn't even let her speak that night. She earned that title.
Brandi hands over her phone to the group, and it showed very clearly that they had a lot of communication. How can anyone believe Denise at this point? Brandi states that Denise is actually more manipulative than LVP. I wouldn't go that far. I don't think LVP ever yelled "Bravo, Bravo, fu**ing Bravo".
Sending Erika off to Broadway would be a great send-off for this show. It's been a semi-decent ride, and you can go now. Thank you for your service. Please don't come back.
Rinna comes to Kyle's and says she has conflicting feelings about the Brandi/Denise drama. She feels lied to. DUHHHHH. Denise has been lying through her teeth this entire time. The way Denise has handled this entire season has been a gas lighter's dream come true.
Check out the Reality Tea Merchandise Store to buy clothes, accessories, mugs, and more!
TELL US – DID BRANDI'S TEXTS PROVE ANYTHING? IS RINNA TRYING TO STEAL ERIKA'S SPOTLIGHT? WHAT DID YOU THINK OF DORIT'S CAPRI ROOM? ARE YOU ENJOYING THIS SEASON OF THE REAL HOUSEWIVES OF BEVERLY HILLS?
[Photo Credit: Bravo]