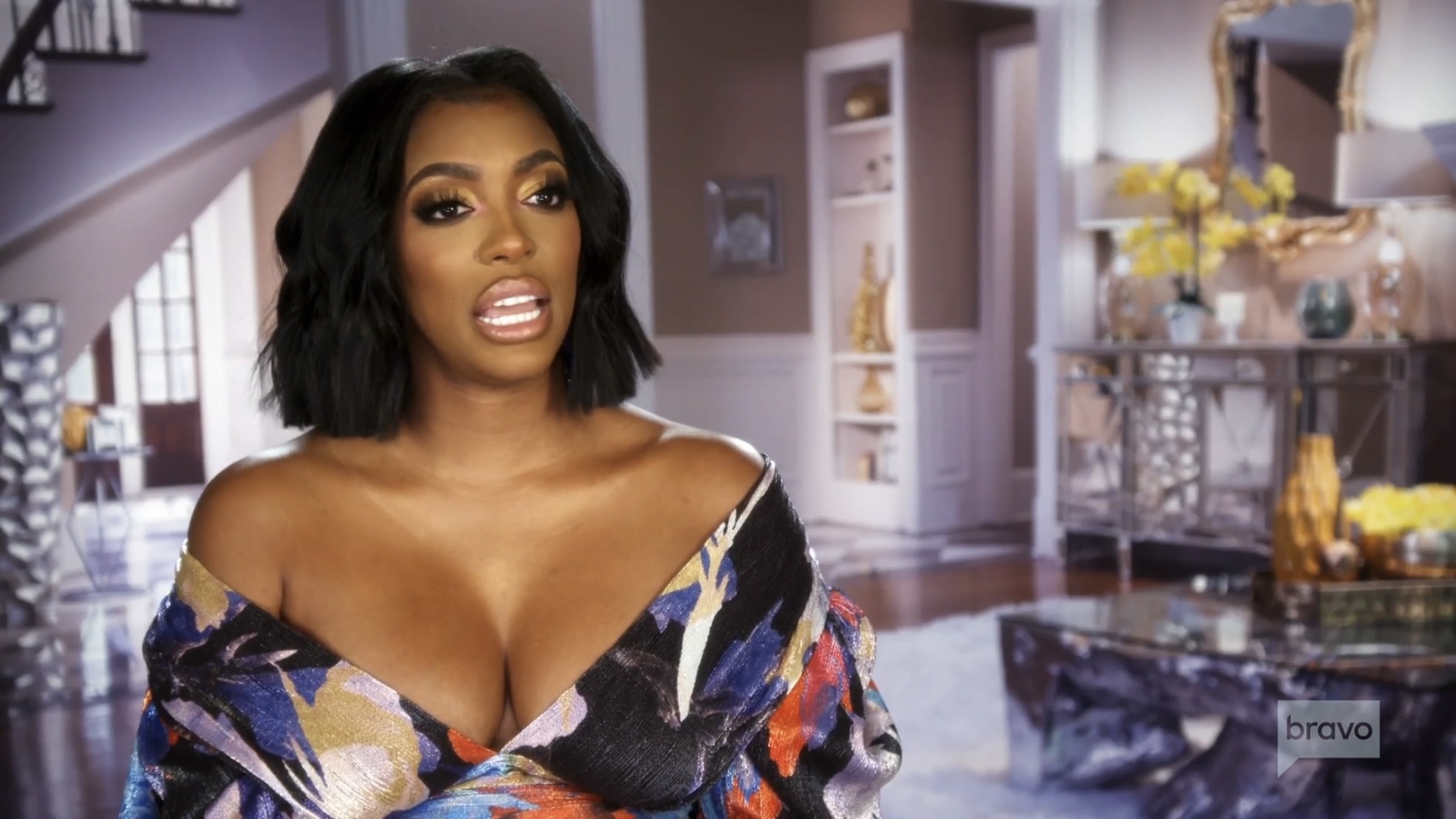 LaToya Ali may be a newbie this season on Real Housewives of Atlanta, but she is serving up the drama. LaToya has frequently clashed with fellow freshman cast member, Drew Sidora. Fun fact: Kenya Moore cannot stand Drew, either. LaToya has said that Drew's husband, Ralph Pittman, doesn't care about her.
During Cynthia Bailey's rowdy bachelorette party, stripper Bolo came to perform for the ladies. LaToya ended up making out with RHOA co-star Porsha Williams. She also called out Drew for her behavior with Bolo.
There is wild chemistry between Kenya and LaToya. Kenya later told LaToya that she had a crush on her. Kenya isn't a fan of LaToya hanging with Porsha.
LaToya, dressed as a dead (and very drunk) mermaid, was in rare form at Falynn Guobadia's Halloween bash. Kenya learned that LaToya told Drew, Porsha, Marlo Hampton, and Shamea Morton details about Kenya's divorce from Marc Daly. Kenya was furious and doesn't trust LaToya. Duh. LaToya explained that her new-found friendship with Porsha puts her in a tough position.
LaToya quizzed Porsha about the issues between Porsha and Kenya. Porsha was shocked that LaToya revealed Kenya's personal information without a second thought. Porsha just wasn't feeling it. During the most recent RHOA episode, the peaches hit New Orleans for a girls' trip. LaToya wasn't drinking, yet she continued to spar with her co-stars. LaToya is thirsty.
Porsha, LaToya, and Kandi Burruss discussed the state of Porsha and LaToya's friendship on The Real Housewives of Atlanta After Show. Porsha was confused by LaToya's behavior at the Halloween party. Same here. "I don't know. I just could not get Toya," Porsha said. "Like I'm looking her in her eyes, and I'm like 'Are you okay?'"
Porsha continued, "She just kept saying, 'It's because of you. You're in between our friendship…' and I'm like 'Are you okay? Like do you even hear what you're saying?'" Porsha remarked. "Like it wasn't really making sense to me."
It sounds like Porsha isn't going to be LaToya's bestie. "At that moment is when I realized I gotta give up on trying to have a genuine friendship with her because it's only going to be surface," Porsha shared. "The girl is…is not there when it comes to friendship. She just doesn't get it."
According to LaToya, her friendship with Kenya is causing  her problems with her RHOA cast members. "Porsha and I are cool. It's awkward because I feel like I have to have Kenya's back. If she has a problem with one of the girls, no matter my relationship with the girl, and it's kind of unfair to me," LaToya stated.
"Like I just don't want to be looked at as, 'Oh, Kenya's friend.' I want to be an individual, and I want to be able to make my own decisions, which I've been trying," the YouTube star explained. "But I just feel like, you know, Kenya and I are close, and I don't want to hurt her. So, it's kind of difficult for me." LaToya needs to choose between Kenya and Porsha.
"So, I just feel like Kenya and Porsha need to hash out their differences because enough is enough," LaToya said. "It's been a long time, and it's like they just need to talk about like what the heck is going on." Kandi had the same reaction in the video clip that I did. She laughed. Good luck with that, LaToya.
TELL US- IS LATOYA ALIENATING EVERYONE? DO YOU WANT HER TO COME BACK NEXT SEASON?
[Photo Credit: Bravo]