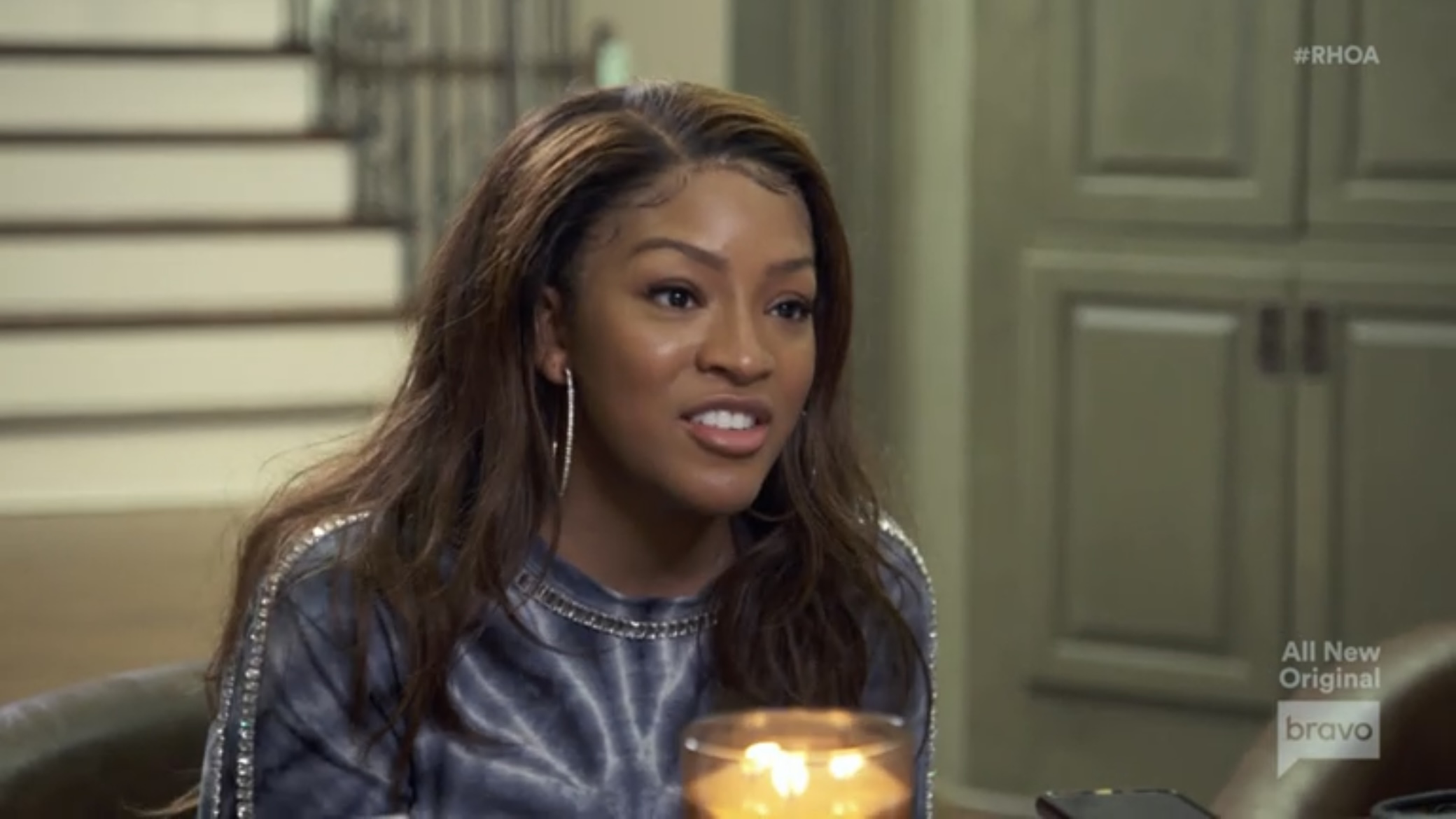 During the most recent episode of Real Housewives of Atlanta, newbie Falynn Guobadia threw the most boring Halloween party ever. Where was the music? Or the food? Most of the ladies came to play with their costumes. RHOA cast member LaToya Ali, dressed as a dead mermaid, came in hot.
She dissed Falynn's husband's age and demanded that "staff" get her a drink. LaToya asked Kenya Moore, who made the unfortunate choice to wear a native American costume, why she hasn't been returning her calls.
Kenya wasn't pleased that LaToya told her RHOA co-stars Porsha Williams, Drew Sidora, Shamea Morton, and Marlo Hampton details about Kenya's divorce from husband from hell Marc Daly. LaToya responded that she was defending Kenya. But LaToya also told her fellow "nieces" that she believes that Kenya leaked the dirty details about Cynthia Bailey's bachelorette party to the press.
Kenya spoke to LaToya after they returned from the infamous South Carolina trip. Kenya was angry that LaToya criticized her for investigating who did what with stripper Bolo. Kenya was also pissed that LaToya didn't have her back against Porsha.
And Kenya admitted that she is crushing on LaToya. These two have electric chemistry. But it is clear that LaToya is trying to have her Kenya, and Porsha, too. She doesn't want to pick a side.
Recently, Drew appeared on Watch What Happens Live, and she spilled her own theory about what is going on with Kenya and LaToya. Host Andy Cohen asked, "Why is Kenya taking such an issue with LaToya and Porsha's new friendship do you think?"
Drew responded, "I don't know. It's…it's interesting to me. I mean, I was watching the episode, and I was for the first time picking up like Kenya and LaToya are definitely in a relationship." Does Drew have some receipts, because I would like to see them.
"Like before I felt the vibe. But this episode, I was like, No, they've done some stuff," Drew shared. "Like they're in a relationship. When she said, 'Let me get some. Let me hit it,' I was like, 'Girl!' Drew commented.
The actress continued, "Okay– I missed something along the way, but Toya is trying to be friendly with Porsha because Porsha is a cool girl. Like that's my girl–who doesn't want to be friends with Porsha?" Drew remarked.
"So, she is in a very compromising position. And I feel like she's been in a compromising position with Kenya." Drew added. "So, hey–there you have it."
Of course, Drew has issues with Kenya and LaToya. The duo dragged Drew for her wig choice. Drew, who used to look up to Kenya, was "disappointed" when she met her. And LaToya claimed that Drew didn't care about her husband, Ralph Pittman, because of how she behaved with Bolo.
It's possible that Drew is giving her honest assessment of Kenya and LaToya's relationship, which is none of Drew's business. Or Drew could be trying to clap back at her co-stars for all their nasty comments about her and her marriage.
TELL US- DO YOU THINK THAT LATOYA AND KENYA ARE IN A RELATIONSHIP? WAS IT WRONG FOR DREW TO MAKE THAT CLAIM? DO YOU WANT DREW AND LATOYA TO RETURN NEXT SEASON?
[Photo Credit: Bravo]