The time's finally come for our favorite SURvers to reunite for an explosive Vanderpump Rules reunion. This one's going to be quite different with three cast members appearing in a virtual capacity. Tom Schwartz, Katie Maloney, & Lala Kent will all be appearing on video while the rest duke it out in person. This should make for a fascinating display because there's A LOT to speak on.
Trouble In Paradise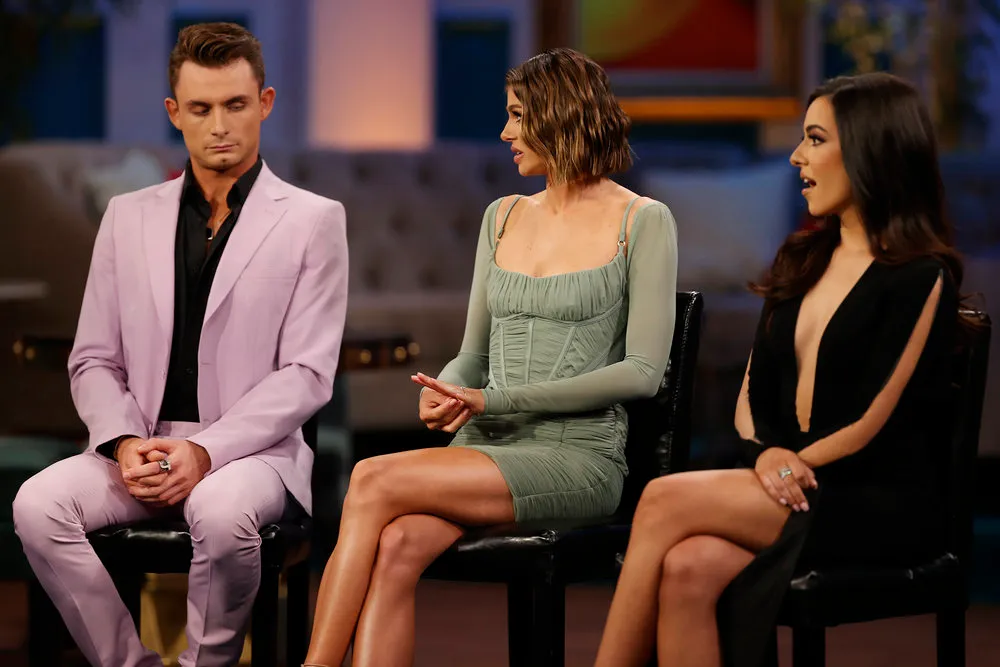 All I'm waiting for is James Kennedy & Raquel Leviss to reveal their breakup. It's going to be a reunion moment for the ages. I need my jaw to drop. Give us this soap opera drama, please. You can tell something is off with James & Raquel from the start of the reunion. There's an awkward vibe, and their faces are giving off the impression that something's wrong.
Andy Cohen wastes no time and asks James & Raquel what's happened. Everyone's confused about what's going on and are SHOOK when Raquel announces the engagement is off. Raquel's heart isn't in the relationship. She didn't want to give up on James because of all the progress he's made, but in the end, she knew she couldn't stay.
Raquel's been having nightmares about their wedding day, and it's OVER. James admits she's not wrong about anything she's saying. Nobody in the cast had any idea this was going down. This is one of the most shocking moments in reunion history. Three of the cast members aren't even there yet, and all hell's broken this. I'm sort of stunned. I knew it was coming, but DAMN I didn't expect it to kick things off.
Lisa Vanderpump tries to get a grasp on what went down, but James doesn't want any prodding. He says they've worked on the relationship, but after he quit drinking, it didn't fix things. That wasn't the only thing causing their troubles. A few months back was the first time they realized they weren't going to last.
Andy asks James if he thinks Raquel's his soulmate, and he says no. This is so uncomfortable to watch because James has perhaps never been more vulnerable. It's sad to watch because there wasn't a major moment that caused them to call it quits. In the end, it just wasn't a good fit.
Raquel tells everyone they haven't been having sex for a while. Wait for guys. JAMES & RAQUEL HAVEN'T HAD SEX SINCE TWO SUMMERS AGO.  How are they going to get engaged and go through all of that but not be intimate anymore? This is a bombshell revelation that's somewhat surprising for Raquel to casually throw out there. James is visibly embarrassed, and everyone's floored. Everyone's jaw is glued to the floor right now.
Both James & Raquel find it embarrassing to be dropping this on everyone after a season about their love. Episode after the episode was about the two of them. Whether it was their engagement or their engagement party, the season was heavy on their relationship. To think they were going to sit there and not be honest at first is almost unfathomable.
The Ring Didn't Mean A Thing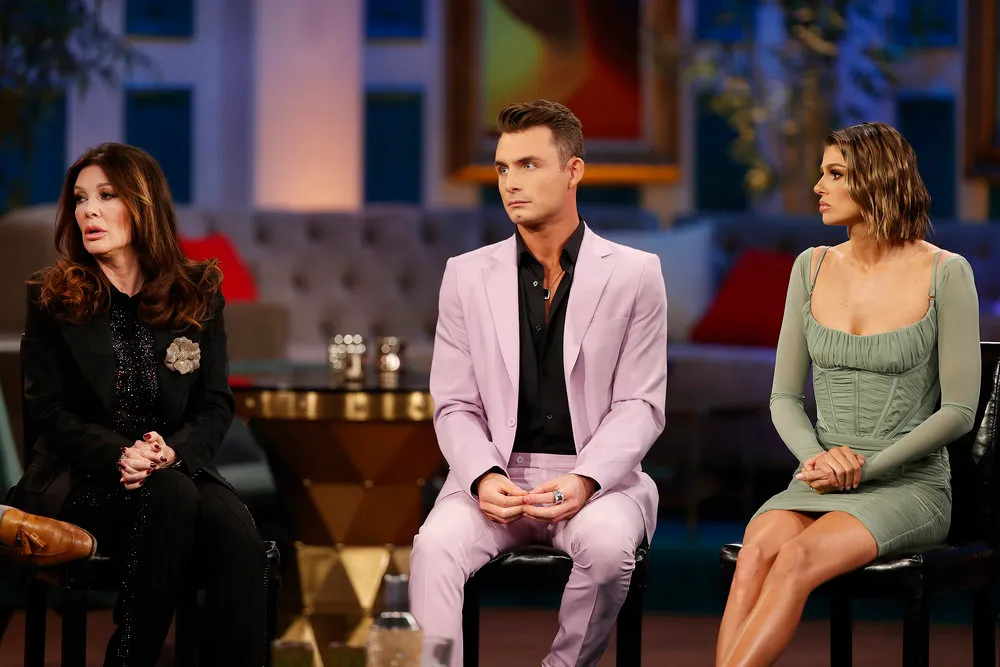 Andy switches gears and asks the group about Jax Taylor & Brittany Cartwright. Oh god. Why're we even bringing up that disastrous pair? They aren't on the show anymore, so why are we giving them the spotlight? Scheana Marie's still in touch with them, but Tom Sandoval's not in contact with Jax.
James admits that he occasionally used cocaine when he was drinking. All I can think about is whether or not the rumors are true about the pasta. His admission almost opens the door to the idea that the rumors surrounding the "pasta" might've been valid.
In the most cringeworthy moment of all time, Raquel gives her ring back to James in front of everyone. That's so fucking uncomfortable to watch. Is this even real life? What am I watching? An entire reunion was probably set to revolve around their love story, and now everything is in shambles.
Brock Davies and his annoying voice chime in to take the moment away from James & Raquel. He and James go at it which leads to a low blow from James about Brock leaving his family. I don't want to say Brock opened the door for that to go down, but I mean…. he did.
After the spat James turns to Raquel to tell her moments like that are why he didn't want to do it out there. I have to say it's quite cold for Raquel to return the ring at the reunion. She didn't have to do James like that. It was icy as hell.
James calls Brock a user and accuses him of never being a good friend. I know James has his issues, but James is dead on with his assessment of Brock. That's the vibe I got from Brock since the first time he appeared on the screen. However, James' way of getting his point across is ass. When Andy tries to change topics, James storms off and races to the restroom. Clearly, he's having no part in this reunion.
Backstage, James rants to Sandoval about the reality of the breakup. He had no real say in the demise of their relationship. This man's unraveling before our eyes, but ultimately he returns to the stage with the rest of the cast. Shoutout to Sandoval for listening to James rant and getting him to return.
Good Luck Charli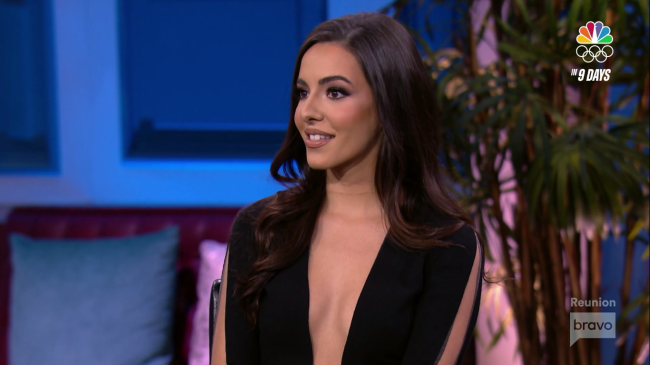 Amidst the James drama, Andy moves on to the newest full-time cast member Charli Burnett. She describes her issues with food and why it's always been a triggering subject for her. She doesn't go into full detail, but she alludes to bad things happening to her when she was a child. If she made the wrong decision with food, there were consequences. That's hard to hear as someone who's about to be a father to a little girl.
Andy asks Charli about the situation at the pool party when she was groped by Brock's friend. At least Scheana quickly owns up to mishandling that. Scheana's a shitty friend though which has been on full display with her and Charli. The way she attacks Charli over nothing is a bit annoying.
Charli thinks Scheana overreacted to their social media back and forth over her broken TV. Charli demands Scheana take accountability for the first time in her life. Damn, she's reading Scheana for filth here. Scheana does overreact to everything. I always want to like her, but she's forever the most exhausting to watch.
Baby Talk
Katie, Schwartz, & Lala join the group and are immediately filled in about James & Raquel's breakup. Lala feels sad for them, but she admires both for going about this the right way. This is a hell of a lot different than the way her engagement came to an end.
Lala says she didn't have a partner to help her with Ocean which led to her seeking outside help. She's grateful to have women in her corner to help her take care of the baby with Randall Emmett MIA. I couldn't even begin to imagine what it must be like to theoretically go about it alone. As a soon-to-be father, I would be far more stressed without my wife to help me. However, at least Lala has the ability to have this much help.
My heart is shattered into a million pieces listening to Scheana thinking she gave birth to a stillborn. I feel like normally that wouldn't hit me as hard, but I'm going to be a father in the next few weeks. To think something like what happened to Scheana could happen to me is almost too much to process. I'm so grateful Scheana & Summer are both doing well.
Katie defends her decision to have an abortion because of the state of her relationship at the time with Schwartz. Things are not good for the two, so she made the decision she felt right at the time. Katie filled her family in before the episode aired, so they wouldn't be blindsided.
Schwartz & Sandy's
I hate hearing Schwartz talk business. He's a great guy, but he sounds like a bumbling idiot half of the time when trying to act professionally. It's not a good look. He needs to start taking things a bit more seriously if he wants them to be successful.
Jax was the one to spill the beans about Sandoval & Schwartz opening their own bar. It was his parting gift. I'm sure he wanted to stir up as much shit as possible on his way out. Unfortunately for him, there wasn't as much animosity from Lisa toward them as he might've expected.
Sandoval's reasoning behind not wanting Kate involved actually makes sense. He didn't want significant others involved in the major gamble of something like this. That's a fair point. If things go south, it could get messier than needed. However, Sandoval saying he brings money into their household was so fucking rude. That was gross to watch. Sandoval's not God. Stop.
Lisa finds it emasculating for Sandoval to say the things he was about Schwartz. It really is. Katie's not going to sit there and listen to this anymore. She calls out Sandoval for "being asleep" lately when it comes to the new bar. Apparently, he's not showing up to put in the work. The next part of the reunion is going to be EPIC.
TELL US – ARE YOU SURPRISED JAMES & RAQUEL CALLED OFF THE ENGAGEMENT? TEAM KATIE OR TEAM SANDOVAL? IS SCHEANA A GOOD FRIEND?
[Photo Credit: Bravo]