Real Housewives Of Orange County is all about mommy issues this season, isn't it? From the women having them with their own mothers (Kelly Dodd and Braunwyn Windham-Burke) to having them with their own children (Tamra Judge and Shannon Beador), to being questionable mothers themselves (almost everyone).
Last night Shannon and Braunwyn tried to navigate sending children to college, Tamra sent Ryan Vieth to counseling, and all that was like blah, blah, blah… yada, yada, yada because the truly horrific, scarring, awfulness was the true exposure of just what a terrible person Tamra is. So much so that I actually feel bad for Racist Ryan.
Tamra has just returned from this truly life-altering and earth-shattering vacation in Scottsdale, AZ where she learned a pivotal message about being the leader of the mean girls: you can never turn your back – not even for a day. Not even for a hike with your husband. In Tamra's absence, she's gotten a slew of angry text messages from Kelly, and Shannon is basically giving her the silent treatment.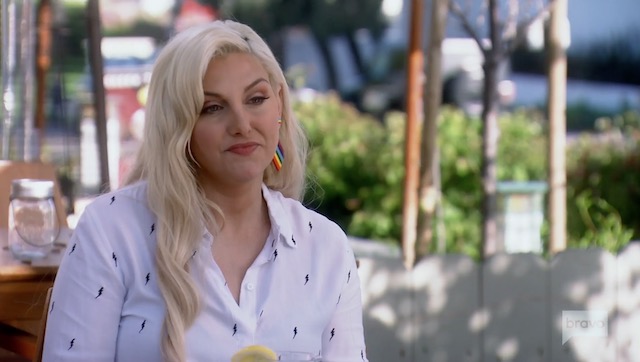 Tamra meets Gina Kirschenheiter for coffee like Gina is a person from whom you could ever get answers. But, at least Gina is desperate enough to do Tamra's bidding. Tamra decides that obviously, Shannon is responsible for turning all her friends against her, because Shannon is … What? A totally evil person desperate for attention and relevance and a paycheck from Real Housewives Of Orange County? A known liar and manipulator with a penchant for scheming to destroy people's lives? Or perhaps Shannon found out all the awful things Tamra has been saying about her, her supposed best friend.
Tamra has arrived at this conclusion based on no evidence other than the fact that both Shannon and Kelly are treating her differently. She clearly doesn't know that Braunwyn and Emily Simpson were also there for this conversation and that Gina was not. Tamra has ruined everyone's life, yet she thinks Shannon – her very good friend – is the only one who has just cause to destroy her? Also Tamra doth protest too much! She knows she's talked so much shit about Shannon and that if Shannon finds out she might turn on her. Yet she never questions that it could be Kelly who's reporting on her to Shannon!
Tamra then attempts to squeeze a tear out because she's also dealing with not being allowed to visit Sidney in college with Simon and Sophia, and Shannon is trying to kick her when she's down. Every time Tamra sheds a tear an angel loses a wing.
Kelly has Dr. Brian and Emily over for happy hour. Kelly loves that Emily always gives such good advice. And as a reward, she's allowing her to meet Dr. Brian. Hopefully, Emily won't call him a little twerp and a dork. Although he is! Kelly's relationships are so transactional – even the one she has with Jolie.
Dr. Brian has never been married and never even proposed. Emily finds this strange, so she puts him on the spot about why. Then they all talk about how horrible Tamra is. Kelly "Freudian slips" that she sent a threatening text message. And then, as if her fortune teller turban can help predict the future, foresees that Tamra is going to try and blame everything on Shannon.
Braunwyn and Sean take their eldest daughter Bella to visit CSU Fullerton where she'll be going to college. Braunwyn is also dressed more like a college kid than Bella.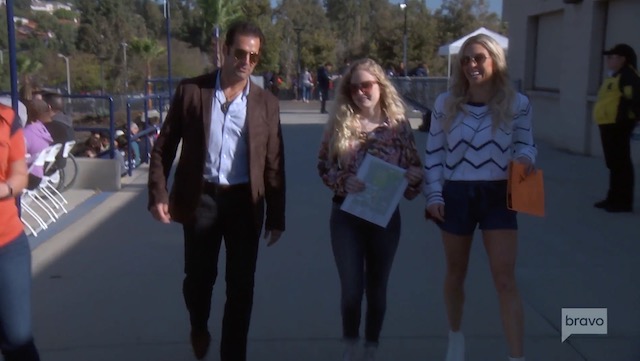 Braunwyn's college experience included hobbling around on crutches and heels with a broken leg, and moving in with Sean at 18 about 6 minutes into freshman year. Bella is actually older than Braunwyn was when she settled down with Sean. I guess since Braunwyn was going to bars at aged 4 she got her partying out of the way early! Braunwyn regrets settling down so soon. She hopes Bella won't be so desperate to escape her attention-seeking mother that she'll get hitched to the first man she sees.
Shannon does not share those concerns. She fully embraces Sophie going to college to obtain her "Mrs. Degree" and meeting a nice southern boy to marry, ala Kameron Westcott. Whatever happens, Sophie should not wait until she's in her 30's to attend an over the hill Def Leopard Concert and marry someone she meets there.
To ensure that Sophie goes to the right man-catching school – somewhere southern and wealthy – Shannon hires a college coach. This college coach was basically a college kid herself and this is one step away from getting fired from your Hallmark series and having to put on a community service jumpsuit made of toxic polyester fabrics dyed with harsh chemical combines that MAKE EVERYONE LOOK LIKE THEY JUST ATE 16 QVC BEAN BURGERS stuffed with tortilla chips. And this is all David's fault because he was too busy posting naked pictures of himself cavorting around Italy in his socks to help Sophie navigate the college entrance process. And now Sophie is unmarriable and will have to get a careeeeeeeeeer.
Apparently, applying to college is not so different from becoming an Instagram influencer so Olivia Jade didn't even need Lori's involvement. Sophie is doing one better, however, by writing a book about her parents divorce. It's titled "Le Affair:  How Crystals and Fried Corn Ruined My Childhood."
Kelly is sending Jolie to London to expose her to how the other half lives, as if London is still stuck in a Charles Dickens era (maybe Kelly thinks Downton Abbey is a reality show?). She then yells at Jolie for not doing her makeup professionally, followed by asking her pre-teen daughter for advice on how to handle her 50-something friends. Kelly needs to stop treating Jolie like her servant/ugly stepsister/ parent or accept that Jolie is going to be Braunwyn 2.0.
Gina's parents are visiting so they all take the kids to the park and ignore them while they talk about Matt. Gina wants to divorce Matt to potentially remarry him, 'cause then it's like their old marriage problems never happened. Which kind of makes sense if your brain is comprised of two Chicklets rubbing together until they make gum. Gina's parents are not convinced that giving Matt another chance is the right choice. They point out that Gina's much happier dating Dr. Hottie. But, now Gina's new problem is that Matt is jealous of her moving on. Gina's worried about how he'll handle it. A: Not well, bitch!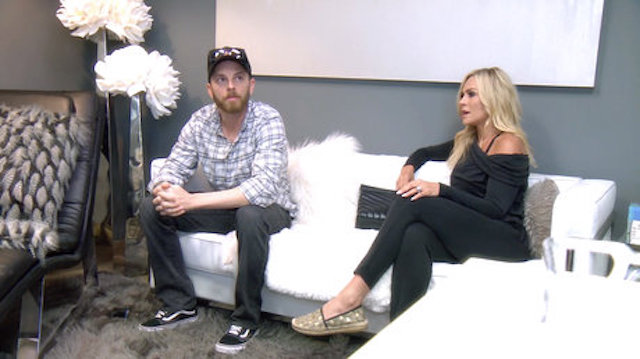 Tamra meets Ryan at counseling where he cries about how his siblings got more opportunities than he did, and now he feels worthless. Tamra continually cuts Ryan and the therapist off under the guise of trying to be supportive, but she really just wants to thwart Ryan from telling the truth about what kind of mother she was. Also, Ryan and Tamra both suffer from a lack of understanding that cameras record things – even your bad behavior.
Later Tamra confides to Eddie that she's shocked  Ryan has such low self-esteem and is such a mess. Eddie couldn't care less, which is his prevailing attitude about Tamra. I completely understand this sentiment, yet I did not marry her in a televised wedding, the prequel of which was a bathtub sex scene.
"When you're struggling with your childhood issues as a man, then you're not a man," Eddie shrugs. "So just get over it, move on, grow up, take care of your responsibilities. That's life." I mean, where would Bravo be without adults who still can't get over their childhood issues, but I largely agree with him. Tamra wasn't a perfect mother, but it hasn't stopped Sidney from achieving, and truly Ryan has had more than most kids in terms of opportunity.
We end with friendship wars, Vol 2. Once again Gina isn't included in any of these this, which – HA.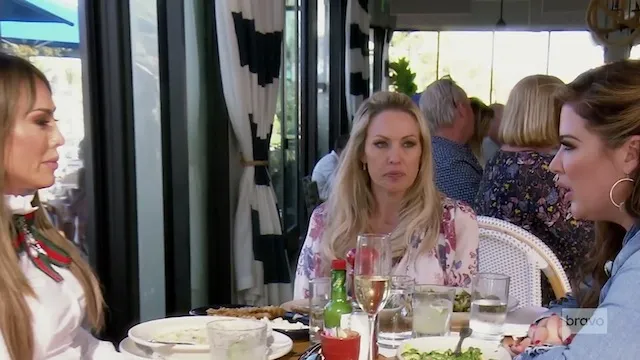 Kelly, Brauwnyn, and Emily meet for lunch. They have a lovely and inspiring chat about how Kelly can repair her relationship with her mother. Emily encourages Kelly to reach out because she will regret it if she doesn't try. Emily finally tried that with her mother. Now, their relationship is stronger than ever. Kelly is grateful for the advice. These three have a nice friendship that I know will be ruined by Tamra at the earliest possible moment.
Speaking of, Brauwnyn is having dinner with Tamra next week, and Emily is meeting Tamra and Vicki Gunvalson. Emily is fully prepared to shut-down any Kelly-bashing, and I believe her.  But, we all know Brauwnyn is gonna roll over faster than a sausage in a soup.
At the same time, Tamra meets Shannon for coffee and immediately starts telling her off with accusations. Shannon has the flu, yet still came for this slaughtering!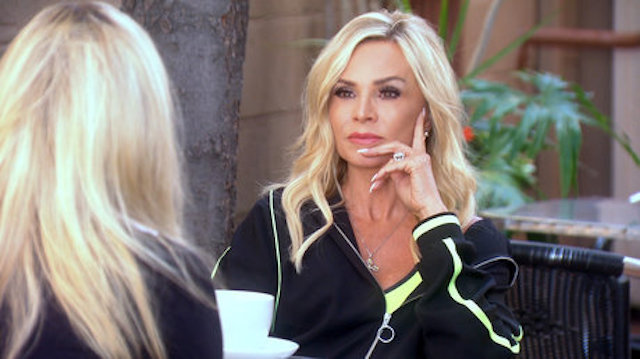 How can Tamra possibly try to turn this around on Shannon when SHE admits to talking mad shit about Shannon and it's captured on camera? Shannon needs to see if Dr. Moon can surgically remove her spine from Tamra's purse and reinstall it using essential oils and acupuncture. Also, I think there's a toilet in Shannon's self-esteem corner and there should be bleach in her friendship corner.
The nexus for Tamra blaming everything on Shannon is because Tamra doesn't understand why Kelly would just "switch like that." Perhaps because she got wind that just like Tamra trashes Shannon literally the second she turns around, that Tamra does the same thing to her? Also, Tamra admitted that she talks behind Kelly's back when she was forced to confess to repeating the broken hand story!
More than anything I wanted Shannon to stand up, tell Tamra she's a garbage human and a complete liar, then walk out. But, instead, she tried to defend herself as Tamra projected everything that she is onto Shannon. Tamra turned it around to be Shannon ostracizing her and made Shannon feel guilty. Tamra is Shannon's new David and she is crushing tortilla chips onto her soul. Also Shannon's spine is made of cooked quinoa.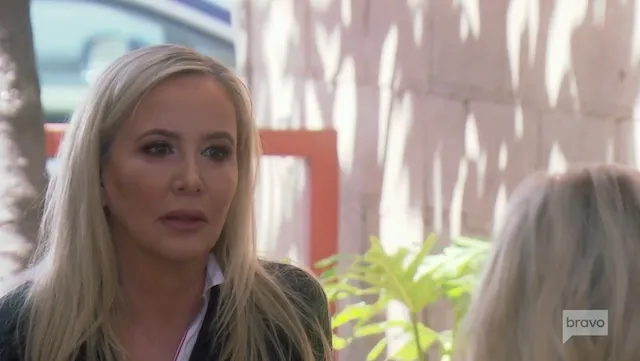 Tamra then bald-faced lies that she ever trash-talked Shannon to Kelly. It's apparent that Tamra truly believes she has immunity and the Bravo editors won't whip out the tape. But now they did it. And now we know you said it. It's sad to see how easily and handily dominated Shannon is by Tamra. She attempts to soothe Tamra's rage by nervously pointing out that it all goes back to who uttered the word "train."
I literally cannot believe the audacity and hypocrisy of Tamra. She's as transparent as the lucite stripper heels she wore to this lunch. Funny that Tamra never even considered that it was Braunwyn or Emily who may have a problem with her. She just didn't assume they'd ever be brave enough to double-cross her, but as the Tres Amigas well-know: safety in numbers, my frenemies! Also, printed text messages are only effective if they're in 90 point font.
To save herself and stop Shannon from getting more info about what's really going on, Tamra decides the common problem is Kelly for being "damaged goods." Tamra is done with her. If Shannon really wants to prove her loyalty she'll be done with Kelly too. Shannon agrees and she goes faithfully, yet feebly, along with Tamra, but she doesn't look entirely convinced…
TELL US – DO YOU FEEL BAD FOR TAMRA? IS SHANNON SPINELESS?
[Photo Credits: Bravo]