Leave it to the Real Housewives Of Beverly Hills to drag out a fight from two years ago, along with a ghost of Housewives past to celebrate Halloween, and also because well, without Lisa Vanderpump what else do they have to talk about? I mean they have stuff to talk about, they just won't.
It's the final morning in Hawaii, the day after Camille Grammer tied the knot a second time, and finally, at long last, we get our first sighting of The Agency apparel. I've been waiting all of the Hawaii trip – looking for swim trunks, hats, custom-ordered shot glasses, a bridesmaids gown… and on the last breakfast Mauricio Umansky finally just shows up to brunch wearing an Agency t-shirt.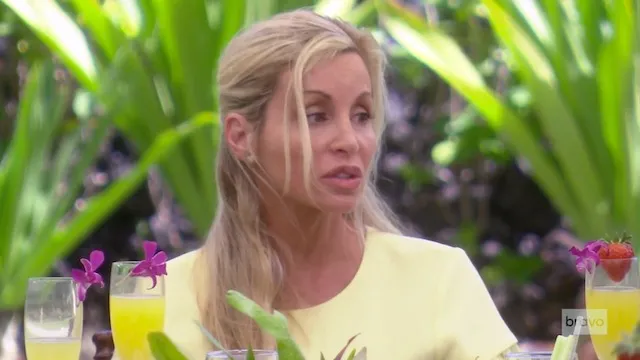 Coffee isn't even served to help rinse the hangover puffy off people's faces before Kyle Richards is talking about LVP and the Lie Detector Test to fill Camille in on everything she missed while she spent that one day ignoring pertinent gossip to go get married. Kyle is a one trick ponytail. Suddenly Camille's post-wedding brunch with friends turns into an inquest about whether or not LVP reached out to say congratulations (she didn't. Unfortunate.) Also these women…
RELATED – Catch Up On Last Week's Recap Of Real Housewives Of Beverly Hills: I Do Swear To Never Tell A Lie
Lisa Rinna deems this unacceptable. "It's owie," Camille agrees, in between tiny mouthfuls of bread and giant mouthfuls from the other women going on about how much LVP sucks as a friend.
On the bus to the airport talk about about LVP again. This time because in between the brunch where Camille was complaining about LVP bailing on her wedding, and this vanigan shuttle, an article appeared in People Magazine where Camille gushed about how much she loves and respects Lisa, and promising that there are no hard feelings about her wedding diss. First of all, I'd really like to commend Camille on landing the highbrow People. Obviously she is more valuable than Dorit Kemsley …ahem, RadarNonline. Second of all, LOL at Camille's shadiness being more sheer than an Erika Jayne costume.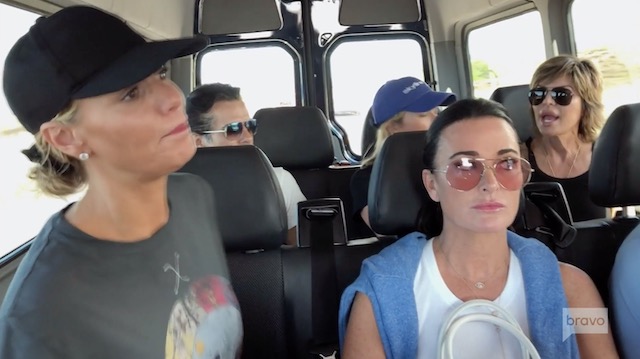 Lipsa is irate. Is Camille two-faced? Three-faced? Four-Faced enough to need a Dr. Paul Nassif intervention via Botched? An angry Lipsa suddenly busts out with a story about that one time Camille called Dorit phony — even though for many months she's been nice to her face. "What a bitch," scoffs the perpetually betrayed Dorit, who really can't trust anyone EVER AGAIN. Teddi Mellencamp Arroyave chimes in that Camille should've told them about the article. You know, just like LVP should've cause, they don't care what's in these articles just that they know what they say. Uh-huh, yeah.
I mean, Lipsa is right: Camille isn't trustworthy and she has been talking shit about all of these women. And thank GOD because something has to happen on this show that doesn't involved a four-legged furry friend named PK's diabetes type 2:1.
Back in Malibu, Lipsa has sent Denise Richards and Aaron Phypers an extremely belated wedding gifts wishing them "very happy endings." Ziiiing – see what they did there! Aaron is not happy about Denise's over-disclosing, but he's able to do some quick numerology concerning zen multiplied by 6, divided by the embarrassed element of 2 equaling amount of happiness found in endings not one's wife, and then decided you know whatever – he's just doing the 'bu and living life to it's biggest possible conclusion. Also – who sends a wedding gift like 4 weeks late when they were an actual guest at said wedding?
Dorit returns to PK pigging out on chips and wiping his hands on the chair and his pants, while Dorit lectures him about the migratory property of diabetes. You know those blood sugars are like interest you owe to creditors, they just mysteriously inflate and inflate until you declare bankruptcy and go back down to Diabetes Type 2 and get the gastric cinched with an Hermes buckle. Designer gut – inside and out. So, do we think PK was sitting in that same chair, scarfing chips, when Dorit left for Hawaii?
Erika visits the nursing home because it's important to socialize the seniors. She invites Mr. Tom-Tom to Kyle's halloween party, then cackles with laughter when he suggests wearing his death mask with a suit. So, look, editors it's all nice and cute that we're trying to make Erika and Tom's relationship look normal in the face of his dehumanizing lawsuit and everything, but, um, just like I'm not buying Skyline off an RV, I'm not buying 'true love is an AARP movie discount' off these two. Maybe if Chanel gave an AARP discount…
Lipsa is due for her yearly mammogram and Kyle is going along as her support person. Which is nice, and super lovely. Kyle predicts a lot of people don't go doctors appointments because of LA traffic. I mean, possibly! Anyway this is serious and important stuff, so I'm going to give it that respect as both women have a history of breast cancer in their families, and are the mothers of daughters.
On the drive there Lipsa admits she has 'rage and regret' over telling Dorit about Camille's nasty gossiping, but she feels justified that it was time to pull the dust cover off the fake Hermes that is a friendship with the two-faced Camille.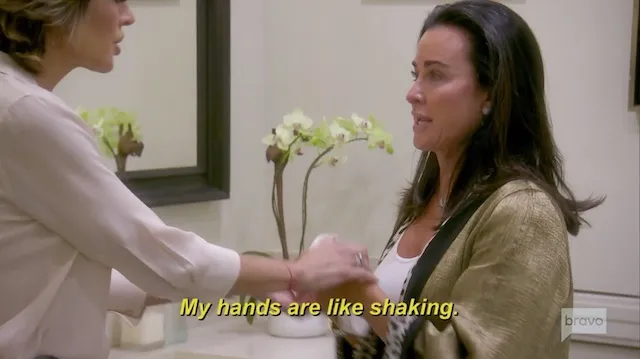 Even the gynecology clinics are fancier in Beverly Hills, but the anxiety is all the same. Kyle wasn't even supposed to be getting tested that day, but Lipsa insisted. Lipsa literally told the receptionist that it was fine and insisted they could fit one more in, so the next thing Kyle knew she was swapping her solid gold disco hospital gown (it is just like her to wear that) for a plain black kaftan thing. I was legit stressed waiting for Kyle's results to come back as she explained that her mom didn't have a mammogram for 5 years and that procedure could've saved her life. Big Kathy was diagnosed with cancer when Kyle turned 30, and so the circle of life deems that on the eve of Kyle's daughter Farrah's 30th birthday Kyle's mammogram comes back inconclusive and requiring more images. Kyle panics as she waits but ultimately – thankfully – is told she's fine. She just has extra dense breast tissue, but she's healthy! She's alive! Now she can get back to planning Farrah's birthday party which costs the equivalent of "15 Birkin bags" … which is how many boob jobs? This also means I can get back to snarking on Kyle.
"Farroween" is the most important day of the year! Kyle even flew Sophia home from college (for the second time in 2 months) because Sophia's college experience is all about Kyle. Just like Farrah's birthday party is all about Kyle, who has 'talked herself' into wearing a $600 Playboy Bunny costume. Yes, for her DAUGHTER'S 30th birthday party. Ugh – Kyle has no sense of decency and the attention-whoring never stops. See, I was nice about Kyle for 2 seconds above and now look how that came back to haunt me! The worst is that Kyle has the audacity to lecture her daughters on not dressing like a "tramp," because she's the cool mom and cool moms get taken for a fool at Party City get to do what they want.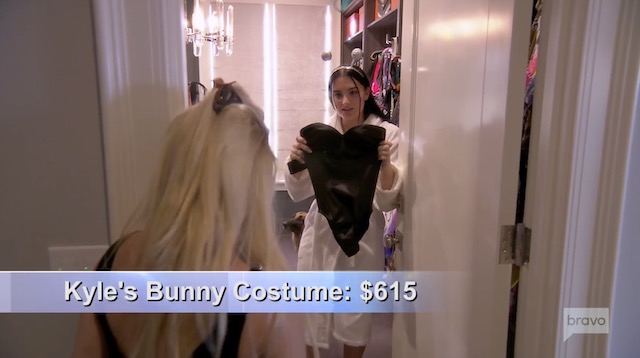 Even Portia asked where Kyle's pants were, and Kyle huffily told her, "It's Halloween." As if that's a reasonable excuse… Actually I'm glad Kyle wants better for her daughters.
Then of course Kyle buys her bunny suit a size too-small, gets stuck in it, and has to send Maurico out to buy a larger size after guests have already started arriving. Farrah, I should note, had on far more clothes than Kyle.
Seriously why is there a Ferris wheel there? If there's one place I wouldn't trust a carnival Ferris wheel it's in a Housewives backyard that is haunted by Housewives past and their vendettas, but Kyle dubs it a "Farrah's Wheel" and is pretty much the only person who got on it, only so she could have another meltdown over her anxieties.
The best part was all the women reminiscing about turning 30, all those many years and faces ago! Erika was already married to Tom, and looking barely out of diapers, was photographed on the Gulf Stream flying to Vegas to celebrate. A hot young Harry threw a pre lip-planted Lipsa a party and gifted her a silver Swatch (gotta love the Melrose Place years!). And Dorit, sad wobbly cart stuck at the top Dorit, her parents threw her a surprise luncheon in Connecticut and that very next day she ran sobbing to London straight into the arms of a smooth-talking, borderline geriatric wannabe expat out-running bankruptcy and boring responsibilities named PK. Obviously those two belong together like no other people could, so thank you for taking each other off the market and sparing the rest of us!
RELATED – PK Kemsley Ordered By Judge To Reveal His Finances
No one really cares about Kyle's post-adolescent fantasies of being the sexiest girl in the room because PEEKAY arrives dressed as Karl Largefeld in a wig from the dollar store. It looked like cotton candy someone had spray painted white, and it was the perfect generic designer knockoff for Discount Dorit, who came as his white pet cat. Meanwhile Aaron put approximately zero effort into his costume. He essentially made a cape out of some bedsheets he ripped having having sex with Denise then tied it around his enormously beefy shoulders and said, 'there Harlequin romance novel Dracula."
Lipsa dressed up as Erika Jayne, circa Pat The Puss era, made all the more amazing because Erika dressed up as a puss. Then let Lipsa pat her. Camille and her friend "Kimber," someone who dropped her "ly" somewhere between Missouri and Oklahoma, and husband 1 and 2, came as black cats; bringing the bad luck which seems to follow Camille as perniciously as the tail of snooty opinions she drags. Which brings this party to a total of 3 cats. Dorit dubs Camille a stray cat. Which really – too soon for abandoned animal jokes, Dorit. And no, you cannot drop Camille off at a kill shelter, or give her away to a dear, dear friend of PK's who lives somewhere in the valley called Dumpsterville.
Then because no party is complete without the neighborhood crazy loitering in the bushes to spy, out creeps Kim Richards. Lipsa is shocked she wasn't given the heads-up, but um, Farrah is Kim's niece so of course the extended Richards clan will be invited. Probably Kyle should've dressed up as a blue bunny and wrapped herself in cellophane by way of warning…
Kyle did warn Dorit and Teddi that tonight, on Farrah's birthday, they weren't allowed to confront Camille. So everyone basically ignores Camille, and every time she enters a conversation it gets quiet and awkward, as if they have nothing else to talk about if they can't yell at her.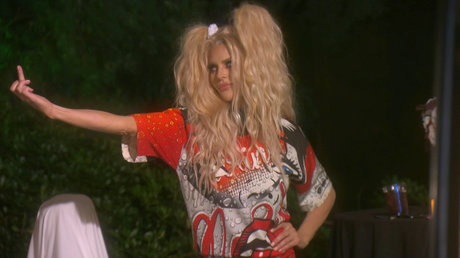 Lipsa's inevitable run-in with KimKillah comes when they're taking a group photo. Feeling very in character as Erika Jayne, Lipsa decides to use her alter ego to call Kim "really c-nty" for giving back The Blue Bunny. Kim is shocked. "I'm not even hearing anything but… See You Next Tuesday," says Kim stabbing her hand into the direction of the TV to illustrate how to give a prostate stimulation to someone you hate.
And I have literally never agreed with KimKillah Rambles Richards on anything, but here she is dressed like a bad Brittney Spears video from the mid-00's, acting semi-coherent, attending her niece's birthday party and she is the victim of Lipsa's method acting grudge exercise. It was uncalled for, and once again, Kyle did not defend her! As Kim's hand (and her other hand giving out a high five, and the other hand not massaging chicken salad, and that other hand that said talk to the hand in every 1990's episode of Ricky Lake…) said, "Don't try to blame beautiful Erika Jayne for Lisa Rinna. EEEEEHn. Ah-Ahn."
I was all set to be on Kim's side (even though I secretly agreed with Lipsa's dig, and because Kim has a loooong history of horribleness not excused by alcohol and stolen houses), she lost me with a ramble about how only her feelings count, and she has done nothing to deserve this; making fun of Lisa's costume, and for being an in general awful person. Basically turning into Kim, with Kyle, now suddenly there to support her in the trash-talking.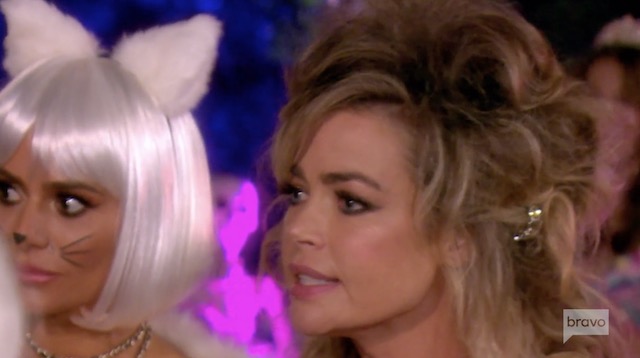 Thankfully we have Denise Richards to interject that no one really needs to be acting like such an awful person over this stuffed animal, and to remind Kim that she really hurt Lipsa's feelings. Kim cannot let things go though. Not any things: Not houses. Not perceived grudges. Not dogs who rip your niece's hand off, but Denise is undeterred, "You need to let it f–king go," she snaps as Kim runs away from reality, "Who cares about some fuzzy f–king bunny."
Seeing how unflappably straight-forward and calm Denise was in this situation, is going to make it all the more frustrating when next week she drags Brandi Glanville in, because that horrible trifling trashy witch has no place on Real Housewives Of Beverly Hills.
RELATED – Brandi Glanville Is "Ashamed" After New Drunk Photos Appear Online
But back to this week's episode, Kim approaches Lipsa and they agree to talk, one-on-one (without Kyle) and it goes really well. Lipsa admits her cunty comment was way, way out of line and explains to Kim that the bunny return was the most hurtful thing that has happened to her on this show. Kim was shocked to learn Lipsa was sincere, and admits she handled that wrongly, but articulately defends herself in explaining why she rightfully didn't trust Lipsa's intentions, and it was all very nice. As a creepy ghost creature stared down at them from the porch rafters, daring them to cross her into the gates of hell, two worm dressed as aging pop stars made peace and finally laid this damn blue bunny to rest.
TELL US – WAS LISA OUT OF LINE? SHOULD DORIT CONFRONT CAMILLE?
[Photo Credits: Bravo]