Last night the Real Housewives Of Beverly Hills organized themselves around a new enemy, because that is the point of Real Housewives Of Beverly Hills now. It has been for a few seasons! Someone is the target, and the rest of the women shield exposing their real lives by focusing their collective effort on how terribly they've all been wronged by this one person for some basically meaningless infraction. It's tabloids in the suitcase, it's stories in the tabloids no one reads….
Ever since Kyle Richards realized that the Twisted Sisters Richards would be the undoing of everything she has worked so hard to escape, she has become champion number one of this plan. She will literally hang Kim Richards out to dry by pinstriped suspenders and let Lisa Rinna call her "c–nty" than avoid getting mired down in the type of personal muck that could lift the giant felted wool hats right off to reveal whatever Kyle is hiding.
It will be interesting to see how Camille Grammer fares when faced with this – if it ever comes to pass given that the California Wildfires interceded in the cast trip, and Camille decided against attending the reunion. 
Camille is a woman accustomed to dealing with tragedy and uncertainty, but just when she believes she's finally found happiness and stability, her house goes up in flames courtesy of a random act of nature. Which is maybe a metaphor for aging as well: wrinkles, like wildfires, and toxic friendships – they will come, and they will spread.
But this episode of Real Housewives Of Beverly Hills begins 5 days before. Before Brandi Glanville ensnared us all in a mesh sideboob net with her grudges and grasping. Before the Woolsey Fires engulfed the California canyons and were a mere spark of a flame. Much like gossip look how fast these things can spread. Five days prior the match lighting the then metaphorical fire was Camille being two-faced and trash-talking Dorit Kemsley. Yes, once again we're supposed to believe that poor, poor, pitiful Dorit is some kind of victim. A fashion victim, definitely, but no other kind.
Erika Jayne looks and dresses like a Barbie, and more and more I'm starting to suspect the her insides match the outside, and one day she will wake up literally made of plastic. So dressed like that, in a hot pink skirt suit, Erika meets Lisa for … lunch? (a guacamole appetizer where they each ate one bite). Lisa is full of praise for Kim now and claims she's always liked her – even when she was telling people she was a drunk who almost died. Then Lipsa launches into how disappointed she in Camille for talking negatively about the other women. Lipsa thinks Camille deserves to be called out. Erika is also very on board with this plan and notes that no one has a good relationship with Camille – not even that mythical woman in pink haunting this show to rightly reclaim her color. (That would be LVP)
See this is confusing to me: Lipsa has been trash talking Kim (and others) on this show for years. Not that it wasn't deserved at times, but all of these women talk crap about each other, yet suddenly it is WORST OFFENSE EVER when Camille does it?
Later at home, Harry Hamlin is tutting over pies and Lipsa is tutting over daughters while nibbling on some corn. A family dinner turned quixotic over Amelia's food issues. Harry just wants to make it nice – he's a West Coast Dorinda Medley, and a family cookout makes this man happy. With everyone working around the globe Lisa is just thrilled to have them all in once place but while Harry is rummaging around for the five slices of cheese Delilah ate the night before in a single grilled cheese sandwich, Amelia announces that she's not hungry.
I don't know if Delilah's comment about eating the cheese triggered Amelia, and out of rebellion she decided she wouldn't eat,  but she ruins dinner. We know Amelia has struggled with an eating disorder, but she's also behaving like a brat. Amelia spends the entire meal critiquing Harry, complaining about how she can't and won't eat anything, and then when everyone's appetite is ruined, she blames Harry for being passive-aggressive. As Harry emotionally eats his pie, calmly and evenly inserting bites of sugared fruit encased in flour soaked in butter, he glares at Lisa. Who in a desperate need to regain control blames Harry for Amelia's mood. "No," retorts Harry, "it's your fault." Is it? Perhaps. But what a contrast to the Lipsa we see trying to maneuver drama around the show, to see her defenseless and unguarded. Un-Rinna'd. It was her realest, rawest moment, and it was sad.
Across town, Dorit is experiencing parental triumph when young Jagger steps into Derek Zoolander's world to sell some Beverly Beach swim trunks (I thought this was a bikini line?). Dorit has been watching YouTube videos on how to act like a fashion designer and Keeping Up With The Kardashians for tips on how to act like a momager. All in preparation for a photo shoot for the Beverly Beach althleisure collection. I found the whole thing vaguely creepy – namely because I'm not sure if that entire office and janky swimsuit collection was a hologram.
Also, I will never get over the irony of Dorit creating a fake world to encapsulate the image her swimsuit collection represents, while literally living in an entirely fake world where the image is probably her accent – and not realizing it!
Meanwhile, Kyle is at home, screaming at her constantly barking dogs, dripping chicken soup on the sofa, the floor and a pet, while she calls a villa in France to reserve it for their girls trip. Kyle decides this trip will be more fun than the others they took because she is planning it, course! Oh, and Kyle knows luxury. She also notes that unlike in the Bahamas there won't be tension in the group like there was with LVP.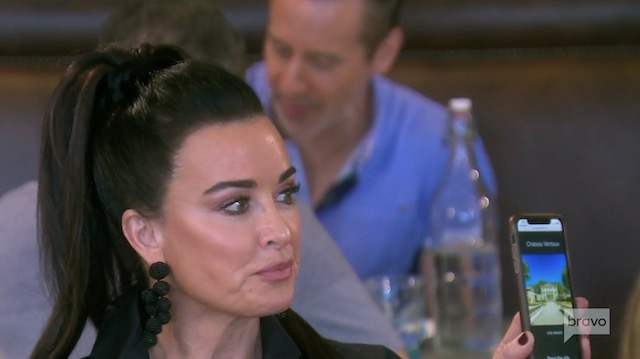 Kyle invites all the ladies to lunch to discuss their trip. Teddi Mellencamp Arroyave tries to show she's one of them by smearing red lipstick all over her face. It was distractingly a mess. Oh, Teddi…
These women have absolutely no natural chemistry and it's clear they actually don't like each other by the way Kyle does a split second pause before smiling after each woman reveals she can come. Eventually, they just resort to discussing the only thing they have in common: the other people they don't like. With LVP in hiding, everyone is now pissed at Camille because she's been eviscerating them behind their backs, while being friendly to their faces.
Kyle is still planning to invite Camille though because, no tension, ehhh…  Also once they get Camille to France they can all confront her together about what she's said about Dorit to Lipsa, and what she's said about Teddi to Denise Richards. Basically, it's like the Trojan wine bottle.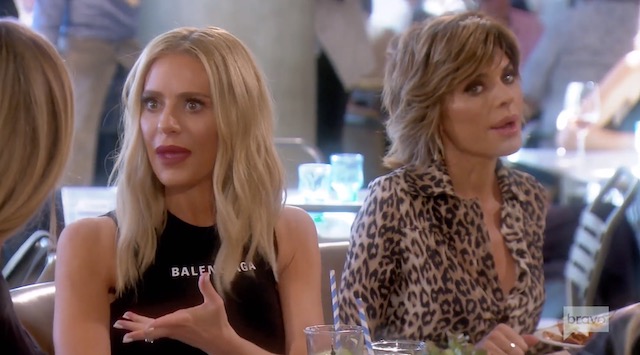 To add anticipation Lipsa refuses to tell Dorit, or the other women, what Camille said to her. Instead, Lipsa encourages Dorit to confront Camille if she wants to know because now it's suddenly not her business – even though if it weren't for Lipsa's big lips no one would've even know what Camille said about Dorit. Lipsa also reasons that Camille will forced to be honest if confronted — she clearly has not watched Real Housewives Of Beverly Hills season 1 & 2.
Also, Erika claims she will not be bringing glam to Provence. L.O.L. – she is so going to show up to dinner dressed like Marie Antoinette.
Across town, in then pristine Malibu, Camille is talking to her friend Kimber about why exactly she doesn't like Teddi. The new reason is that in the airport in Hawaii Camille's daughter Mason said hello to Teddi, but Teddi completely ignored her and walked the other way. This snub makes Camille's "mommy claws" come out, then Camille demonstrates, making a sound like a gremlin in the moments before death.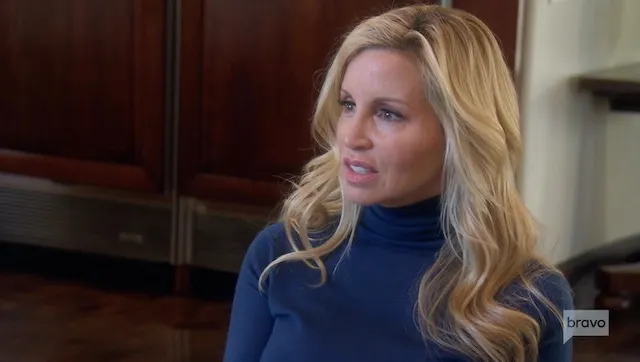 Did anyone else notice that it looked like Camille had a Bed, Bath, and Beyond 20% coupon in the background?
And finally, the moment we've all been dreading: Brandi arrives to meet Denise for dinner. They met through a mutual friend, they both can drink themselves stupid, yada, yada, yada… Friendship made.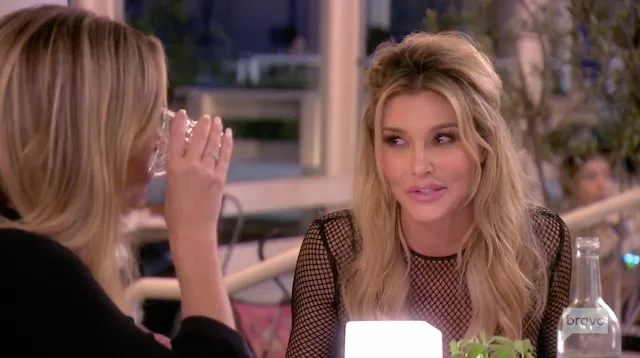 Brandi loves Denise (which does not bode well for my future love of Denise) and once they're finished dishing on their kids, Brandi launches into a discussion about bar fights, booze, dressing like a hooker, and LVP – same old, same old. All of this reaffirms just how much I do not want Brandi back on Real Housewives Of Beverly Hills. Brandi is a person incapable of growth. It's all the same sloppy, sordid, just uninteresting mess. We're talking about a woman who is still bemoaning a divorce that happened 15 years ago, and a friendship with LVP that ended 5 years ago. Brandi doesn't represent any thing Beverly Hills, but she does represent the desperation on the part of production to make something happen!
To prep for the trip, Kyle and Erika go shopping on a fancy street in Beverly Hills where we pass the former home of Kyle by KaftansKilledInAction. Yes, that's right Kyle By Alene Too, the kaftan outlet, has shuttered its fluttery frumpy doors. Not a stitch of colorful silk remains, but Kyle did forget to take down the basic AF chandeliers hanging inside the new empty storefront.
Then Kyle and Erika wind up walking right past Villa Blanca. Villa Blanca is light, and peaceful, and filled delectable advertisements about a Provence tasting menu. Maybe LVP is spying on them?
In the middle of Kyle and Erika spending $800 on scarves, Kyle gets a call from Camille who is thrilled to report that she can come along on the trip. Camille sounds so happy to be going, but as soon as she hangs up Kyle and Erika cackle that Camille has no idea what's in store for her once they get to France (hint: it's not $800 scarves…)
I haven't commented on this before, but what is going on with Erika's bizarre costume hat? It looks exactly like something Vivian would wear in Pretty Woman post-Rodeo Drive shopping spree.
Then we get the obligatory scene of all the women packing. It didn't feel complete without LVP's fabulous closet, and Kyle's jumbled mess of frumpy clothes was no comparison. Denise is trying to decide between hot pink rain boots and snake print rain boots, and ultimately brings them both because despite being on this show for months, she still refuses to go glam squad.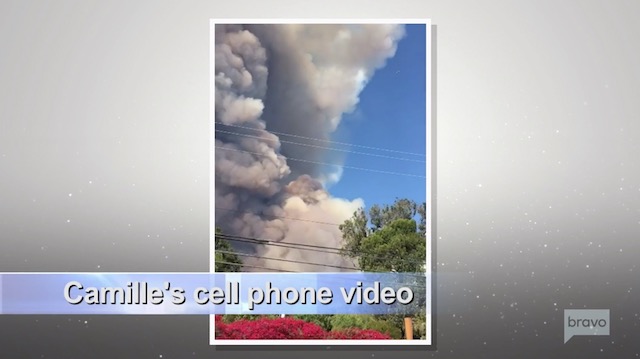 Poor Camille – out of the frying pan and into the fire! She managed to escape the trip to France, and the planned '"conversation the woman have been plotting, but only because her house is literally in flames. On the way to the airport, Kyle calls to check in, but Camille is trapped in traffic on the PCH while the canyon next to them is in flames. Basically, there's no way she's getting on a plane to go anywhere.
Kyle, Lipsa, and Teddi – who, really – those glasses are far too cool for her (why does she try so hard!?) – are in shock. Although in the confessional Teddi seems almost disappointed that the California wildfires interfered with plans to "talk' with Camille. It's almost as if these women, so caught in an elitist bubble of their wardrobes and their petty grudges, haven't been watching the news and have no idea how serious this fire is!
After the news from Camille, Lipsa  checks in with Denise, who is also evacuating her Malibu beach home. Lipsa actually tells Denise to keep them posted about whether or not she'll be coming on the trip, until Denise explains that her house actually might be in flames at that very moment, so yeah… pink boots, grey boots – all boots staying home, on the ground.
Next week a very truncated crew of Housewives lands in Provence, and since they can't direct all of their efforts into harassing and isolating Camille, they are forced to do something for drama, and how much they really don't like each other starts to be revealed. I mean, come on – we were supposed to believe that this season everyone finally found the love and respect for Dorit? HA.
TELL US – DOES CAMILLE DESERVED TO BE CALLED OUT BY THE GROUP? DID YOU LIKE HAVING BRANDI BACK?
[Photo Credits: Bravo]