OK, so once again rolling in super tardy with a recap. This time for part 2 of the Real Housewives Of Orange County reunion. Sorry Vicki Gunvalson – I respect Christmas more than I respect you!
Legit question, though: Vicki wasn't even a 'Housewife' this season, yet she is the star of this reunion? There she is, sitting in the supremo spot next to Andy Cohen, and at this point 3/4 of the reunion has been dedicated to dissecting Vicki's antics and her fights on the show.
Part 2 was all about Vicki's failed friendship with Kelly Dodd, and once again they promised to bury the hatchet in each other's backs. First, though, they rehash the train rumor, the cocaine allegation, the throw mama down the stairs off a train tale, the broken hand in a bar con-woman catfight… You know, all the classics!
Kelly is still tremendously hurt that Vicki accused her of cocaine, and Vicki is still livid about being called a pig. Both are justified in their anger, but it happened, it's out there, and they both took accountability for saying such things but not for the affects it had on the other person. And therein lies the problem in why the cycle perpetuates.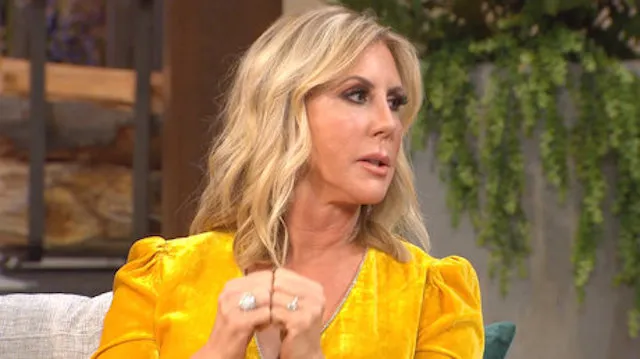 Look the bottom line is that one of the Tres Amigas is gonna be downgraded again next season, and Vicki knows enough about insurance to make sure she has some! Getting along with Kelly is what you call a good policy – a high-deductible, liability plan. Vicki is going to be covered, no matter who returns. Tamra Judge and Shannon Beador looked like they swallowed the daggers Kelly has been pointing at them recently when they saw Vicki and Kelly wish each other the best and move forward, but I was relieved. I like Vicki and Kelly as friends. Also I wish Tamra would get buried by her own filth.
Once again Tamra got a pass for all her atrocious shit-stirring behavior. She is literally the root of all evil on this show, and just like a rat, she seems to wiggle her way out of any trap she's ensnared in. Kelly is furious at Shannon, yet it's Tamra who did all the dirty deeds! For the life of me I cannot figure out why Shannon isn't trying harder to investigate, or at least consider investigating, all the shit Tamra has been talking behind her back!
Kelly has a rage for Shannon that seems inexplicable. The only motivator I can think of is that after Kelly informed Shannon of the horrible things Tamra has been saying behind her back, Shannon ran right to Tamra to repeat it, then instead of siding with Kelly, like a true captive, sided with her abuser. Very sad indeed, but Shannon cannot break free. Shannon doesn't know how to have a healthy relationship and her self-esteem depends on other people bolstering it up. All that matters to Shannon is that Tamra is nice to her face so she can convince herself those are Tamra's true feelings. Tamra certainly trashes Shannon mercilessly to everyone, and we all know if the producers and Bravo are sniffing around to fire someone, Tamra would throw Shannon right under the double-decker bus. Let's just hope production is finally wise enough to see through Tamra's games!
The incident where Tamra was caught lying about calling Emily Simpson "Shrek," then continued lying is a prime example of the behavior that should not be excused.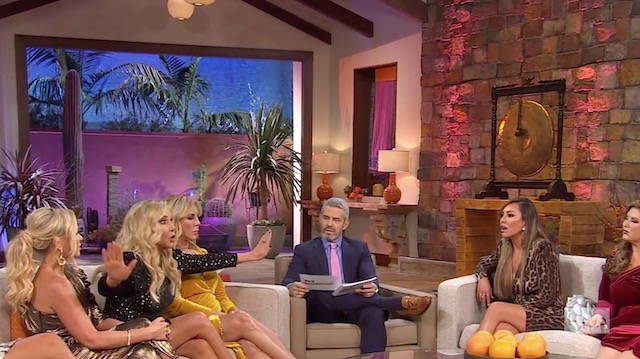 Proving that she hasn't learned from the results Vicki's horrible rumors had on her own life, Kelly accuses Shannon of driving drunk and running around with men, and one time being so wasted that Shannon's own daughters called Kelly at 3am looking for their mother! Shannon admits that during her divorce she had some dark (very drunken) days, but it was years ago. Kelly also claims Shannon hired a private investigator to dig up dirt on her — something Kelly heard 'from a mutual friend.' From the look on Tamra's face, you know that mutual friend was her, and that TAMRA is the one who did it, then deflected it onto Shannon.
The real insult though is when Kelly claims Shannon lost the weight through liposuction that she had done at Dr. Brian's office. How about that HIPPA Violation!
Tamra and Shannon also continue to blame Kelly for their legal issues with Jim Bellino. Being in this legal fight together is probably one of the reasons Shannon is staying Tamra's friend. What if Tamra were to turn on her?
Sure, Kelly may have reached out to Jim on twitter, but like Emily said until there's proof that she's being deposed as a character witness, Kelly's exonerated from culpability. Tamra and Shannon didn't just make comments about Jim's divorce, they facilitated rumors and lies – maliciously so – and laughed about it, now they're angry they got caught. Yes, Tamra did most of the talking, but Shannon did not shut it down. I don't know why Heather McDonald isn't being sued though? Jim is hitting them where it hurts: the pocketbook. And let's hope for his sake those Birkins aren't fake or borrowed!
Andy tried to focus on Braunwyn Windham-Burke this episode, but honestly she is Boringwind. I hate to agree with Vicki – and I don't on a lot of things – but Braunwyn is too contrived and weird to be compelling. She did watch the show and she's so desperate that it's palpable.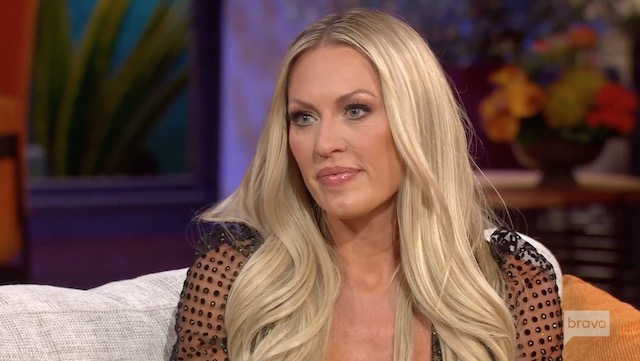 Sometimes I do appreciate Braunwyn – like when she slumps on the sofa and reminds Kelly and Shannon that everything was so much more fun when they got along – but largely Braunwyn is all artifice. She never truly lets her guard down in a way I find believable. I don't believe she truly desires women. I don't believe she actually loves Sean so much that she's willing to cheat to save their marriage. And I definitely do not believe Dr. Deb. I do believe Braunwyn had a screwed up childhood with a megalomaniac, but I also believe Brauwnyn is a megalomaniac herself who is delighted that RHOC finally gave her the edge above her mother to get the attention she so craves. Of course Dr. Deb is jealous of the attention Braunwyn is generating, and now they're not speaking. Dr. Deb likes Brauwnyn best when she's in the shadow of her dreadlocks, holding a tiny chalkboard reading "family" to Dr. Deb's EGO breastplate. Word art, girls, the foundational summit this show is now built on.
Also statement necklaces. Sean Burke, like Brauwnyn, is the type of person who thinks wearing a weird necklace from a pseudo-faith healer in a wealthy tourist destination, makes him interesting. In fairness to Sean, I don't think he has an identity outside of Braunwyn manipulating the hell out of their life and image to make-up for her own childhood insecurities as 'the boring one.' Vicki calling her that certainly hit a nerve!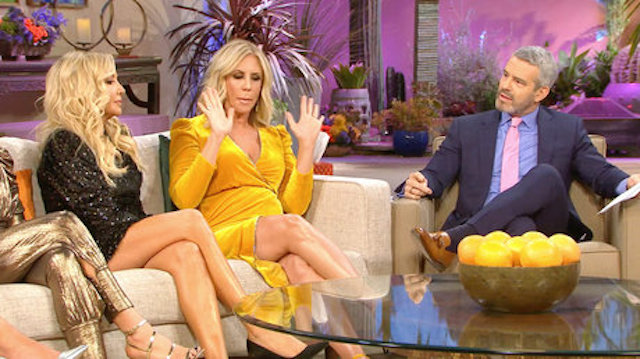 Vicki resents the attention Brauwnyn has been getting. You see, Vicki, like Dr. Deb, wants all the negative attention for herself! Vicki's 'problem' is that Brauwnyn didn't respect her as the elder in charge and tried to usurp her territory by treating Vicki like an extra, instead the maiden mother of this franchise.
Brauwnyn, for her part, admits that she came into the show not liking Vicki, and the feeling remains the same. That's what I don't appreciate about Brauwnyn. While I think it is ridiculous that after 13 years any new Housewife should pretend she's never watched the show, I find it equally irritating to admit to a vendetta against someone to gain traction on said reality show. No, we don't like Vicki – but she's our satan to detest, and you suck too.
Vicki mostly has a problem with Braunwyn's free range sex life. Vicki wants Brauwnyn to keep her clothes on, keep her tongue in her mouth, and stop being so raunchy and naked. I 100% quite agree, HOWEVER – as Kelly mentioned: what about Tamra?! She's part and parcel of Braunwyn's PG-13 Primetime Cable Sexcapades.
Vicki says she told Tamra the same thing. Which is great – glad to see Vicki's hypocrisy is as part-time as her Housewives status, because Vicki has done plenty of stunts herself. Maybe Vicki should just bring Braunwyn a vegan, vegetarian, gluten-free, fun-free, tasteless, boringwind casserole to give her a case of the brownwind and then they'll be able to bond once Vicki is forced to call an ambulance to whisk Braunwyn away to safety?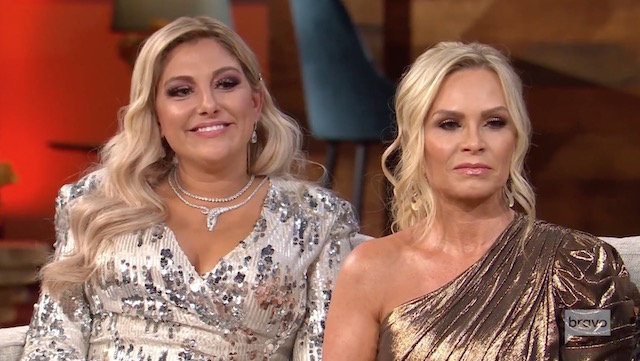 After knock-down drag-out fighting from Vicki and Kelly, and Kelly and ShanRa, Gina Kirschenheiter rumbles out of her slumber at the end of the sofa, where she is sitting like the trash heap from Fraggle Rock. Gina points out the problem is that Kelly and Vicki fight the same kind of dirty, and are the same kind of defensive, therefore it's always pinging insults back and forth, then claiming it was retaliatory. Like Shannon said, "If you fuck with Kelly Dodd…" watch out! Nobody puts Kelly in a corner.
And Kelly has definitely been a corner this season, like she said, but Gina's comment made Kelly and Vicki stop to think. Kelly tears up as she wishes the best for Vicki, and she means it. In response Vicki claims her life hasn't been easy and she's made a lot of mistakes, but she wants to move forward with all the girls. Emily admits she actually liked Vicki last season and that once she took up with Tamra and Shannon again, a change came over her. The Change, I believe they call the influence of Tamra. The Change for the worse!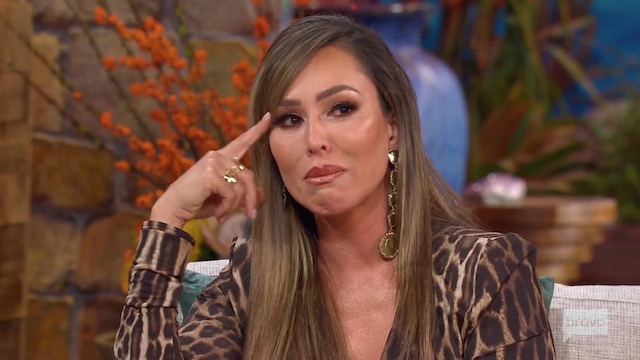 Vicki may have made Kelly's apology all about herself, but she too wants the fighting and animosity to stop, because it's making them both miserable. During the break they hug in the hallway and promise no more rumors or pig Animoji's, no more meanness or nastiness and no more social media mudslinging. Can this truce, unlike the one in Arizona, last? Given all the misused and mispronounced words this episode, I don't have high hopes. However I want Vicki and Kelly to be sincere friends again.
And I close with a quote from the Grateful Dead that seems applicable, "Driving that train, high on cocaine… Trouble ahead, trouble behind. And you know that notion just crossed my mind…"
TELL US – CAN VICKI AND KELLY FINALLY BURY THE HATCHET? DID TAMRA, ONCE AGAIN, GET A PASS?
[Photo Credits: Bravo]