This season of Vanderpump Rules is opening on some strange notes, like the freestyle rappings of James Kennedy, and the scent of death and sadness mixed with the sticky spills of rose, goat cheese, and Jax Taylor's attempts to impersonate how he thinks a decent man should behave (tampon shopping!)
Immediately it becomes apparent that this will be another season of everyone villainzing James while pretending Jax is a new man as they plan his wedding to Brittany Cartwright. Forgiving Jax and hating James are literally the only subjects this show has anymore. And James, like the little whack-a-mole he is, will come back for hit after hit, cause he's the White Kanye Baby and hits is what they do!
Far less frivolous are Lisa Vanderpump and Lala Kent dealing with painful losses in their lives. Lala's father passed away from a stroke 2 months earlier, and she has inherited his mantra to be kind. Even to sketchy people. (Lest their names be James.) Lisa is mourning the loss of her brother, her only sibling, who committed suicide 5 weeks before filming started. Wow – that's so devastating. 
Jax regrets cheating on the greatest person he's ever known. He now devotes his life to catering to Brittany full-time. Since he's unemployed what else does he have to do except learn the various sizes of tampons, make sandwiches, walk the dogs, and help Brittany put on latex gloves to eat said sandwiches? Um…? Jax is still haunted by his affair with Faith Stowers however, and some people – those C-U-Next-Tuesdays – will never let him forget!
Brittany decided to support her pal James by stopping by his C-U-Next-Tuesday set at SUR. She was shocked when he put her relationship on blast by rhyming about that time Jax f–ked Faith. And just as Jax and James' bromance went next level with Jax gifting James a pair of designer boxers. A white elephant gift? I cannot presume to understand the Supreme (pun intended!) strangeness of this gesture, but I fully support all ways of keeping people's d–ks in their pants on this show. Or do I? #PatThePuss
Brittany is mortified. A furious Jax reacts by sending James a series of threatening texts. James, for his part, admits he went way too far, but guilt is not an emotion he's really is capable of so it doesn't sound too sincere. Instead of literally hitting him in the back alley of SUR by the dumpsters, like he originally planned, Jax hits James where it hurts most by storming into SUR to disinvite him to every event of the summer. Ouch. Of course this happens on Lisa's first day back at SUR since her brother's passing. It's not like Jax or James can have the wherewithal to pay attention to anyone but themselves.
Jax insists James was "calculated" when he made Brittany cry. James argues that Jax is the one being calculated by trying to provoke him into an outburst that will get him fired. Also Jax's outrage, and everyone else's seems… fake and misplaced. OK, so James obviously shouldn't have said that, but he apologized, and COME ON: Jax lecturing anyone on how to treat others?! Especially about hurtful behavior that makes girls cry! "I make women cry with self-loathing because they can't stop loving me," is practically his twitter handle. The hypocrisy is so glaring it's spray tanned orange on his face!
Also, it seems like Jax is using this incident to prove to Brittany how devoted he is. She'll be impressed, of course, because Brittany's standards are somewhere between the lowest budget Hallmark movies and supermarket romance novels read while eating hot dogs dipped in beer cheese when sitting by the banks of your backyard frog pond.
After confronting James, Jax gets a drink with Tom 2, who is still learning how to count to 1-2-3 by using number of shots consumed. Stassi Schroeder and new boyfriend Beau Clark also show up. I dunno – right away Beau is annoying me with his extra-ness. He's way too comfortable on camera.
Obviously the topic of conversation is about how James is the scum of the earth for making Brittany cry. Is this really what they're hinging an entire season on? This show needs James! Then Jax reveals that he's proposing to Brittany later in the week. Practically on the anniversary of his cheating with Faith! Oops should I not have reminded people that this happened? Let's hope Jax doesn't storm into my house and threaten to ban me from watching this show for pointing out that obvious fact!
Shockingly, Stassi is happy for Jax. She praises him for finally turning into a decent human. Then, she swears that if he does anything bad to Brittany ever again the Coven will descend upon him like the end of times with their acrylic nails in full attack mode on his face. Stassi in love is so much kinder!
It is annoying to me that once again this is the season of "Save Brittany," like she's some helpless little puppy everyone must protect from the mean dogs in the neighborhood. Brittany is a grown-ass woman!
Lala, Kristen Doute, and Katie Maloney cement their friendship by going to get piercings together.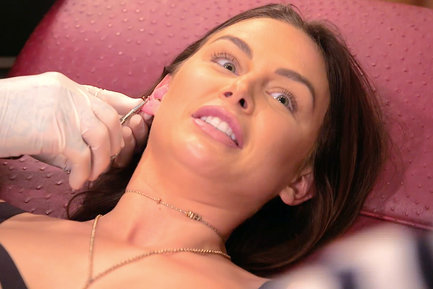 It turns out that James has been making a habit of offending his friends with grossly inappropriate comments about their relationships. This is … new? At Coachella he went too far by making a joke in front of Randall Emmett about knowing Lala "inside and out – if you know what I mean!" Combined with his rap about Brittany, Lala is done.
Katie agrees, "Times up on James." It's a movement you guys, and Kristen is definitely joining! Kristen has been looking for something to do on this show for seasons. Now she's found it by, once again, coming for James. She vows to avenge Brittany because she is her warrior princess and also "the mother f–king karma police." I have second-hand embarrassment for Kristen. Also is anyone else already over this storyline?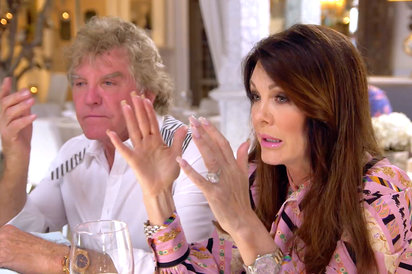 The next day Tom 1 and Tom 2 meet Lisa and Ken at Villa Blanca to discuss Tom Tom. The Toms have been perfecting the cocktail menu for months. And months. And months… I mean, it takes a while to order petrified toad urine from Belize, and secure plastic tears serum from Lisa Frank Trapperkeepers, or extract anti-aging immaturity bitters from divorcees around Hollywood, and then there is the cold-pressed carrot juice for healthy drinking! And also the diamond ice cube press.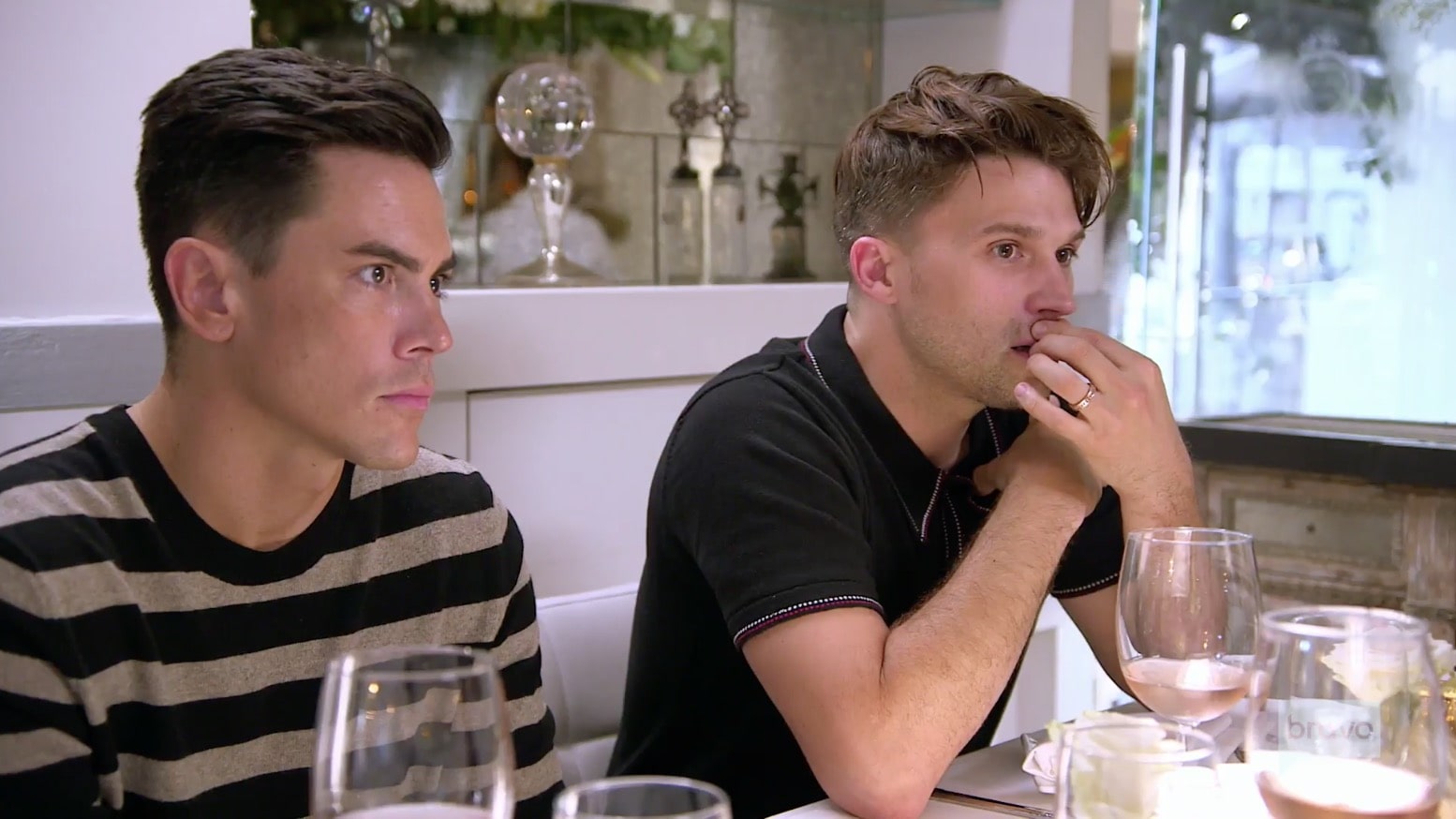 The last two are actual ingredients Tom 1 is proposing. Also a smoking pussy with a feather up its ass… (per Lisa). Lisa is so fed up she finally just put Pandora in charge of overseeing the cocktail list, much to Tom's chagrin and anger.
Stassi distracts Brittany by taking her to a dog park so they can talk about how much Jax has changed as compared to other dogs. In order to convince herself and Jax that they were meant to be together, Brittany had sex with her ex-boyfriend Aaron while she and Jax were "on a break." Jax even knows and didn't then decide to tit for tat by banging another girl. In fact, Brittany thinks it's brought them closer together because Jax couldn't stand to see her with anyone else. This, my friends, is called adulting. And also the next season of Dirty John …
Meanwhile, Jax shows Tom and Tom the engagement ring. He planned a whole proposal in Malibu, and followed by a surprise party with his friends afterward. Jax's dad left him some money so he spent it all on a $70,000 engagement ring to show Brittany (and himself) he can and will be a loyal and committed husband. Sheesh, dude, that's a down payment on a house to get you out of your crappy apartment! Or a lot of therapy. But also a lot of chicken tenders at Hooters, and at least Brittany can re-sell the ring after they divorce. So good for her for getting some security from Jax!
Tom 1 is salty that he's been with Ariana Madix longer. Plus he has never cheated even though Ariana stopped having sex with him about 3 minutes after they met, yet they're still not engaged. If it takes Tom 8 months to create a margarita recipe, I can only imagine how long it would take to design a ring. About as long as it would take Ariana to accept a proposal (aka never). Poor Tom 1  – he has such gorgeous skin (and it is especially amazing this season) I sometimes forget to even focus on what he's saying because I'm just watching his dewy, unlined complexion. Swoon.
For the big proposal, Jax stuffs the ring box down his pants and hides it under his balls. As they Uber to Malibu for fish and chips he actually tells Brittany he has to do "Number 2 real bad" as a ruse to stop at the Port-a-Potties stationed outside the restaurant so he can fish the $70k diamond out of his nut sack. So much wrong with this!
Stassi tells Kristen and Katie that he's proposing literally right at that second. Katie doesn't think it's a good idea, for obvious reasons. A year ago Jax was cheating on Brittany and telling his hook-up he'd never marry her because she wasn't attractive! "I can't say that Jax and Brittany have fixed their relationship, but I would not bet on that they have," Katie explains. Isn't that basically the more polite and politically correct way of saying the exact same thing James did? Uh-oh Katie, you will now be shunned from all events, and threatened with bodily harm by the karma police. Oh wait…no you won't since your name isn't James. And you are the self-appointed karma police. The difference is James made his comment publicly, mockingly, and calculated or not, with the intent to make a joke at Brittany and Jax's expense.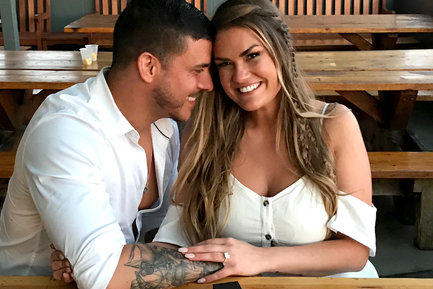 At Neptune's Net, Jax and Brittany order a shrimp basket. Then, Jax bumbles around, fake ordering other stuff until he finally presents the ring on a plastic restaurant tray which once held fried oysters. Um, who wants to put an engagement ring on after they just touched porta-johns and wiped off the fried fish grease using paper napkins? I guess this is why Brittany and Jax are perfect for each other.
You can see photos of Jax and Brittany's engagement here.
Seriously – what an apt metaphor for their relationship that Jax very probably could've dropped the ring box into a giant steaming hole of shit and piss, but miraculously managed not to.. Well, congrats you two!
TELL US – ARE YOU EXCITED FOR THE NEW SEASON OF VANDERPUMP RULES? DOES JAMES DESERVE TO BE SHUNNED?
[Photo Credits: Bravo]