Last night was the season 8 premiere of Vanderpump Rules, and honestly EIGHT YEARS. EIGHT YEARS! You'd think these people would've grown up some, but alas here they are, still filling squirt guns with tequila and fighting about who's a bad friend.
For many a'seasons I've been saying it's high time for a cast change; one which acknowledges and reflects that the OGs are, well, missing the natural collagen in their faces and therefore no longer eligible to play the role of struggling bartender straight off the bus from St. Louis. Last night Vanderpump Rules finally paid credence to that, and it almost felt as if we were going into this season with the realization that it would be the last for the original crew. I'll wear sequins to their funeral, play Solid Gold in downtempo, and drink PumpTinis with the rims salted with dehydrated tears.
Speaking of, we met three young whippersnappers already snapping at each other's panties and Scheana Marie's plastic heels. First up is Dayna Kathan, a relative newbie to LA whom we apparently met last season when she was partying in a hotel room with The Toms, who immediately asked her to work at Tom Tom. She's so good at her job (re: so thirsty for drama and lapping up even the foam from the champagne boats) that Lisa Vanderpump has since poached her for SUR.
Dayna has recently hooked up with Max Boyens, the manager at Tom Tom, which lends parlance to my theory that The Toms will be side car-ing into a spin-off with the original cast, while next season's Vanderpump Rules will be mostly newbies. Max is not heading to SUR and decided to that was the "all-clear" to kiss Dayna, now that he's no longer fraternizing with his employees and all!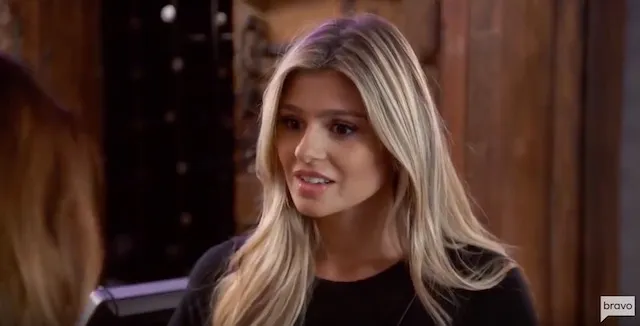 Lastly, there is Brett Caprioni, who gets the distinctive honor of being stalked by Scheana. Actually, it's an honor he shares with Max. Throughout the season we'll be meeting more new additions. After seasons of being James Kennedy's +1, Raquel Leviss's patience has finally paid off. While James was noticeably absent from the premiere, Raquel was working at SUR and getting her own confessional to explain how James needs to go to Vanderpump Dogs to pee on a puppy pad every time she leaves for work. Apparently, he gets sad puppy dog eyes at the sight of a SUR uniform. James was missed!!
The episode opens at Tom Tom, not SUR, where Tom 1 and Tom 2 arrive amid a cloud of hairspray fumes and jittery egos from accidentally huffing them. Dayna is on her last day before heading to SUR and casually as can be confronts Max about their drunken hookup the previous night. Youngins today. So free! Something about this seems… too blasé. As if this hookup never actually happened, but was the catalyst for their complicated dynamic to introduce them to Pump Rules.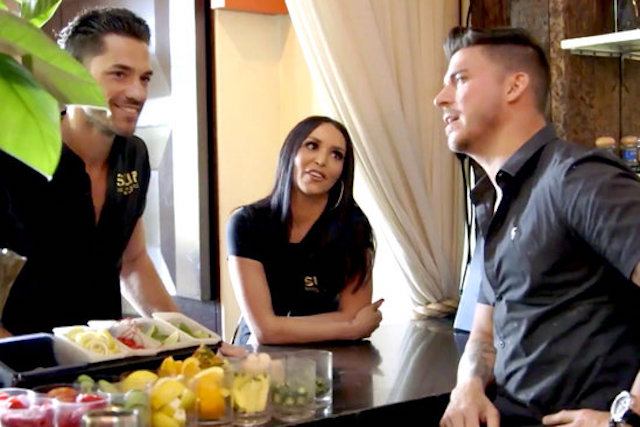 Over at SUR, the only two hangers-on are Jax Taylor and Scheana. Scheana is showing Brett around, but Brett wishes Scheana would just go roll some napkins. The night before, Scheana launched herself on him, preying manties style, and invited him home to "play Scattegories" which it turns out is a euphemism for making out. It didn't go any further, because according to Brett, Scheana is a bad kisser. I imagine Scheana is too busy making sure her lipstick doesn't smudge and then holding her camera, with selfie light, above her head to check if she looks hot.
Scheana apparently thinks Brett was just being a gentleman and wants to hang out more. Scheana needs wordart of quotes from "He's Just Not That Into You".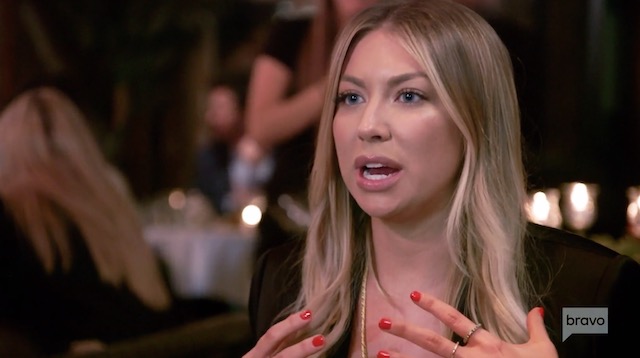 While Jax is pontificating about how Tom 1 is a bad best man for ditching his pre-bachelor party, Stassi Schroeder is dealing with the death of her grandmother and the death of her friendship with Kristen Doute. And where's a girl to go when she needs a pinot grigio and a reminder of her own superiority? Why to SUR to meet with LVP while Scheana serves them! Stassi is headed home for the funeral where, as a best selling author, she has been tasked with writing the eulogy. Of course, Beau Clark is by her side (as he should be) because he is the New Carter who obviously played his hand better by putting a ring on hers.
Before leaving for NOLA, Stassi visits Kristen to clear up their unfinished business. Kristen feels like her friends have abandoned her at the most stressful time in her life when she's breaking up with Carter and her old apartment. She's mourning the memories of James spatting on her door, you guys! Kristen looks a wreck.
Stassi lives by the Elizabeth Taylor mantra of put on some lipstick, pour yourself a drink, and pull one's self together, whereas Kristen lives by the … well, her own set of rules. Like telling everyone she's broken up with Cater while continuing to live with him, pay all his bills, sleep with him, etc…. Katie Maloney and Stassi are tried of Kristen spending hours crying to them about how devastated she is by the breakup, then going home to Carter and climbing into bed with him!
When confronted Kristen insists that when she moves Carter is getting his own place with a friend and they will be officially over. Stassi is relieved, but unfortunately, it's all premature emotulation!
BTW: Did Brittany Cartwright quit working there to plan her fairytale wedding full-time?
The other new development is that almost everyone owns a home in the Valley. Jax and Brittany, Tom and Ariana Madix, and Tom 2 and Katie all moved within blocks of each other. Kristen also lives in the Valley, but in a different spot.
Also, Lala Kent is sober, living in Randall's McMansion barricaded in by Fofty's henchmen, and plans to spend her days cleaning up shit at Vanderpump Dogs — when she's not cleaning up shit of her own making on Twitter. God – who'd have everthoughth Lala would end up so boring? Lala visits Lisa at Villa Rosa wearing her version of a LVP signature blouse – think frilly, swan-like, 1980's Dynasty, and all the ruffles of an Edwardian queen, but sheer and sort of courtesan floozy.
Lala has reached out to James, who hasn't responded. Lisa knows the problem is that once again James is drinking.
Then leaving Beverly Hills we head into the land that spawned Brandi Glanville, aka The Valley, where on a quiet-ish street, Brittany is struggling to figure out how to put a pillow in the pillow sham (somebody call Craig Conover!) and Jax is pretending to mow the lawn.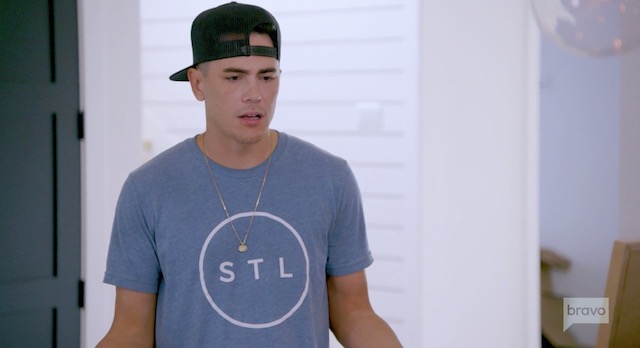 Down that same street, Tom 1 is putting together his breakdancing room out of old Amazon boxes, because when you screw over Bravo by refusing a wedding spinoff you wind up too broke to buy furniture Ergo the emperor has no chairs! Tom and Jax are officially fighting because Jax is a Groomzilla. How does it work when both the best man and the groom are monsters? Does the wedding just explode into Brozilla Wars?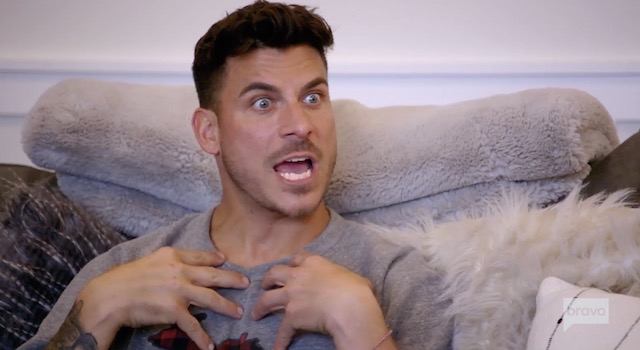 Jax claims that Tom has been ignoring him during the most important (re: upsetting and devastating) time in his life and therefore has downgraded him from co-best man to mere groomsman. The whole thing actually leaves Tom 2 in a lurch because responsibility is not his strong suit.
He's so stressed about having to be the sole best man that he's trying to convince Katie to wear a suit and pretend to be 1/2 half of Team Tom. Unfortunately, Katie is too busy planning their housewarming party and obliterating her friendship with Kristen to deal with T2J dramz.
The day of the party Tom 2 is so distraught he doesn't even bother getting dressed and attends his own party wearing a nightie. Mysteriously all of the newest cast members are all there, since we know Katie loves new people and all!
So, I have devastating news, you guys. Something has happened to Peter Madrigal and that something is called Jax's steroids and Tom 1's flat iron. Apparently, Peter raided their moving sales, purchased these unwanted items, and is using them to ill effects. It is not good. Spare yourself the anguish by fast forwarding through his scenes.
Also, Peter apparently hooked up with Dayna the night of the hotel party although Dayna is now claiming she only peed in front of him. Is that better or worse? I'd deny hooking up with someone with hair that bad too.
Katie and Tom 2's housewarming party is about what you'd expect. Lots of people there having individual dramas until it all explodes into one huge episode. It starts with Scheana who arrives at the party with Brett, but they're not actually together. They're just like "best friends," which is not at all how it was with Adam Spott, they are actually like for real Best Friends. (Only because Max wants it that way!) Also, Scheana is going to Palm Springs Max next weekend.
This has Dayna's antenna perking up. She assumed Max and Scheana were over.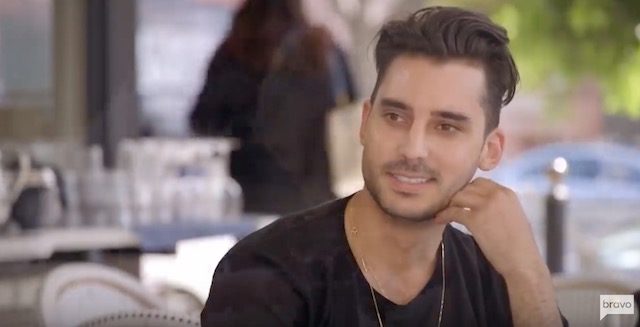 When Max was a new and innocent creature to Planet Vanderpump he also got ensnared by Scheana. What he assumed was a one night stand quickly turned into Scheana stage 5 clinging him into a relationship by buying him an AppleWatch to show her love. And then Max ghosted her. You know he sold that watch on FB Marketplace because he thought she installed tracking software in it (she so did!). Scheana is such a mess. It's like she needs to understand the nature of consent, but how it applies to dating someone.
Max pulls Brett aside to warn that Scheana is boy crazy and well, also just plain crazy, so if he starts hanging out with her too much she'll start telling everyone they're like an item. Basically using her to get on TV isn't worth it. (Unless it is.) Katie just so happens to IMMEDIATELY run to the fridge to get a drink the second she sees these two talking and overhears, then rushes back to Scheana to tell her – as a friend, of course – that Max and Brett are gossiping about her.
Scheana confronts them by clacking her 43″ plastic nails in their faces, and then sobbing about how she thought Max was her friend. Luckily her lashes are so long and fluffy she can use them as Kleenex. Poor Max was so desperate to make her stop. I'm pretty sure his reaction to being caught in the oldest reality TV trap in the book was the most authentic thing that happened last night.
To prove how not into Scheana he is Max asks Dayna on a date. Dayna hesitantly accepts, because free food?
And just when Tom 2 is wondering what's up with Kristen and Carter, who should walk though the door but Carter himself carrying a big ol' houseplant. Was this dude even invited?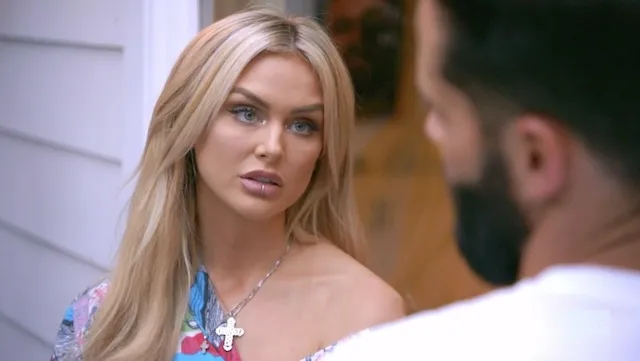 Lala decides it's time to get to the bottom of this situation. Lala and Katie are under the mistaken belief that Kristen has been trying to get Carter to move out and leave her alone, but he refuses, so they want to help their sista out from that sugar mama trap. Kristen's caramel has seized up! Can we discuss what was going on with Lala's outfit, fake lip ring, and the weird gemstones she had in the corner of her eyes? Hooker fortune teller much?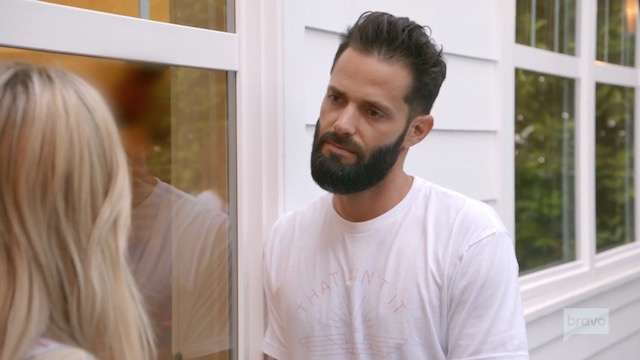 Unfortunately when Lala confronts Carter to accuse him of latching onto to a lady with a job (what job does Kristen have exactly if we're not supposed to admit her only job is Vanderpump Rules), he informs her that Kristen actually doesn't want him to leave, calls him all the time, and is relying on him to shoot her website content. So basically she lied about them breaking up. On the other side of the patio door, Kristen is watching this all unfold and you can literally see her unraveling. Her hair is scraped back into a lopsided bun as if she's NOT on TV and she starts hyperventilating into her reusable straw.
Tom 1 and Jax are avoiding bearing witness to this because they are having a heartfelt talk by the pool about the importance of validating one's friends. For Tom 1 buying a house with Ariana was the equivalent of having a wedding: a major milestone that affirms their permanent commitment to one and another, yet Jax was constantly one-upping him by bragging about buying a bigger house in a nicer area with better amenities. Yet he ended up buying on the same street.
Jax, meanwhile, felt rejected by Tom when he needed pre-wedding butt wiping. If anyone needs their hand held as they walk down the aisle of doom it's Jax. After Tom catches Jax in a lie about Tom not texting him, Jax relents and lets Tom be co-best man again. You know it was only because Jax didn't trust that Tom 2 could handle it on his own!
Finally, after Kristen and Carter are spotted making out and Carter asks her why she's telling everyone they're over, Lala  puts Kristen on blast. Kristen FREAKS out about how all of her friends are judging her by trying to make her live by their rules. That's when Katie gets involved and screams at Kristen that she's tried of the lies. Katie doesn't understand the "strange hold" Carter has over Kristen (could it be emotional abuse?), but if Kristen doesn't want to be honest, their friendship might be over.
Lisa is probably so secretly psyched everyone is finally over Kristen.
TELL US – ARE YOU EXCITED FOR THE NEW CAST MEMBERS? IS KRISTEN LYING ABOUT CARTER?
[Photo Credits: Bravo]