Never has their been a bigger Real Housewives conundrum than Phaedra Parks. One-part preacher's daughter, one part-convict's wife, one-part funeral director, one-part stripper's attorney, one-part pickle connoisseur, one-part southern belle, one-part attorney, one-part aspiring politician, and one-part thong devotee.
With all her shade, crazy facial expressions, and inconsistencies, Phaedra will be missed on Real Housewives Of Atlanta and we are here to give her an official Phuneral By Phaedra in remembrance of her many contributions to the drama in the Bravo Universe.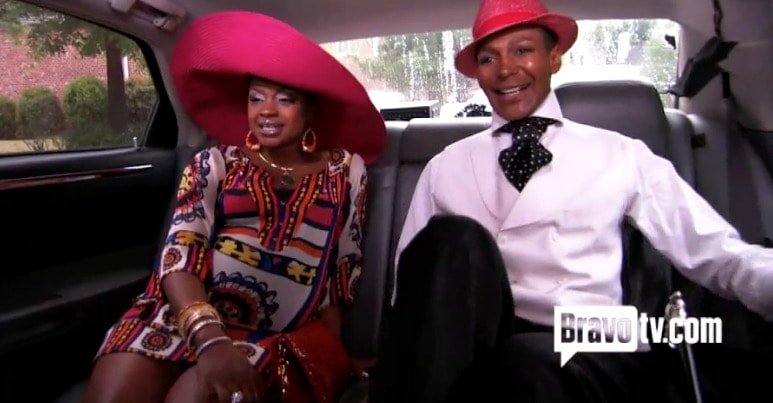 [Photo Credit: Bravo]
Phaedra joined the show in Season 3 promoting herself as a Southern Belle, with a penchant for dispensing "Everybody knows…" advice tidbits, and serving all the blooming peach teas – except where her own life was concerned! Phaedra joined as a friend of Kandi Burruss's. Phaedra wasn't just carrying a designer bag, but a suspicious pregnancy. Phaedra, for all the things she knows, seemingly had NO idea when her miracle baby of immaculate air mattress conception was due. Was she six months pregnant? Seven? Eight?
We knew Ayden, aka Mr. President, was gonna be a super baby when Phaedra declared he was "fully formed" MONTHS early! Equally confusing was Phaedra's marriage to ex-con Apollo Nida!  Of her husband's past, Phaedra shrugged, "He's no different from Martha Stewart, and people need to just get over it."  She explained that Apollo had signed a pre-nup and wasn't with her for the money, but the Donkey Booty, which drew all the boys to her pasture.
Phaedra's other claim to fame was that she grew up in Athens, GA right in the same town as NeNe Leakes. NeNe who declared that she had never heard of this Phaedra person… Right away they butted heads. Or is it weaves?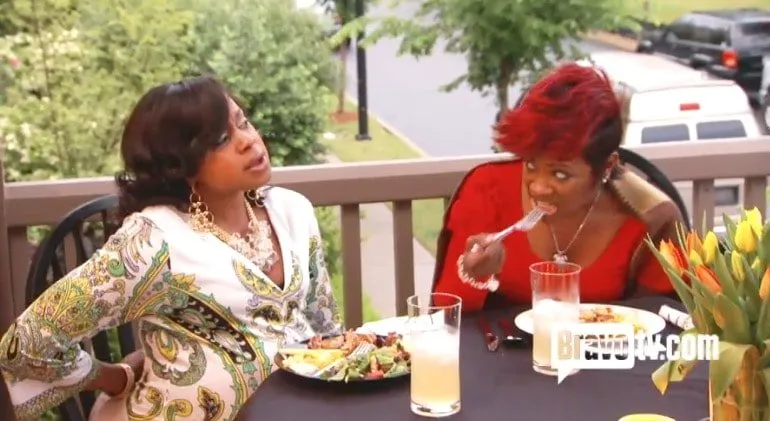 [Credit: Bravo]
Going by the due-date drama, we should have realized right away that something in Phaedra's buttermilk wasn't clean – even though she loved herself so-called "clean" men (only of the baby mama department, not of the criminal records). Phaedra turned out to be more slippery than spearing the last pickle in the jar, but she balanced it out by being weirdly interesting., Like her Boughetto-ballet themed baby shower which thrown by D'Wight! He must have spent $30,000 on the roses for her hair and the rhinestones in Phaedra's eyelashes, right?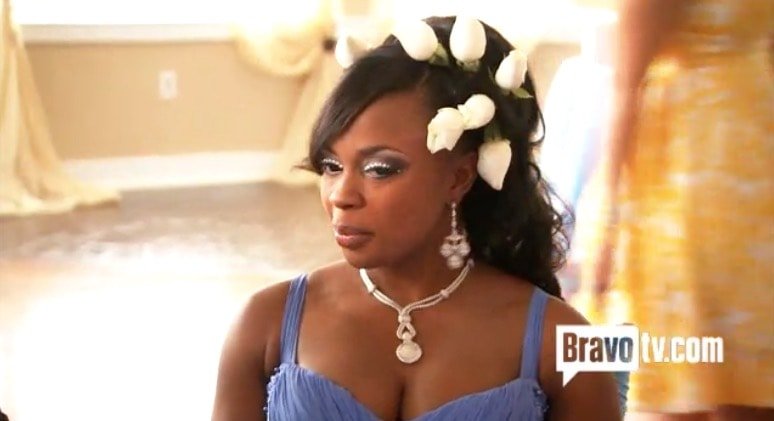 [Photo Credit: Bravo]
Even Kim Zolciak, a Licensed Practical Nurse, or Licensed Nurse Practitioner (but definitely a professional baby-factory), knew that no doctor would induce a baby that soon if it weren't a matter of life or death. Phaedra's first Housewife feud was with Kim when she demanded Wigs provide proof of her nursing credentials. "Just because you strip out of a nurse's outfit, does not make you a nurse, baby girl," she opined. Well for someone wanting so many receipts, Phaedra sure never asked Apollo for any of his…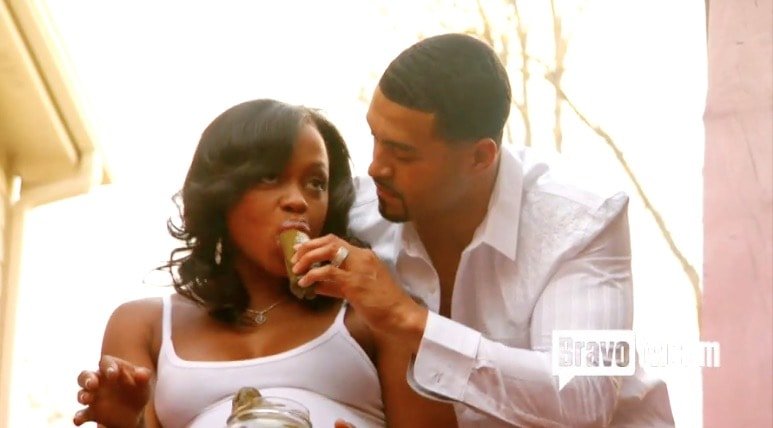 [Photo Credit: Bravo]
Phaedra and Apollo seemed so happy that first season… And then came the introduction of Kenya Moore!
SEASON 4: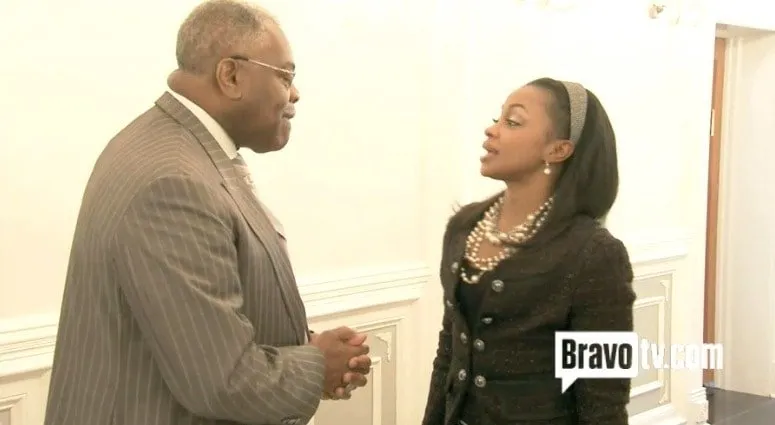 [Photo Credit: Bravo]
In season 4 it was Smalls vs. Talls, and Phaedra decided to expand her repertoire to become a mortician, with the idea of hosting FABULOUS funerals (planned by Dwight?). Phaedra had hoped to make it a family business with Apollo's help, but he was uhhhh… interested in other pursuits.
In the meantime Dwight occupied himself by planning some sort of elaborate name dedication for Ayden featuring a throne, chariot, and other princely features, followed by a 12 cake birthday party with a cake for each month of life.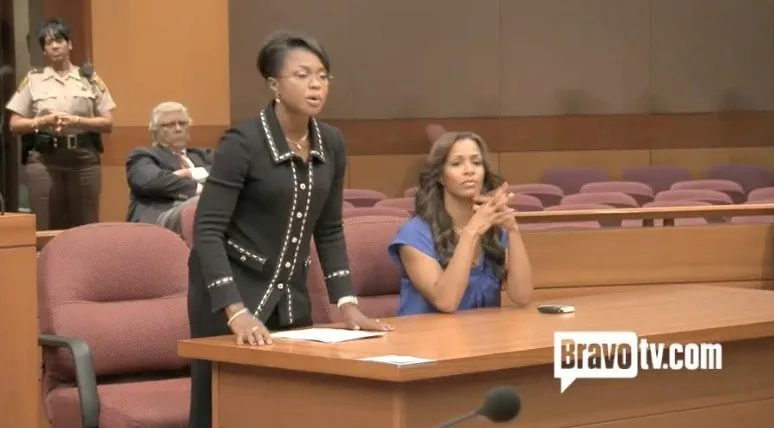 Phaedra also played lawyer for Sheree Whitfield in her child support case against DeadbeatBob! Phaedra spent more time chasing Sheree down for her $5k retainer, than she did preparing for the case and the self-represented Bob trounced her in court. Of course Phaedra did manage to lend Sheree an air mattress in exchange for having to pawn her stuff!
Phaedra also surprised Kandi at her Bedroom Kandi sex toy party when she hired RiDICKulous, the stripper who perfectly illustrated what kind of entertainment Phaedra values. Still for most of season 4, Phaedra played peace-keeper and hilariously witty omniscient narrator, and keeping mum about why exactly NeNe despised her. All that changed in season 5!
[Credit: Bravo]
In between seasons, Phaedra's past and relationship with Apollo started to catch up with her when she was questioned by Apollo's former co-conspirator who released a book called Lies Of A Real Housewife. At first it all sounded so crazy…
SEASON 5:
Season 5 was one of the most DRAMATIC seasons of RHOA ever! Kim was out; Sheree was out – Kenya and Porsha Williams joined the show. Phaedra and Kandi were SUPER-BFFs after Phaedra set up Kandi and Todd. In fact even Phaedra and NeNe were finally copacetic! All was happy, hunky-dory, and sweet as chocolate until a former beauty queen with a vendetta infiltrated their midst!  Suddenly there were inappropriate flirtations with another Househusband! There were thongs! There was twirling! And there was no going back!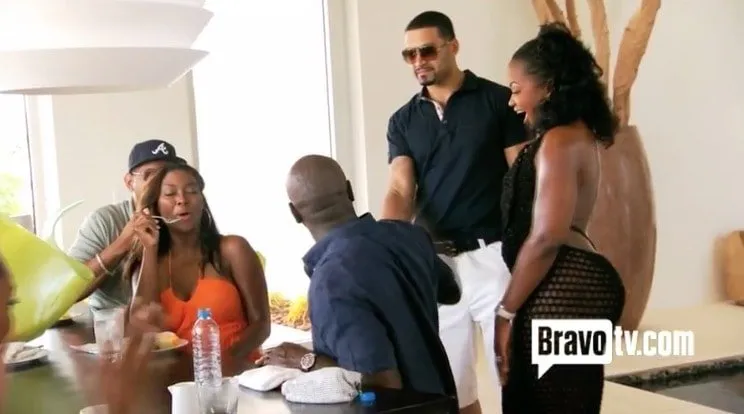 [Credit: Bravo]
It was season 5 when Phaedra really took off, or should I say rode off on her Donkey Booty. Everybody knows… this booty is a thing we should all aspire to, and Phaedra decided to create a Donkey Booty exercise video with the help of new castmate and friend Kenya. Ironically it fell apart over drama about "back-end deals."
Phaedra first advertised her fabulous booty by wearing a thong on the cast trip to Anguilla, a black thong swimsuit that would come back to haunt this southern belle in the most Gone With The Wind unfabulous "Victoria's Secret free panties" kinda way! But before all that happened, Phaedra was a friend to Kenya and supportive of her through her failing relationship with Walter.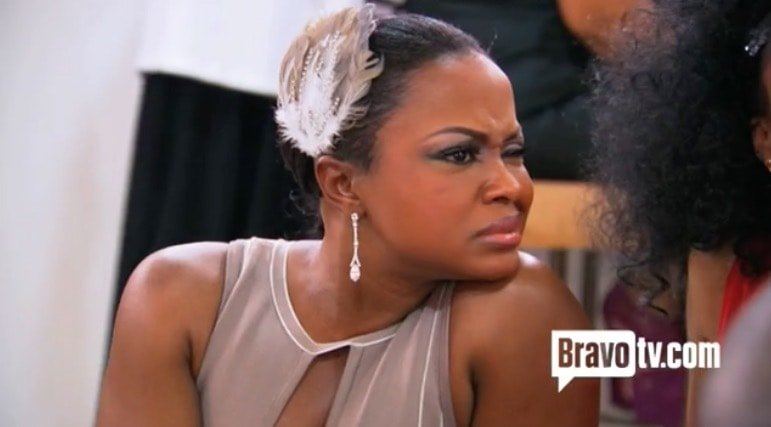 [Credt: Bravo]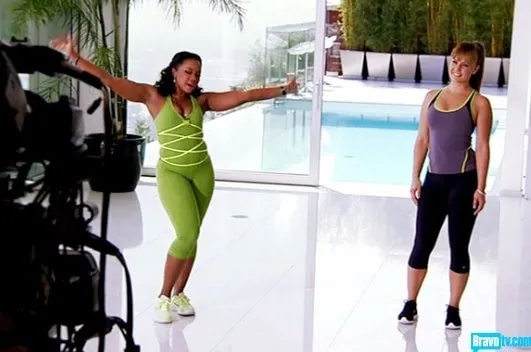 Phaedra didn't want to "perspire" she wanted to "glisten," which meant her workout consisted of basically shaking her butt and growling in a pickle-colored exercise onesie. "Our donkey booty video is gonna bring life to the booties across America, as I collect my coins."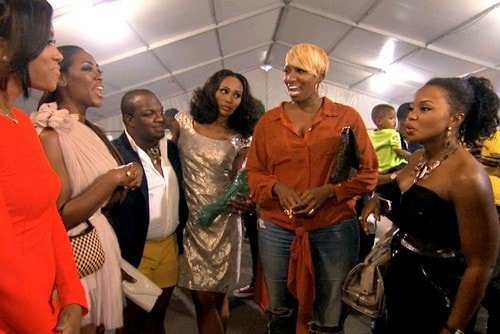 While Kenya's booty was turned, Phaedra asked Cynthia's Bailey Agency to help cast the video and a feud was born! After Phaedra cut Kenya out of the deal cause she didn't want to share those coins, Kenya decided to release the competing "stallion booty" workout DVD, deciding that Phaedra was "too fat" to be advising others on exercise. Unfortunately Phaedra happened to be pregnant with her second child, Dylan. I think she luckily figured out her due date this time!
Kenya and Phaedra didn't only fall out over bootys, there was also that inappropriate flirtation Kenya had with Apollo. You may remember it … (sarcasm).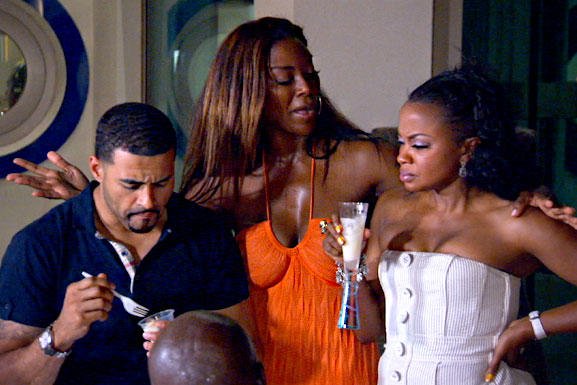 It started with saucy comments over the booty bargaining table, and peaked with a pool toss in Anguilla and a proposition of a threesome. In response Phaedra brought out the "big buns" to make sure Apollo kept his eyes in the right direction- sadly he instead looked at his phone screen where he was possibly illicitly texting the former Miss WHO-S-A! Despite Kenya's misbehavior, Phaedra still claimed to feel sorry for the poor, dried up, eggs of Krayonce, and tried, piteously, to be a friend…
[Credit: Bravo]
Following the disastrous butt pads at the Shoe Dazzle charity event, Kenya and Phaedra made peace, but just in case she needed SECURITY, Phaedra decided to launch a line of tasers called Phaedra Sparks, and came dressed to Kenya's Hollywood legends party as Cat Woman – claws drawn.
By the reunion Kenya had released her song "Gone With The Wind Fabulous," featuring a video which mocked Phaedra. It was also revealed that Kenya had been flirtatiously texting Apollo behind-the-scenes, and was accused of trying to illicitly hook up with him in LA. On the reunion couch, an eight months pregnant Phaedra, Ms Parks if you're nasty, let that Southern Belle facade collapse faster than Kenya's fan!
Not letting Jesus fix it, Phaedra began referring to Kenya as "Kenya Whore-Moore" and claimed Kenya had "bought her booty in Mexico" (along with hiring Walter to play her man). She also mocked her for being old and unable to get a man, called her mentally ill and an alcoholic. In response Kenya threatened to beat a pregnant woman's ass, suggested Apollo should have an AIDS test, and reminded that same pregnant woman that the man she got is an ex-con with wandering eyes (and hands)!
At least we'll always have Phaedra's priceless parenting advice: Children should pin $100 bills to their outfits for second birthday parties, because it is a grand tradition of "passing the Benjamins." Brilliant.
In between seasons Phaedra gave birth to Ayden, aka the Prince, (who was fed only fresh pure chocolate milk from mama) and Apollo was indicted for fraud while season 6 was filming, something that Phaedra refused to discuss!
SEASON 6:
Phaedra had reattached her phony smile and embalmed herself against any low-blows, and remained steadfast that Kenya was all over Apollo's innocent nuts. Phaedra was standing by her man as they renovated their new mansion, and Kenya was still the target of her animus, even after Kenya proved to Kandi that she hadn't been sending Apollo nasty texts. Phaedra wasn't quite ready to believe her, but she was starting to sense that something about Apollo's backpack buttermilk definitely wasn't clean!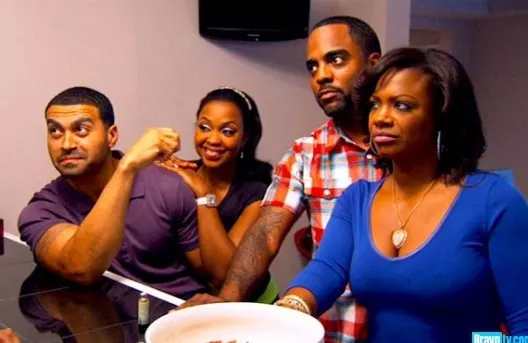 Phaedra also started to form a friendship with the "tiny head, tiny brain" of Porsha, the woman we would soon call the Frick to Phaedra's Frack! Kandi and Phaedra grew closer that season as Phaedra helped Kandi navigate the pre-wedding crazies of Mama Joyce.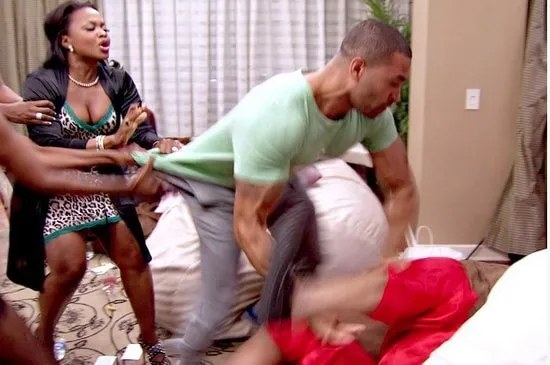 The drama between Phaedra, Apollo, and Kenya continued to rear it's very ugly head at NeNe's PJ party when a massive brawl erupted and Apollo attacked Kenya's assistant Brandon! NeNe and Phaedra bonded when they blamed Kenya for the instigating the whole thing.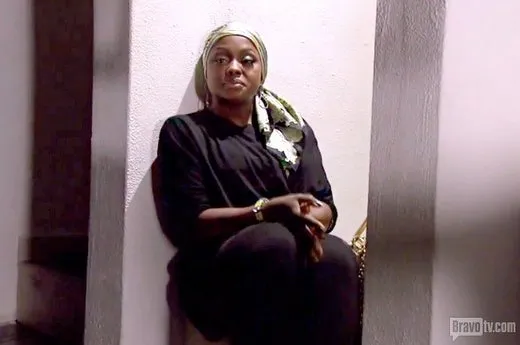 By the cast trip to Mexico, where Phaedra asked that Apollo and Kenya not communicate and Apollo ditched his wife leaving her stranded outside – and locked out of – of their hotel room, it was clear that the days were numbered for that Parks-Nida marriage – especially when Kenya oh-so-innocently inquired about Apollo's views on cheating and his answer, let's just say, it wasn't that wholesome!
In an effort to re-brand herself, yet again, the lawyer/exercise impresario/mortician decided she would also add future politician and philanthropist to her resume and Phaedra got the idea to start foundations for children. Cause she is such a good role model and all!
By the reunion everyone was wondering about Apollo's indictment and brawl no 2 of the season occurred when Porsha and Kenya got physical. Phaedra eagerly sided with Porsha claiming she was provoked.
In between seasons, Apollo continued his legal plight, and Phaedra was a bridesmaid in Kandi and Todd's wedding, but it was pretty much the end of Phaedra and Apollo.
SEASON 7: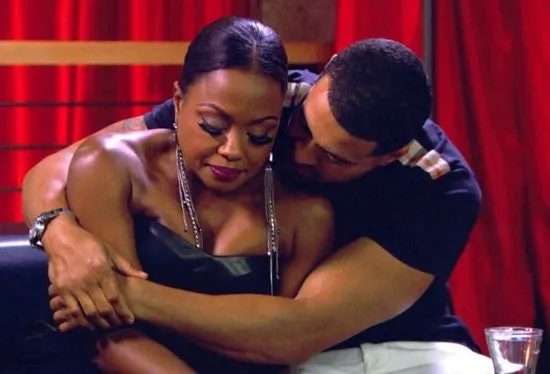 Phaedra returned as essentially a single mother while Apollo prepared to self-surrender to prison and sought an attorney about divorce. Apparently Apollo had moved out and was spending his time with Peter in strip clubs. With Phaedra refusing to speak to him – or open up to the other ladies about what was going on – Apollo showed up unannounced to an event, and creepily insinuated he would never let Phaedra go. In the hours before his prison surrender – when he went asunder – he threatened his wife with a drill. Phaedra continued to remain eerily quiet about the matter and her own divorce plans.
Clearing up seasons of nonsense, Apollo also admitted that he'd "lied on" Kenya when he told Phaedra they had been sexting. A shocked Phaedra seemed ready to apologize and discuss things with Kenya, but continued to keep her distance. According to Apollo, Phaedra was busy cheating with the very secret Mr. Chocolate, and Kenya and Cynthia were all too eager to call Phaedra out. She snapped and Jesus got there just in time to stop Phaedra from walloping Kenya with a bible clutch purse.
With Phaedra's divorce brewing, and Kandi and Todd remaining close to Apollo, Phaedra turned to NeNe and Porsha for support. New Housewife Claudia Jordan, a friend of Kenya's, decided it was the perfect time to spread additional rumors about Phaedra's allegedly slutty pasts – air mattress wrangling in the prison half-way house, anyone?!
Kandi was disappointed that Phaedra didn't want to stay in her marriage , and didn't want to bring her sons to visit Apollo in prison. Kandi resented what she believed was NeNe and Phaedra's fake friendship. It was the beginning of the end for Kandi and Phaedra.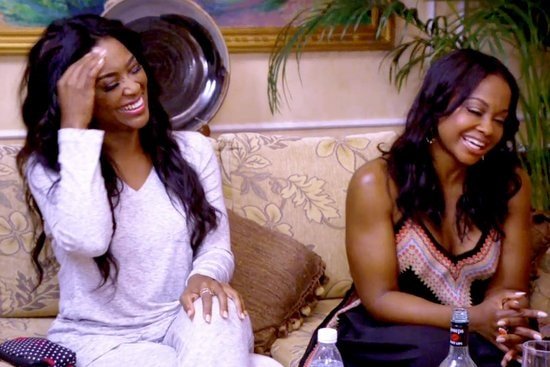 Phaedra needed her holy water spritz and prayer cloths that season – and she and Kenya finally decided to meet and pray the demons away and start a new friendship. That did not last, obviously, and Life Twirls On, right?!
SEASON 8:
NeNe was gone, and Phaedra and Kandi were barely speaking, so Kandi had been replaced by Porsha. Phaedra attempted to keep a low-profile as she dipped her toe into the political scene and while continuing to dip her booty into a thong, but she wasn't able to let go of her anger towards Kandi.
Phaedra also befriended new Housewife Kim Fields and helped her through her emotional meltdowns of working motherhood (and dealing with Kenya).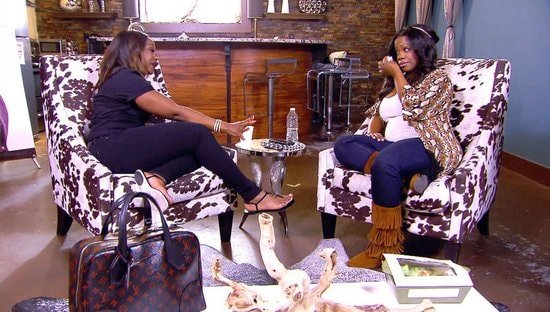 Kandi and Phaedra tried to work things out at a tearful sit-down, and even though Phaedra helped to plan Kandi's baby shower, she certainly was not forgiving Kandi for hiding Apollo's assets in her garage so the FEDs couldn't find them! Kandi blamed Phaedra for tipping off the authorities.
Adding another layer to the friendship mess, Todd was mad because Phaedra owed him money years later for a pregnancy exercise video she had planned to make before Apollo went 'away'.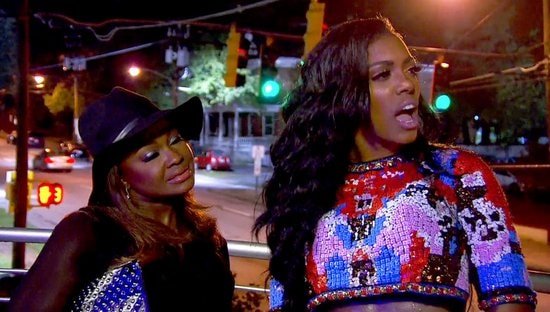 During a preview for Kandi's new music video, Phaedra was overheard by Don Juan snarking that Little Todd owed Phaedra a workout video which he never delivered, which is why he never got his money! After Phaedra and Todd talked things over Phaedra finally paid – very late! – and was spiteful about the product, and the person Kandi turned out to be! Everybody knows… when Phaedra holds a grudge, not even a Willie Watkins Funeral could pry it out of her cold dead hands!
Phaedra and Kenya were pretty drama-free until the cast took a trip to Miami, and Phaedra blamed Kenya for instigating drama with drunken creep Glen Rice Jr. Phaedra apparently was trying to make a political point about black boys and men being unfairly villainized and Kenya's instigation furthered these misconceptions.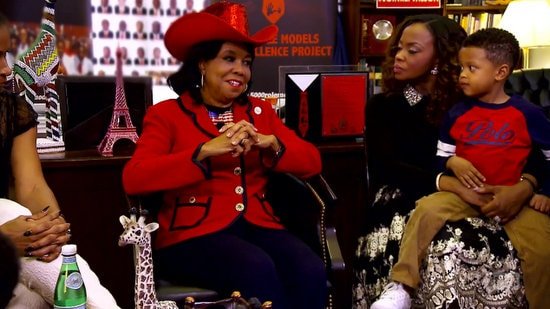 With the invent of the Phaedra Foundation, fatherless boys had become Phaedra's new cause – built on delusional ideology that Kenya is responsible for all men everywhere behaving badly or something. And since fatherless boys is kinda her thing, Phaedra wore a FUR CAPE and took Ayden and Dylan to visit Apollo in the clink.
Since everything was going badly the cast decided to take a trip to Jamaica, where much to Phaedra's dismay, NeNe made a surprise appearance. The ladies all managed to bond while mused about those rumors that Kim's husband may perhaps be gay?
By the reunion, Kandi and Phaedra's friendship was completely over after the things Phaedra said about Todd.
SEASON 9: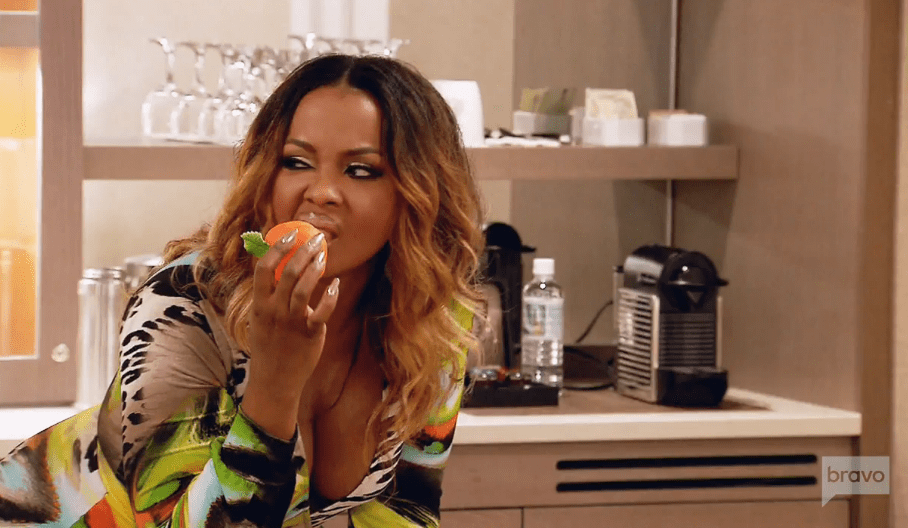 Phaedra's final season has been anything but genteel as she found herself embroiled in drama bordering on possibly criminal – or at least lawsuit worthy, perhaps! Despite the drama, Phaedra attempted to add "prophet" to her list of professional accomplishments and tried to achieve this by hosting a myriad of events: harmony-bringing laser-tag, anger management release dinners, teamwork building glamping retreats, and most delusional of all: a restoration service in Hawaii after lying to Kandi and Porsha. What Phaedra needs to do instead is get the number for NeNe's Dr. Jeff and hope she can be restored to sanity!
Sadly Phaedra's friendships with Kandi and Porsha are now completely finished over those lies. Fix it Jesus!
Things were actually blowing up all over – Phaedra was even the subject of a bomb threat from a former client, which she learned about en route to discuss divorce with Apollo at the prison! Mama Joyce was all too thrilled to pry and make accusations about Phaedra driving people to destruction.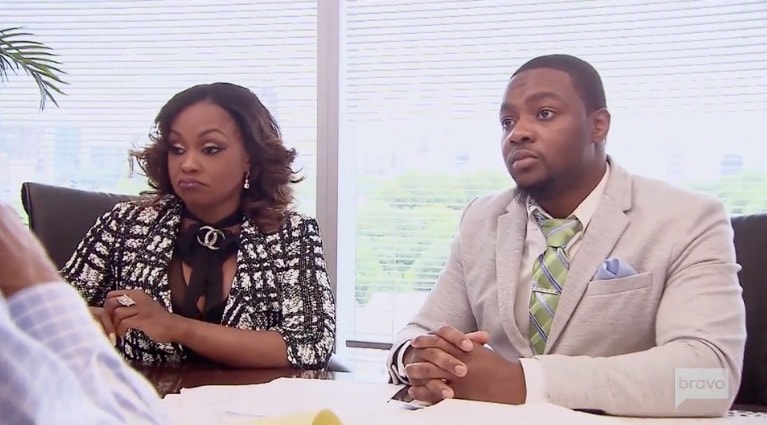 Returning to the law, Phaedra helped a legal case of Kandi's ex-assistant Johnny, who wanted to sue for unpaid wages. Phaedra even introduced him to a leading employment attorney, but then in the same breath was telling Kandi that she loved her more than she loved Apollo and was so sad their friendship had fallen apart?! Shaedra, indeed…
A newly – legally, so she thought – single Phaedra was considering dating, but she certainly wasn't ready to be open with the other women about the status of her divorce from Apollo. Kandi, however, was still upset that Phaedra dared to date Mr. Chocolate while she was separated from Apollo and considered it cheating. Meanwhile Todd was communicating with Apollo's sidepiece, turned fiance, whom he WAS cheating on Phaedra with while they weren't even separated! Speaking of, Apollo's new fiance showed her face at the preview opening of the OLG Restaurant! At last Phaedra admitted that Mr. Chocolate truly existed, and she was communicating with, but nothing else. Uh-huh…
Porsha and Phaedra's issues started when Phaedra discussed Porsha's anger management with Kenya. Frick would be loyal to Frack til her Phuneral By Phaedra days, but Frack tried her hardest to make them crack! Later when Porsha questioned Phaedra about what she told Kenya, about it Phaedra lied! Sadly, Kenya was eager to put it to the test by chasing Porsha down the street.
Porsha was warned by her friend Shamea Morton that Phaedra wasn't a true friend – and accused her of trying to do the dirty with Shamea's ex-man before they were broken up. Porsha defended Phaedra, but then said nothing when Phaedra whispered that Kandi and Shamea were once lesbian lovers!
That little accusation set off a domino effect which culminated in Porsha and Kandi having an enormous scandalous fight over Kandi and Phaedra's friendship. Porsha actually accused Kandi of trying to drug and rape her! Something she learned from a reliable source… An unnamed reliable source…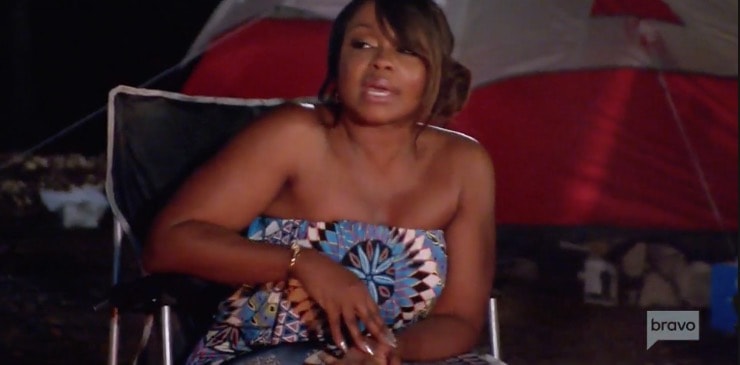 With all the horrible gossip swirling, Phaedra's one good deed was to host a charity popup fundraiser, then spend a week camping with Kenya and kids affected by the Flint Water Crisis. Kenya and Phaedra seemed genuinely bonded, and vowed to put all their issues behind them. It seemed legit and earnest – until Maui. Pre-trip Phaedra got her fat lasered off, but not her lies, and she begged Porsha to come along because it would be an opportunity for her and Kandi to 'talk things out.'
Kandi had different plans – and erupted like a volcano onto Porsha over the drug and rape accusations. All the while, Phaedra sat there, not saying a word to Kandi about where Porsha got the damning information, nor in defense of either woman!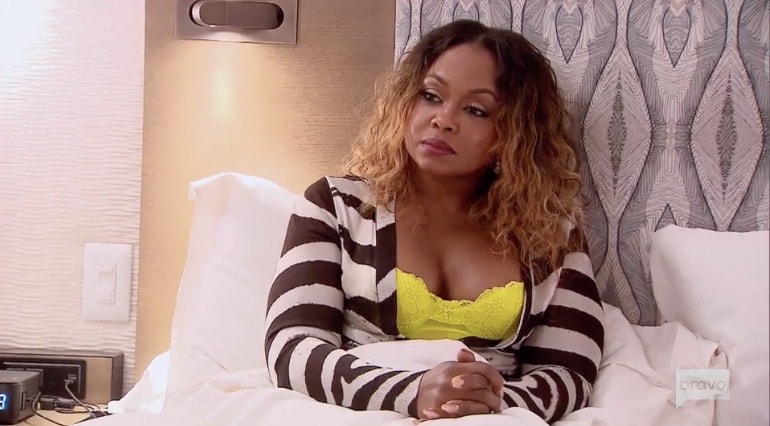 Things went from bad to worse when Kenya threw Cynthia and Phaedra a surprise divorce party. Phaedra stormed out claiming the "harlot" who ruined her marriage had no business celebrating its destruction. When Kenya confronted her, Phaedra turned back time to 3 years ago and again brought up Kenya's inappropriate communication with Apollo! Dang Phaedra – didn't the good Lord ever teach you about being gracious?!
At the finale party, Phaedra defended her decision to help Johnny as her responsibility as an attorney to help those who seek her advice.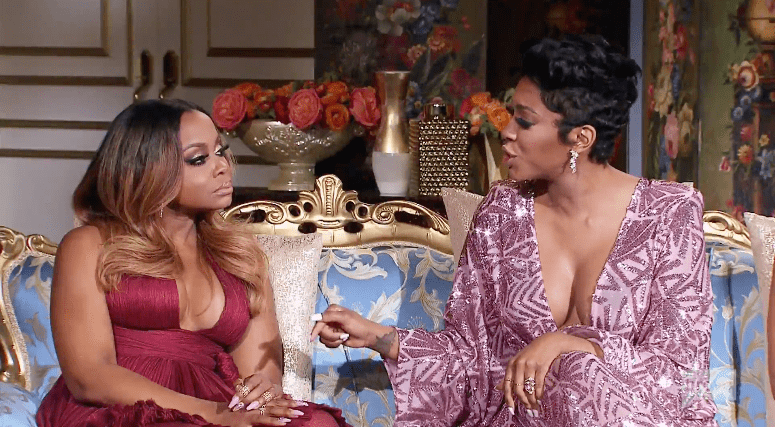 Then came the reunion. At first it was standard fare: accusations, arguments, and bad behavior, lots of them between Kandi and Phaedra, but then Porsha revealed that it was PHAEDRA who said Kandi plotted to drug and rape her! Phaedra the most rotten peach of all continued to try and lie her way out of it, and then insisted she never meant to hurt Porsha. We don't believe you…
Well it's been real, Ms. Parks. We shall miss your shade, at which you've excelled, and you frantically trying to cover your truths. Who knows – this may not be the last of Phaedra?
TELL US – WHAT'S YOUR FAVORITE MEMORY OF PHAEDRA? ARE YOU SAD SHE LEFT RHOA?
[All Photo Credits: Bravo]