Jax Taylor finally got married on last night's Vanderpump Rules, metamorphosing from Jax to Jason. Even so Tom Sandoval was the true knight in shining armor. Tom had tampons, tissues, White Claw, vodka, an endless supply of giving and support. What did Jax have besides patchy sideburns and a mistaken understanding that getting married does not allow one legal ownership over your spouses breast implants.
Although how fantastic would it be if Brittany Cartwright threw the removed implants on the table at their inevitable divorce trial?! Which from the mid-season preview seems like it's coming sooner rather than later. The shelf life of an implant is what – max, 10 years? The shelf life of a marriage to Jax Taylor has to be more like 2.2 years. Maybe 2.4 if there's an extended separation. And probably more like 1.4 if Vanderpump Rules cameras turn off. Marriage Bootcamp only films for 5 weeks.
Anyhoodle, yes, Jax and Brittany finally finally finally made it down the aisle in the unrelenting sun of a Kentucky summer, leaving their guests to wilt and melt in 96 degree weather without any shade. Except for Tom 1 running around holding out parasols. Add that to his list of positives! After all this Jax only gives Tom 1 a B- or C in the best man performance grade.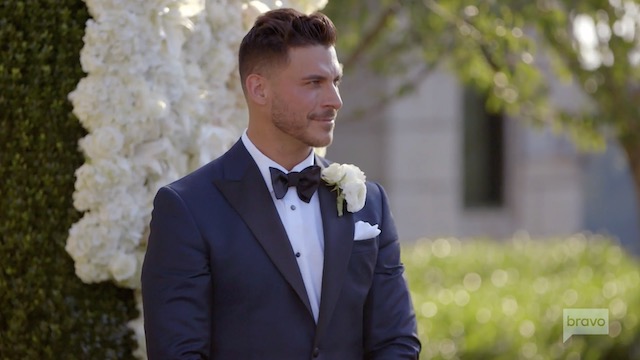 Meanwhile Tom 2 who made a 20 minute best man speech in which he dropped the f-bomb, outed Brittany for being a pot head and reminded everyone that Jax was as womanizing ho and drunk was given an A+? That grading curve is faaaar too steep! Brittany's parents defined southern manners (shocking, I know) when they mostly kept their facial expressions to a bare minimum of disgust for their new son-in-law and his liberal friends.
So this wedding! Lisa Vanderpump dressed like an extra from Gone With The Wind and praised Jax for truly transforming into a man. Jax ate a cheeseburger because he saw a vision of his dad in the sesame seed bun which is a sign that heaven exists, and heaven has a southern accent and a gay pasture. Oh yeah, Lance Bass arrived, attempting dapper with grey hair and glasses, but honestly is this guy trying to resuscitate his career by hosting celebrity weddings (or reality shows)?
RELATED – Katie Maloney Says Tom Schwartz Didn't Actually Lose Their Marriage License
Lance was fine. Also Jax and Brittany were fine at pretending they were overjoyed that their original pasture was kicked out. Their vows seemed like they were written by 6th graders on wide rule notebook paper with a color change pen. Pledging to not forget each other over summer vacation.
Meanwhile Brittany told us at least 42 times that she's dreamed of getting married ever since she was a little girl. Call me judgmental, but isn't it a little bit pathetic for marriage to be woman's ONLY goal in the year 2020?
Rand almost missed the entire thing because his personal assistant wasn't there to remind him to get dressed. Lala Kent really needs to stop pretending she's marrying Spielberg. Stassi Schroeder and Katie Maloney spent 2 hours steaming Brittany's dress because as part of Jax's budgeting he decided to skimp on dry cleaning. Kristen Doute loves Carter, she loves him not. She wants Carter in her bed, she wants him in Scheana Marie's. She wants him in the castle, she wants him in the Holiday Inn.
RELATED – Lala Kent Says She Would Only Get Coronavirus If God Wants Her To Get Publicity For Her Wedding
The shade appeared for the reception where there was a tent. And, according to Beau Clark, air conditioner. Lisa lectured Tom and Katie on living a lie about their marriage license and questioned if Tom sabotaged intentionally. That's a rhetorical question, right?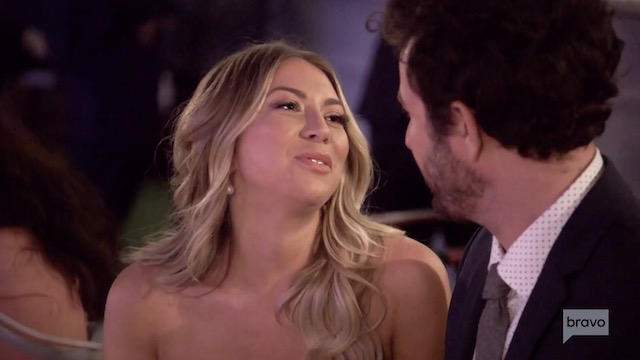 Beau and Stassi discussed getting married. Despite Beau not dropping down on one knee in the middle of the tent to propose, Stassi kept the Dark Passenger tucked away in her Chanel bag and focused on hating Kristin and catching the bouquet. Kristen cried over Carter and tried to decide if she believes he loves her, and wondered how she wasted 4 years on another Mr. Wrong. Um, because Kristen you are Ms. Wrong. And two wrongs do not make a [Cart]Wright.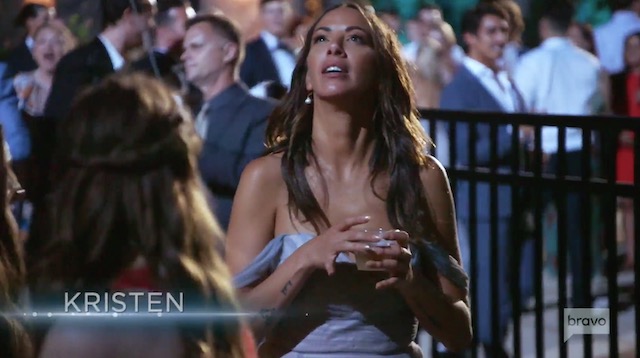 As Brittany chucks her bouquet over the balcony she decides she doesn't want Kristen to catch it because that obviously means she's stuck marrying Carter. But Kristen always fights for the bouquet at the wedding. Of course she does. That's the type of superstition she would go in for. Believing that she'll be doomed and eternally single if she doesn't get whacked in the face with this 4 pound sweaty shrub; grubby with another woman's hopes and expectations. Already wilting and a little worse for the wear, like marriage the day after the wedding is over. But nonetheless of course Kristen will fight for it. Thinking catching it will transform her into Mariposa. She'll be able to emerge from her cocoon of dysfunction and flutter into the waiting arms of the perfect man. It turns out Brittany's teenaged cousin Amanda catches the damned thing so hopes dashed again!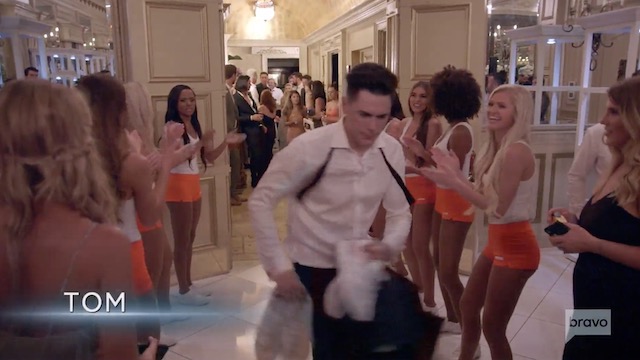 After the reception, Jax and Brittany welcomed their inner circle back to the castle where a huddle of Hooters girls let them dance through a tunnel of chicken wings and ranch. Then Jax threw a tantrum because the castle charged guests for the drinks from the bar, even though he spent $100k on the wedding and had a case of vodka for his friends to drink. Um, what if people want wine? Or whiskey? Or White Claw? Better call Tom 1! Once again he saved the day by locating the vodka and setting it up.
Tom 2 got wasted. Scheana made out with a random groomsman after twerking on him in hot pants, post reception. Cause of course she did. The next morning Jax sat straight up in bed at 10am, one hour before their 11am checkout, after having an unsettling nightmare that he was married. And not to a giant pair of inflatable tits (Well not officially) either!
RELATED – Scheana Marie Says Lala Kent Says 1 Thing To Her Face & Does Another Behind Her Back; Sides With Ariana Madix & Tom Sandoval In Their Drama With Lala
Not wanting to be charged for late checkout, Jax ran around waking people up and throwing them out. Brittany just threw open the balcony doors and yelled to the cows below "WE'RE GETTING MAAAAAAAAAAIIIIIRRRRRIIIIEEED!" Over and Over. One man's nightmare is another woman's dream.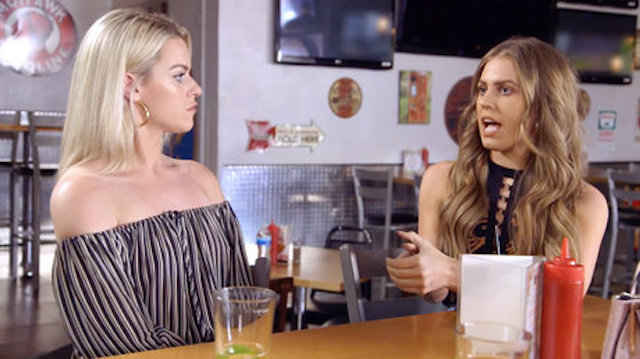 Back in LA the world turned as usual. Actually less tilted than usual. After abruptly dumping Max Boyens for cheating Dayna Kathan has had a change of heart. See there are two restaurants named Jones in LA. One a romantic Italian place, the other a causal brunch spot. It turns out Max and his ex were at the latter, but Dayna jumped the gun after being fed a pack of baloney by the SUR girls that he's a habitual cheater, and his alibi is moldier than last weeks' lunch meat. Now Dayna wants him back. I was all like YES – now here's the drama we've been seeking from these new slumps. Who, sweet and vapid as they are, really lack the organic chemistry and propensity for high drama of the OG cast in their early days.
Danica Dow tries to warn Dayna that the number of dollar signs on a restaurant's Yelp profile does not preclude its cheatability. That it's entirely possible that Max and Rando were getting morning-after brunch following a night of hooking up. I think Danica has the right idea, but Dayna chooses not to believe her because Danica got a DUI and has to blow into a breathalyzer every time she starts her 2004 Toyota Corolla. That's the most SUR thing about these new SURvers. Danica doesn't seem bent out of shape about endangering the lives of others, because her DUI was for a good cause: she was driving 5 friends to an afterparty in the Hollywood Hills. And you know… Uber doesn't go up that high?? What??
RELATED – Vanderpump Rules Recap: STILL, Still Not Married!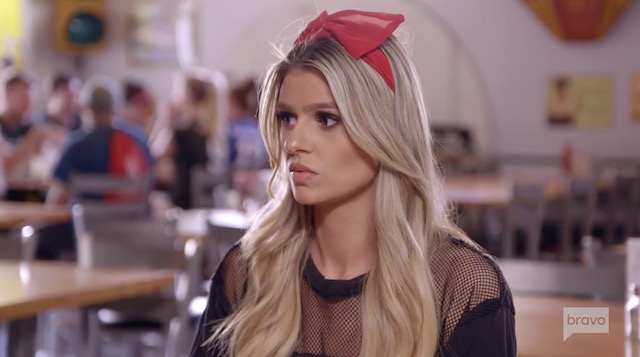 Speaking of drinking problems, there is James Kennedy and his perpetual promises to get sober. Raquel Leviss is giving him another another (another) chance but this time she thinks like maybe perhaps kinda possibly he means it. Like he drives her to work in his car then heads to a party in the Hollywood Hills and he definitely super positively will not be drinking because, like, he drove. One can't drive there, Lyft back? Raquel-logic is often flawed. James-logic is often intentionally demented. These two are each other's own worst enemies. Raquel's friends smile vacancy and nod while her eyes fill gently with tears as she swears this time James means it. Same pasta, different sauce.
Before heading over to Tom Tom to ask Max for another chance Dayna consults Charli Burrnett about what to do. Charli is the only one asking the obvious: what the hell is it about Max that all these girls want because he seems like kind of a dud. Is Charli our  newest idiot savant? The Raquel to our Raquel? She's right though. I mean Max is a'ight, but he's sort of scrawny and overly intense, and also very disengaged. His personality seems contrived to convey maximum disinterest. According to Dayna none of that matters because he has a big dick. Girl — do not do that man a solid by announcing that on TV after you know deep in your heart that he really did cheat and is kinda secretly relieved he got caught so he can avoid things becoming a bigger and nastier deal down the road when he does it again after your exclusivity has lasted more than 4 days.
Sure enough when Dayna strolls into Tom Tom to ask him for another chance Max doesn't even pretend to think it over. I mean even Jax would muster up some phony emotions to bilk maximum drama. This is exactly what's wrong with these new people. They lack the effervescent drama and intensity of the originals. Who were the type of people who could turn any old thing, like lunch at a basic restaurant, into something palpably messy. The new people are all sane-ish conversations and controlled emotions. They lack the passion and fervency. They lack the unhinged unpredictability. They lack the drunkeness.
RELATED – Jax Taylor Predicts Which Vanderpump Rules Couples Will Split
No one wants to see two adults reasonably decide their relationship didn't work. We want to see Dayna learn Max cheated, dredge his necklace through the kitty litter box, then throw it on his face screaming that he's a piece of shit. We want to then see Dayna discovering that Max was at the wrong restaurant. Or actually that a totally different Tom Tom employee who was having lunch with a different girl. We want to see Dayna freaking out on Audriana behind the SUR dumpsters because she ruined her one chance of happiness. Then we expect to see Dayna throw off her apron, bail on her shift at SUR and storm into Tom Tom to confront Max in front of customers, demanding he give her another chance or she'll tell everyone he has a small dick. We expect Max to throw a huge tantrum back (a meltdown that includes swiping glasses off the bar and crying), because Dayna accused him of being a liar and he would NEVER lie. Then he'll stomp out of his own restaurant to call Danica on the phone and yell at her for being a meddling bitch while Dayna chases after him. Of course we want to see Tom and Tom finding out about Max's freak out, and deciding whether or not to fire him (ultimately they won't blaming Dayna and the dramatic girls of SUR). And ultimately Max will go over to Dayna's dumpy apartment to agree to getting back together if she disinfects his necklace. Or possibly he'll show up at SUR where he'll confront Audriana in another scene, then take Dayna back. This is because they are bonded by everyone being against their love and mutually screaming at Audriana together. Finally, 3 months later, we'll learn that Max had cheated. That he actually had a threesome with the ex and Audriana. Because this is 2007. Or at least 2012 when the SUR drama wasn't reheated goat cheese balls fried a second time in yesterday's oil.
What I'm saying is that these new people really need to step up the heat.
TELL US – SHOULD MAX GIVE DAYNA A SECOND CHANCE? WHAT DID YOU THINK OF THE JAXNEY WEDDING? BEST AND WORST MOMENTS?
[Photo Credits: Bravo]