When Vanderpump Rules first catapulted into the Bravo lexicon the appeal was that was its off the cuff and unpredictable cast members whose earnestly dysfunctional relationships anchored the show, and served as a highlight to all the other nonsense.
There was a magic in its untested authenticity that was like the early seasons of Real World or Real Housewives Of Beverly Hills. Before these people realized they were going to become a phenomenon just for showing up. But alas it is now not the case. Lisa Vanderpump has now assumed the role of part Svengali/part David Copperfield; trying to make magic out of thin air and airheads.
It's not working.
The friendships of the original cast members have been stretched so tenuously that it's pointless to even pretend they'd still be interacting if it weren't for Vanderpump Rules. While the new cast members – mainly newbies to SUR who also lack a legitimate connection to the existing drama there – are being foisted upon us as saviors.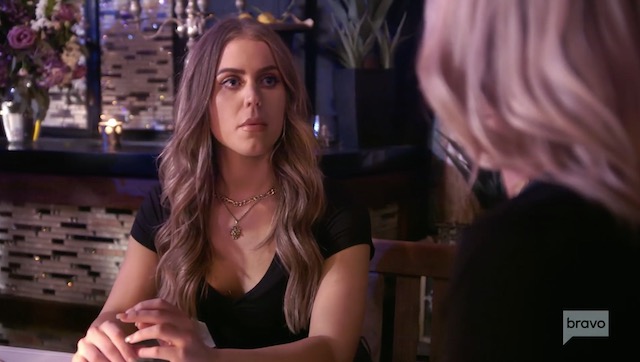 There is no bigger (albeit inadvertent) illustration of this than when new cast member and sometime assistant SUR manager Danica Dow expresses her shock, confusion and dismay that Lisa has christened her acting manager on the day of the PRIDE party. One of the biggest events of the year for SUR, and one notorious for its off-the-chains, life-ruining drama. In response to her promotion
Danica exclaims, with unintentional irony, "I just graduated from college like yesterday." Meaning it is abundantly obvious, even to the 22-year-old (probable communications major) that she is being put in this position because she cannot handle it and mayhem will ensue. Also wasn't Danica suspended for smacking a fellow employee like the week before? Lisa has a short memory if you're not on Real Housewives Of Beverly Hills!
Meanwhile down the street at Tom Tom, Lisa is bestowing the same privilege on Max Boyens. Well word on the street is that he is a .00002% owner of Tom Tom! Instead of fretting about how he'll handle this new responsibility, Max is more worried about how Danica will handle things at SUR.
Lisa has complete faith in Max and Danica, and in this universe centered around her, that is all you need. Which is why Lisa has recruited Peter Madrigal, the actual SUR manager, to appear alongside her on the PRIDE parade float. It's just because she wants to see Peter's lustrous locks blow in the breeze (GAG).
Tom 1 and Tom 2 will also be parading. Aren't they always…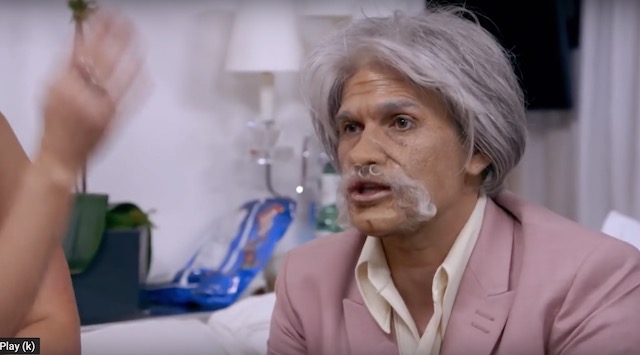 As if to reinforce the point that it's out with the old and in with the new, down in Miami Tom 1 and Tom 2 are dressed up as their elderly doppelgängers to celebrate Jax Taylor's bachelor party. This is supposed to represent Jax and Brittany Cartwright growing old together, but the unintended metaphor of Jax growing old with the Toms is more apt, living out their days bickering and hobbling to tanning salons, diners, and strip clubs. Beau Clark was also there, a sort of hapless sidekick who didn't fully commit. As he shouldn't.
They all look ridiculous and this was dumb. I have no comment other than how stupid is it that they are hiring Hollywood makeup artists for full prosthetics when all we want them to do is rip off their Forever XXI sweaters and fight in a parking lot.
Meanwhile, the girls are at Katsuya, where Stassi Schroeder and Katie Maloney are still arguing with Kristen Doute about how much her relationship sucks and why they can't support her through another round of pretend breaking up with Carter. As often happens with friendships that have gone on so long the lines between love and contention are made of highly flammable fibers and drawn right across everyone's toes, things are said that hit way, way too close to home.
In this case, Kristen hisses that she has supported Katie through all the times Tom 2 cheated, and expects the treatment to be returned. Well, Stassi also supported Kristen through all the times she cheated with Stassi's boyfriend…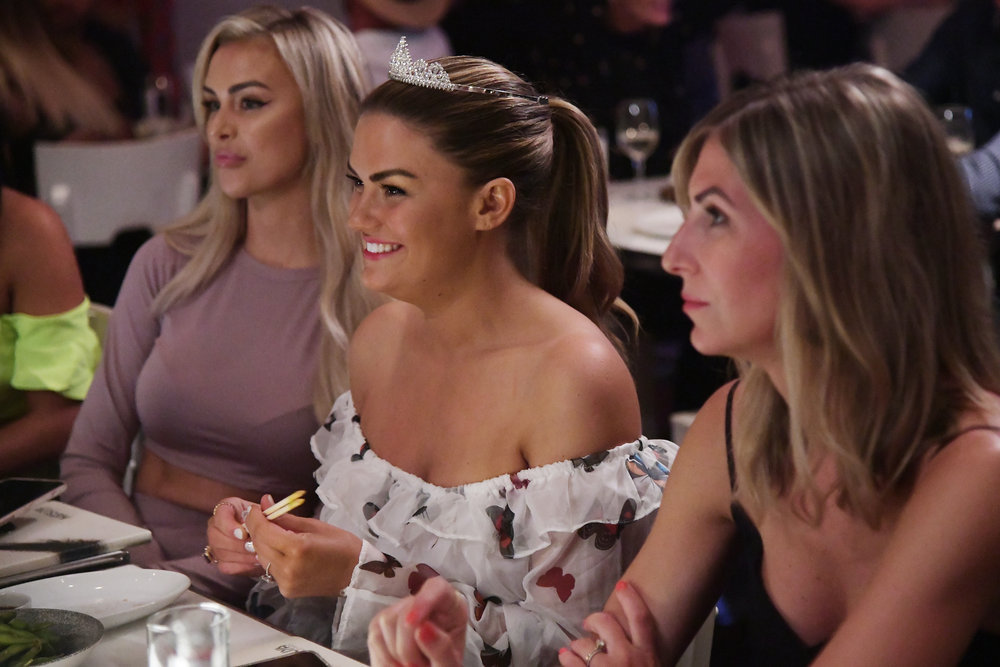 Things get so heated Brittany has to intervene to remind them that they're here to celebrate her, and she doesn't want to get pulled into the middle by being held up as shining paragon of the perfect friend. I'd also like to point out that while everyone is here celebrating Brittany, they also supported her through her toxic nonsense with Jax, which seems way worse than whatever immaturity Kristen and Carter have going on. Maybe everyone just likes beer cheese more than they like Kristen drunk on beer?
Also, Kristen brought them the sole joy of this show, which is James Kennedy, so they can never forgive her for rising him to glory. Speaking of, the Toms have hired James to do a DJ gig at Tom Tom which will be supervised by Max. Lisa pretends to be scandalized by this and worried that Max doesn't really understand the full extent of James' issues, but secretly she is thrilled. We all are because James = Love.
As the girls leave the restaurant for a strip club, with Brittany out of earshot, Stassi hisses at Kristen that she needs to shut up and never speak to her again.
And lo and behold who should appear at the strip club but the Boca Raton retirees, who bribed the independent living community bus to take them here instead to Walmart for Preparation H. Katie is thrilled to see Tom 2, because she is itching to turn into Tequila Katie, which it takes all of 2 seconds. When Kristen tries to talk to Tom, Katie gets in between them and snaps that Kristen is "cut out for good" because of her comment that Tom cheated. Katie has officially entered the vortex of rage.
Tom is trying to have fun and gives her a peep show of his tighty-whities, which we all know was actually his real and regular underwear not a pretend costume, but Katie ignores this to inform him that Tom 1 is not his friend and is accusing him of being an inept business owner who doesn't pull his weight. At least accordion to Ariana Madix. Then Katie huffs that she would never get involved in Tom's business, but he just needs to be aware that his so-called friend and business partner is out to destroy him. Really, Katie? Really? How insidious and immature. And this was after you were all telling Kristen to grow up!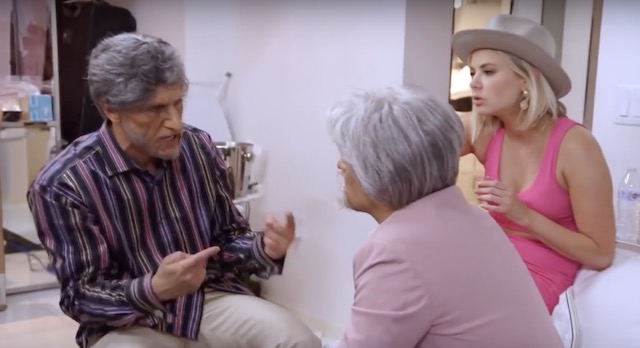 However, Katie is more wrong than she's ever been in her life if she thinks her little antics can come between the Toms. Has she seriously not figured that out in all the years she's tried to be the Tom 1 in Tom 2′s life. Back in the room at 4 am, supervised by Ariana and still wearing old man regalia, Tom and Tom have a fight for the ages. One I fully expect them to still be having when they're actually 84. It's about how Tom is in the wrong for the rage texts, and is a shitty apologizer, and how Tom 2 didn't think through the plan for Stassi's party and is sometimes too much a yes, man.
Tom and Tom both just want the other to take responsibility for something so neither has to take the blame, and they also just want to recognition for the vital role they play in making Tom Tom, well, Tom Tom. Of course, they manage to come together in the end and hug it out. Does it really matter anymore? Yes, it does to Katie. And Stassi too, who will not let this go. Never, ever, ever.
The next morning Jax, Tom, and Tom are still smothering their youth under plastic ageism and Jax literally rips his fake face off with a butterknife, Nicolas Cage in FaceOff style. I cannot believe they slept in that. I was hyperventilating just feeling it on my skin.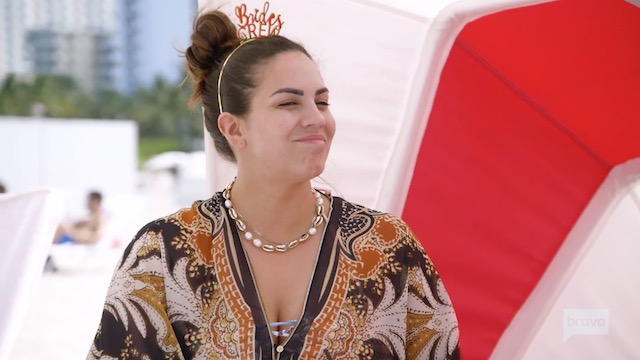 All the girls head to the beach where the topic of conversation is obviously Kristen. That's because Kristen is not there. She's at the pool with Scheana Marie and the guys.
And let's take a break to check in on things at SUR. It's clear that the producers are trying to turn Max into the new Jax. Names even rhyme, and MOs are the same, except Dayna Kathan is no Season 1 Stassi Schroeder. Not even a scuff on Stassi's Sketchers.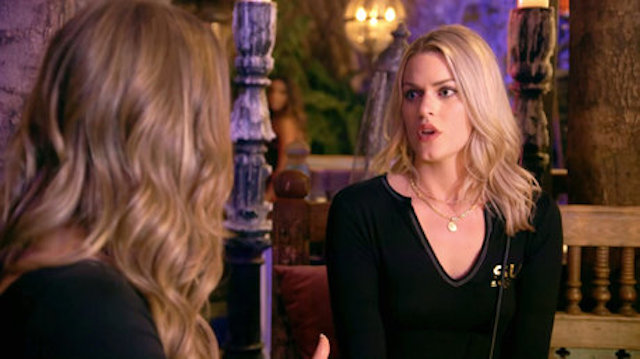 Dayna is trying to settle into SUR, but no one likes her and she blames it on her relationship with Max. After not saying two words to her, "manager" Danica pulls Dayna aside to warn her that Max was previously dating another waitress and on her birthday – her THIRTIETH BIRTHDAY – ditched her to sleep with one of her friends, and has summarily ignored her ever since.
Dayna knows Danica isn't telling her this to be kind, she's warning her that she too will soon be the butt of a joke, the new Scheana/Adriana/girl he gushily texts for a week. Dayna goes right to the source and confronts Max who insists that Dayna is a snake and this Adriana girl is lying.
The reason Dayna and Max fail at playing Jassi is because they're too low energy; too invested in making this camera time thing work, and not at all insane enough. Sure Dayna has her wits and a penetrating 'no BS' stare, but she doesn't have the hair-trigger temper that will make her deck you – twice! – in banquet after screeching that her birthday is a national holiday so you better dance mother fucker dance. And Max is too calculating in his conquests. Jax of yore was just so sublimely stupidly psychotic that it was unreal, and that in itself was what made it totally real.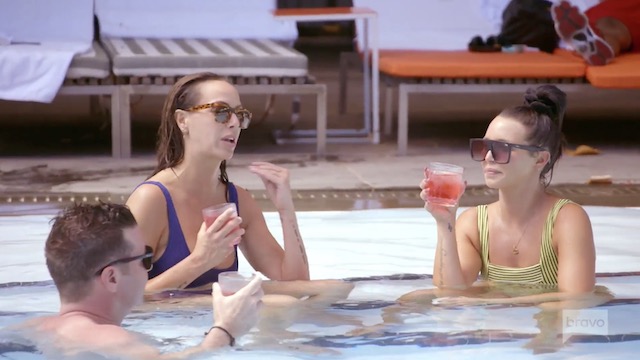 Now back to Miami where Kristen is complaining to Scheana that no one loves her, and Katie is complaining to anyone who will listen that Kristen doesn't deserve their love. Lala Kent, who is refreshingly smart and prescient without booze, tells Katie that if she really feels this angry at Kristen they really shouldn't be friends. So that solves that. Except Stassi still wants to give Kristen another chance. We know Katie won't stand for that!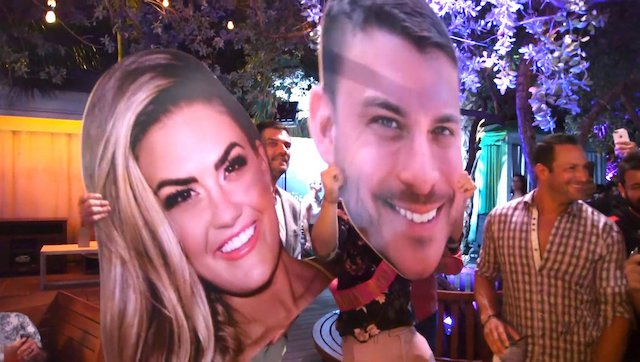 For their final night out the guys and the girls go out together and avoid strip clubs. It's a good old fashioned get drunk, dance and gush all over your homies kind of night except for the giant – and I mean enormous the size of Jax's ego – cut-outs of Brittany and Jax's faces that are paraded onto the dance floor.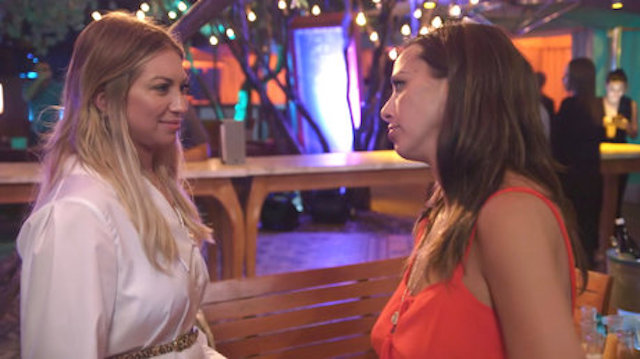 Sucking on straws and staring into their cocktails to avoid looking at each other, Stassi and Kristen begin an awkward conversation about their friendship. Stassi, drunk and happy and out of Katie's orbit, gushes that she will always love Kristen, who is one of her best friends in all the world, and she is always there for her, no matter what. She even tells Kristen that if she wants to get back together with Carter, she has Stassi's blessing. They both cry and hug and have a true Tom and Tom moment. We know it doesn't last though… As Scheana told Kristen at the pool: some friendships aren't meant to last a lifetime. Some friendships aren't meant to be a Tom.
TELL US – IS KATIE TRYING TO COME BETWEEN THE TOMS? DO YOU LIKE DAYNA AND MAX? SHOULD KATIE FORGIVE KRISTEN?
[Photo Credits: Photo by: Gustavo Caballero/Bravo & Bravo]