Well, hell hath surely frozen over and the next thing we'll be celebrating on Vanderpump Rules is an ice skating party because I actually liked Katie Maloney this episode. Hold me – I am fainting from the vapors!
At least I'm reassured that the constant is my complete and utter disgust of Jax Taylor! Accidentally taking a bite of that moldy lasagna found in the back of your fridge during a dunk binge eat is more desirable!
After Jax went on a rage-text tirade and uninvited everyone from his pool party (like anyone wanted to go to begin with) Tom Sandoval decided to host his own party for the rejects. Unfortunately the list of rejects grew and grew until it was revenge of the rejects with Tom and Ariana Madix winding up with an amazing party while Jax and Brittany Cartwright had one of the sad little get-togethers you see at the end of an HGTV House Hunters episode when the couple claims they "LOVE" to entertain.
Jax is apparently in the throes of some full-fledged post-wedding traumatic attention-whoritis syndrome where he goes to the gym 3 times a day to sweat his feelings out. Brittany sees parallels between Jax's present behavior and how he was acting right before he cheated. Now she's afraid he'll do it again. I really cannot have ANY sympathy for Brittany. You married a douche for a fantasy wedding paid for by Bravo … Now you have to repay the loan shark with interest.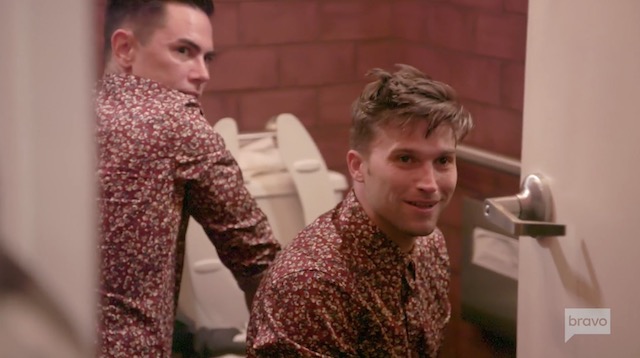 The drama begins at SUR where Tom 1 and Tom 2 are there to clean the bathrooms after losing the softball game. They run into Brittany and let her know about the rival pool party. Brittany is furious and stomps off, but Tom 2 points out that this is Jax's fault for being an asshole, so Brittany has no one to blame but him.
When Jax learns what's going on he flies into a rage and blames everyone but himself, but mostly Tom 1 for showing everyone his rage texts like a "little girl" and a "bitch." Jax is so fucking pathetic. Jax sent those texts to everyone! Also I'm tired of him calling someone a girl as the ultimate insult, then insisting he has nothing but respect for women. Which is why he mistreats all of them — including his mom! The ultimate insult is actually to be called a "Jax." A piece of soulless garbage no one would even pick up at a beach cleanup, and a master of projecting his own bullshit!
After screaming at Brittany when she attempts to explain that his rage texting caused this, Jax storms out to go to the gym. He insists Brittany can "track his phone" if she doesn't believe him. Oh please, Jax is probably dropping the phone off at the gym lockers then heading to his mistress's house. Or he's fucking someone at the gym. There's no way he's going to THREE HIT classes per day! Also he really needs to get a job like his Tom friends did.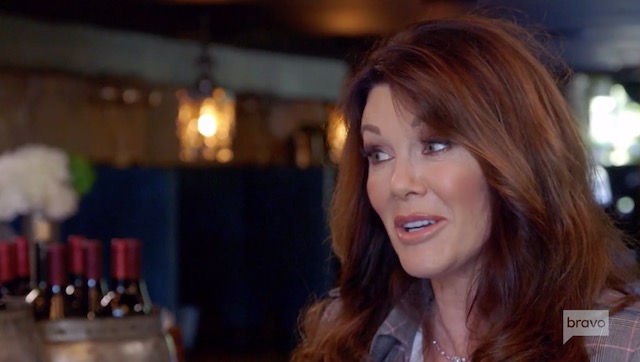 Meanwhile at Tom Tom, Lisa Vanderpump has an exciting proposal! Tom Tom has been so successful in its first year that they've turned a profit and the Toms have earned their initial investment back. Lisa and Ken have just acquired the property next door and are hoping to expand to Tom Tom Garden. If the Toms want to roll-over their investment they'll each be 10% owners of the entire thing. Lisa tears up because she's so proud of how far they've come and I'm proud too! Tom and Tom both agree they need to talk to Katie and Ariana before deciding, which is another shocking mark of maturity coming from Tom 2!
While Jax is running around ranting that he's mature and adult, then spending all day hiding from his life and his wife at the gym and crying on instagram, the Toms – people he dismisses as little girl losers – are becoming restaurant moguls. I LOVE the shadiness of Bravo contrasting their awesome accomplishments with Jax's nonstop IG stories about the fucking gym. He still looks like a doughy lump of unformed human. He's a melted Ken doll. BLERGH.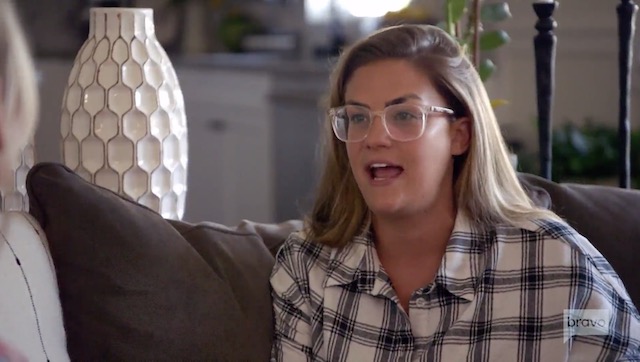 Brittany is so distraught that her pool party has runneth dry that she invites Lala Kent over to vent about Jax.  Why is Lala dressing like Mrs. Roper?
Jax calls as they're talking and flips out that Brittany thinks he's cheating because how dare no one trust him. For some odd reason Brittany, Jax, Stassi Schroeder, and Lala have this ire towards Tom and Ariana because they're daring to have a party before their house is fully furnished. Jax compares their house to a frat house, but his house looks like it's decorated with "Too Blessed To Be Stressed" signs from TJ Maxx. Brittany is a Jaxonista, and Jax is a cracksonista. And now that Jaxty-Dumpty took his great fall by insulting his friends one too many times, he can't put these relationships back together again!
Ugh – I guess we have to talk about Dayna Kathan. I guess I like Dayna alright, but I am far more interested in the snide and witty Charli Burnett, and the clearly crazy Danica Dow. Alas neither of them were stupid enough to sell their dignity by fake fucking Max Boyens and Brett Caprioni like Scheana Marie and Dayna did. Brett and Dayna go on a date, afterwards they make-out. Dayna is into him and thinks he's into her too. Unfortunately Max is out for revenge.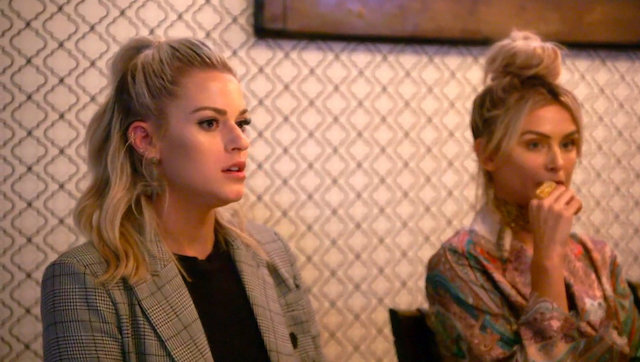 Several people meet up at Dayna's stand-up act – YAWN – then afterwards hit a bar where Scheana joins them. Why would Scheana attend an event for Dayna when they hate each other? Cause Scheana will go anywhere there are men. Over dinner Max brings up the situation with Dayna and Brett and does so with the full intent of embarrassing Dayna. He keeps demanding Brett admit whether or not he has feelings for Dayna.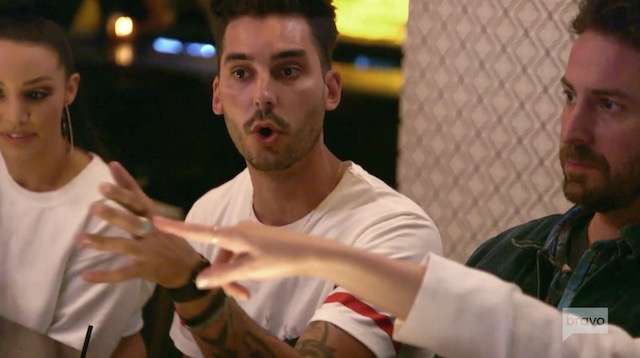 Brett caves under pressure and insists that they haven't fucked so it doesn't matter. It's gross and I've never actually seen two guys fight to get RID of the affections of a woman… The entire time Scheana keeps interjecting that if Dayna really cared about Brett or Max she wouldn't have tried to play them both. Scheana your jealousy is showing and it's solid green!
In the lead-up to the dueling pool parties more drama unfolds. We learn that Scheana can't attend either party due to music video re-shoots (OH GOD) and that when Jax found out he texted calling her "dumb" for scheduling something on his "day." Lala and Stassi are going to the Jaxney party because they're adults who appreciate mature conversations and giant inflatable slides.
Trying to save Brittany's party from obscurity Lala calls James Kennedy to see if he can DJ for all 4 people attending. Unfortunately, James is already committed to DJing Tom's party.
Then, of course Lisa gets involved. Jax is on Ariana's last nerve and she tells Lisa all about how he's mistreated and manipulated his friends for years, so it's no loss to lose him from their lives. She's right – Tom 1 definitely deserves better! Unfortunately Ariana, Lisa and Brittany are volunteering at Covenant House to donate their old clothes to at-risk youth. Lisa asks Ariana to please be mindful to remain it polite as if Ariana has ever started drama in her life. I wish she were that exciting!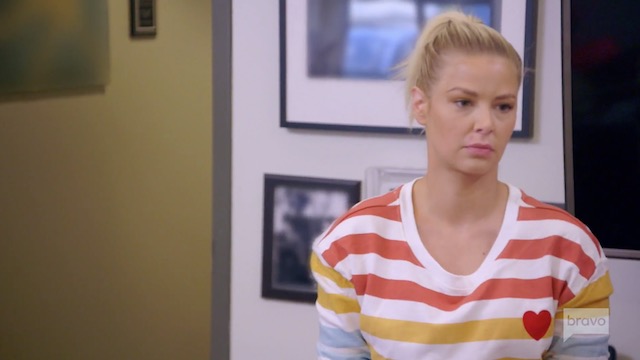 Brittany is the one who causes a scene. Of course! She turns on the 'whoaoaoaoaoaoaoaoaoa is meeeeeeeeee' histrionics about how her feeeeeeelinnnnns' are hurtin' cause Tom stoled up her parteeeeee. Ariana rolls her eyes and reminds Brittany it's Jax's fault for ostracizing his friends. Furthermore when they had their very adult dinner party – you know, the one Jax and Brittany were NOT invited to – everyone there suggested that they host a ReJaxted pool party. Even Katie!
Brittany really proved that her Little Miss Innocent act is all a lie when immediately after volunteering she texted Katie accusing her of being the reason her pool party is ruined. Katie is having lunch with Tom 2 and experiencing a very adult moment discussing the expansion of Tom Tom (and seeming like a real couple for the first time in 35 years) when she gets the rude text from Brittany, who is reacting to her very adult party being canceled by throwing a tantrum.
Well Katie's maturity only goes so far! She calls Brittany and they start arguing about how this is Jax's fault. Brittany feels that since Katie is a regular and habitual rage texter herself she should be empathetic to Jax by letting this go. Has Brittany met Katie? With Katie screaming in the restaurant Tom 2 snatches the phone to defend his lady by calling Brittany an "idiot" then hanging up. The hilarious thing is that Tom and Katie were planning to attend Jax and Brittany's party until this incident.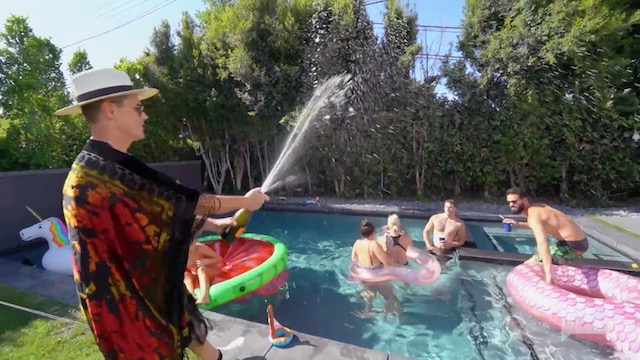 They show up at Tom and Ariana's unannounced where the backyard is decorated with tents and giant pillows, with James setting up his turntables. Everything looking super bucolic and fun. Everyone comes there. Even Peter Madrigal. Charli explains that Jax is closer in age to her dad than he is to her so she'd rather get drunk with her peers and twerk in a thong than discuss the weather while standing around the grill.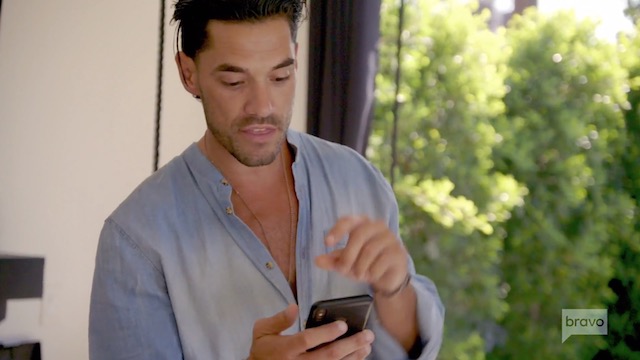 Jax's party consists of Stassi, her latchkey-lackey Beau Clark (I actually appreciated how he stood up for Dayan this episode), Lala without Rand, and Brett… Why? Brett assumed Max was going to Tom's that's why. Also Brett is a vegan and despite inviting him, Jax and Brittany don't even have anything there he can eat. These two are such assholes.
Max decided to take a petulant stand by boycotting both parties because Dayna isn't crawling back to him. Brett explains to Stassi and Lala in a way I assume he thought was eloquent that he's a 'bros before hoes' type of gentleman who wouldn't dare defile a friendship by dipping his wick into a woman who may hath been claimed by another fair-weather friend. This be thy nature of a bromance in the wild world of WeHo where convoluted sexual lines are drawn in lipstick and hair pomade and a man is only as good as his loyalty and honor to the products of his using. Basically he's not gonna fuck with Dayna if it bothers Max, but it's gonna stop bothering Max the second Brett stops fucking with Dayna. Then Brett is gonna realize he got played. Also Brett is back to slicking back his hair so it no longer looks like Danica went after him with some of her voodoo revenge dolls and a taser.
Jax decides Brett is a kindred spirt, but a better version because he just fucked everything that walked regardless of morals or potential hurt. Stassi realizes Jax is on the brink of a nervous breakdown and pulls him aside for a chat. I actually think Stassi truly is the Jax whisperer and the only person that can call him out, succinctly, without him getting riled up. So that's just what she does.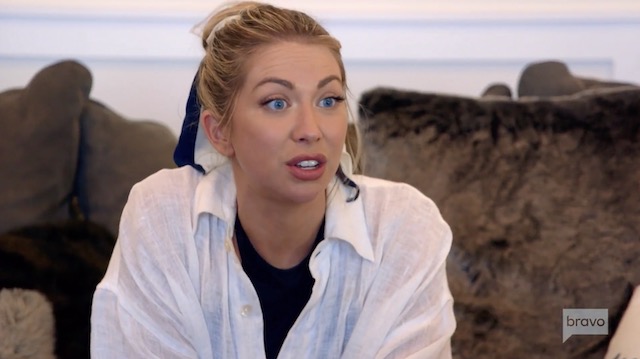 Stassi reminds Jax that his life is great: he has a wonderful wife, a beautiful home – so what the fuck?! Jax goes on a rant about how he's so selflessly put himself before everyone else for so long that he's all used up and has nothing left to give, and if people don't start catering to his every whim again he's going to take it out on Brittany. The problem is that his brain is "sprained" so he can't use it. That's just what happens with brains that are put to the test.
Meanwhile at Tom's house Dayna tells Katie that she's too hot to waste time with either of those losers, and she won't be setting for half a man's interest or attentions. Good for her!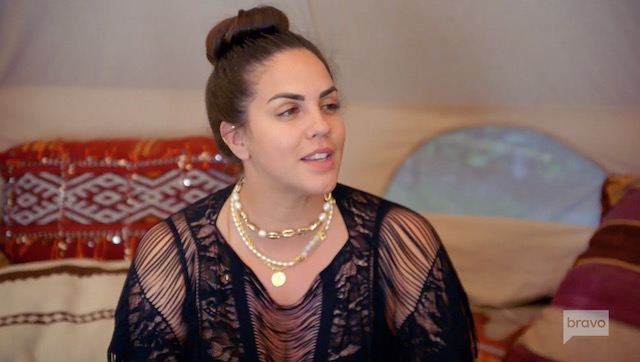 Then Katie and James have a touching moment that is so shocking I rewound the episode. After the Toms invite James to the DJ the Tom Tom one-year anniversary party as a reward for his sobriety, Katie tells him she really appreciated his apology and they do a tepid kind of hug. Tom 2 actually burst into tears. He's never seen Katie be so… well, human. Nice. Katie without Stassi is a wonderful thing to behold. And Kristen Doute was even at this party with Carter too so there was ample opportunity for Katie to go ballistic and ragey!
Instead it's Ariana who loses her cool. When she learns from Kristen that Stassi was making fun of her house and party, Ariana compares Stassi to Regina George (from Mean Girls) and suggests she check her ego with her apartment that has the second bedroom turned into a dressing room "copying Scheana."
Ariana has had it up to newly restored brain and emotional state with Stassi fake pretending she wants to be friends. Then she dives into the pool, filled with people partying, having fun, and twerking and she realizes life isn't so bad. Maybe the problem all along was that she was trying to appease people like Stassi to fit into Tom's group of friends. And maybe, just maybe, Tom has finally realized he doesn't need these people as friends either.
I'm intrigued by how this will play out. Tom and Tom must stay connected as they're business partners which means Katie and Ariana are stuck together too. Stassi may find herself left out in the cold.
TELL US – IS JAX TO BLAME FOR THE POOL PARTY FIASCO OR IS TOM 1 PETTY AND IMMATURE? WHO'S PARTY WOULD YOU RATHER ATTEND?
[Photo Credits: Bravo]